Eco-Friendly Gifts for the Crafty Friend
TAKE ME BACK TO THE ECO-FRIENDLY HOLIDAY GIFT GUIDE!
For folks on your list who are already crafty or aspiring to be crafty in 2019, this gift guide features a variety of kits to create beautiful, unique, handmade goods. Check out our Yarns, Fabrics and Crafts Pinterest Board for many more gift ideas!
$50 USD
At Dove Grey we make things that are designed to be be durable and that stand the test of time. We exclusively use vegetable tanned leather, as it is the most sustainable choice and also has the added bonus of aging beautifully. It is our hope with our DIY leather kits, that we give people the opportunity and skills to make and repair their own leather goods for years to come.
$35.00 USD
bedhead fiber creates vibrant and beautiful colors on local yarn and textiles using items from the earth: plants, flowers, mushrooms, and lichens. They believe that "everything is connected and in order to take care of ourselves, we need to take care of the the soil, water, and planet's health." This gorgeous yarn is proof that natural in no way means dull! A great gift for a crafty, eco conscious friend.
$14.50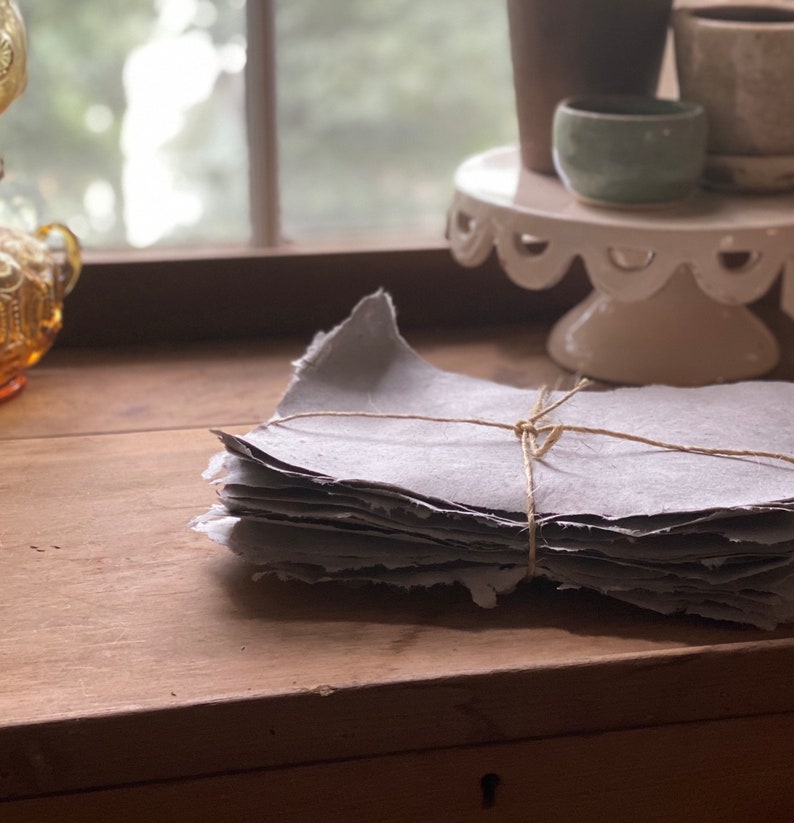 Gorgeous products made from repurposed materials. The paper products are either former newspapers or to-go coffee cup sleeves. The bags are made out of grocery bags filling the oceans. These beautiful papers are a great addition to your packaging strategy or a thoughtful craft project.
$36 USD
Elle Cree makes beautiful vintage-inspired paint-by-number kits designed and made in Portland, Oregon in the hopes of helping people rediscover the joy of painting. This great painting of Martin Luther King, Jr. shows the legendary Baptist Minister surrounded by billowing clouds. Completing the painting can take between 3-5 hours. The kit includes an 8x10 artist's quality, primed, rolled canvas, printed with lines, numbers, and pre-printed background; a set of (8) non-toxic, acrylic paint pots with hand-mixed paint; a set of paintbrushes (size .5 and 2) and comprehensive instructions.
$75 USD
Cozy Barn Signs is a DIY sign painting studio in Colorado. For those unable to make it to her studio, Cozy Barn Signs offers personalized sign kits containing everything needed to create a sign in the comfort of your own home. There are a variety of signs to choose from (the one shown here is a personal favorite!). Cozy Barn uses the best quality products they can find. All of the paints and stains are non-toxic, 100% free of volatile organic compounds (VOCs), not tested on animals, and are vegan, making them safe for children and pregnant women.
$65 USD
This kit makes a really cool gift for a friend who is just dabbling in crafts or who is an advanced artist! Joone Creative makes extraordinary craft kits in partnership with your favorite artists. All Joone kits are designed to maximize materials that are eco-friendly and made in the USA, and never contain single-use plastics or toxic substances. Joone is also currently pursuing certification as a carbon-neutral business.
$79 USD
Yarn Pop makes bags for knitters to bring their projects wherever they go. This Green + Green Totable™ makes it easy to bring larger knitting projects like sweaters, blankets, and afghans! It's soft-sided, yet still stands up on its own, and Yarn Pop's signature grommets keep yarn organized and tangle-free, offering easy access to your work in progress. Three interior pockets give you plenty of spots to keep notions and needles organized, and the removable and adjustable strap affords flexibility for all your carrying needs. All products are made in the USA, with premium American-made canvas on the outside and a classic Houndstooth canvas on the inside.
$27.00 USD
Junebug and Darlin offers a variety of embroidery kits, including this one that is perfect for the fierce and tender people in your life. The kit comes with a 3"x5" wood embroidery hoop, a printed 1 page counted cross stitch pattern, a 14 count Aida cloth, 2 tapestry needles, pre-cut DMC floss, organic batting for framing, felt for backing, and hand drawn directions specific to their kits. Its perfect for a beginner! Junebug and Darlin gives back! They offer a variety of "Donation Based Purchases" which are created with specific non-profit organizations in mind and 100% of the proceeds from these purchases are given to the organization attached.
$32 USD
This sachet kit was inspired by cochineal, a tiny scale insect that makes the color pink. It was so valued that it was a form of currency in pre-Spanish Mexico. Once the Spanish discovered cochineal, the world of color completely changed because the color pink was introduced to the entire world. This kit includes one piece of cochineal dyed 100% organic US cotton fabric, one piece of natural-colored 100% linen fabric, one skein of cochineal dyed 100% cotton embroidery floss, and one herbal blend of locally-grown lavender and cedar chips. Like her own family, she witnessed how textiles brought people together, and provided a focal point over which to exchange news, stories, and lessons. A Verb for Keeping Warm celebrates the idea of creating color from nature and aims to help people create beautiful things with yarn, fabric, natural dyes, and fiber.