Eco-Friendly Jewelry
TAKE ME BACK TO THE ECO-FRIENDLY HOLIDAY GIFT GUIDE!
Make someone feel extra special with the gift of jewelry that is not only gorgeous, but also thoughtfully sourced and handmade. Read on for ideas you could never find at your local shopping mall. And check out our Jewelry Pinterest Board, where we showcase the many sustainable brands we work with, for many more git ideas!
$52.50 USD
WorldFinds is an impact-driven jewelry and accessory company with a mission to empower women through fair trade! WorldFinds specializes in repurposed Sari and Kantha textile jewelry, working with artisans in India to produce colorful and vibrant pieces of jewelry. Our artisans hand-carve wooden bead bases out of scraps from furniture factories or from old furniture, and then wrap them in sari textiles that are no longer wearable. This Spiked Kantha Necklace features four colorful strands of repurposed Kantha textile beads embellished with three sets of diamond-shaped metallic spikes and gold-toned brass beads.
$30 USD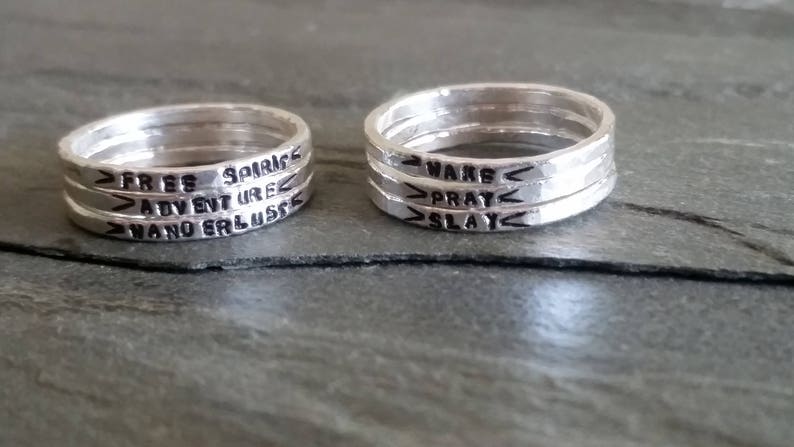 Feather Roof is a woman-owned small business established in 2006 with a focus on primarily hypoallergenic pure silver handcrafted jewelry. Pure silver, unlike sterling silver, has no additives and virtually anyone can wear it. Also unlike sterling silver, pure silver requires no harsh chemicals in its crafting process: literally just flame to melt and water to cool then hammering to shape. They have been throwaway plastic free for years and their products are packaged and shipped with either biodegradable and/or recycled, recyclable materials. They source raw materials from other local small businesses. Best of all, you can custom design these rings with whatever message will most inspire your recipient. I personally love that Wake > Pray > Slay message!
$150 USD
The Snarky Owl Workshop seeks to create earthy jewelry upcycled from second-hand pieces, with a focus on natural stone. Materials are sourced from estate sales, flea markets, and secondhand shops, supplemented by new materials from ethical suppliers. They donate 5% of gross sales to fighting hunger and food insecurity in local communities. And the necklace is absolutely unique and stunning!
$53 USD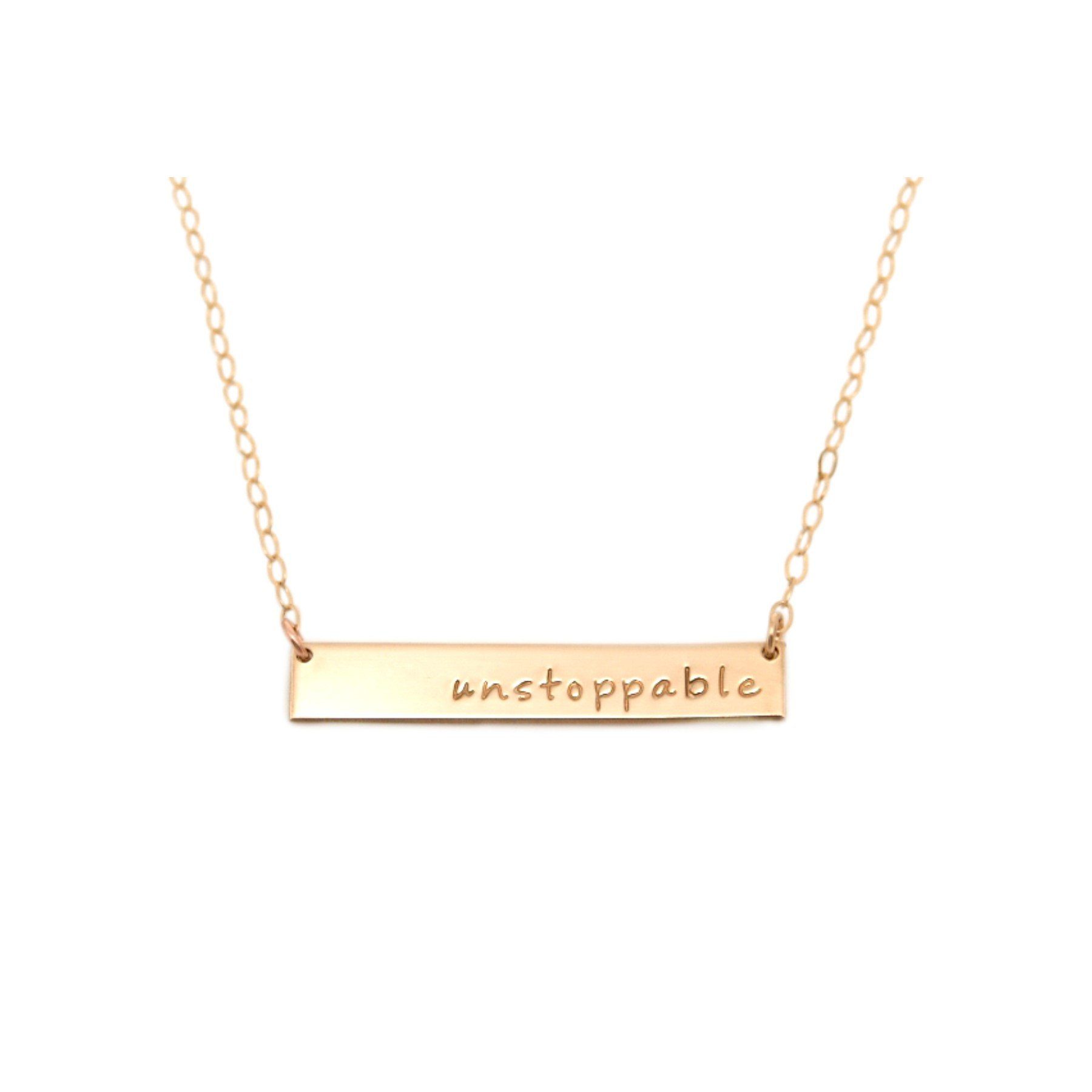 LemonBug makes a variety of elegant jewelry, all handmade by a small team in San Diego, CA. This item is sterling silver, 14kt gold filled or 14kt rose gold filled, and is customizable. $1 from every LemonBug purchase goes to charitable contributions, including two pet rescue organizations - Vanderpump Dog Foundation and Angels for Paws.
$48 USD
Goldeluxe Jewelry is a handmade jewelry company designed for versatility and daily wear. The Odyssey earrings are made with recycled metals. These earrings are hand carved in wax, then cast in metal using the lost wax casting process. Available in brass, sterling silver or 10k gold.
$40 USD
Graceful, elegant, empowering jewelry handcrafted with thoughtfully sourced metals and stones. The silver used in this jewelry is recycled and Lumenrose is focused on sourcing stones directly from known miners and stone cutters to eliminate extra travel steps and to support smaller-scale mining. Each Lumenrose piece is 100% crafted by the shop's owner from raw material to finished product. These simple, stunning earrings are a truly one of a kind gift.
$368 USD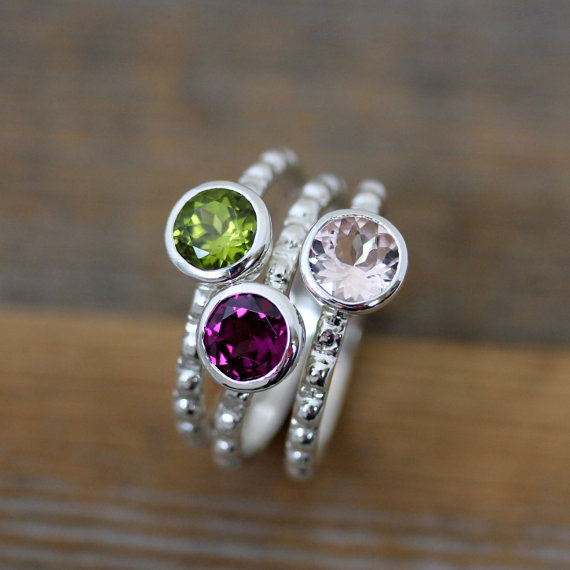 This stacking ring set is comprised of 6mm round rings in Morganite, Peridot and Rhdolite Garnet. All of these natural gemstones are unheated or treated in any way, and is a beautiful example of gem quality of each type of stone. Every one of Madelynn Cassin Designs' pieces is hand carved in wax, cast in metal, and hand polished, prepped, soldered and set in their workshop in Keene, NH. From concept to completion all settings are handcrafted and never utilize purchased, mass produced components.
$135 USD
Sharon Z Jewelry is ethically-sourced, using recycled gold, Fairmined Gold, ethical and traceable gemstones and post-consumer recycled gems. These unique earrings are really really small...but oh so sparklicious. Little hand-formed studs have a rough texture that lends them a whole lot of sparkle, without the use of diamonds or sapphires.
$28 USD
These deeply colored Green Aventurine earrings help to encourage healing. Made with 7x10 millimeter faceted gemstones, sterling silver filled ear wires, hanging on an FSC certified card. All SoulKu jewelry is handcrafted by stay-at-home moms who earn a thriving wage. A percentage of your purchase will go to a non-profit that helps to support, encourage and empower women.
$55 USD
All of their pieces are handmade in New York using primarily recycled and ethically sourced materials. Modhemia brings clean, minimalist style to a busy and cluttered world without skimping on elegance, allowing our customers to make their own statement about style and ethical fashion.