Zero Waste Stickers and Labels
---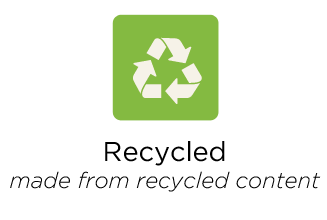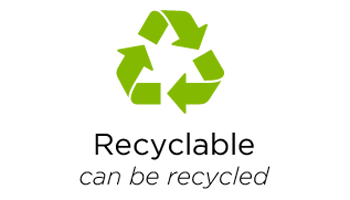 Stop Trashing Your Liners!
EcoEnclose is thrilled to announce our latest offering: Zero Waste Stickers and Labels.
These are the world's most sustainable stickers and labels. Not only are they made with 100% post-consumer waste, they also arrive on a unique and innovative zero waste release liner that is 100% recycled AND 100% curbside recyclable.
Traditional release liners have a thick silicone coating. They can only be recycled by a handful of specialized operations that have the equipment needed to separate the silicone from the paper. These babies are different. These liners have a thin UV coating that imparts the necessary release properties; however, this coating is so thin that the liners can be recycled along with standard copy paper. In fact, you can even write on the liner with a ballpoint pen!
Currently, we are offering these stickers and labels on rolls in several sizes and shapes, with a minimum order quantity of 1000 stickers.
Additional shapes, sizes and styles may also be available. Please contact us at stickers@ecoenclose.com if you are looking for Zero Waste Stickers and Product Labels that aren't available here.
Stickers ship 2 weeks after you have approved your proof.
EcoEnclose is working on expanding this unique line of stickers, labels and liners. Over time, we anticipate offering more options and lower minimums.
Click on Your Desired Sticker Shape and Size to Begin Your Order!
| | | | | | | |
| --- | --- | --- | --- | --- | --- | --- |
| Shape and Size | Type | 1,000+ | 2,500+ | 5,000+ | 10,000+ | 20,000+ |
| Rectangle - 4x2" | Rolls (perforated) | $0.41 | $0.22 | $0.15 | $0.11 | $0.09 |
| Rectangle - 3x2" | Rolls (perforated) | $0.38 | $0.20 | $0.12 | $0.086 | $0.07 |
| Circle - 3.75" | Rolls (perforated) | $0.44 | $0.26 | $0.19 | $0.16 | $0.14 |
| Circle - 2.5" | Rolls (perforated) | $0.39 | $0.20 | $0.13 | $0.10 | $0.08 |
| Circle - 2" | Rolls (perforated) | $0.38 | $0.19 | $0.12 | $0.08 | $0.06 |
| Order a Sample (2.5" Circle) | Single Sticker | N/A | N/A | N/A | N/A | N/A |
Additional Information About EcoEnclose Zero Waste Stickers
What's the difference between your Zero Waste Stickers and Recycled Stickers?
We're glad you asked! EcoEnclose currently offers two lines of stickers and labels:
Zero Waste Stickers and Labels: 100% recycled (100% post-consumer) facestock, recycle compatible adhesive and our unique Zero Waste release liner, which is recycled and curbside recyclable.
Recycled Stickers and Labels: 100% recycled (100% post-consumer) facestock, recycle compatible adhesive and a standard silicone coated release liner made with virgin paper.
Silicone release liners are extremely difficult to recycle.
A handful of paper pulpers (like Fox River Fiber Company in Wisconsin) are able to de-siliconise liners so the paper can be repulped back into new liners. Additionally, waste-to-energy facilities like Convergen accept this material for production of fuel pellets. EcoEnclose does offer a Line Take Back Program, through which you can ship any clean, traditional (i.e. silicone coated) release liners to our warehouse and we have them recycled into fuel pellets.
Our Zero Waste line is the more sustainable of the two, and in fact, we believe the Zero Waste Sticker and Label line is the most ecofriendly sticker on the market today.
They both have similar facestock and adhesive; however, the Zero Waste liner is far superior because it is made with 100% post-consumer waste and you can recycle it along with all of your paper. This means no resources are being used to ship it to our warehouse (and then from our warehouse to Wisconsin). Additionally, instead of the liners being repurposed into fuel pellets, they can be recycled back into paper-based products.
Why do you carry both sticker and label options?
Great question! Our Zero Waste Stickers and Labels are more sustainable than our Recycled Stickers and Labels. However, they are currently more expensive, have higher minimum order quantities and more limited shapes and sizes.
We carry both sticker and label lines to ensure that companies of all sizes have ecofriendly options available to them. Over time, we will work to expand our Zero Waste Stickers and Labels to include more options and lower minimum order quantities.
Art Guidelines
When you place your sticker order, you'll be asked to upload your art file. If you have any issues uploading your art file, please email stickers@ecoenclose.com. This section describes guidance to help ensure your art file best aligns with our stickers, processes and printing capabilities.
File Type:
CMYK files are preferred and should be saved as an .eps, .ai, .pdf, .tiff or .psd file. All text must be
converted to curves / outlines or fonts need to be supplied for Mac format.
Please do not send .jpegs or .png files.
Color: The best color mode for printing is CMYK.
Artwork Dimensions: Custom sticker art proofs have three important components - the Safe Area, Cut Line and Bleed.
Safe zone = This is the zone in which all essential information on a sticker should remain, such as text, logos or critical design elements. The area outside the safety zone is for background color and bleed. The reason for the safe zone is that there can be some shifting in printing. Everything that is within the safe zone is guaranteed to be printed within the actual size dimensions. Our safe zone is the actual sticker size minus 0.0625".
Bleed = Artwork (such as background color or design) that goes to the edge of the sticker should extend to the Bleed line. This creates a tolerance that ensures the background doesn't get cut off in production. The bleed extends 0.0625" beyond the cut line.
Cut Line = This represents the edge of your finished sticker, or the actual size of the sticker you ordered.
Sticker Templates
Templates for each of our standard sticker templates can be found here. Please click on the link to download the template.
3.75 Circle: Rolls
3x2" Rectangle: Rolls
Lead Times
Our standard lead time is 2 weeks. This means that stickers will ship 2 weeks after the digital proof is approved by customer.
Custom Sticker Shapes and Sizes
Yes, we do offer custom sticker shapes and sizes! If you are interested in a size and/or shape that is not shown above, please contact us at stickers@ecoenclose.com. Let us know your desired:
1. Sticker shape
2. Sticker size
3. Whether you are looking for stickers on sheets, roll, or individual die cut
4. Total quantity of stickers you are looking for