Case Study | Fjällräven
Fjällräven cutomizes recycled poly mailers to meet their manufacturing growth

EcoEnclose expanded into dynamic printing to meet Fjällräven's unique packaging requirements.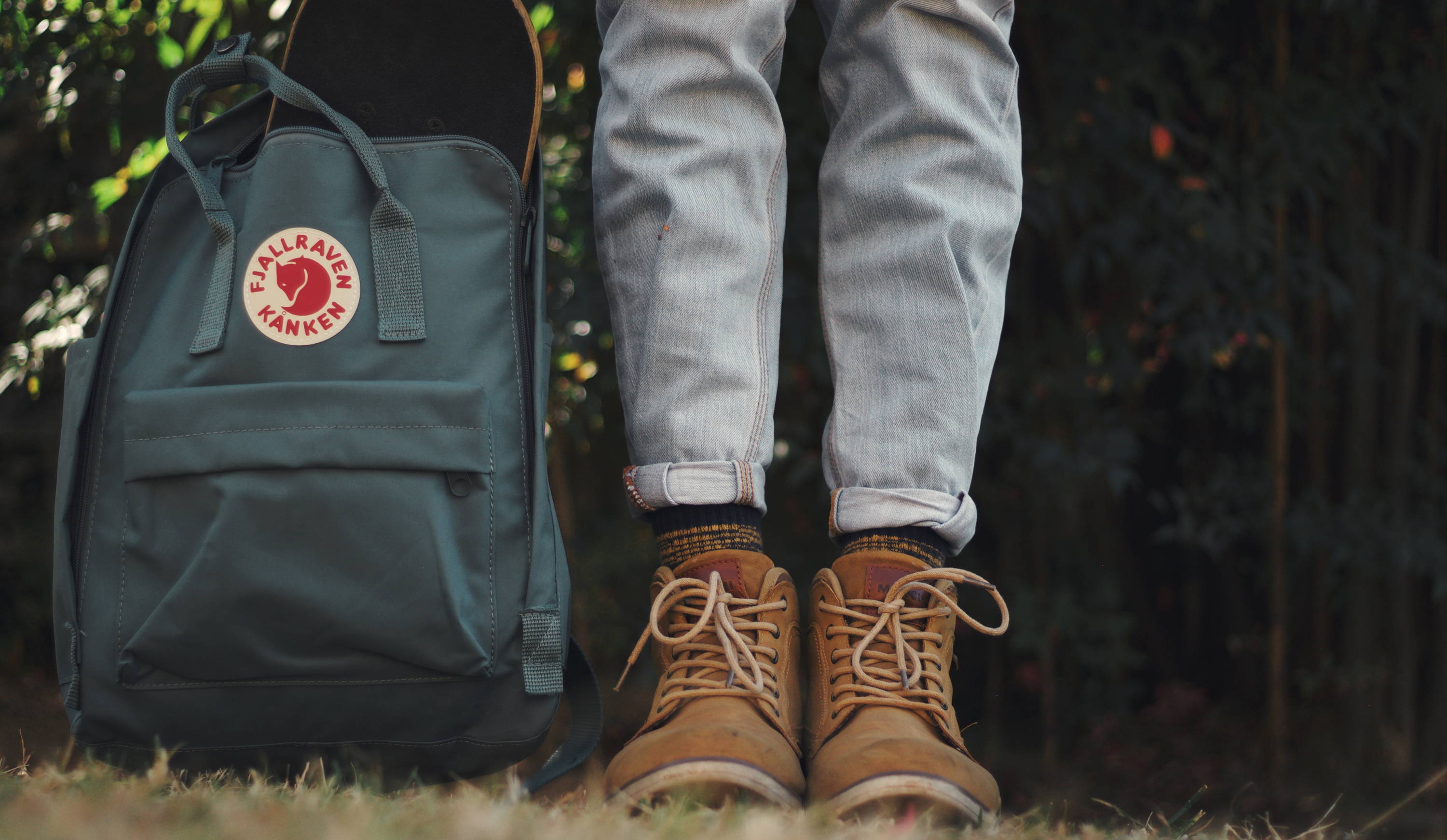 Founded in Sweden more than five decades ago, Fjällräven designs functional, timeless, and quality outdoor gear engineered to enhance the bond between humans and the outdoors.
In 2013, The Fjällräven Way was launched, a guidance tool for Fjällräven's work in sustainability. Using the compass as a symbol to guide their decision-making, Fjällräven committed to honoring environmental and social responsibility across their business. "˜N' stands for Nature & Environment, "˜E' for Economy & Business Processes, "˜S' for Social Responsibility, and "˜W' for Wellbeing.
One of our favorite aspects of partnering with Fjällräven is their commitment to innovations that have a profound and lasting impact on sustainability rather than participating in flashy, short-lived trends.
Fjällräven has integrated innovative,
eco-friendly processes into their entire supply chain
, from PFC-free garments as waterproof as PFC counterparts to recycled polyester and organic cotton to the use of SpinDye technology to add pigments to their fabrics. This technology uses 75% less water and 67% fewer chemicals than traditional textile dye. Fjällräven's deeply-rooted commitment to reducing their environmental footprint means it was no surprise when they sought out eco-friendly packaging solutions.
EcoEnclose began working with Fjällräven in 2015, providing 100% recycled poly mailers for shipping their larger apparel items and backpacks. EcoEnclose poly mailers have a dual tear strip and "peel-and-seal" feature, enabling customers to reuse existing packaging for returns or other shipments.
Fjällräven was an early pioneer in embracing the "reusability" of these poly mailers. They included return labels and instructions in their shipments, ensuring that customers who needed to make exchanges or returns could do so seamlessly and without putting new packaging into circulation.
"We have used EcoEnclose's products for our e-commerce division for several years now. Their 100% recycled (as well as reusable and recyclable) bags are the perfect fit for us as a company intent on impacting our environment as little as possible."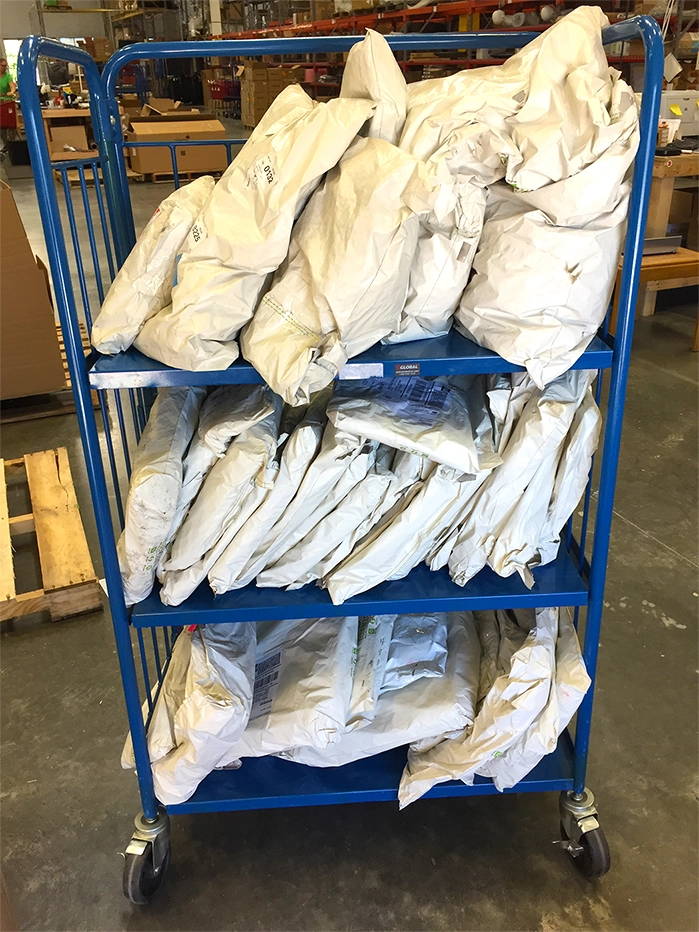 To keep pace with the remarkable growth they were experiencing in the US market, Fjällräven sought a more sophisticated and efficient fulfillment process in their Colorado-based warehouse. The state-of-the-art system they introduced required that every single shipping package have an identifying barcode that could interact with their scanning technology.
EcoEnclose often prints UPC barcodes for customers. UPC barcodes are used to identify a product or specific item; as such, the barcodes EcoEnclose typically prints are the same for each "like" SKU. With this new fulfillment system, Fjällräven needed each package imprinted with a unique barcode. This requires dynamic printing and is not a standard EcoEnclose service. It's a rare offering for any shipping package provider to offer.
The vast majority of custom poly mailers that EcoEnclose offers are printed "post-production"; they're printed after the 100% recycled poly has been "converted" into mailers. EcoEnclose utilizes a flexographic press to print these mailers, which means a standard plate is made based on the custom design.
This methodology works beautifully for the partners and brands we serve, as it allows us to print high-quality designs at relatively low minimums of just 500 mailers, some of the lowest minimums in the industry. It does not, however, allow for dynamic printing.
"When we first approached EcoEnclose regarding our special request, we weren't sure they would be able to meet the demands. When they pulled through with a solution, it was such a relief! We were able to continue to align ourselves with a company that possessed the same sustainability values as well as fulfill the demands of our new shipping system."
With Fjällräven's growth and packaging needs eclipsing the capabilities of standard flexographic printing, we were excited to seek alternative solutions to meet Fjällräven's specific packaging goals and ensure they could continue utilizing eco-friendly shipping supplies, even as they scaled.

By engaging a specialized manufacturing plant, we converted our verified, 100% recycled poly material into mailers and dynamically printed these mailers with Fjällräven's unique barcodes.
"We now have the ability to see real time where our orders are in the system, who has touched them, and when and where we sit in terms of inventory levels of all SKUs; quite a difference from our humble beginnings."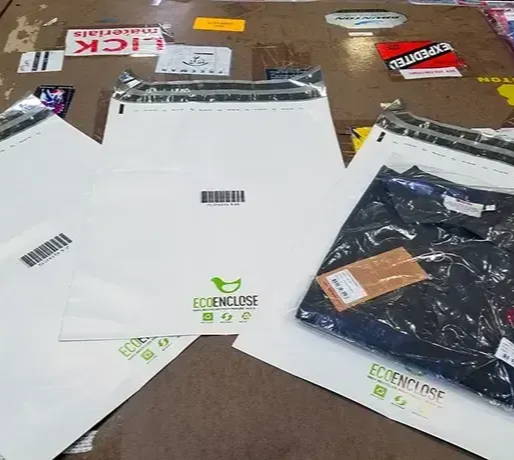 With high-volume requests like this, EcoEnclose can often formulate many alternative and creative solutions beyond our standard capabilities. It's an offering we're proud to serve our partners. We love working with earth-conscious brands to ensure their packaging is closely aligned with their values, even as they experience rapid growth.
Does your packaging stack up to your sustainability and branding goals?

We offer a diverse mix of standard solutions and products that meet strict sustainability standards. However, EcoEnclose recognizes that many companies, particularly larger or rapidly growing brands, need unique, sustainable packaging solutions.
As the pioneer in sustainable packaging, we've developed various custom solutions to help brands of all sizes and niches overcome their packaging woes. We're happy to discuss your specific needs and sustainability goals to engineer the ultimate, eco-friendly solution for you. There are countless ways we can design, convert, and print our eco-friendly materials into packaging that meets your unique needs. We uphold our ethos to work tirelessly and closely with you to ensure you don't need to sacrifice sustainability for efficiency.
Learn more about our enterprise capabilities or contact us today for more information. Read our sustainable packaging framework to learn more about the sustainability standards we live by and how we can make your brand last.