Tell Your Brand's Sustainable Packaging Story
Tell Your Brand's
Sustainable Packaging Story
We've developed digital assets, guidance, and sample language to help you effectively market your sustainable packaging investments. Showcase your eco-friendly efforts and help your customers understand the positive environmental impact of their purchases.
---
Our EcoReports outline the features and calculated eco resource savings of your recycled packaging. Give your customers a deeper appreciation of how your decisions help reduce the carbon footprint of their purchases.

Our videos convey what is uniquely eco-friendly and circular about your packaging, without all those words that no one has time to read. Use these to help your customers learn why you chose recycled, recyclable packaging.
---
Your packaging can - and should - become a canvas to showcase your brand story. Your eco-friendly packaging is the perfect spot to share this information.
There is no one way to do so. Some brands we work with choose very subtle ways. Others include longer narratives outlining decisions made and the rationale for making them. Still, others include bold, in-your-face messaging.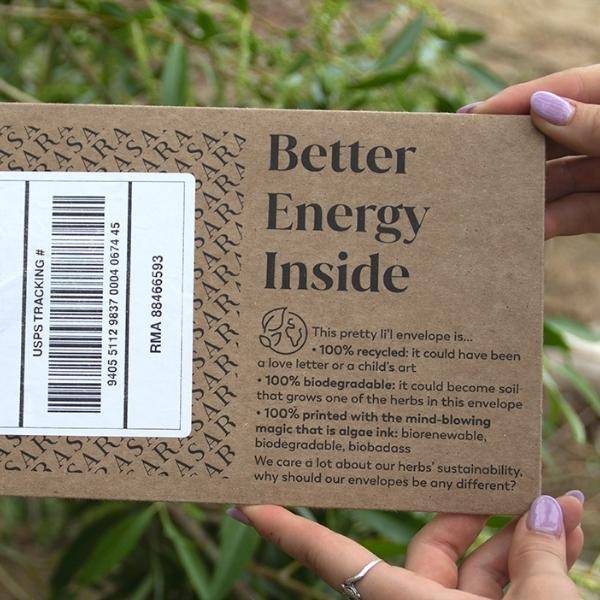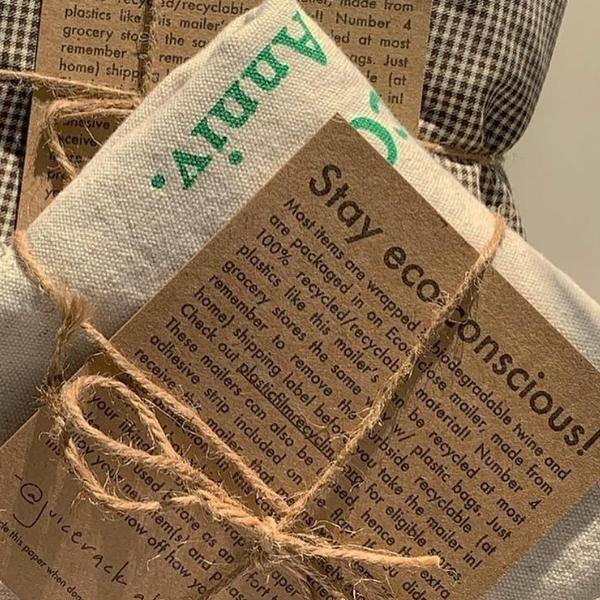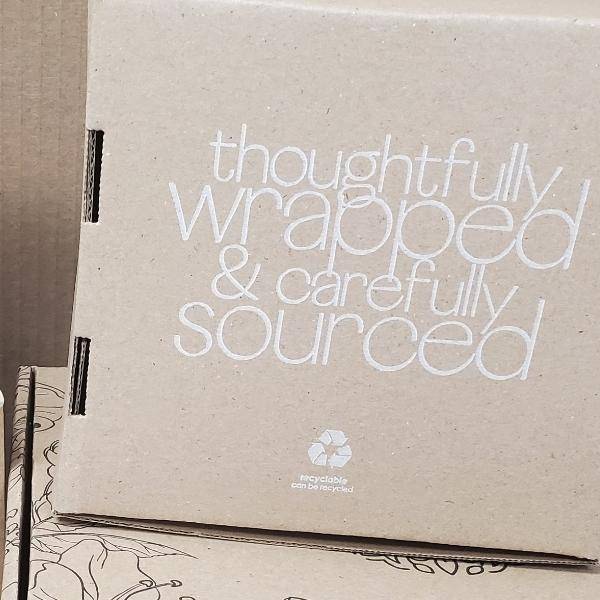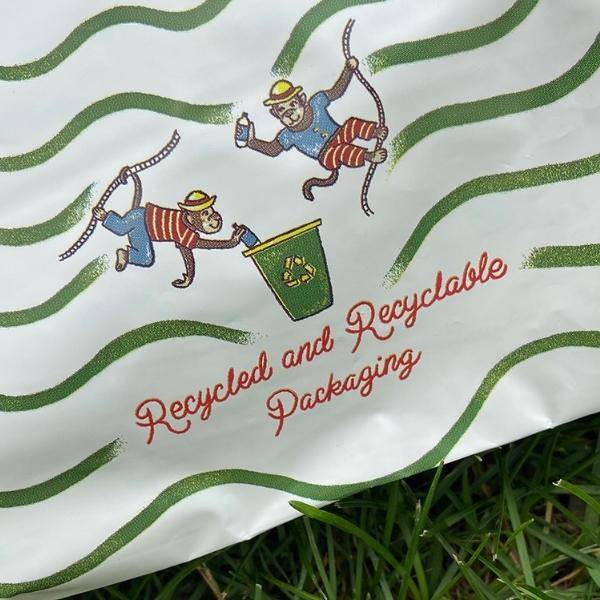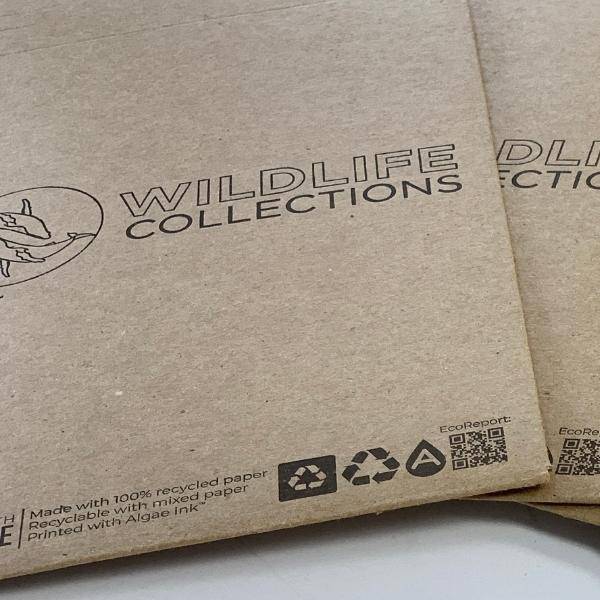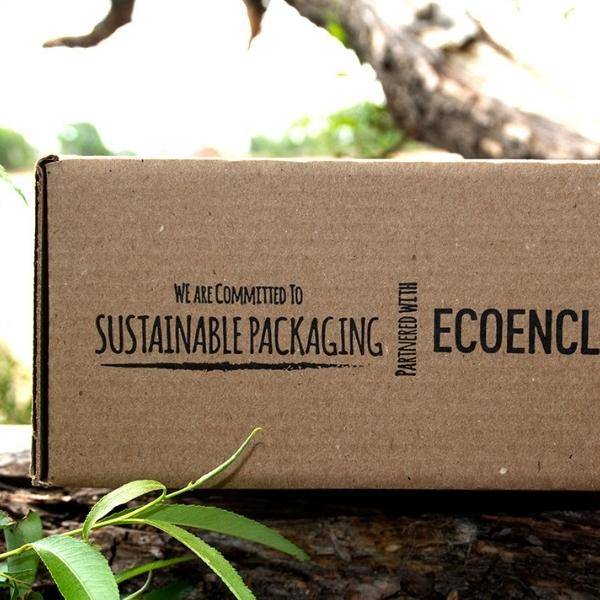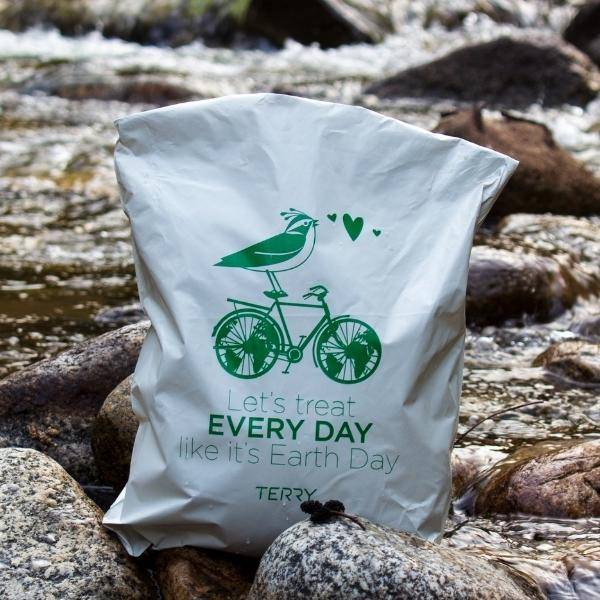 Poly Film Recycling information
Plastic products that are labeled thin-film recyclable are fully recyclable through source-separated streams, available at grocery store drop-off locations, or through
EcoEnclose's poly take-back program
.
To help your customers find a recycling drop-off location for their thin film packaging, you can use this QR code on your packaging, which directs consumers to Bag and Film Recycling's
Drop Off Directory.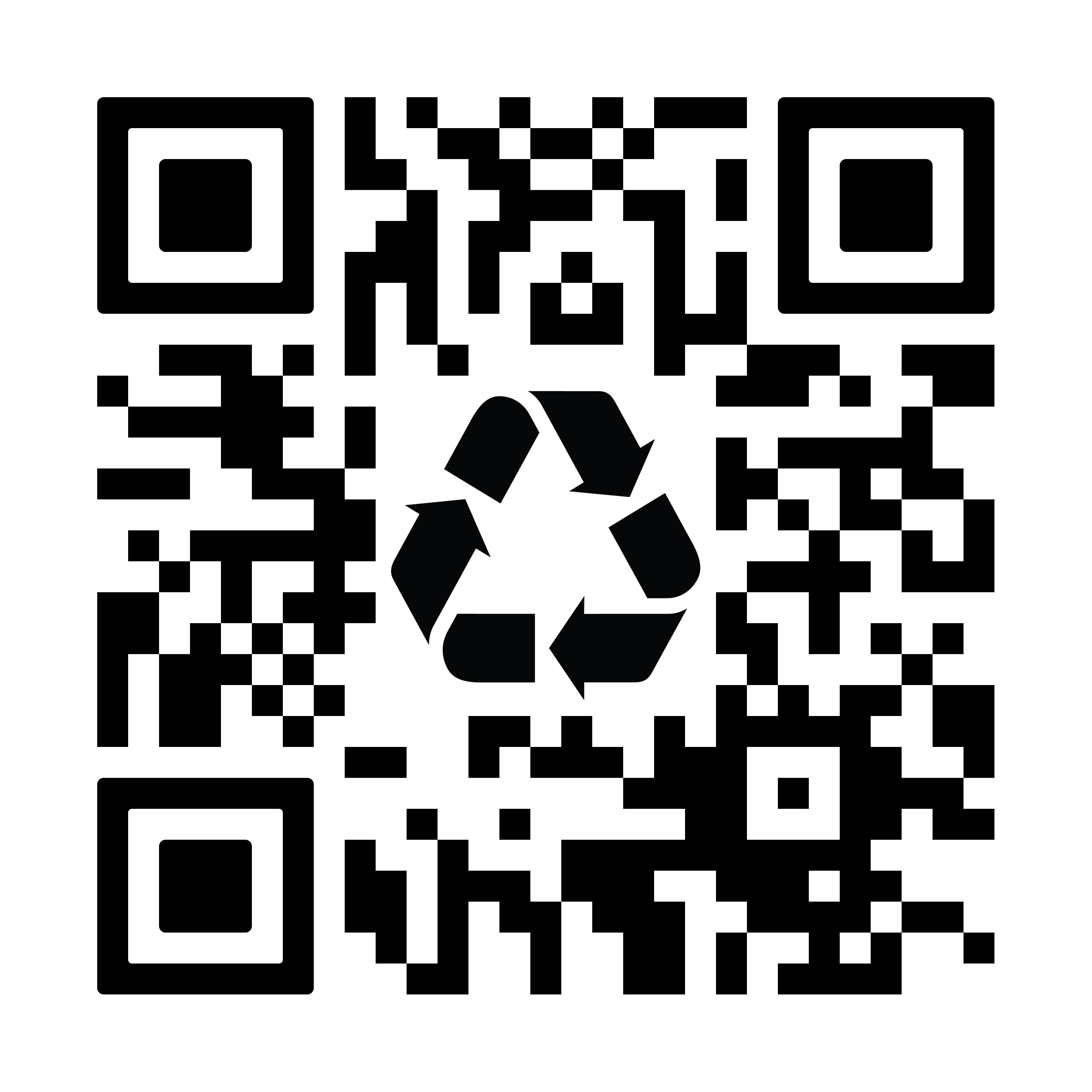 If you don't yet have the budget for custom branded packaging, rest assured that most EcoEnclose stock packaging carries basic icons to help convey their eco characteristics - recycled content, recyclable, and algae ink, to name a few.
Take advantage of our complimentary We Care Cards which feature a QR code that directs your customers to information on how to reuse, repurpose or recycle their specific packaging. Seal your packages with our "Thoughtfully Packaged" Water-Activated Tape to create an eco-friendly first impression. Or, print a dedicated message and design about your eco-packaging investment on your packing slips.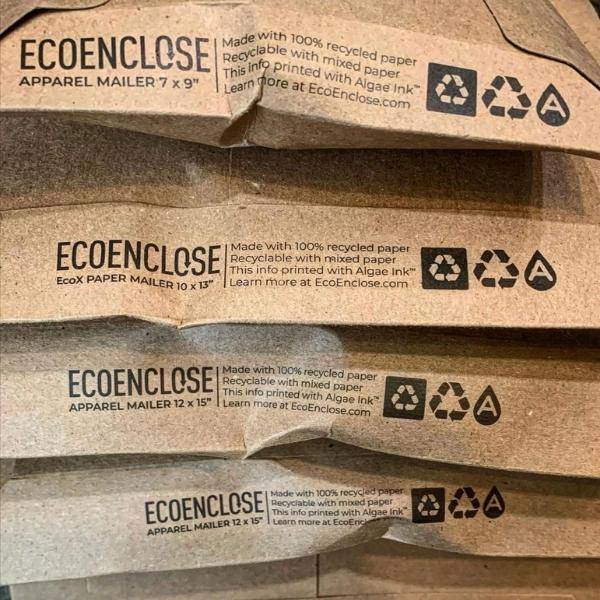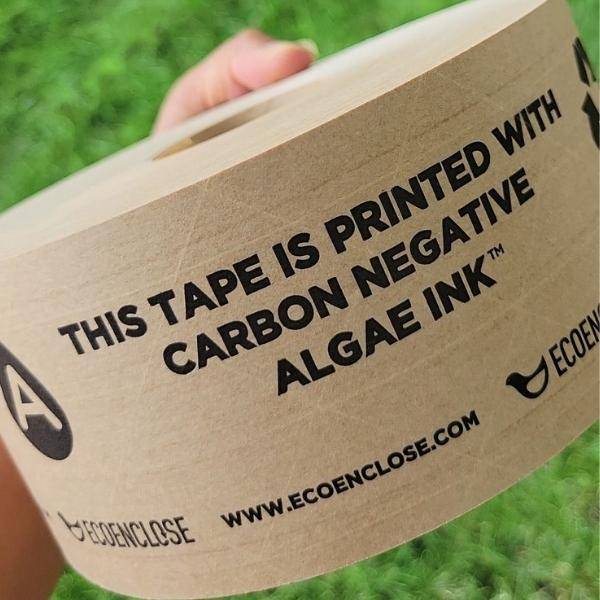 ---
On Website & Social Media
Sustainability Showcase Page
More and more, brands are developing sustainability or values pages on their websites. These pages help users understand your brand's commitment to sustainability and other focus issues. When executed well, they give your community insight into how you make decisions and why those decisions have a positive impact.
A great sustainability page can include:
Framework: Describes the basic structure of a brand's sustainability values and the most important criteria (and its prioritization) when making packaging and product choices.
Values: Lists decision-making criteria and major values.
Sustainability Goals: Describes where a brand is going and how it will measure its impact and success.
Supply Chain: Specific lists of used packaging solutions. Highlights the vendors and other inputs/supplies being used.
Journey: A timeline or visualization to show your progress towards your sustainability and innovation goals. Communicates your incremental progress and commitment to improvement over time.
See how some of our favorite brands have showcased their eco-friendly efforts and navigated their journey to sustainable packaging.
A peek at our own journey! We are proud and lucky to work with incredible brands that enable us to continuously innovate.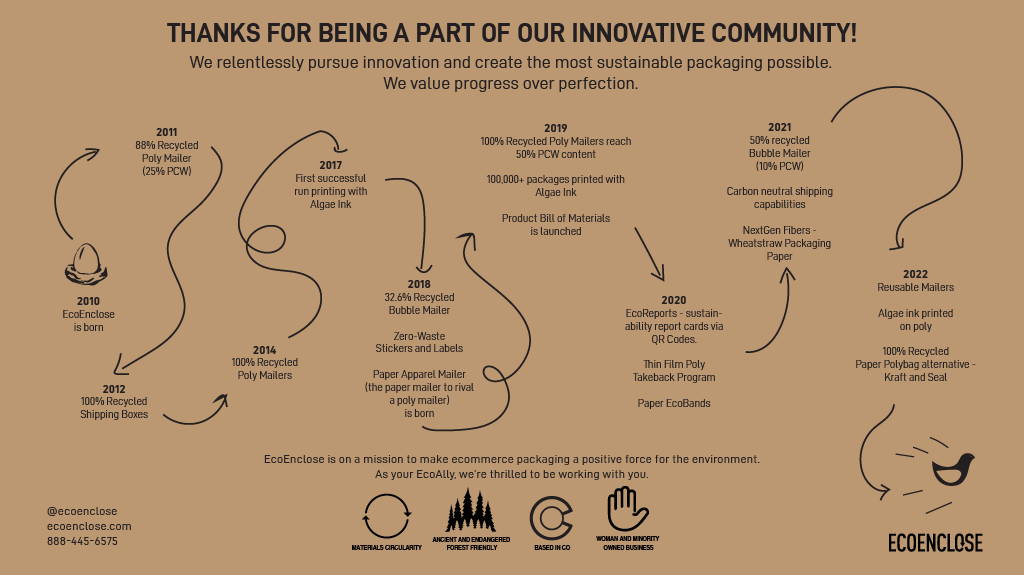 Designed to help you promote your commitment to sustainable packaging. These are great additions to your website's sustainability page, a page many of our brands develop to help prospective customers understand their values.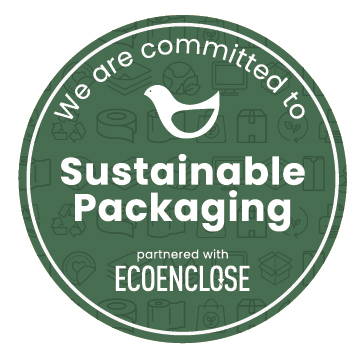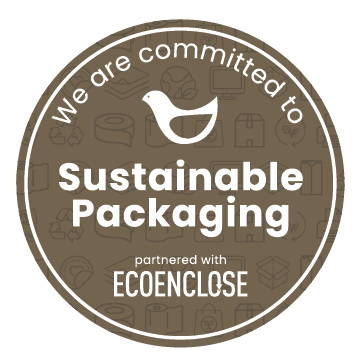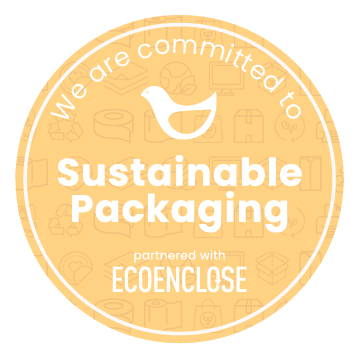 To help you get started, we've provided sample language to include alongside these badges.
[Our Brand] understands that our impact doesn't stop once our products are produced. How we package and ship them matters as well. That's why we've invested in eco-friendly, circular packaging that is 100% recycled and recyclable. Learn more.
[Our Brand] is proud to be working with EcoEnclose to ensure we package and ship your orders in ways that align with our eco values. Our packaging is recycled, recyclable, and manufactured domestically and ethically.
By choosing recycled packaging, [Our Brand] has saved X lbs of emissions, X BTUs of energy, and X gallons of water. We are helping to build a more circular economy long-term.
Posts and press releases are avenues to promote your sustainable packaging decisions, especially when you are moving to more eco-friendly solutions. Formats include:
Photo & video posts
"Pack an order with me" posts
Commentary TikTok posts on why you chose one option over another
Educational posts on the best end-of-life options for your packaging
Here are some excellent examples and inspiration to get you started:
---
When you start showcasing your eco-friendly packaging decisions, it can be easy to say or promote something that inadvertently misleads your customers. Here, we share guidance on powerful phrases to use to describe your packaging, and claims we recommend avoiding as they can be misleading and inaccurate.
Phrases We Love Seeing on Sustainable Packaging
The following are examples of phrases we encourage you to use or draw from, infusing these concepts with your brand's unique tone and personality. These phrases do not all apply to every single one of our packaging options. Please ensure that the phrases you land on accurately describe the packaging you have chosen.
This packaging is made with X% recycled content and Y% post-consumer waste.

This type of statement is clear, specific and also shows if and where your brand can continue to grow and improve.

This packaging is made with recovered trash. Keep the cycle going by recycling me!

This packaging was printed with Algae Ink, a breakthrough carbon negative innovation.

Recycle me with mixed paper.

Look at me, I'm plastic-free!

Reuse this package for returns or a second shipment, or recycle it at a thin-film drop off location or through EcoEnclose's Take Back Program.

This package was manufactured in the USA.

This box was custom-sized for your shipment. No unnecessary extra material was used in this box - #wehatewaste.

This packaging was chosen for its low carbon footprint.

I may look like just another box, but I'm actually made entirely with trash. Please recycle me so I can stay on my circular path.

Please don't send me to the scary landfill! Recycle me curbside so I can get a new life!

I'm naturally biodegradable so I won't clog our waterways or litter our lands. But please recycle me so I can become something useful again soon.

This packaging was Made in Ohio with recycled waste generated in the midwest USA.
Misleading Phrases to Avoid
These phrases can inadvertently send the wrong message or lead to the wrong end-of-life outcomes for packaging.
Compostable Packaging | Compost Me
Yes, almost all of our paper-based packaging is naturally biodegradable (i.e. it will biodegrade in nature, a home compost and industrial compost). As such, labeling our boxes and paper mailers as composable would be accurate. However, we strongly discourage our customers from putting the word on their packaging.

It is more ecological for unsoiled paper packaging to be recycled than composted because recycling gives new life to these raw resources quickly and efficiently, and avoids the need for virgin paper to be used.

The vast majority of composting facilities worldwide do not accept packaging unless that packaging is for food. All would prefer that these items be recycled, not composted.

Paper mailers and boxes contain inks, adhesives and shipping labels. These become contaminants that degrade our soils and devalue compost, making it more difficult for composting facilities to operate without extensive government support.
Degradable | Omnidegradable | Bio-Assimilate
Yikes! We see these vague, non-defined words more and more. They do not provide clear guidance regarding the end of life! They aren't inherently eco-friendly characteristics, so they can quickly lead you into greenwashing.
Landfill Me | This Package Will Biodegrade in the Landfill
We do not want materials to biodegrade in the landfill, as this leads to methane emissions - the third largest GHG contributor in the US. Skip packaging designed for landfill degradation; don't encourage your customers to trash these goods.
Biodegradable Packaging
If it is important to you that your packaging does not contribute a lick to ocean plastic pollution, we recommend using the term "naturally biodegradable." While this term isn't perfect, we believe it helps avoid the misunderstandings of labeling something as "compostable" or "biodegradable."
Certification Labels That Your Packaging Is Not Actually Certified To
We see brands use the OK Compost logo on paper packaging. While paper packaging can technically be composted, it is against certification rules to use this symbol for any packaging that hasn't been officially certified.
Vague adjectives, buzzwords, or "eco-descriptors."
Be Specific and Transparent
Whatever exact phrasing you land on, we encourage you to be specific. Replacing vague wording with facts and data communicates the most significant factors of a product's impact and enables your customer to see you are walking the walk, not just talking the talk.
Replace adjectives, buzzwords, and "eco-descriptors" with specific facts about the packaging material.
% of specific recycled content -

% of

post-consumer waste

(PCW) and

% of post-industrial waste (PIW)

Supplier and vendor names

Production location of packaging

How customers should correctly reuse or dispose of packaging

Is packaging reusable? If yes - state it's reusability and show how to reuse the packaging
Include relevant certification labels or icons in alignment with your certification scheme's license and guidelines.
Share specific recycled and post-consumer waste content percentages.
Many people dislike stating specific sustainability tech specs of their product if it's made with relatively low levels of recycled content or PCW. Instead of saying the actual percentage, they will use a generic phrase like "made with recycled materials." We highly recommend not being purposefully vague. By being transparent with consumers about the amount of recycled content included, you build trust with them, and your transparency may set you apart in your industry.
If you are actively working to increase the amount of recycled content in your products and thus don't want to print the percentages onto the packaging knowing they will change in the near future and require new printing plates or setup costs, consider using a QR Code. Invite customers to scan the QR code to learn the sustainability specs of the product and packaging. You'll be able to create and update a webpage dedicated to this information much more swiftly and at little-no cost, compared to reprinting product packaging.
---
EcoEnclose Sustainability Icons
EcoEnclose's library of sustainability icons and digital assets is available to any company we work with - to use on your website, packaging, and any of your communications.
As you explore EcoEnclose's packaging options; you'll see a lot of sustainability terms - recycled content, post-consumer waste, water-based inks, circular, etc. While these terms are second nature to us, they may be unclear to those new to sustainable packaging. Unfortunately, the terms aren't always used the same way by different people.
Read our detailed Definition of Sustainable Packaging Terms to learn more about the eco features we design for and why they are so important.