Packaging for Apparel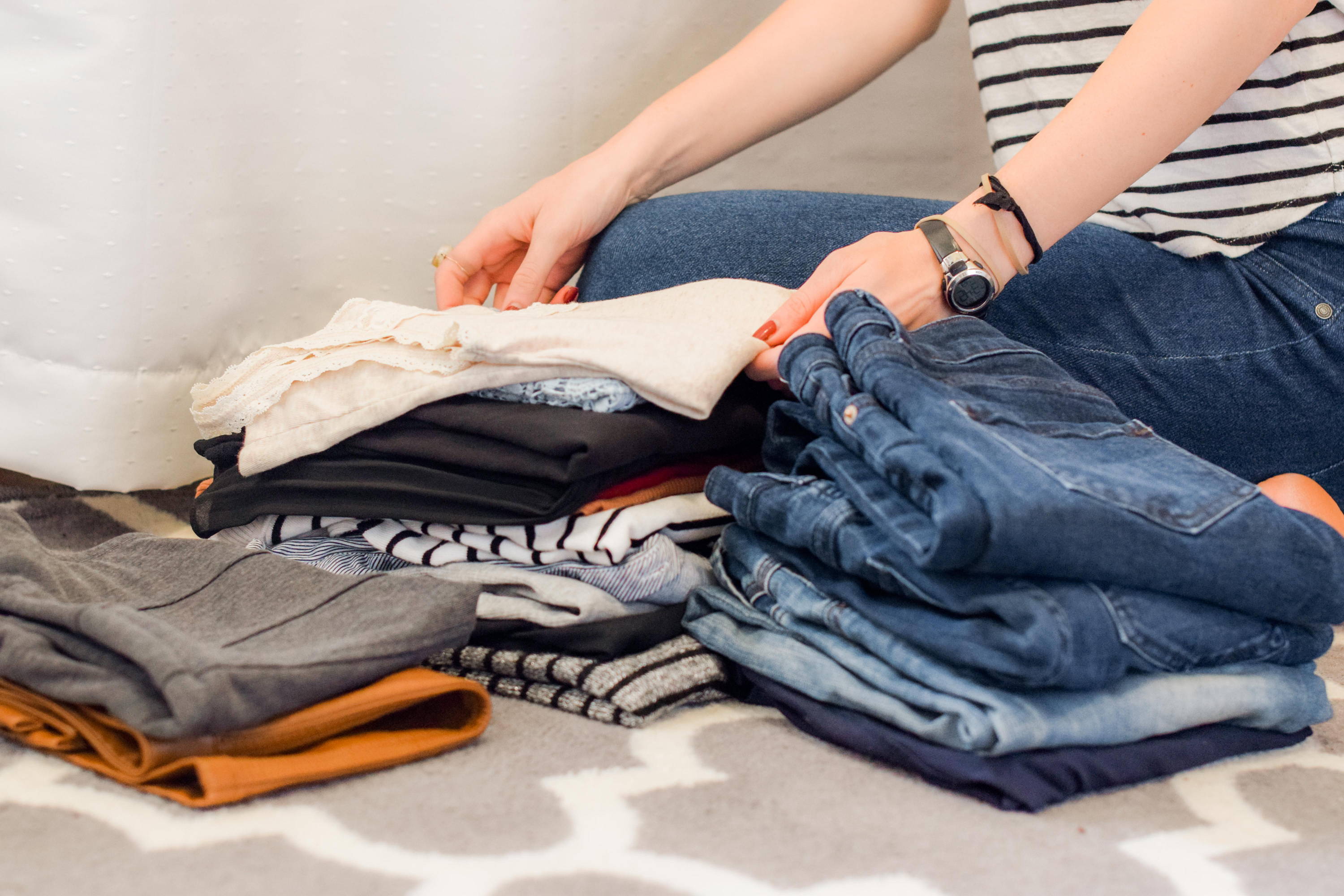 Are you looking to ship apparel in a way that's both eco-friendly and offers a distinctive unboxing experience?
Custom packaging bags or shipping bags for clothes aren't your only packaging options. Here we'll break down some of your best bets for shipping apparel. T-shirts, pants, underwear, jackets - whatever clothing you sell, you have a few eCommerce packaging options to consider. So let's dive right in and find your brand's best apparel packaging solution.
Apparel Shipping Solutions
Shipping Solutions for Apparel
Clothes do not break in transit, so apparel companies have the option to use more durable shipping boxes or flexible mailer bags. Both are great options, depending on your business. However, each has their pros and cons.
Mailers or mailer bags are often referred to as a shipping envelope or flat mailer. These shipping solutions are preconstructed envelopes that typically contain a self-sealing strip. Mailers are more cost-effective, efficient, and sustainable than shipping boxes because they use less material than an equivalent shipper box. They also take up less room than shipping boxes which makes storing them easier.
Shipping Boxes make for an exceptional presentation and work well for companies that want to go the extra mile for a unique, premium customer experience. While they are not as sustainable as equivalently sized mailers, our custom shipping boxes are 100% recycled, recyclable, and highly likely to be recycled. They work particularly well if your orders typically include three or more items.
---
Comparing Packaging Bags, Mailers, and Shipping Boxes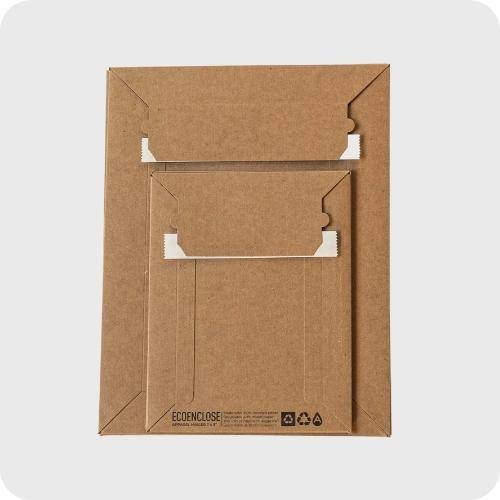 THE GOOD
100% recycled, renewable source material
Plastic-free (trace polymers in adhesives)
15pt paperboard - strong for bulky goods
Gusset size made with 18pt paperboard
Crease lines for expandability
Curbside recyclable
Naturally biodegradable and compostable
THE BAD
More expensive than Kraft and Poly Mailer
Heaviest mailer - more expensive to ship
Strong seal requires firm adesive pressure
Paper can tear or puncture
Paper is not 100% weather proof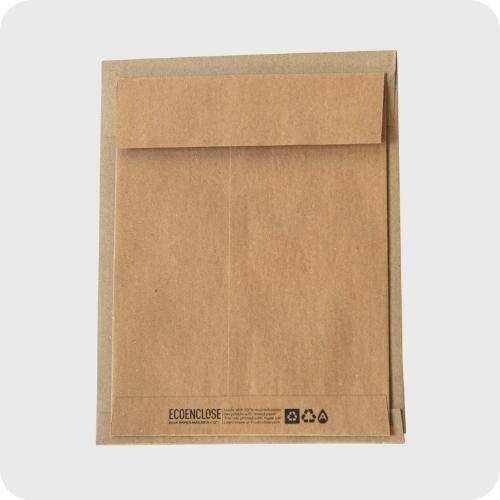 THE GOOD
100% recycled, renewable source material
Plastic-free (trace polymers in adhesives)
Extremely durable, strong fibers
Water resistant
Curbside recyclable
Naturally biodegradable, compostable
THE BAD
More expensive than Kraft Mailer
Less presentable than Apparel Mailer
Paper can tear or puncture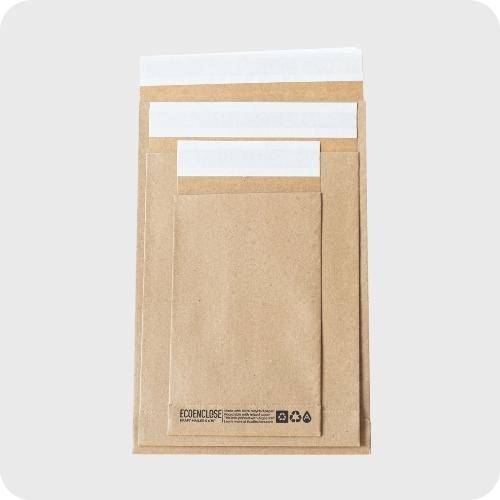 THE GOOD
100% recycled, renewable source material
Plastic-free (trace polymers in adhesives)
Lower cost than Apparel Mailer
Made with 10pt paperboard - lightweight
Two sizes feature side gusset
Curbside recyclable
Naturally biodegradable, compostable
THE BAD
10pt paperboard - less protective
Paper is not 100% weather proof
Paper can tear or puncture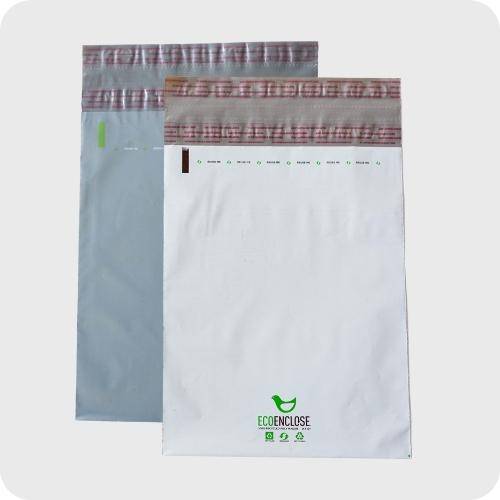 THE GOOD
Lowest cost
Weather-proof
Reusable for returns
100% recycled
Lightest option

Lowest carbon footprint

Recyclable
THE BAD
Derived from petroleum-based plastic
Has to be recycled in plastic film-specific bin
Loses its shape if product does not fill it out completely
Flimsier presentation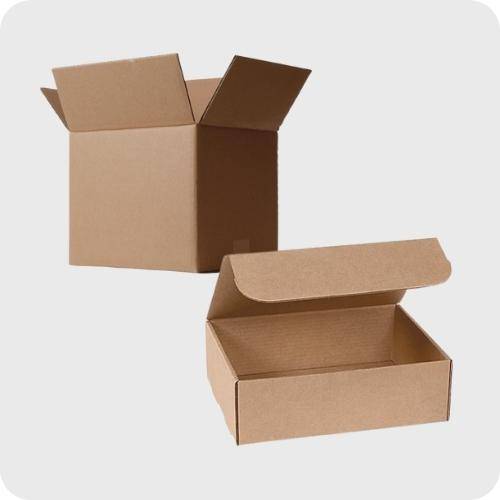 THE GOOD
100% recycled, renewable source material
Plastic-free
Strongest, most durable and protective option
Excellent presentation
Custom cut by EcoEnclose for a perfect product fit
Curbside recyclable
Naturally biodegradable, compostable
THE BAD
More expensive than mailers
Heaviest solution - higher inbound and shipping costs
Typically increase the amount of air that is shipped
Requires assembly and tape
Bulkier to store
Highest carbon footprint
If you've decided that mailers are right for your apparel business, this sizing chart is an excellent starting point. If you're unsure what size you need, we strongly recommend ordering
free samples
to ensure you choose your ideal size.
| | | | | |
| --- | --- | --- | --- | --- |
| | Poly Mailers | Kraft Mailers | EcoX Mailers | Apparel Mailers |
| | | | | 12 x 15" or 10.5 x 4 x 19" |
| | | | | |
| | | | | |
| | | | | |
| | | | | |
| | | | | 12 x 15" or 10.5 x 4 x 19" |
| | | | | |
| | | | | |
---
Inner Packaging Bags: Paper vs Plastic

The ubiquitous clear poly bag is an issue fashion brands are looking to tackle. Manufacturers package garments individually in clear plastic bags to keep them clean and separated as they travel to distribution facilities, retailers, or fulfillment centers. In fulfillment centers, these bags help receivers stock items properly, and pickers ensure they have pulled the correct goods for each order. This creates a lot of single-use plastic almost always made of virgin material. As a result, progressive brands actively seek alternatives, including eliminating these bags.
EcoEnclose offers four eco-friendly alternatives. Here we compare the Flap & Seal, Glassine Bag, and Kraft Bag and not our fourth option - EcoBand Paper Product Wrap - because it is not an excellent solution to protect a product from factory to end consumer.
Comparing Our Eco-Friendly Inner Packaging Solutions

None of our inner packaging solutions are the perfect eco solution, and there are no clear eco winners. However, some products score best in certain categories. Here, we provide our reasoning.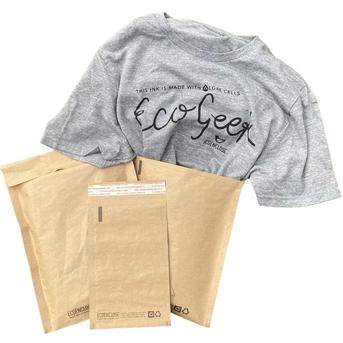 Winner: 100% Recycled Kraft Bags
We prioritize packaging with as much recycled content as humanly possible, emphasizing post-consumer waste. Our Kraft Bags are made from 100% recycled natural Kraft paper. They come with or without a seal. Those without a seal are made with 90% post-consumer waste, and those with a seal are made with 60% post-consumer waste.
Our Glassine Bags are made from paper and FSC certified, utilizing wood from a controlled blend of trees in British Columbia, CA: Western Yellow; Red Cedar, and BC Interior Spruce, Pine; Fir (SPF). While FSC certified, they are made with virgin paper - making them less ecological than the Kraft Bag & Seals.
Our Flap & Seals are made with 100% recycled post-industrial plastic. While post-industrial content is not as impactful to the planet as post-consumer content, we have been unable to achieve as clear of a bag as is needed when post-consumer content is added.
Carbon and Emissions of Manufacturing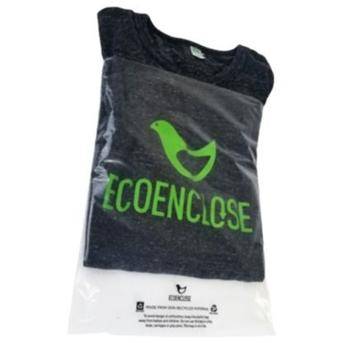 Winner: 100% Recycled Flap & Seals
The manufacturing process of a paper package is more carbon-intensive and polluting than that of an equivalently sized plastic package.
While this differential exists between our 100% recycled clear poly bags and our glassine and kraft bags, two factors make the difference between our Flap & Seals and Glassine Bags particularly great.
The first is that glassine is entirely virgin. Secondly, glassine is more energy-intensive to produce than traditional paper. This is because the lignin must be completely removed from the raw wood chips (requiring more bleach and heat than standard paper) and because of the high heat and pressure necessary for super calendaring. Finally, our Flap & Seals are 100% recycled, meaning their carbon footprint and emissions are lower than virgin poly film.
Carbon and Emissions of Transport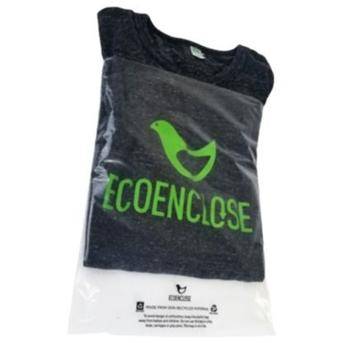 Winner: 100% Recycled Flap & Seals
Glassine Bags are more than three times thicker and heavier than Flap & Seal. Kraft Bags are even thicker than glassine bags! This means transporting and storing these paper alternatives takes three times the resources.
However, it is essential to note that for most manufactured goods, transportation represents 3-10% of the carbon footprint - not significant, but also not a major contributor.
Winners: Glassine and Kraft Bags

This is where the Kraft and Glassine Bags truly shine! We prioritize materials that are easily recyclable as this is the best ecological option for a package (after reuse). These bags are paper, so they are easily recycled curbside with paper products. Additionally, they are naturally biodegradable and compostable. Although these bags are technically compostable, we don't advocate for composting Glassine Bags or Kraft Bags.
Recycling is far more eco-friendly for paper packaging, especially the type of high-quality paper found in Glassine Bags. However, if they happened to end up as litter, they would biodegrade in natural environments. 100% Recycled Flap & Seals are recyclable but not biodegradable.
Like all thin film, they cannot be curbside recycled as the flimsy material gets caught in the gears of the sorting equipment at materials recovery facilities. They must be recycled at thin-film drop-offs, found in almost every grocery store and big-box retailer nationwide. Because of this inconvenience, they have lower recycling rates than paper (11.5% for plastic bags compared to 66% for paper goods).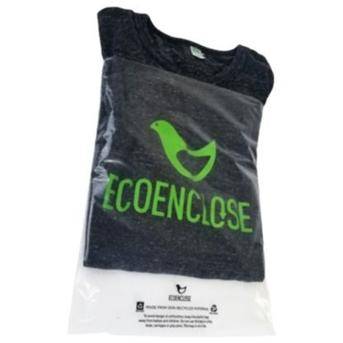 Winner: 100% Recycled Flap & Seals

It is hard to beat the functionality of any plastic, including 100% Recycled Flap & Seals - fully waterproof, clear, and durable. Clear poly bags protect goods and allow for easier sorting and storage by their retailers. They are also often a packaging requirement set by third-party fulfillment centers such as Amazon FBA.
We are thrilled about Glassine Bags because they offer a lot of the functionality companies need for this wholesale packaging. They are translucent enough to see an item's color and scan its barcode. These bags also offer some moisture resistance. Unlike standard paper, glassine is toothless and doesn't irritate goods or run paper fibers onto contents. Glassine also does not produce static, unlike poly film. Additionally, we love that our Glassine Bags are gusseted and have air holes, making them easy to use in a high-speed operation.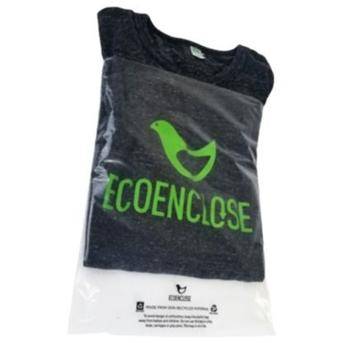 Winner: 100% Recycled Flap & Seals

Paper is more expensive than plastic; this cost differential can be seen in our pricing for Flap & Seals and Glassine Bags. Depending on your desired size and quantity, Glassine Bags are 2.5 to 4 times the price of Flap & Seals.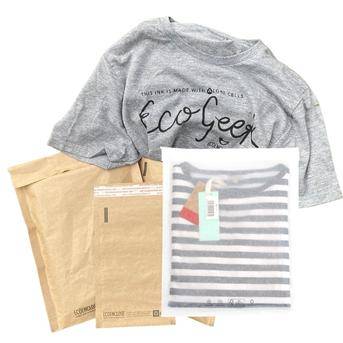 Winners: Kraft and Glassine Bags

We love the aesthetics of the Kraft Bags. They have a natural look and can be custom branded in relatively low quantities. Because this is internal packaging rather than an outer shipping solution, the likelihood that a well-branded Kraft Bag ends up in customers' hands without blemishes or scuffs is high. Additionally, whether branded or not, Kraft Bags are not a very common internal packaging solution, especially our Kraft Bag & Seals. Customers will notice that your packaging strategy is unique in its effort to be more sustainable.
We also know that many brands love the unique appearance of glassine bags. They are translucent and have a unique, soft, smooth finish. They can also be beautifully custom branded at order quantities of just 500.
For more information on the Fashion Industries quest for a more sustainable poly bag, and a comparison of eco features of different options, check out this paper by Fashion For Goods. The graphic on page 29 of the report is particularly effective at summarizing some key trends when comparing various poly bag options and alternatives.
---
Sustainable Packaging Inspiration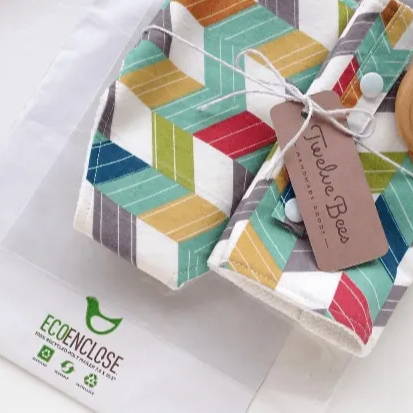 Twelve Bees protects their cloths in 100% Recycled Flap & Seal bags and packages them in 100% Recycled Poly Mailers.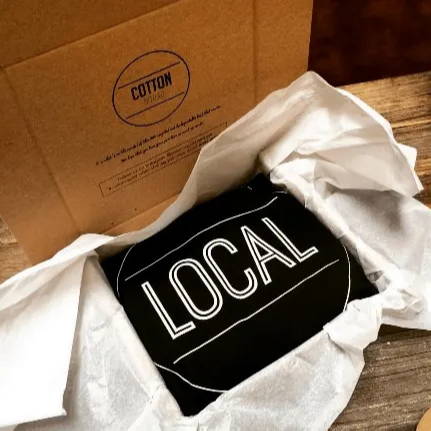 Cotton Squad packages their shirts in a 100% Recycled Custom Shipping Box with tissue paper for protection and presentation.
Third and Oak protects their clothes in 100% Recycled Flap & Seal bags and packages them in 100% Recycled Poly Mailers.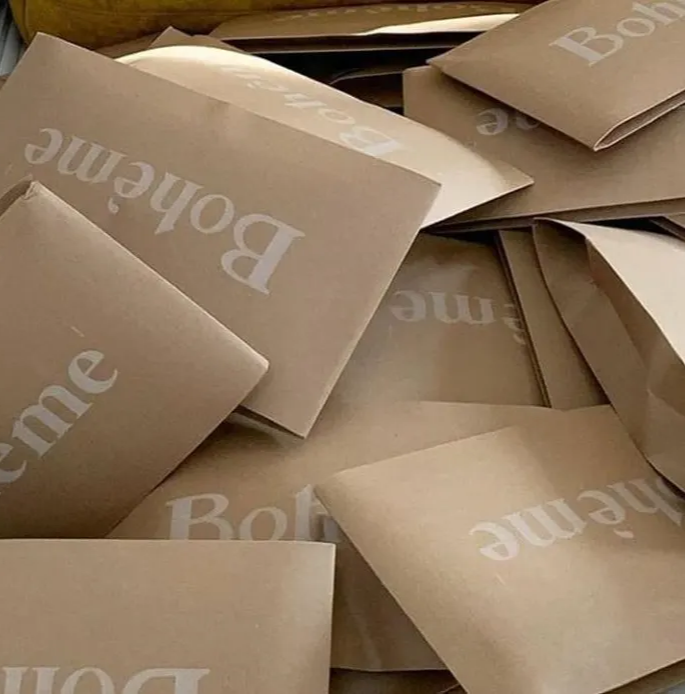 Boheme uses our largest, gusseted size of 100% Recycled Paper Apparel Mailers to ship vintage clothing.
---
We'd love to help you find the right shipping solution for your business.