We Are Packaging Innovators
We Are Packaging Innovators
When you partner with EcoEnclose for your packaging, you join a community of over 30,000 EcoAllies - brands whose commitment to sustainable packaging has fueled our ability to innovate our packaging solutions towards our ultimate vision of materials circularity.
Your collective commitment has fueled many sustainability improvements - big and small - over the years. These groundbreaking innovations often become standard offerings in the packaging industry, meaning our community is creating broad, lasting change.
Thank you for investing in the planet, being part of our EcoAlly community, and helping eCommerce become a positive force for the planet.
Do you have an idea or nascent technology that would benefit the packaging industry?
Are you looking for a unique, circular solution you haven't been able to find elsewhere?
We love partnering with brands, manufacturers, and dreamers to turn these concepts into reality.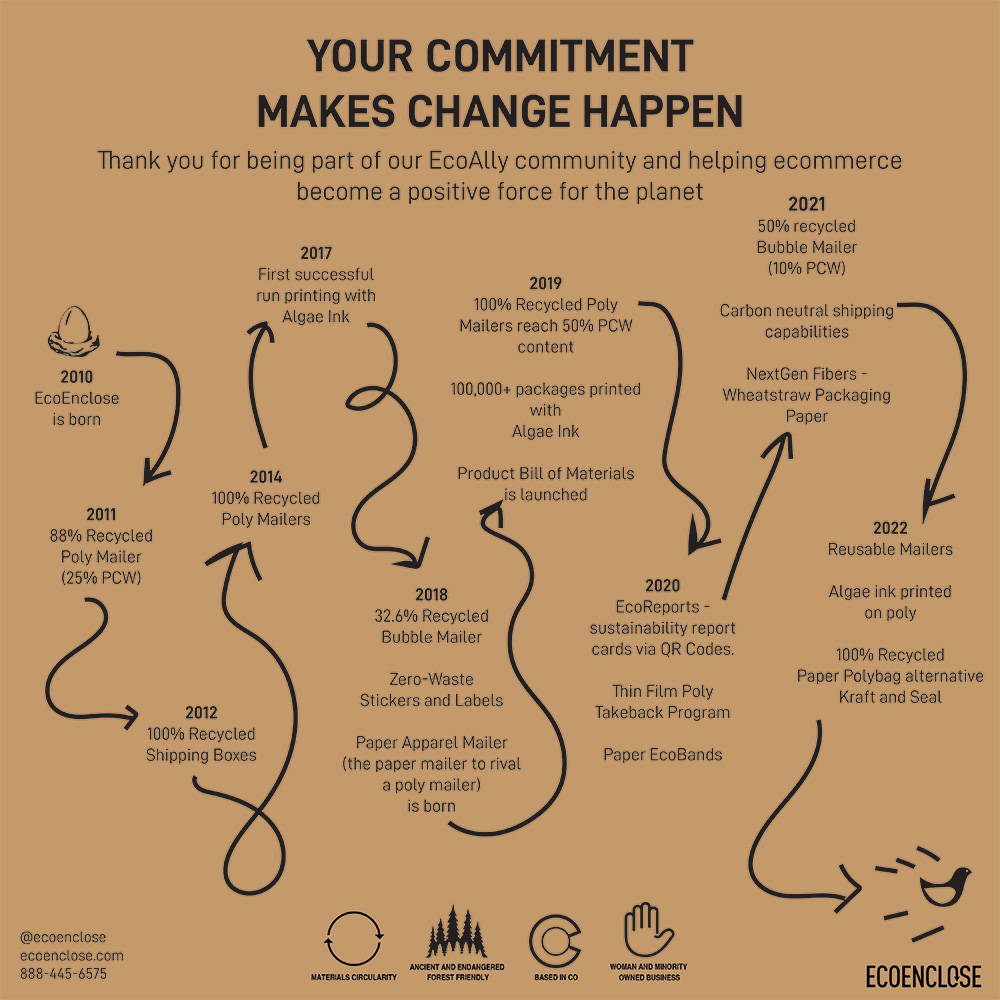 Become a Beta User and Packaging Innovator

Our objective is collective learning and development. We do this by partnering with brands of all sizes to test innovative packaging materials and products - in service to our overall goal to make packaging circular and regenerative. The role of innovators is critical to achieving this mission.
Our beta user program allows brands to partner with us to develop new, sustainable packaging solutions.
EcoEnclose's position in the industry allows us to catalyze the packaging industry to be better - connecting sustainability research, disruptive brands, and the greater packaging supply chain itself. To make these initiatives happen, we need the help of brands to partner, test, and innovate with us.
Interested? Email sarah@ecoenclose.com to learn more and get started.
Current beta opportunities

We meet with you to learn as much as possible about your brand, operations, and any unique circumstances in your operation.
A designated project manager at EcoEnclose works closely with you to problem solve, test, iterate, and answer questions.
EcoEnclose makes beta materials and products available to you at a steep discount.
We write a custom case study featuring your brand's role as a packaging innovator, sharing the unique learnings from your test(s) with us.
You engage with us throughout the trial of beta materials to provide ongoing feedback.
Often, this comes in the form of pictures, videos, and written or verbal feedback from your team members and customers.
Most importantly, an open mind, collaborative spirit, and curiosity!
We don't know if new materials and products will always work, but trialing them together helps establish feasibility and ultimately moves the industry closer to packaging circularity.
Interested in becoming a beta user?