Jewelry Packaging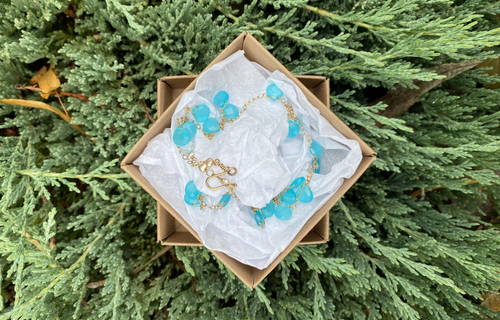 Jewelry packaging protects and presents your necklaces, rings, earrings, and more. We offer beautiful and sustainable packaging for jewelry, including 100% recycled jewelry boxes, inner lining options such as tissue paper, cushioned mailers for shipping, and retail bags for your storefront.
You've worked hard to create beautiful pieces of jewelry for your clients. The proper packaging ensures your products are boxed and delivered safely, securely, and sustainably.
Jewelry Packaging for Shipping
Jewelry Packaging for Retail
---
What makes EcoEnclose jewelry boxes more sustainable?
We are proud to offer sustainable jewelry boxes that help you package and ship your products as thoughtfully as you made them.
Our jewelry boxes ship flat, ensuring no shipped air and the most economical shipping to your door. Plus, flat boxes make for easier storage in your facility.
Made with 18pt tan bending chip. Ships flat and easy to assemble. Perfect size for earrings, rings, bracelets, and small necklaces.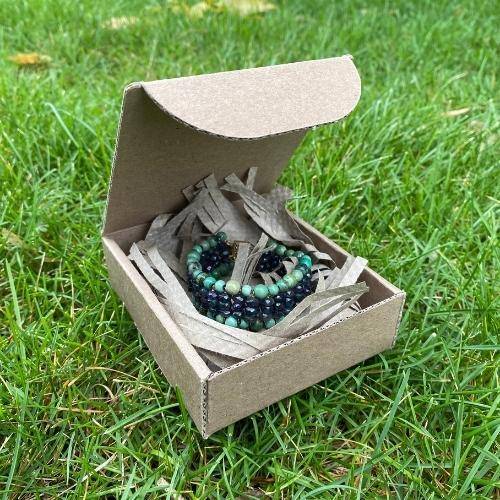 100% Recycled Literature Mailer - 4" x 4" x 1.25"
Made with 32ECT E corrugated material. A sturdy box that is easy to fold and, as a bonus, can double as your shipping box.
MOQ is 20 boxes.
---
Inner Liners & Protection

Most jewelry box liners and cushions are made with virgin, unrecyclable materials - velveteen, velvet, and polyester. Even when standard jewelry box pads are made with renewable alternatives to polyester, they are still unrecyclable. Our eco-friendly options can help you replace these with recycled, recyclable, and naturally biodegradable alternatives.
---
Jewelry Packaging for Shipping

Once you've made your beautiful jewelry and presented it in eco-friendly packaging, we will help you ship it just as thoughtfully. Check out our options for mailers and custom boxes that are perfect for jewelers.
---
Jewelry Packaging for Retail

Wow your in-store shoppers with sustainable packaging supplies. Send your customers home with custom shopping bags and notecards with brand messaging.
Flat bottom bags are easy to fill, and twisted paper handles are easy to carry. 100% recycled. Sizes ranging from 5" x 3" x 8" to 16" x 6" x 13". Available in cases and with custom branding.
Available in 4 sizes
Ready to ship | Min. 250 units
Customizable | Min. 500 units
Deliver targeted and in-depth messages highlighting your eco-investments, providing product information, telling your brand story, thanking your customers, and more. 90-100% recycled.
Available in various sizes and 3 card stocks
Customizable | Min. 100 units


Explore our 5" x 7.5" for jewelry. Protect delicate items in this curbside recyclable alternative to a clear poly bag. Sizes ranging from 5" x 7.5" to 12" x 15". 100% recycled, 90% post-consumer waste.
Available in 3 sizes
Ready to ship | Min. 25 units
Customizable | Min. 500 units
---
Wow Your Customers With Exceptional Jewelry Packaging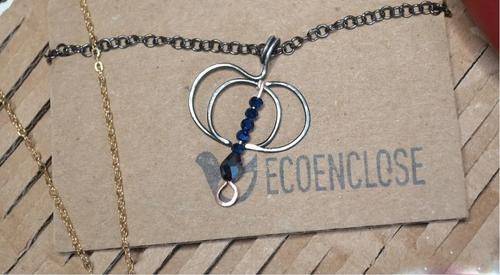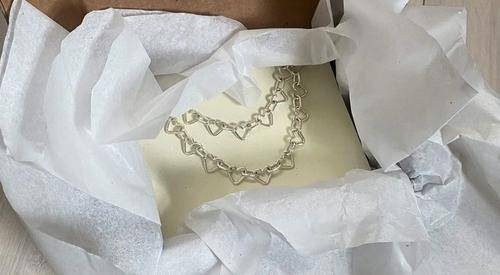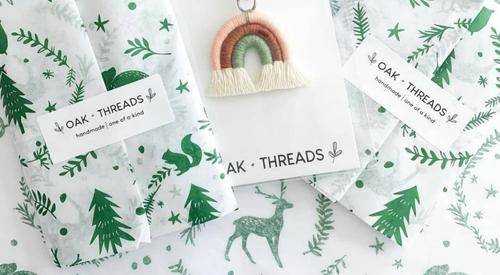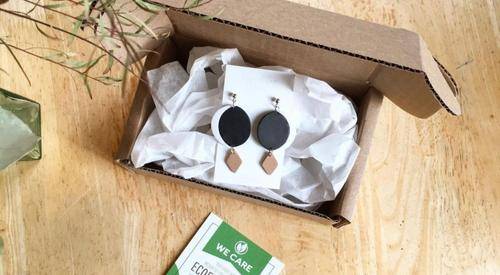 The jewelry brands we work with are thoughtful about the pieces they make - from the creativity of designs to the sourcing of metals and stones to the care and precision that goes into crafting each jewelry item. Our eco-friendly jewelry boxes, protective packaging, shipping solutions, and retail packaging options ensure your products are packaged and shipped just as thoughtfully, and our packaging tips and tricks will take your unboxing experience to the next level.
Personalize with Custom Packaging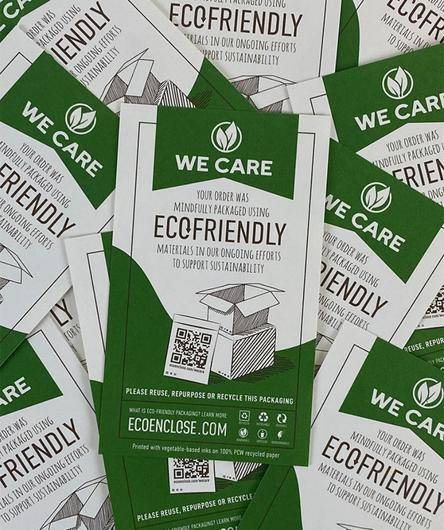 The unboxing experience makes all the difference to your customers. If your customer orders online, your packaging is their first physical touchpoint with your product and brand.
Don't skip out on this opportunity to make an unforgettable first impression.
Achieve a high-end jewelry packaging experience by adding custom touches such as handwritten notes, guides on jewelry care on a custom notecard, or We Care Cards to convey eco-friendly messaging.
Alternatively, seal your box with a sustainable custom sticker, or tie your jewelry box with hemp twine that carries an informational hang tag.
Don't be afraid to get creative! Eco-friendly jewelry packaging doesn't limit your style.
Safely Secure Your Jewelry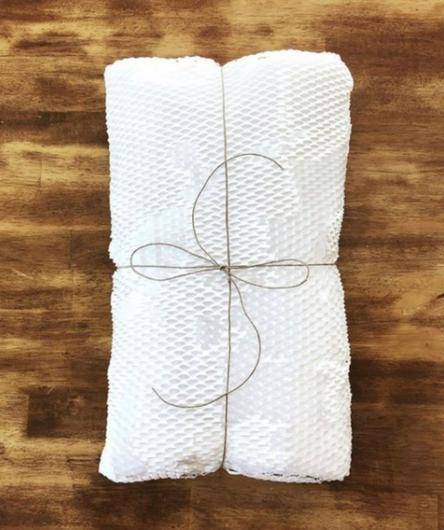 The worst-case scenario is having an excited customer receive their jewelry only to find it damaged upon delivery.
Many of the brands we work with use a 100% recycled custom notecard or a recycled corrugated pad to first secure their jewelry piece. As a bonus, these items can be custom printed to support your vision for personalizing the packaging experience.
Then, if the jewelry is fragile, wrap the items with ample protective materials like tissue paper, packaging paper, or Greenwrap.
If you place your jewelry in its box or package, shake it. If you hear too much movement, add more void fill or change your packaging strategy.
Consider Your Packaging Costs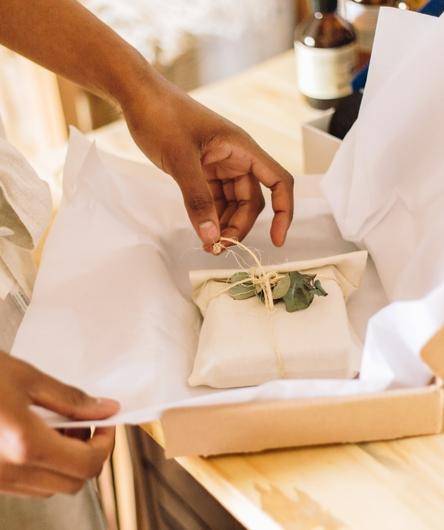 As with all things packaging, you want to balance costs thoughtfully. Since the most important function of packaging is to ensure your products arrive safely at your customers' doorsteps, you want to use enough packaging to protect your goods. But, you don't want to go overboard in ways that create high costs or a frustrating customer experience.
Consider when you can skip the jewelry box as a primary package. Many brands we work with affix their jewelry to a notecard, put the jewelry in a small sleeve, and then ship the piece in a cushioned mailer - either a bubble mailer or padded mailer. This strategy lets you skip the cost and time investment of jewelry boxes.

Consider using scraps as the backing for your jewelry instead of made-to-order custom notecards or pads. If you are a jeweler, you may find that you have paperboard, corrugate, or other rigid scraps you can repurpose in this way.

Consider ordering free samples if you are unsure of size or material. If you're curious about our jewelry boxes, want to order custom sized boxes, or are debating between different mailer options or sizes, free samples are an easy way to make well-informed decisions.
Encourage Your Customer To Engage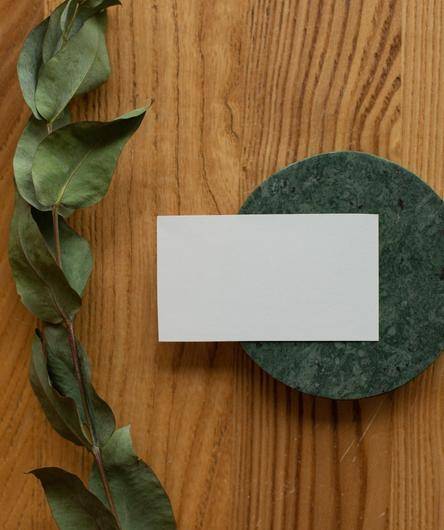 Don't forget to add your business card or custom notecards to your outgoing package, complete with links to your website and social media profiles.
If your jewelry is often gifted to others, add a notecard to your outgoing order that your customer can use to write a note to their recipient.
You can also include a unique coupon code that provides a discount for your customers' next purchase. Consider following up via email with a link to review your products, which will prove helpful to future customers.
---
Sustainable Packaging Inspiration
---
We'd love to help you find the right shipping solution for your business.