Custom Printed Notecard Art Specs & Requirements
These guidelines serve as an overview of our notecard printing parameters. We have a real, live human review and proof your artwork prior to production. Look out for your final preproduction proof within 1-2 business days after your order is placed.
Lead time begins after final preproduction proof approval. Check out our current lead times here.
Contact us with any questions about our custom printing services and to learn more about advanced printing options; including printing with algae ink and custom sized notecards.
Want to go fully branded with your packaging? Check out all of our custom branded packaging options for more info.
---
Use a template to place and size your artwork exactly to your specifications. Use either your original artwork or your designed template as your art file when placing your order. All artwork must remain in the art boundary box.
Safe Zone = Where all essential information should remain (text, logos, critical design elements). Everything within the safe zone is guaranteed to be printed within the actual notecard size dimensions. All designs should have a 1/4" margin between the safe zone and the cut line.
Cut Line = The edge of your finished notecard, or the actual size of the notecard ordered.
Bleed = Background color or design intended to reached the edge of the notecard should extend to the bleed line. This creates a tolerance that ensures the background doesn't get cut off in production. All designs should have a 1/8" bleed.

To ensure a clear, high-quality print, please send us your artwork in vector format with all fonts outlined and all supporting files embedded. For vector artwork, PDF, AI, and EPS are our preferred choices, but we also accept SVG. We also accept high-resolution files (300 dpi minimum) if vector is not available.
Vector format is preferred so that we can scale designs to size without losing any detail. Raster images are typically pixelated and these pixels are visible in the final print.
For additional help, check out Vector vs. Raster in our Knowledge Bank.
We recommend a 7pt minimum font size to ensure a high-quality print.
Our notecards are printed digitally in CMYK with toner. We will do our best to convert RGB files accurately.
Any white aspect in your design will be the color of the paper stock. To achieve the most accurate representation of color for heavy ink coverage designs, or if you would like to include white in your design, we recommend choosing white paper stock.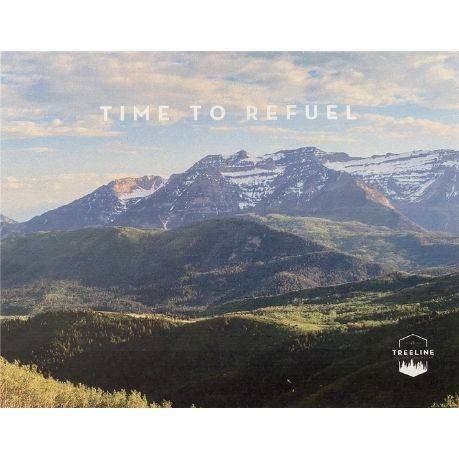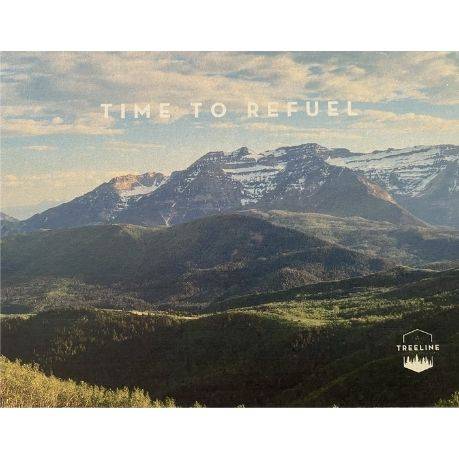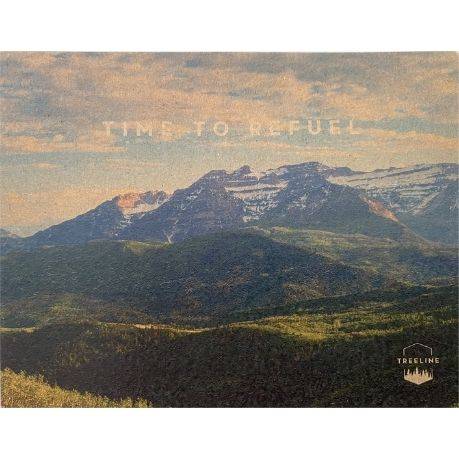 For orders of 10000+ units, notecards can be printed with black algae ink or are digitally printed with water-based inks. Water-based ink results in a slightly faded final look as the inks are absorbed into the paper stock. They are more environmentally friendly than toner printing and other digital printing styles that result in a thicker, glossier finish. Contact us today to learn more.
Flood coating is possible, however, it is not recommended because it may lead to streaking and/or uneven coverage in the ink, especially on darker colors. From a sustainability standpoint, we are mindful of the amount of ink used in all our products, and, where possible, we recommend using less ink to achieve beautiful designs.
Interested in a custom sample of your notecard prior to ordering? Contact us to learn more and get started.
Notecards: 5-10 printed samples with your art/logo
Lead time is 1 week after artwork approval, plus ship time
Fee of $59 to cover the material used and setup/time on the machine
Digital proof provided free of charge
---
If you are new to notecard printing or have more questions, don't worry! Just contact us. We would be happy to review your design with you and share our experience and thoughts on how to make sure you turn your into a great print for your customers. And we will then work closely with you during the entire process - from art proof to the delivery of notecards to your door.