Free Samples
MAKE YOUR OWN SAMPLE KIT
Thank you for considering eco-friendly shipping supplies! If you've perused our site and want to be able to see some of our earth friendly packaging for yourself, you've come to the right place! We encourage you to order free samples to test our products and find the exact right packaging sizes for your business.

Please note that while the packaging samples are free, shipping them is not. You'll see shipping options and rates for these samples in your Cart page or at Checkout.

Samples are limited to just one of each specific product and size. If orders are placed for multiple samples of the exact item, we'll ship you one item. If for some reason you do need 2-3 of the same item, please contact us at [email protected] so we can accommodate your needs.

Additionally, we ask that you order no more than 5 different custom corrugated shipping box samples and 15 sample items total.


100% Recycled Ivory Poly Mailer
| Size | SKU | Add |
| --- | --- | --- |
| 6 x 9" | SMPL-IV-100RPM6 | |
| 7.5 X 10.5" | SMPL-IV-100RPM7 | |
| 9 x 12" | SMPL-IV-100RPM9 | |
| 10 x 13" | SMPL-IV-100RPM10 | |
| 12 x 15.5" | SMPL-IV-100RPM12 | |
| 14.5 x 19" | SMPL-IV-100RPM14.5 | |
| 19 x 24" | SMPL-IV-100RPM19 | |
| 24 x 24" | SMPL-IV-100RPM24 | |
$0
100% Recycled Gray Poly Mailer
Size
SKU
Add
6" x 9"
SMPL-GR-RPM6
7.5" x 10"
SMPL-GR-RPM7.5
9" x 12"
SMPL-GR-RPM9
10" x 13"
SMPL-GR-RPM10
12 x 15.5 (Out of Stock)
SMPL-GR-RPM12
14.5" x 19"
SMPL-GR-RPM14.5
$0
100% Recycled EcoX Mailer
| Size | SKU | Add |
| --- | --- | --- |
| 6 x 9" | SMPL-EcoX6x9 | |
| 7.5 X 10" | SMPL-EcoX7.5x10 | |
| 9 x 12" | SMPL-EcoX9x12 | |
| 10 x 13" | SMPL-EcoX10x13 | |
| 12 x 15" | SMPL-EcoX12x15 | |
| 14.5 x 19" | SMPL-EcoX14.5x19 | |
| 19 x 24" | SMPL-EcoX19x24 | |
| 6 x 3 x 12" | SMPL-EcoX6x3x12 | |
$0
100% Recycled Kraft Mailer
| Size | SKU | Add |
| --- | --- | --- |
| 10.5 x 16" | SMPL-KM10.5x16 | |
| 12.5 x 19" | SMPL-KM12.5x19 | |
| 6 x 10" | SMPL-KM6x10 | |
| 6 x 2.5 x 12" | SMPL-KM6x2.5x12 | |
| 8.5 x 12" | SMPL-KM8.5x12 | |
| 9.5 x 14.5" | SMPL-KM9.5x14.5 | |
| 10.5 x 3.75 x 19" | SMPL-KM10.5x3.75x19 | |
$0
100% Recycled Paper Apparel Mailer
| Size | SKU | Add |
| --- | --- | --- |
| 7x9" | SMPL-PAP7x9 | |
| 10x13" | SMPL-PAP10x13 | |
| 12x15.5" | SMPL-PAP12x15 | |
| 10.5x4x19" | SMPL-PAP10.5x4x19 | |
$0
100% Recycled Padded Mailer
| Size | SKU | Add |
| --- | --- | --- |
| 6 x 9" | SMPL-PDM6x9 | |
| 7.25 x 11" | SMPL-PDM7x11 | |
| 8.5 x 11" | SMPL-PDM8.5x11 | |
| 10.5 x 15" | SMPL-PDM10.5x15 | |
| 14.25 x 19" | SMPL-PDM14.25x19 | |
$0
100% Recycled Rigid Mailer - Self Seal
| Size | SKU | Add |
| --- | --- | --- |
| 6" x 8" | SMPL-RMS6x8 | |
| 9" x 11.5" | SMPL-RMS9x11.5 | |
| 11" x 13.5" | SAMPLE-RMS11x13.5 | |
$0
100% Recycled Rigid Mailer - Tab Lock
| Size | SKU | Add |
| --- | --- | --- |
| 12.75" x 15" | SMPL-RML12.75x15 | |
| 6" x 8" | SMPL-RML6x8 | |
| 9" x 11.5" | SMPL-RML9x11.5 | |
$0
Recycled Bubble Mailer
| Size | SKU | Add |
| --- | --- | --- |
| 4'' x 6.75'' | SMPL-BBM4 | |
| 6.5'' x 8.75'' | SMPL-BBM6 | |
| 8.5'' x 10.75'' | SMPL-BBM8 | |
| 10.5'' x 15'' | SMPL-BBM10 | |
$0
Water-Activated Tape
| Type | SKU | Add |
| --- | --- | --- |
| Kraft Paper Reinforced | SMPL-CST-WAT-REG | |
| Kraft Paper Reinforced - Printed "Thoughtfully Eco-Friendly" | SMPL-WAT-PTHOUGHT | |
| Non Reinforced | SMPL-CST-WAT-NR | |
$0
Gift Paper and Decorative Twine
| Type | SKU | Add |
| --- | --- | --- |
| 100% Recycled White Tissue Paper | SMPL-W-TISSUE | |
| 100% Recycled Kraft Tissue Paper | SMPL-K-TISSUE | |
| 100% Recycled Ornament Shred | SMPL-GIFTPAPER-SHRED | |
| Hemp Twine | SMPL-HT | |
$0
Biodegradable GreenWrap
| Type | SKU | Add |
| --- | --- | --- |
| Brown on White | SMPL-GW-BROWN-WHITE | |
| White on White | SMPL-GW-WHITE-WHITE | |
$0
100% Recycled Packaging Paper
| Type | SKU | Add |
| --- | --- | --- |
| Newsprint 30# | SMPL-PAPER-NEWSPRINT30 | |
| Kraft 30# | SMPL-PAPER-KRAFT30 | |
| Kraft 40# | SMPL-PAPER-KRAFT40 | |
| Kraft 60# | SMPL-PAPER-KRAFT60 | |
| Bogus 50# | SMPL-PAPER-BOGUS50 | |
| Indented Kraft 60# | SMPL-PAPER-INDENTED | |
$0
Office Paper
| Size | SKU | Add |
| --- | --- | --- |
| 4.4" x 5.8" | SMPL-RE4 | |
| 4.25" x 5.5" | SMPL-RNC4 | |
| 8.5" x 11" | SMPL-RP8 | |
| 4.125" x 9.5" | SMPL-RSE4 | |
$0
Paper for Custom Notecards
| Type | SKU | Add |
| --- | --- | --- |
| 100% Recycled Gypsum 80# | RNC-80-MW-SMPL | |
| 100% Recycled White 80# | RNC-80-WH-SMPL | |
| 100% Recycled Kraft 80# | NTCD-80-KR-SMPL | |
| 100% Recycled White 110# | NTCD-110-WH-SMPL | |
$0
Eco-Friendly Shipping Labels
| Size | SKU | Add |
| --- | --- | --- |
| 8.5" x 5.5" | SMPL-SLW-ZWL-8.5 | |
| 6.5" x 4.5" | SMPL-SLW-ZWL-6.5 | |
| 6.5" x 4.5" | SMPL-SL-6.5-KRAFT | |
| 8.5" x 5.5 | SMPL-SL-8.5-KRAFT | |
$0
100% Recycled Tuck Boxes
| Size | SKU | Add |
| --- | --- | --- |
| 1.5" x 1.5" x 3" | SMPL-TB-1.5x1.5x3 | |
| 2" x 2" x 4" | SMPL-TB-2x2x4 | |
| 3" x 3" x 4" | SMPL-TB-3x3x4 | |
| 3" x 3" x 6" | SMPL-TB-3x3x6 | |
| 4" x 4" x 4" | SSMPL-TB-4x4x4 | |
| 4" x 4" x 6" | SMPL-TB-4x4x6 | |
$0
Glassine Bag
| Size | SKU | Add |
| --- | --- | --- |
| 6 x 1.5 x 8" | SMPL-GB6x1.5x8 | |
| 8 x 1.5 x 9.75" | SMPL-GB8x1.5x9.75 | |
| 9.75 x 1.5 x 11.75" | SMPL-GB9x1.5x11 | |
| 11.75 x 1.5 x 15.75" | SMPL-GB11x1.5x15 | |
| 13.75 x 1.5 x 19.75" | SMPL-GB13X1.5X19 | |
$0
Recycled Flap & Seal Bag
| Size | SKU | Add |
| --- | --- | --- |
| 10.5" x 14" | SMPL-FS10 | |
| 12" x 18" | SMPL-FS12 | |
| 6" x 8" | SMPL-FS6 | |
| 7.5" x 10" | SMPL-FS7 | |
| 9" x 12" | SMPL-FS9 | |
$0
Recycled Flap & Seal with Suffocation Warning
| Size | SKU | Add |
| --- | --- | --- |
| 10.5" x 14" | SMPL-FS10-SUFW | |
| 12" x 18" | SMPL-FS12-SUFW | |
| 6" x 8" | SMPL-FS6-SUFW | |
| 7.5" x 10" | SMPL-FS7-SUFW | |
| 9" x 12" | SMPL-FS9-SUFW | |
$0
100% Recycled EcoBand: Paper Product Wrap
| Size | SKU | Add |
| --- | --- | --- |
| 4.25x11 | SMPL-EB-4.25x11 | |
| 4.25x14 | SMPL-EB-4.25x14 | |
| 5.5x17 | SMPL-EB-5.5x17 | |
| Stock Adhesive Sticker | SMPL-STK-ZWL-1.5x2.5-PROD-MINDFUL | |
$0
100% Recycled Paper Shopper
| Size | SKU | Add |
| --- | --- | --- |
| 10 x 5 x 13.5" | SMPL-PS10x5x13.5 | |
| 16 x 6 x 13" | SMPL-PS16x6x13 | |
| 5.5 x 3 x 8.5" | SMPL-PS5.5x3x8.5 | |
| 8 x 5 x 10.5" | SMPL-PS8x5x10.5 | |
$0
Custom Printed Stickers
| Type | SKU | Add |
| --- | --- | --- |
| Zero Waste Line - Uncoated | SMPL-STK-ZWL-C-2.5 | |
| Zero Waste Line - UV Varnish | SMPL-STK-ZWL-V-C-2.5 | |
| Zero Waste Line - Gloss Laminate | SMPL-STK-ZWL-GLM-C-2.5 | |
| Zero Waste Line - Matte Laminate | SMPL-STK-ZWL-MLM-C-2.5 | |
| Zero Waste Line - BOPP | SMPL-STK-ZWL | |
| Standard Line - Uncoated White | SMPL-STKR-SHEET | |
| Standard Line - Uncoated Kraft | SMPL-STKR-SHEET-KR | |
| Standard Line - Clear | SMPL-STK-C-2.5-CL | |
$0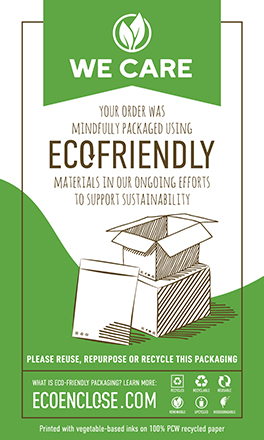 Marketing
| Type | SKU | Add |
| --- | --- | --- |
| We Care Card | WCC1 | |
$0