Packaging for Apparel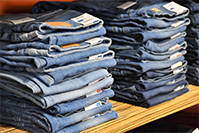 Looking to ship apparel in a way that's both eco-friendly and offers a distinctive unboxing experience?
Custom packaging bags or shipping bags for clothes aren't your only packaging options though - here we'll break down some of your best bets for shipping apparel. T-shirts, socks, pants, underwear, jackets - whatever apparel you sell, you have a few e-commerce packaging options to consider. Let's dive right in and find the best apparel packaging solution for your brand.
Box or Mailer?
Because clothes can't be broken in transit, you have options when shipping them. Apparel companies can use more durable shipping boxes or mailers. Both are great options, depending on your business. Mailers and bags are more cost-effective, efficient, take up less room, and are more sustainable because they use less material than an equivalent shipper box.

On the other hand, boxes make for exceptional presentation and work well for companies that want to go the extra mile for a unique, premium customer experience. And while they are not as sustainable as equivalently sized mailers, our custom shipping boxes are 100% recycled (95% post-consumer) and recyclable, and highly likely to be recycled. They work particularly well if your orders typically include three or more items.
---
Comparing Different Packaging Bags, Mailers, and Boxes

---
Need Protective Inner Packaging?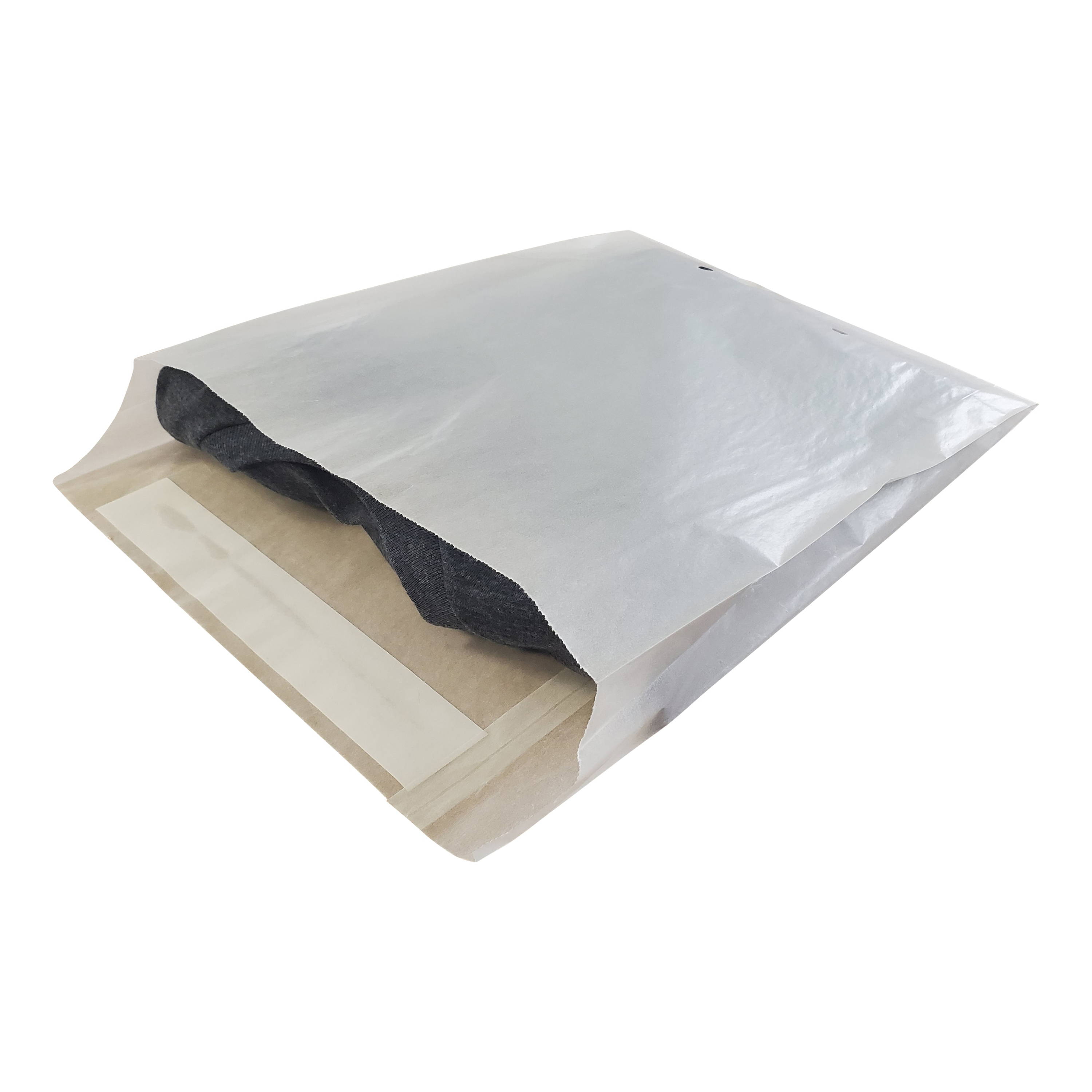 Frosted bags made with supercalendered paper that offer a toothless and weather resistant finish. These are an excellent solution for large companies looking to go plastic-free.
Some apparel companies that sell and distribute directly to their customers also use Glassine Bags, Flap & Seals or other clear poly bags to protect their goods - from dust or any tears in the outer packaging - while in transit and to strengthen the overall customer experience.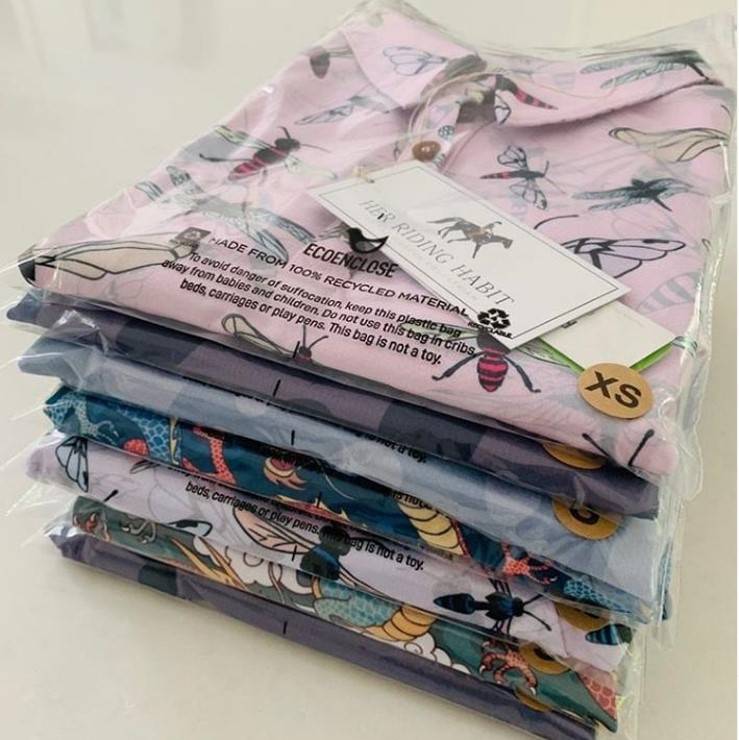 Clear bags designed to serve as inner protective packaging for items, particularly items like apparel.
Flap & Seals and Glassine Bags serve two potential purposes. Companies that sell wholesale typically first individually package each of their items in a clear poly bag. This not only protects their goods and allows for easier sorting and storage by their retailers, but it's also often a packaging requirement set by third-party fulfillment centers (such as Amazon FBA).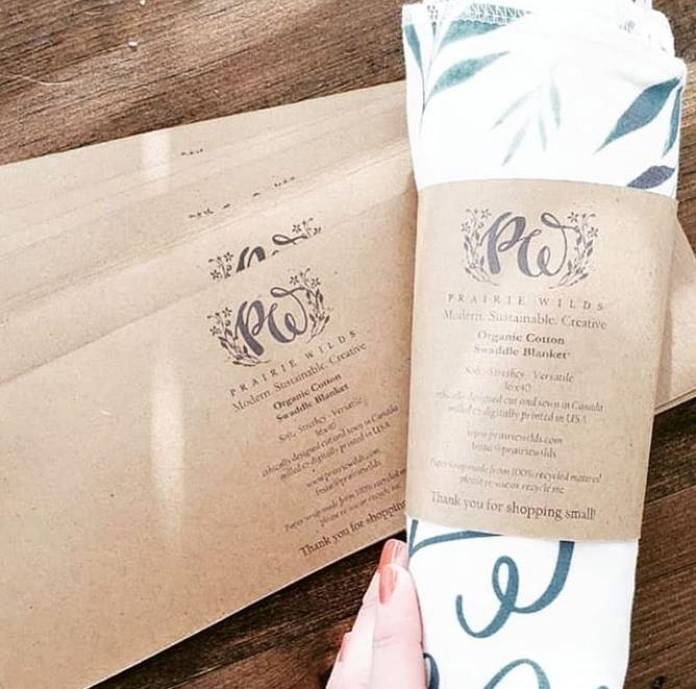 Paper-based option to individually separate and present your apparel. EcoBands are an excellent choice for companies who manufacture and fulfill their own goods, and are looking for a solution that can keep their inventory nicely organized and that makes for a unique experience for customers.
---
If you've decided that mailers are right for your apparel business, this sizing chart can help! We recommend using it as a starting point only! If you're not sure the right size for you, we strongly recommend that you order free samples first to ensure you choose the one(s) that will work well for your business.
| | Poly Mailers | Kraft Mailers | Apparel Mailers |
| --- | --- | --- | --- |
| Sweater | 12 x 15.5" or 14.5 x 19" | 12.5 x 19" | 12 x 15" or 10.5 x 4 x 19" |
| T-shirt | 9 x 12" | 6 x 2.5 x 12" | 10 x 13" |
| Dress shirt | 10 x 13" | 6 x 2.5 x 12" | 10 x 13" |
| Two shirts | 10 x 13" | 9.5 x 14.5" | 12 x 15" |
| Three shirts | 12 x 15.5" | 12.5 x 19" | 10.5 x 4 x 19" |
| Dress or jeans | 12 x 15.5" or 14.5 x 19" | 12.5 x 19" | 12 x 15" or 10.5 x 4 x 19" |
| Socks or baby clothes | 6 x 9" | 6 x 2.5 x 12" | 7 x 9" or 10 x 13" |
Packaging Ideas for Apparel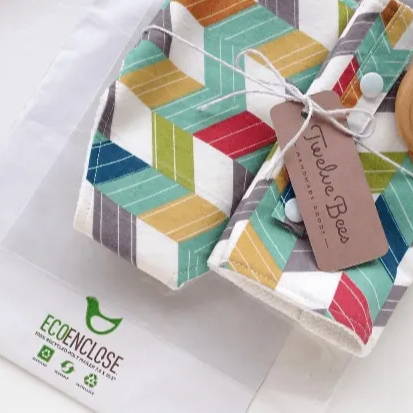 Twelve Bees produces burp cloths, and first protects them in our Flap & Seal bags, and then packages them in 100% Recycled Poly Mailers.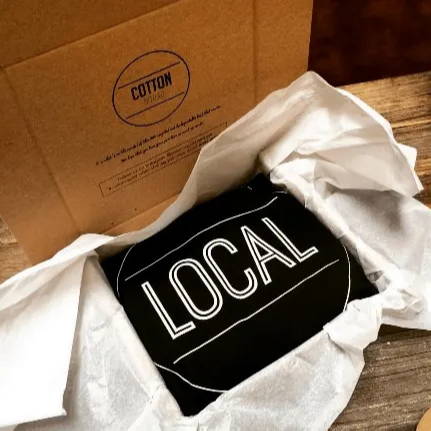 Custom packaging boxes with a logo are another attractive option. Here, Cotton Squad packages their stylish shirts in a uniquely designed custom cut tab-locking box, with tissue paper for protection and presentation.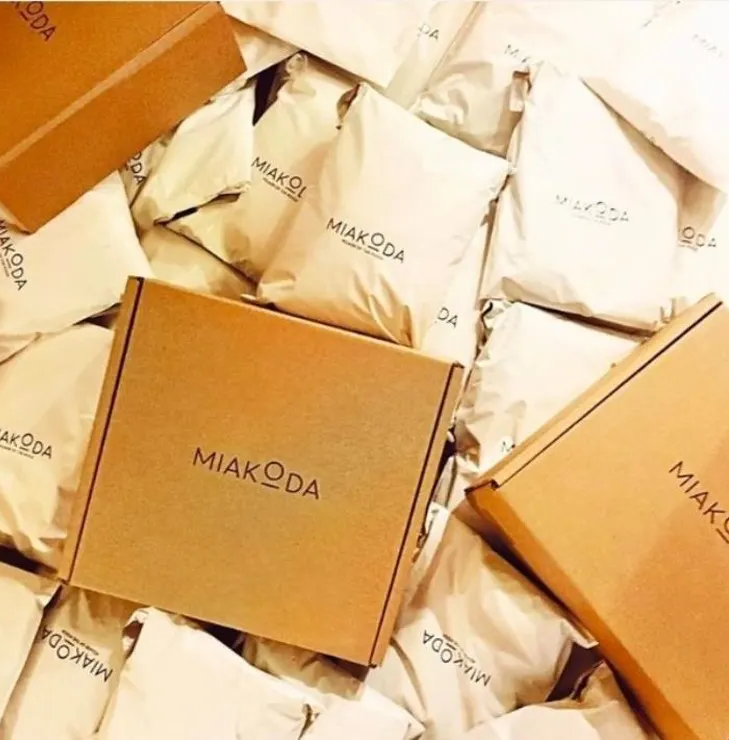 Miakoda uses a combination of shipping boxes and 100% recycled poly mailers to ship their goods.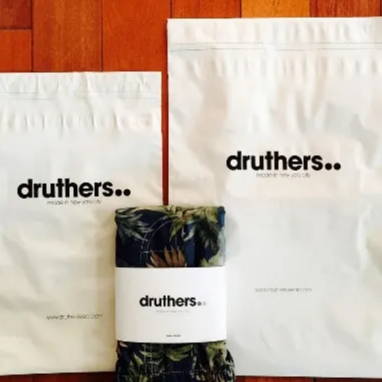 ---
Shop Sustainable Packaging Solutions
Or contact us at any time if we can help you find the best packaging for your business.