Choosing Between a Mailer or a Shipping Box
Posted on Mar 18th 2021
Choosing Between a Mailer or a Shipping Box
Mailers:
Often referred to as a shipping envelope or flat mailer, these shipping solutions are preconstructed envelopes that typically contain a self-sealing strip. They come in various styles, thicknesses, and materials, including poly mailers, bubble mailers, padded paper mailers, flat paper mailers, thick rigid mailers, etc.
Shipping Boxes:
Often referred to as a mailer box, these are made of corrugated sheets, which is why they are often referred to as corrugated boxes. These are sometimes called "cardboard boxes." Technically, cardboard boxes are made from paperboard (think cereal boxes). But, because so many people use this terminology, we occasionally do.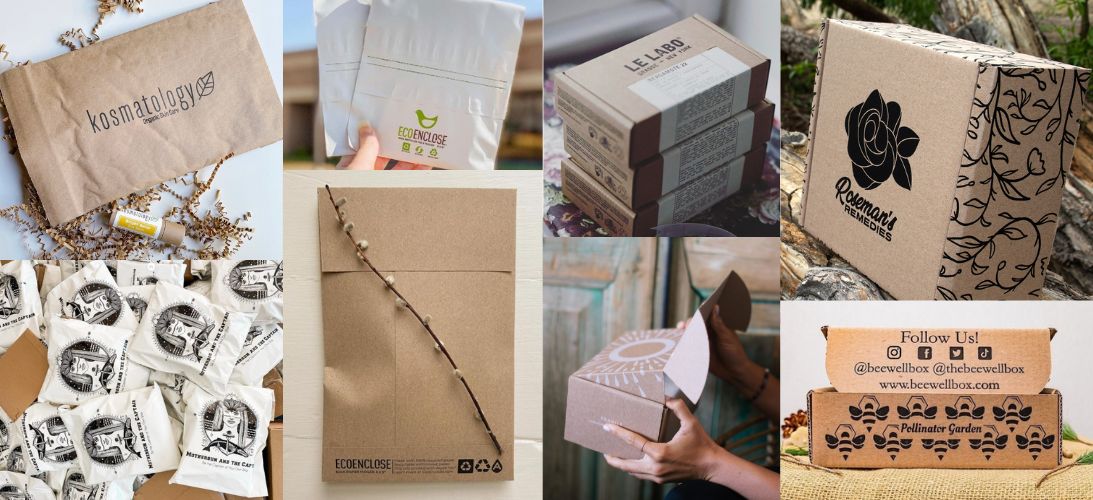 Can you safely ship your goods in a mailer?
Mailers are ideal for flat or thin, lightweight goods. Apparel, books, picture frames, wallets, sunglasses, cosmetics, jewelry, and essential oils - are all excellent product categories to be shipped in mailers.
However, many brands that can ship in mailers end up using a box for various reasons - branding, versatility, added protection, and more. So, if you can ship your goods in a mailer or a shipping box, you are likely debating between the two shipping solutions.
Keep reading to learn how to navigate this decision. Big picture? A mailer wins on almost every operational, cost and sustainability dimension - so if you can effectively use one for your products, we typically recommend it over a box. However, a shipping box typically offers a higher-end customer experience, and boxes are more versatile for businesses whose orders vary significantly in quantity and size, a differential that can tip the balance in favor of boxes for some brands.
Why do we say that a mailer is more operationally and cost-efficient?
Material Usage: Mailers use less paper than boxes and much less glue. If a mailer provides sufficient product protection, it is a more sustainable option from a carbon footprint & waste perspective.
Postage Rates: USPS, FedEx, and UPS often offer flat rate postage rates that you can only attain through a flexible mailer. Be sure to research your shipping company to optimize your shipping rates.
"Dead Space" Potential: The most common #packagingfails posted online are small items showing up in big boxes. Major shippers use big boxes to increase the amount of product the box could be used for, increasing fulfillment speed. But the speed comes at a high cost of material usage, unit price, "dead space" in the truck or plane, extra waste for your consumer to throw out, and perhaps a loss of a loyal customer. We encourage you to right-size your packaging; a thin envelope is often the best strategy.
Fulfillment Speed: Mailers are fast! No folding is involved. Open the mailer, enter the product, peel the paper strip and seal the mailer (using extra pressure if using a paper mailer).
Storage Space: Mailers take up the least space in your warehouse. Product Variety: You may need a couple of different sizes of mailers to account for all of your SKUs. But your customer will want a well-fitted envelope.
Unit Cost: Mailers have the most competitive unit costs.
When does a shipping box offer important advantages?
Unboxing Experience: There is a reason they call it "unboxing"! Shipper boxes, especially in presentation styles such as tab locking and literature mailer boxes, are optimal for creating a wow-worthy customer experience. Custom branded boxes, tissue paper, and other decorative void fill make for a layered packaging strategy your customers may appreciate - mainly if you sell premium products. That said, while a mailer may not give the feeling of opening a present at Christmas, rest assured that you can still wow your customers through custom branding, custom notecards, and well-placed tissue paper.
Versatility: If you ship various orders, some with just one item but others with multiple items in distinct sizes, you'll need to use shipper boxes. Many companies aren't in a position to be able to stock both mailers and boxes. As such, they only use boxes that are versatile enough for almost all of their orders.
Mailers versus Shipping Boxes: A Summary of Pros and Cons
Shop EcoEnclose Recycled Mailers and Shipping Boxes
EcoEnclose offers a variety of recycled mailers and custom shipping boxes, all of which are eco-friendly and adhere to our Sustainable Packaging Framework. Most of our mailers and all of our shipping boxes can be custom branded so you can deliver an exceptional customer experience.