Tell Your Brand's Sustainable Packaging Story
You've invested in more eco-friendly packaging and have likely made thoughtful decisions across your product development, manufacturing and supply chain. Make sure your customers know! Sharing this information is not just important for your sales and conversion efforts, it can also help our collective mission to make ecommerce a force for positive change for the planet.
Educating your customers about your choices and why these choices matter helps them be more informed and more discerning when they shop with other companies. If you've chosen recycled and recyclable packaging, letting your customers know can help (1) make sure your customers responsibly recycle your packaging; and (2) give your customers just a little bit more knowledge about why recycled content matters and how their efforts to recycle can build towards a more circular economy.
Where to start? Here, we share some ideas with links to folders chock full of digital assets you can use in your packaging design, across your website or in your digital marketing efforts. This is by no means an exhaustive list, but hopefully it gets your wheels turning!
Your Website and Digital Marketing Efforts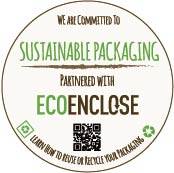 Add a "Committed to Sustainable Packaging" badge to your website. Link the badge to our Vision for Sustainable Packaging or your own details of why your chosen packaging is a cut above the rest.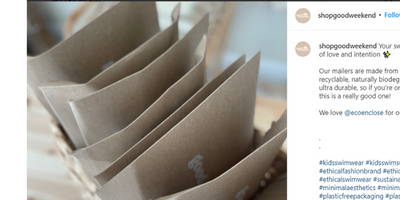 A quick post on social media goes a long way to help educate your most engaged and active community.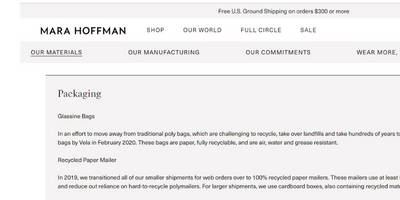 Create a Sustainability Information page and dedicate a section to packaging decisions and how your packaging helps build towards a more circular economy.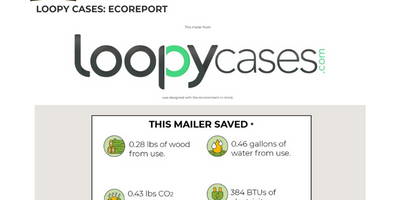 Create a Packaging Report Card, with details on how to reuse and recycle your packaging, and the resource savings of your chosen packaging versus more traditional virgin alternatives.
Add Messaging to Your Sustainable Packaging
Your customers have to engage with your packaging to get to the products they ordered. So in many ways, your package is better real estate to showcase your brand values than any aspect of your website or digital marketing strategy.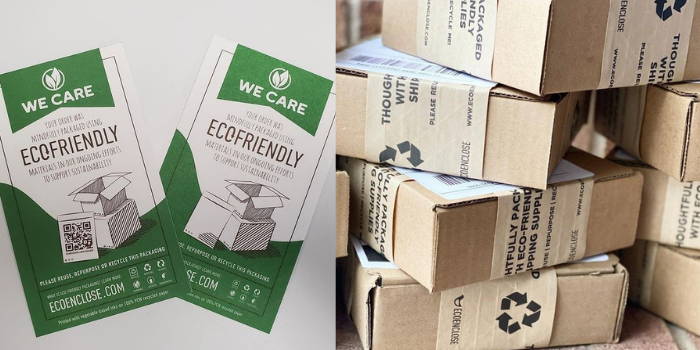 ---
If you don't yet have the budget for custom branded packaging, rest assured that most EcoEnclose stock packaging carries basic icons to help convey their eco characteristics (recycled content, recyclable, algae ink, etc).
We also encourage you to take advantage of our We Care Cards.
If you use packaging tape, our "Thoughtfully Packaged" Water Activated Tape can also help create an eco-friendly first impression. Finally, consider printing a dedicated message and design about your eco packaging investment on your packing slips.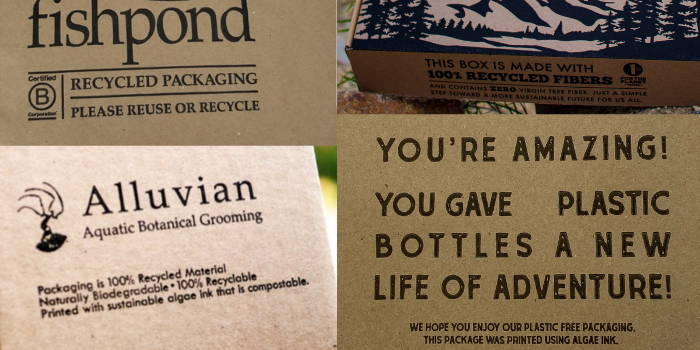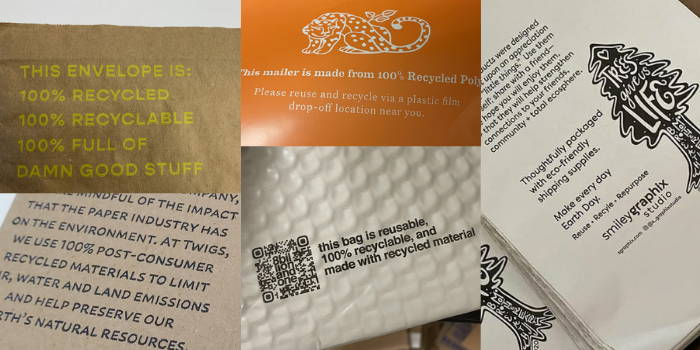 If you have opted for custom branded packaging, don't miss out on this incredible opportunity to share your packaging story and ensure responsible recycling.
If you are "post-production" printing one of our mailers, your mailers will still include EcoEnclose's logo and the mailer's basic eco characteristics. However, most of your customers will focus on

your

branding, not the basic mailer information. As such, we recommend that your eco choices be highlighted in your artwork as well.

If your mailers are being printed "inline" (typically only true for quantities of 10,000 or more), then these existing EcoEnclose designs will not be in your default designs.

Regardless of your volumes, if you have opted for custom branded shipping boxes, there are no standard or stock eco logos on these, so you'll want to make sure your artwork includes the features you want to highlight.
Check out our Digital Assets and Recommended Phrases section below for tools and tips on how to best and most accurately include eco information about your packaging in your artwork. Here are a handful of examples we love as a starting point for your ideation.
Phrases to Use, Phrases to Avoid
Phrases We Love Seeing on Sustainable Packaging
The following are examples of phrases we encourage you to use or draw from, infusing these concepts with your brand's unique tone and personality.
These phrases do not all apply to every single one of our packaging options. Please ensure that the phrases you land on accurately describe the packaging you have chosen.
This packaging is made with X% recycled content and Y% post consumer waste

This packaging is made with recovered trash. Keep the cycle going by recycling me!

This packaging was printed in Algae Ink, a breakthrough carbon negative innovation

Recycle me with mixed paper

Look at me, I'm plastic-free!

Reuse this package for returns or a second shipment, or recycle it at a thin film drop off location or through our Take Back Program.

This package was manufactured in the USA

This box was custom sized for your shipment

This packaging was chosen for its low carbon footprint

I may look like just another box, but I'm actually made entirely with trash. Please recycle me so I can stay on my circular path.

Please don't send me to the scary landfill! Recycle me curbside so I can get a new life!

I'm naturally biodegradable so I won't clog our waterways or litter our lands. But please recycle me so I can become something useful again soon.
Whatever exact phrasing you land on, we encourage you to be specific. Include percentages of recycled content and post-consumer waste, and avoid using terms vaguely.
Misleading Phrases to Avoid
These phrases can inadvertently send the wrong message or lead to the wrong end-of-life outcomes for packaging.
Compostable Packaging | Compost Me.

Yes, almost all of our paper-based packaging is naturally biodegradable (i.e. it will biodegrade in nature, a home compost and industrial compost). As such, labeling our boxes and paper mailers as composable would be accurate. However, we strongly discourage our customers from putting the word on their packaging:

It is more ecological for unsoiled paper packaging to be recycled than composted because recycling gives new life to these raw resources quickly and efficiently, and avoids the need for virgin paper to be used.

The vast majority of composting facilities worldwide do not accept packaging unless that packaging is for food. Even composting facilities that do accept paper packaging would much prefer that these items be recycled unless they are soiled with food or grease.

Paper mailers and boxes contain inks, adhesives and shipping labels. Even though mailers can be technically compostable with these additives (a paper mailer simply needs to be at 10% of its original weight after a set period of time composting in order to be labeled as composting), they are still bringing trace contaminants into compost piles. At volume, these contaminants will degrade our soils and devalue compost, making it more difficult for composting facilities to operate without extensive government support.

Biodegradable Packaging.

Unfortunately, the term biodegradable has become abused and misused. Because of this, we recommend avoiding the term "biodegradable" in isolation. If it is important to you that your packaging not contribute a lick to ocean plastic pollution, we recommend using the term "naturally biodegradable." While this term isn't perfectly clear, we believe it helps avoid the misunderstandings that would come with labeling something as "compostable" or "biodegradable."
Digital Assets and Definitions
Click below to access our library of sustainability icons and assets you can incorporate into your custom packaging artwork, your social media posts, and your website.
As you explore EcoEnclose's packaging options and our icons, you'll see a lot of sustainability terms - recycled content, post consumer waste, water-based inks, circular, etc. While these terms are second nature to us, we know they aren't always clear to people just starting to explore sustainable packaging and that (unfortunately) the terms aren't always used the same way by different people. Because of this, we have developed a detailed Definition of Terms.
The icons used in this Definition of Terms, as well as other digital assets to showcase your sustainability journey, can all be found here.
Looking to create an end of year EcoReport? Or want to share data on how many trees or gallons of oil you are saving each week with your more sustainable packaging strategy?
We can help. First, check out our Sustainability Calculator. Plug in the type of mailer you ship in or your box style and dimensions, and get an estimate of your resource savings (versus shipping in virgin packaging).
If you're looking for additional specific information and you ship in paper-based packaging, we strongly recommend the Environmental Paper Calculator, which helps you calculate your impact across a number of different dimensions.