Reverse Logistics, Returns and Recommerce
Posted on May 2nd 2023
Reverse Logistics, Returns and Recommerce
What is Reverse Logistics? What is Recommerce?
Reverse logistics is a type of supply chain management that focuses on moving goods from customers back to retailers, often as returns. Recommerce, derived from "reverse commerce," describes the selling of previously owned items to buyers who reuse, recycle or resell them.
Because the term "reverse logistics" is sometimes used to describe the process by which customers recycle or resell their goods, we are including recommerce as an important component of this guide on Reverse Logistics.
Here we discuss tips and tools to make reverse logistics a sustainability win for your brand.
---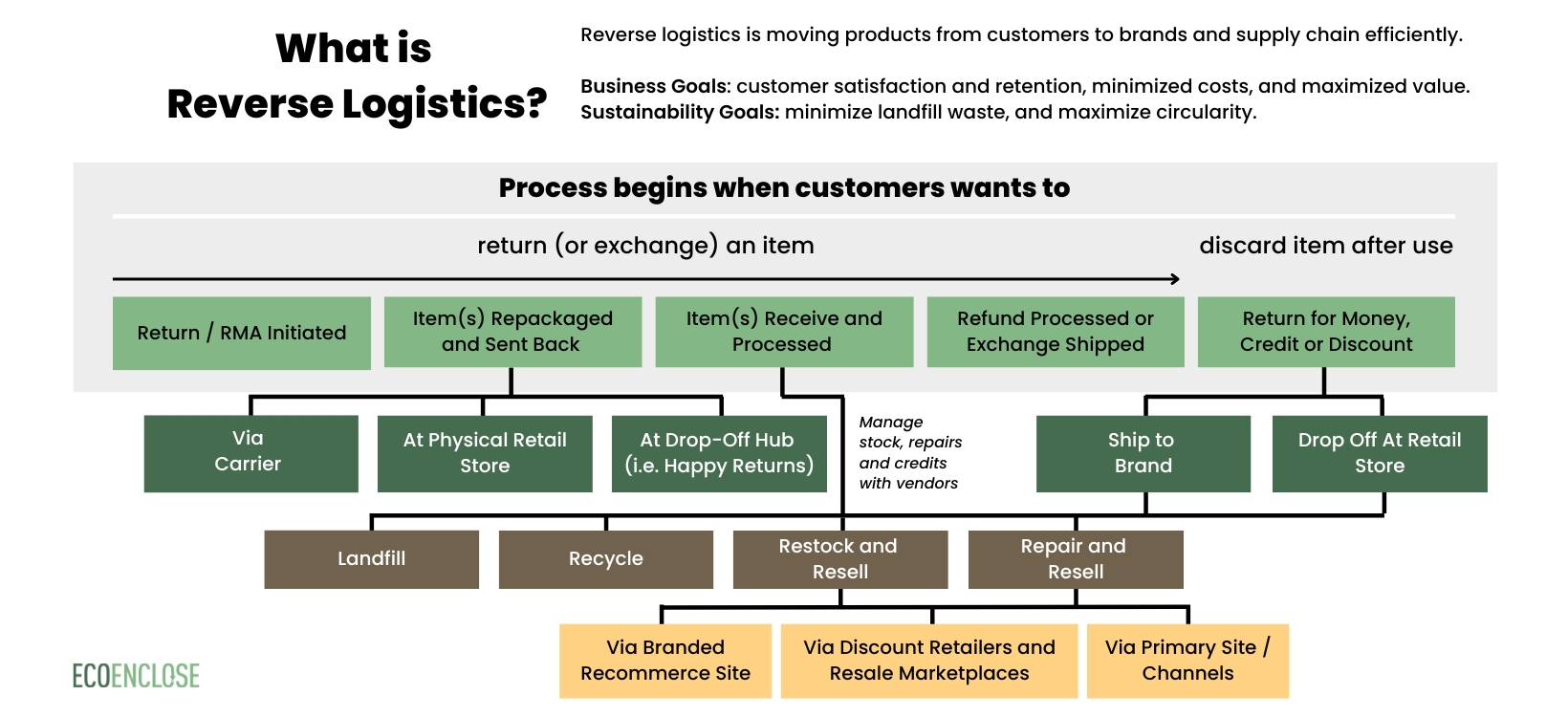 The many R's of Reverse Logistics and Recommerce
In a brick and mortar retail environment, returns are a lot simpler. A sales representative can physically inspect an item on the spot, determine whether to honor a refund or exchange, process the refund, and - where appropriate - restock it on the racks to be sold again.
In ecommerce, returns and reverse logistics are a lot more complicated! Here, we break down the components of reverse logistics, and what factors to consider in each.
Returns (or exchanges): An early 2023 merchant study of enterprise apparel and footwear companies, commissioned by Happy Returns - the PayPal owned reverse logistics and software company, found that 84% of merchant said their return rates had increased or stayed the same in the last year, and almost 70% of merchants claimed bracketing behavior by shoppers had increased, leading to more pressure on costs.
According to a study conducted by Global Web Index in 2018, customers return their orders for a variety of reasons, with damaged or faulty products being the most frequently cited cause.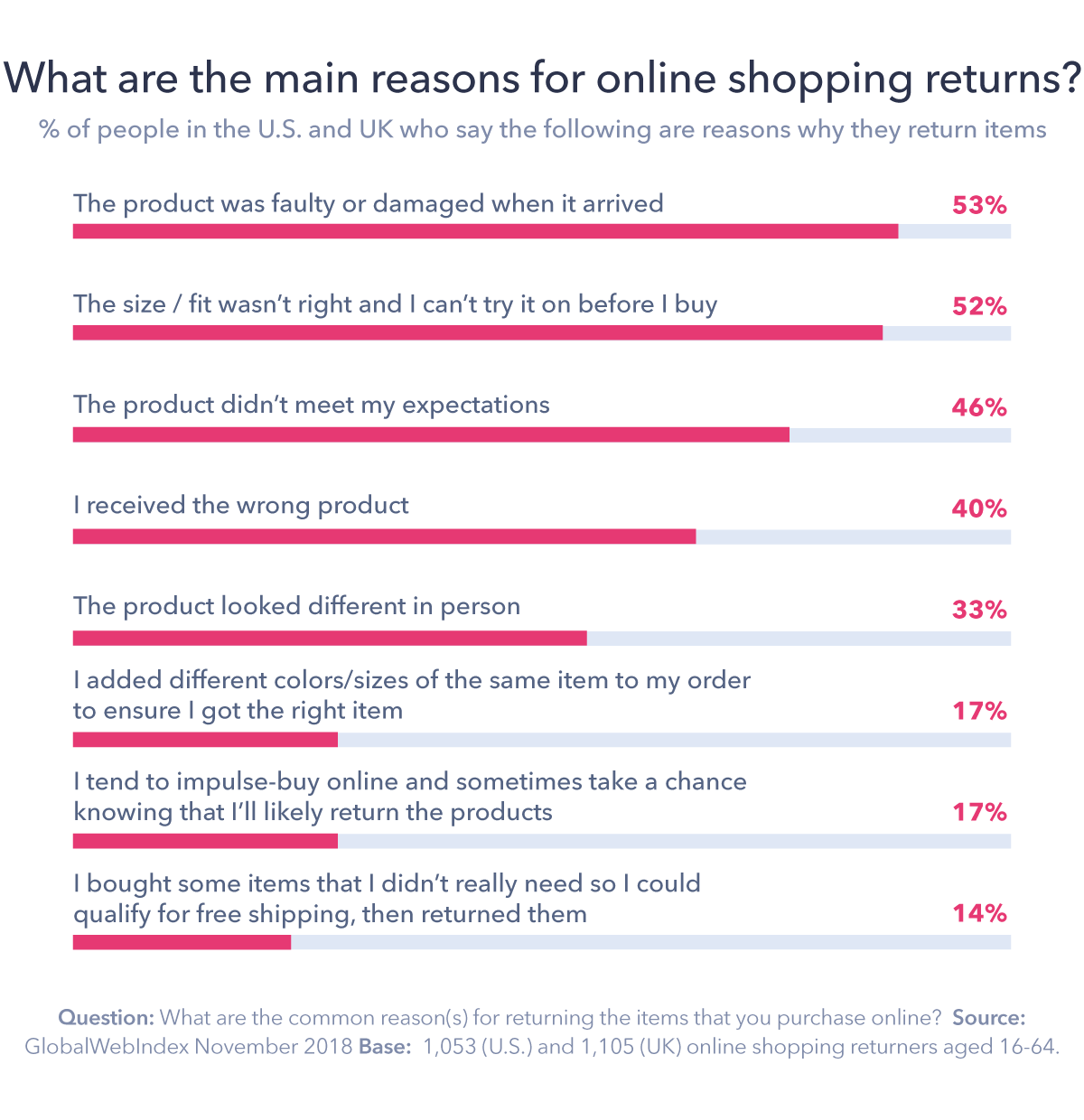 Source: GWI Online Shopping Returns Infographic
As soon as a customer decides to return one or more items on their order, the "reverse logistics" process is set in motion. The first step is for customers to understand the brand's return policy and the process for initiating their return. Return policies range from being strict (i.e. 15 days, return shipping paid by the customer) to very lenient (i.e. unconditional, lifetime with free shipping on returns). Return processes also range from being very seamless (i.e. a return portal in which an order number is entered and a shipping label is automatically generated) to being more onerous (i.e. customers call a customer service agent to discuss their issue, after which the shipping labels are emailed).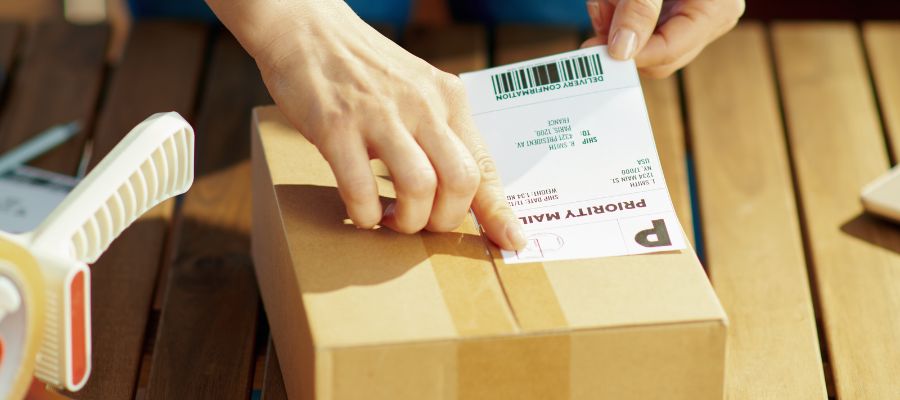 There is no one right approach here, and brands should determine what makes the most sense based on what they sell, their operations, and their budget. That said, surveys have shown that seamless returns have a big impact on customer conversion and satisfaction. Almost 90% of shoppers check the return policy before making a purchase and 87% of consumers are unlikely to buy again from a brand after a poor return experience.
Typically, the return initiation process results in an RMA (return merchandise authorization) number being assigned by the brand to the returned product. This RMA tracks the product once it is received, matches it to the order, and helps brands issue refunds. This process also typically results in a shipping label they can use to return their item.
At that point, the customer has to figure out how to best ship their order back. This means figuring out what to package it in (especially if the original shipping packaging is no longer available or usable), where to print the return label, and how to get it to the right carrier (USPS, UPS or FedEx). This can be a cumbersome process for customers, so steps that increase convenience can go a long way - such as working with a service like Happy Returns or having your customer service team schedule carrier pickups for returned items.
Once the returned item is received by your DC, warehouse, or 3PL, the next step is to issue the customer's refund or exchange as quickly as possible.
For many brands, receiving and processing the return can be very complicated. Brands that ship through third party marketplaces (like Amazon), use fulfillment service providers (like ShipMonk), or have multiple distribution centers and physical locations where goods can received find it difficult to receive the item, transfer it from one location to another, until it has finally reached the optimal end destination.
Once the product is back in the hands of your brand, the hard part has just begun! This triggers a host of additional "Rs" - all of which aim to maximize the value of the product itself, increase the chance of maintaining the customer, and minimize wasted materials and resources. Options for how to handle the returned item include the following.
Reselling: If the item comes back in great condition, brands can hopefully restock the item, add it back to their inventory, and sell it again.
Repairing and then reselling: Many returns are due to faulty products or goods that were damaged in transit. In this situation, the optimal step is for the item to be repaired quickly and then resold.
When customers are shipped products directly from a manufacturer (or a brand with in-house repair capabilities like Patagonia), repairs are relatively straightforward.
When shipments happen through a distributor, retailer or a 3PL, repairing goods becomes more complicated (and less likely to happen) as products need to be sent back even further upstream across the supply chain. Often, the cost of doing this does not justify the value of reselling the good.
Recycling: When repairing and reselling isn't a viable option, the next best alternative is to recycle the product. Warehouses, brands and / or manufacturers can partner with recyclers who will accept and have ready buyers for the specific material in the product. Electronics can often be sent to entities like Blue Star Recycling or Electronic Recyclers International. Textiles can be donated to Goodwill Industries (or to textile remanufacturers). Unfortunately, because it can sometimes feel overwhelming to set up these recycling streams, brands often simply landfill their returns.
Recapturing / retaining customers through exchanges: The returned product itself is ideally resold, repaired, or recycled but brands also want to consider the customer who sent back the item.
What steps can be taken to retain them through direct exchanges or store credit? One important first step is making it as easy as possible to initiate and execute the return, and ideally, to convert the return into an exchange.
But other steps include: showcasing your commitment to sustainability as part of the reverse logistics process, understanding why the return or exchange happened and assuring the customer that you can offer a better solution, staying in close touch with the customer long-term, offering up new deals to customers over time, etc.
Recommerce (which includes buy backs, refurbishments, and trade-ins): The above steps are all related to a customer that returns products right away.
However, there are also many situations in which a brand's products outlast their consumers' upgrade cycles. Many individuals purchase apparel, accessories, shoes, baby gear, electronics, and other categories of goods, and decide to stop using these items well before they have reached the end of their useful life. In these situations, the brand and the planet are benefited if these items are resold rather than landfilled or even recycled.
This is where the concept of recommerce comes in. The term comes from "reverse commerce," or the selling (or donating) of previously owned goods. This idea is certainly not a new one! Community members giving each other items they no longer need have been part of communities for as long as commerce has been part of our lives. Thrift stores and garage sales have been present for a long time, and eBay and Craigslist have been strongholds in the ecommerce space for decades. Everything from art and luxury goods to farm equipment to baby clothes have been traded on an informal market for centuries.
That said, the term recommerce was coined fairly recently, as a way to describe the emergence of more formal programs, marketplaces and software solutions explicitly focused on supporting the resale economy. And it is a rapidly growing industry! In fact, the second-hand fashion market alone is expected to grow 127% by 2026, surpassing $200 billion in sales globally.
For example, retailers like Best Buy and Target now have official recommerce programs, allowing customers to trade in used products for credits to discounts. Companies like Verizon and Canon offer trade-in programs that translate into credit on future orders or contracts. REI, Patagonia, Levi's and North Face offer consumers the ability to sell back or donate lightly used products.
Recommerce also encompasses companies (largely online companies) that have emerged solely to facilitate the resale market. Companies like Poshmark, DePop, Mercari, OfferUp and DeCluttr allow customers to market and directly sell their gently used products.
Companies like thredUP and TheRealReal have a similar business model but take physical ownership of goods, reviewing them and pricing them based on quality and market demand. The Renewal Workshop has unfortunately shut down (having been acquired by Bleckmann), but was experimenting with a refurbishment model in which they purchased damaged apparel from specific brands, made basic repairs and then resold these items.
---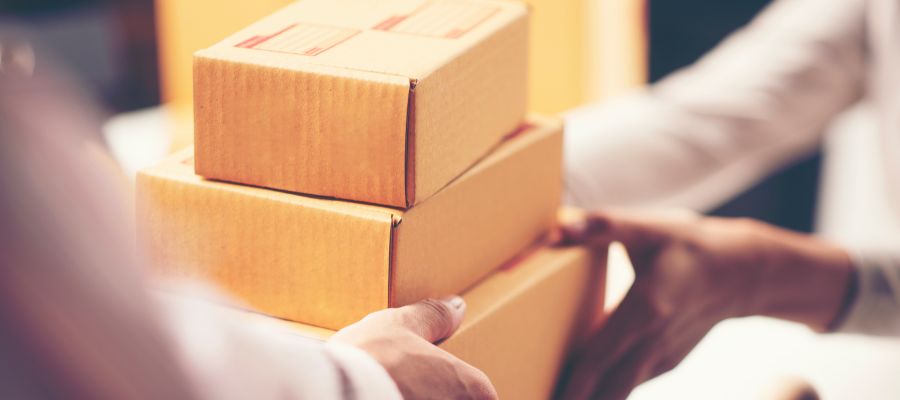 Tips to Help Build Successful and Sustainable Reverse Logistics and Recommerce Strategies For Your Brand
For better or worse, effective reverse logistics processes need to be established by all ecommerce brands these days.
We believe successful returns and reverse logistics should focus on:
Sustainability and minimizing unnecessary waste
Creating satisfied customers and brand advocates
Maximizing the potential value of each item
This section includes a variety of tips to help your brand develop returns and recommerce strategies that support all three of these goals.
Take Steps to Minimize Returns
While returns are unavoidable, particularly in ecommerce, if you find yourself with above-average return rates (or have specific products whose return rates are much higher than the rest of your catalog), you may have some opportunities to improve your website, customer service, and conversion process.
First, make sure your return process requires customers to give you specific information as to why they are returning items - wrong size, wrong color, poor quality, damaged goods, etc. Encourage them to be as honest as possible in their responses.
Once you have this information, you can adjust your website and sales process to address the reasons most frequently cited.
Website photos: Are your product photos accurately conveying the item's color, size, and functionality? If not, your customers may be disappointed when they receive your products, prompting both frustration and a costly return.
Instructional videos: Videos that demonstrate your products in action and provide instructions on how to use your goods can go a long way in ensuring your customers know exactly what to expect before they place their order.
Customer service and sales team training: Is your sales team doing an excellent job recommending the right products to the right customers? Do they know your products inside and out? Are they being incentivized based on the overall value they are creating for customers (versus simply closing the initial deal or prioritizing value of the sale)?
Shipping policy: If you have a shipping policy that encourages higher order values, you may find that customers over order to hit a free or flat shipping limit, and then return goods after the fact. If this is the case, adjust your shipping policy to discourage this.
A trend in ecommerce is called "bracketed ordering" in which consumers intentionally purchases many variants of your product so they can try them all, and then return what doesn't work. Some of the tips above can help you create more of an understanding of you products as part of the online experience, helping to minimize bracketed ordering.
Reduce Damage Rates
If your customers are returning items due to damages fairly frequently, this is a critical issue to address. Damages can happen at every step in the supply chain - from factories to DCs, from DCs to retailers, and in transit to your customers.
The first step for brands is to track data to help you understand what types of damages are occurring, and then use that data to identify where in the supply chain they are likely happening.
Potential causes include
Manufacturing defects or inconsistencies
Packaging and transit issues in the supply chain
Storage issues at DCs or retailer warehouses
Repacking steps at DCs or retailer warehouses
Packaging and delivery to customers
Once you have the right data and insights, it becomes easier to troubleshoot by taking steps such as:
Working with your manufacturer to eliminate defects and inconsistencies, and establish a clear agreement that expedites credits / refunds in the case of these issues.
Establish quality assurance steps to ensure products are checked at each stage in the supply chain, so damages and defects are dealt with as quickly as possible - before they get to the customer.
Reviewing the durability and functionality of your packaging, and identifying whether or not changes need to be made or protective elements need to be added.
Evaluating processes and handling practices at your 3PL
Propose Alternatives to Returns
Before starting an RMA and cutting a refund check, explore different options with your customers first, especially when it is unlikely you'll be able to resell the item being returned.
See if your customer would keep the product for a discount or store credit.
Orient the conversation with customers around an exchange rather than simply a return.
Review and Adjust Your Return Policy
Ecommerce brands need to balance competing goals - maximizing conversion while also minimizing the costly impact of returns and reverse logistics. Brands in the EcoAlly community are also focused on minimizing waste.
While a very flexible return policy may lead to higher conversion, brands should recognize that this level of leniency encourages bracketed ordering and can create an operationally challenging and costly return rate.
Opportunities to adjust your return policy include:
Making exchanges free and extremely easy, but adding obstacles and fees to returns
Continuing to give customers ample time to make their return but adding a small restocking fee
Creating clearer standards of the condition returns must be in to receive a refund
Asking customers to pay for shipping on returns, especially if their original order was shipped to them for free
Adding caveats to a high volume free shipping policy
Make the Process for Legitimate Returns Seamless for Customers
Despite your best efforts to minimize returns, all brands will have some customers who need to return items. Even brick-and-mortar stores have return rates of 8-10%.
Once a customer has initiated the returns process, you'll want to make that as painless and validating as possible, with the goals of (1) having your items returned quickly and in good condition so they can be resold if possible, and (2) retaining the customer as a loyal fan long-term.
Establish a returns portal where customers can initiate the process through their order number. This returns portal can automate the process of checking order numbers against your return policy to confirm if and how the return should be handled (and allow for easy exchanges). Make this as frictionless as possible for customers, while still minimizing the frequency of customers returning items that aren't in the right condition.
Make it easy for customers to actually send their orders back.

You can do so by making your packaging returnable (and adding instructions to your packaging to show customers how to use it for returns).
Some brands include return labels in their packaging, eliminating the step of customers actually having to print out shipping labels.
In most situations, customers have to drop packages off at a nearby UPS or FedEx, but some brands schedule pickups.
Other brands partner with Happy Returns, a company that allows shoppers to drop off returns at Return Bars (such as Staples, FedEx and Ulta Beauty) without having to initiate the entire returns process, print out shipping labels, figure out packaging, etc. Happy Returns helps brands create frictionless returns processes, thereby maximizing long-term customer loyalty.

Be in steady communication with customers about their returns or exchanges. Emails or texts should be sent when the return is initiated, the return shipment is scanned, the package is received back, and the refund is made.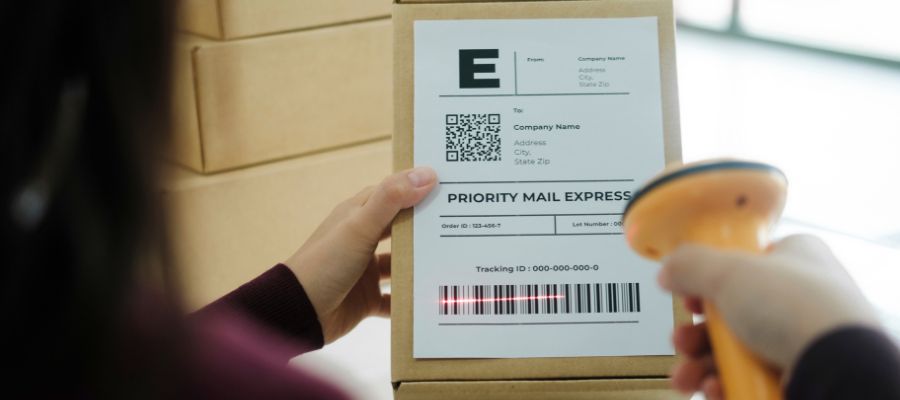 Build an Operational Process for Returns That Maximizes Value and Minimizes Waste
RMA Process and Preliminary Data Collection: The return process starts when the consumer signals they want to return a product, typically via a returns section of the website, or through chat or a customer service phone call. This step should include return authorization and identification of the product's condition and typically results in a return shipping label being created, or instructions being shared with customers about how to get their goods shipped back.
Return Shipping: In most situations, customers need to print out a shipping label, repackage their product, and ship it back by dropping the package off at a local UPS, FedEx or post office or by scheduling a pickup. Return shipments can often be placed in original shipping packaging, but if that packaging has been discarded or destroyed, customers will need to find new solutions.
Receiving Returns (directly from your customer, or through your 3PL or an aggregating hub): For the average retailer without returns management technology, it takes 30 days or more to get a returned item back to stock - due to the item bouncing between distribution centers and in and out of the hands of associates. Your objective as a brand is to make this process as short and painless as possible, to minimize costs and maximize the likelihood of the item being able to be successfully resold. If you ship from your own DCs, returns will likely be received there. If you work with 3PLs, you'll want to establish returns and exchange processes with them in advance. Should returns go to your 3PL for review and restocking? Or should they be sent back to the brand itself? How will 3PLs communicate with you when returns are received?
Defect or damage policies with supply chain partners: 53% of returns are due to product defects or damages, a large portion of which are due to manufacturing or logistics and storage within the supply chain. If items are returned due to damages, that can often be a signal that there is a broader issue - with the product specs itself or with an isolated batch. Inspecting inventory is a valuable step at this point. Be sure to then have clear policies about how these types of damages are resolved: what evidence needs to be gathered, how should communication take place, and what kind of timeline exists for refunds or credits to be processed? Then address any underlying issues to prevent future manufacturing runs to have these same defects going forward.
Deal with Returns - Resell, Repair, or Recycle: Once a returned product arrives at your own location or centralized processing center, inspect it and confirm that its return category matches what was shared when the RMA was created. Then, sort products into potential next steps:

Resell as is. This is the easiest and highest value approach, as typically, items simply go back into inventory and then resold.
Resell as a return or used item. In some situations, a small damage or defect (or simply some wear and tear) renders an item unsellable as a new product, but still usable enough to resell as a return or used item. This is where the concept of "recommerce" really shines, as recommerce is generally the process by which products are sold second hand.
Repair or refurbish and resell (as new or used). Sometimes goods must be repaired before they can be resold. Fixing a zipper, a clasp, a crack, etc can quickly make an item fully usable and sellable again - and this approach is much better for the planet and your bottom line than simply discarding a repairable good.
Recycle. In some situations, the item is no longer usable or fixable, and must be discarded. We strongly encourage brands to establish recycling partnerships that allow even hard to recycle goods and components to be repurposed rather than landfilled.
Establish Partnerships and Policies With Sales Channels and Fulfillment Partners: Because most ecommerce brands work with manufacturing, distribution, fulfillment, storage and/or sales channel partners, it is very important to map out your reverse logistics process in a way that clarifies each of their roles in your supply chain and solidifies the steps they need to take in order to support your returns and recommerce processes. Additionally, sales channels and 3PLs may have their own returns policies in place that you need to adhere to. Know these and ensure your returns process fully complies.
---
Unique Reverse Logistics and Recommerce Examples
Here are some examples of how brands have brought innovation, sustainability, and values-oriented thinking to the reverse logistics process.
Branded Recommerce Platforms
Examples include: Eileen Fisher Renew, Patagonia Worn Wear, Timberloop, Tonle Open Closet
The most forward-thinking brands out there are building circularity and recommerce into the fabric of their company. Patagonia Worn Wear is arguably the OG in this space, but many other conscious brands have similar programs. For example, Eileen Fisher Renew has been around for almost a decade, and allows shoppers to send back their wearable Eileen Fisher clothing to be inspected, laundered and resold as part of their Renew platform. Tonle's Open Closet is a circular trading and resale platform for pre-loved tonlé garments, to ensure that tonle clothing has as long of a lifespan as possible. Timberloop is Timberland's recommerce platform, allowing worn Timberland goods to be donated back (for a 10% discount on a future Timberland order). Items are either resold, refurbished and resold, or recycled back into new textiles.
Solution providers such as ReCircled, ReCurate and Trove can help brands establish recommerce platforms that work with their operations, values and budget.
Brand and Retailer-Led Refurbishing and Reselling
Example: Mobile Operators and Electronics OEMS
While branded recommerce platforms are still somewhat novel and untested, the concept of refurbishing goods and selling them on a second market has been around for some time.
Companies like Apple and Canon have offered trade-in programs for decades that enable users to sell back their used products in exchange for credit toward new items.
Mobile operators, such as Verizon, AT&T and T-Mobile, offer mobile device trade-in programs for a discount on upgraded devices or service plans. Best Buy and Target have programs that let consumers trade in used products for credit or discounts, including everything from electronics to car seats.
Cisco remanufactures goods such as phones, routers and switches. GE Healthcare remanufactures imaging devices and ultrasound machines. Microsoft also has a large global initiative to deal with end-of-life for devices, batteries and packaging.
Brand-Led Recycling Initiatives
Example: Levi Strauss and For Days
For Days is an amazing fashion brand that has established a Take Back Bag. Shoppers order the bag, fill it with their old garments, which can then be responsibly recycled (instead of landfilled - which is the end of life fate for 85%+ clothing).
Levi Strauss has its own branded recommerce platform - Levi's Secondhand. But the brand has doubled down on its commitment to circularity. Consumers can send their denim back to Levi's where it will either be resold or recycled black into jeans.
Last year, Levi's introduced circular 501® jeans, made with a blend of certified organic cotton and Renewcell's pioneering Circulose® fiber, (a sustainably-sourced viscose made in part from post-consumer recycled denim and textiles). They remove pollutive elements that would otherwise disrupt the cotton recovery process later to make the jeans as recyclable as possible when they reach the end of their next useful life.
Online and Brick & Mortar Returns Models
Example: Home Depot, Amazon / Kohls / Whole Foods Market. Happy Returns - Return Bars
Almost all stores that have online and physical storefronts allow customers to buy from one channel and return in the other. This approach maximizes convenience for customers and leverages the unique advantages of the dual model.
Companies like Home Depot have found this approach particularly valuable, especially given how much of what they sell is large, bulky, and heavy and how often their online customers purchase the wrong size, texture, features, etc. At every stage in the Home Depot customer's online journey they are asked if they want to transact online or in-store. This seemingly simple approach is backed by a complicated, highly integrated platform that connects the company's website to the inventry of both brick and mortar stores and Direct Fulfillment Centers (DFCs). With the strength of this underlying platform, returns that need inspection or repair are quickly sent to reverse logistics centers where they are fixed and then directed to the right physical location.
As an almost exclusively online retailer, Amazon has leveraged the physical presence of Whole Foods Market (which it owns) and its partnership with Kohls, allowing these physical storefronts to act as pickup and returns centers for the online marketplace.
Most brands don't have the size and scale of Amazon and aren't able to establish their own pick up and returns partnerships. Enter Happy Returns. When brands partner with Happy Returns, their shoppers can drop off returns at Return Bars, which are included at stores like FedEx, Staples, GameStop, Ulta Beauty, CostPlus World Market and more.
Refillable and Reusable Packaging
Example: Oco Meals
Big brands are starting to experiment with reverse logistics to address packaging waste. Procter & Gamble, PepsiCo, and Unilever are testing reusable packaging that consumers can return. They are figuring out the transportation and logistics process that allows for packaging to be picked up, returned and cleaned to be reused.
Regional companies are also pursuing this model. A great example is Oco Meals, a Vancouver Canada based "zero waste" meal delivery service. After Oco Meals delivers meals, they retrieve their reusable food containers from customers, reducing their packaging and environmental footprint.
Discount Retailers Partnerships
Examples: TJX (TJ Maxx, Marshalls, HomeGoods), Burlington Coat Factory
These retailers buy up excess inventory from brands that are a result of factors such as canceled department store orders and over manufacturing. They can then sell goods at a massive discount - 20-60% below what these same items would have sold for in season at a "traditional" retailer. While these discount retailers don't necessarily "partner" with brands, they are important to the reverse logistics process as they often are the purchasers of returned goods that aren't easily sellable.
Digital Resale Marketplaces
Examples: thredUp, Vestiarre Collective, The RealReal
ThredUp, Vestiarre Collective, and The RealReal will purchase used apparel and other goods and resell them. These companies take ownership and inventory of these used goods, pay the consumers who sent in their goods, and are responsible for packaging and shipping products out to shoppers. They own the entire customer relationship and handle all returns and concerns directly.
While these companies focus on used goods that are sent to them directly from consumers, they can easily purchase overruns and returns directly from brands as well.
It is important to note that while thredUp and The RealReal are long-standing recommerce marketplaces, companies like Poshmark, depop, Mercari and DeCluttr are quickly gaining steam. These companies serve as platforms for peer-to-peer selling. Shoppers post their used or return-ready goods on these sites and ship directly to whoever buys them.
---
Recommended Service and Software Solutions
As you work through your reverse logistics strategy, here is a list of potential solution providers for your brand to consider working with. These companies can help make one or more steps in the returns, recommerce, and reverse logistics process more automated and more seamless for your customers.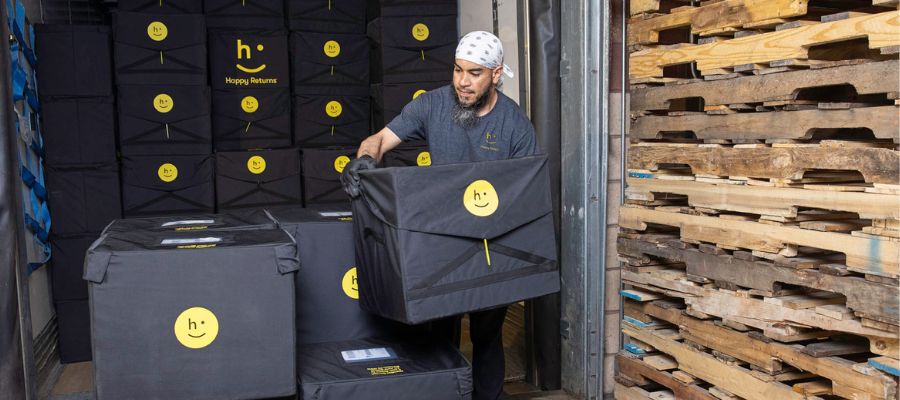 Happy Returns
What it is: Seamless returns software for your website with convenience return bars nationwide that deliver a very seamless returns experience for customers
Trusted by companies including GymShark, Everlane, and REVOLVE, Happy Returns, a PayPal company, provides end-to-end returns solutions for online merchants and shoppers through a unique combination of returns software plus reverse logistics.
Through its nationwide network of nearly 9,000 Return Bar locations, Happy Returns delights shoppers by enabling them to drop off returns with no packaging or printing in under 60 seconds. Returns are aggregated and shipped using reusable totes, reducing costs for merchants and increasing sustainability by reducing cardboard waste and carbon emissions.
Brands in EcoEnclose's EcoAlly community can work with Happy Returns and receive a 5% discount on their first year of Return Bar service per item fees. If you are interested in exploring this offer further, please contact us at enterprise@ecoenclose.com.
ReCurate
What it is: Resale operating system (can support peer-to-peer, brand led, and take-back models) that is extremely flexible in meeting your brand's unique needs and vision
Recurate is a resale operating system for your online, in-store and warehouse systems.
Recurate's model enables brands to create a circular eco-system by integrating peer-to-peer (low impact and reduced up-front cost), take-back (utilizing localized partners), and several other resale models. By including resale as part of their omnichannel strategy, brands can acquire new customers, better understand & track behavior, and engage them through the full lifetime.
Check out ReCurate's brand specific case studies. ReCurate worked with Peak Design on a multi-faceted resale platform (that includes peer to peer and brand led recommerce). On Earth Day, Peak Design blacked out its homepage and redirected users to their resale marketplace. This led to a 5X increase in preloved revenue and an 11% increase in full priced revenue. ReCurate developed The Frye Exchange's peer-to-peer resale platform and found that it was a great avenue to introduce new customers to their brand - 63% of their resale customers are new to Frye!
Brands in EcoEnclose's EcoAlly community who are interested in ReCurate can contact us at enterprise@ecoenclose.com, to take advantage of special offers provided for brands who use circular packaging and leverage ReCurate's circular resale platforms services.
ReCircled
What it is: Brand-led resale and textile recycling platform
ReCircled is an innovative recycling and takeback company that helps keep your brand's pre-loved products and materials in circulation at their highest value, saving them from being sent to landfill. ReCircled builds brand-led resale platforms on Shopify, manages inventory, sales and fulfillment of apparel that is sent back, and responsibly recycled textiles that are no longer usable (often allowing brands to recycle textiles back into their original form of apparel).
ReCircled works with apparel, footwear, cosmetic and outdoor brands.
EcoAllies interested in learning more about ReCircled can contact jessica@recircled.com and scott@recircled.com
Loop
What it is: Returns management app for Shopify stores
A plug and play system that creates a more seamless and professional customer experience around returns, and maximizes the chance for short and long-term customer retention.
Customers initiate returns by visiting a brand's Returns Portal - powered by Loop - where they'll be prompted to enter their order information. Loop then calls Shopify's API to pull details of the order, such as product names, images, and whether products are eligible for return (e.g. based on return window and final sale tags). When returning an item, customers can choose between one of 3 outcomes: Refund, Exchange, or Store Credit. Customers returning multiple items can choose different outcomes for each item (e.g. refund item A, exchange item B). Shortly after a return is submitted in the Returns Portal, a shipping label is generated for the customer via a return confirmation page. Loop integrates with a number of carriers and shipping services to generate low-cost labels based on our brands' geographies and preferences. The customer then prints the label, boxes up their items, and drops off the package at any carrier location. Some carriers, such as FedEx, also offer customers the option to use a QR code in lieu of a printed label.
To process a return, brands can leverage automated steps (i.e. shipping carriers scanning events) or a manual process (which requires brands to scan, review, and restock items at their DC). Once a return is processed, one of the following actions occur in Shopify depending on the return outcome:
Refund: The customer receives a refund back to the original payment method and the original order is updated with the details of the return
Exchange: A new order is created for the item the customer chose to receive. For easy cross-referencing, the new order will have the same order name as the originating order, plus a customizable prefix (e.g. EXC-1001)
Store Credit: The customer receives store credit in the form of a gift card
Loop can help small to mid-sized brands who operate on Shopify level up their returns and exchange experience quickly and efficiently.
As an added bonus, Loop integrates seamlessly with Happy Returns - for an end-to-end frictionless experience.
Optoro
What it is: Modules include - returns experience, returns management and/or recommerce platform
Optoro offers a three modules for to help brands improve every step of the returns cycle:
Self-Service Returns Portal and Drop Off Locations: Customers can initiate returns and exchanges for ecommerce purchases on their own terms. Enable easy identification of nearby returns drop-off locations with an interactive drop-off map.

Drive revenue by encouraging exchanges over refunds: Provide easy exchanges to help customers purchase the right item before they return the wrong one. Offer Optoro's Instant Exchange™, giving customers the option to buy something new or different immediately without putting another charge on their credit card.
Optoro's Express Returns Drop Off Locations (a network of 1,000+ locations) gives customers the option of returning items in-person or shipping them back.

Returns Management Technology: Uses AI-powered technology to receive and quickly route returned items down the most efficient path and back to stock. Optoro's Express to Stock program allows brands to instantly relist returned items on primary and secondary channels, and drop ship items where appropriate, without having to ship to forward stocking locations.
Resale Platform: Optoro manages a resale platform, BULQ®, where out-of-season or unwanted inventory can be resold. Through BULQ's partnership with eBay, brands can tap into eBay's 100M+ seller community, including a relisting tool that enables BULQ resellers to save up to 50% of their listing time.
The Arrive Platform: Returns to Recommerce
What it is: Branded resale platform, with all operations managed by Arrive
The Arrive Platform allows brands to launch a resale platform to manage non-new returns and outdated inventory. Arrive manages non-salable returns by identifying, refurbishing, grading, and managing order fulfillment.
---
Packaging Strategies to Make Reverse Logistics More Successful
If your returns are relatively high, and creating a frictionless returns experience for your customers is critical, here are three tips to help ensure your packaging adds convenience and clarity to this part of the customer journey.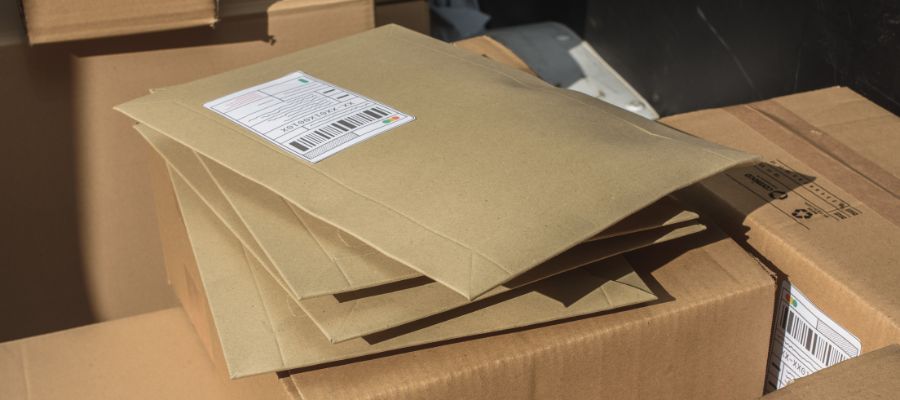 Packaging that can be easily used for reshipments: Some packaging, such as our 100% Recycled Poly Mailers, our 50% Recycled Bubble Mailers and our Reusable Mailers are designed to be used for the return shipment. These work beautifully for brands that have high return rates, as well as brands for which returns are baked into their business model.
Shipping boxes and paper mailers can also be used for returns! Customers simply have to (1) open the packaging in a way that facilitates a second shipment and (2) use their own tape to secure the packaging and send it back.
Durable packaging that can successfully withstand two shipments: If you are planning for reverse logistics, you'll want to make sure that your packaging is durable enough for the second, return shipment! Poly mailers, bubble mailers, and reusable mailers are very effective here. If you use paper mailers, you may want to select our thicker, sturdier Paper Apparel Mailers (versus our Kraft Mailers) to make this a success.
Branded packaging with clear messaging and directions: How your customers open their packaging is a big part of how well it can be used for the return shipment. If you have a reusable poly mailer that is ripped or cut open down the middle, it won't be able to be reused. Given this, include messaging on the packaging itself that helps your shoppers understand how to best open their mailers to be best positioned should the need for a return or exchange arise.