Case Study | Rocky Mountain Oils
Rocky Mountain Oils' commitment to sustainable practices brought them to sustainable packaging

EcoEnclose partnered with Rocky Mountain Oils to create an eco-friendly packaging strategy that would live up to their organization's values.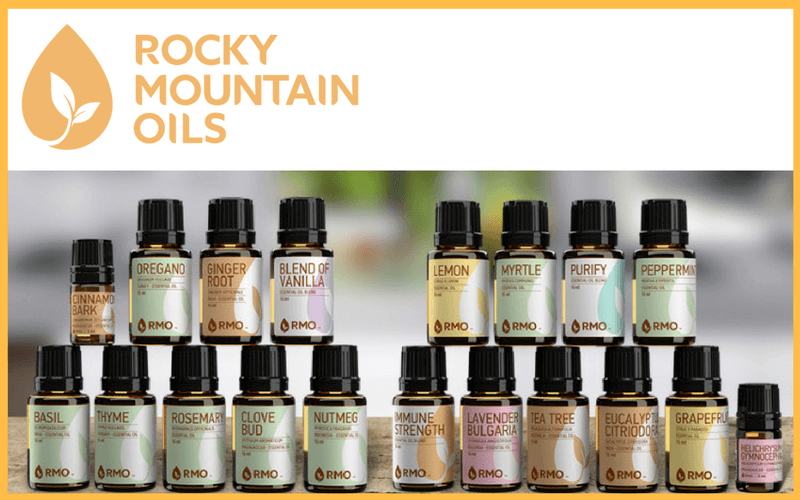 Rocky Mountain Oils (RMO) is a leading non-MLM purveyor of 100% pure, natural, authentic essential oils, crafted blends, and nutritional products. Founded by wellness enthusiasts in 2004, RMO's genesis evolved from the determination to develop essential oils that were pure and safe to use for the entire family. Their commitment to quality and purity is unmatched, with their products processed in a way that reflects their SAAFE Promise and is backed by their 100% Guaranteed Satisfaction of Quality.
Unlike many essential oils companies, RMO is direct-to-consumer and does not use a multi-level marketing model to sell its products. This commitment has enabled them to offer pure essential oils at a value-rich price, making them one of the leading essential oil companies in the world.
Beyond their allegiance to quality, safety, and satisfaction, RMO prioritizes environmental sustainability. RMO recognizes that its products (high quality, effective essential oils) are gifts from the earth, sourced from nature's fields and orchards. RMO knows how critical it is to protect the resources that produce this bounty.
One example of their commitment to sustainability is their bottle take-back program. They encourage their customers to send back empty bottles of essential oils so RMO can ensure they're recycled. Unfortunately, because of their small size, most curbside recycling operations do not accept essential oil bottles, leading them to end up in landfills.
"We believe health and wellness shouldn't come at the expense of our planet, which is why we're committed to sustainable practices across the board. As the essential oil industry leader in testing and transparency, Rocky Mountain Oils has been on a journey to be an industry leader in eco-packaging as well. We're proud to use our sphere of influence to incorporate 100% recycled materials into daily use from paper to shipping materials."
- Rocky Mountain Oils, LLC
Before transitioning to EcoEnclose sustainable packaging solutions, RMO used corrugated boxes and plastic bubble wrap to protect and ship their products. Then, they embarked on a research journey for a more sustainable solution that could live up to their organizational values while strengthening their brand and conveying their environmental commitment to customers.
Essential oil users are often deeply conscious of natural health and sustainable living, a psychographic that RMO honors through quality and safety. As essential oils evolved into a competitive industry, RMO knew they needed to make their well-established ethos and integrity more transparent to their customers; to set their brand apart from others in the space. They realize that their e-commerce packaging strategy could be essential in better showcasing their values.
When RMO sought our credentials in sustainable packaging solutions, they were open-minded and eager to learn. In addition, they sought to understand our values and commitment to sustainability to verify that it authentically aligned with their vision. As with many brands, this curiosity was driven by the desire to understand how our packaging could elevate the customer experience and their focus on minimizing adverse environmental impact.
They walked us through their product set, sales channels, and operational needs. Then, they required solutions that would align with, and improve, the efficiency of fulfillment operations across their website sales and Amazon sales and fulfillment.
RMO needed to strike the delicate balance between protecting their glass bottles and minimizing unnecessary void fill. And they wanted customers to know their packaging was eco-friendly.
RMO and EcoEnclose have been true partners in this work, testing solutions to find the right packaging portfolio for their operations while upholding their commitment to environmental sustainability.
EcoEnclose is helping RMO migrate to a packaging solution portfolio founded on 100% recycled paper. Moving away from standard shipping boxes, RMO uses our 100% recycled padded mailers to ship and protect its products.
Over time, they'll transition to 100% recycled custom shipping boxes, branded with the world's first sustainable, renewable, and biodegradable Algae Ink™. 100% recycled boxes are an ideal packaging solution because they're interchangeable across internal and Amazon sales channels.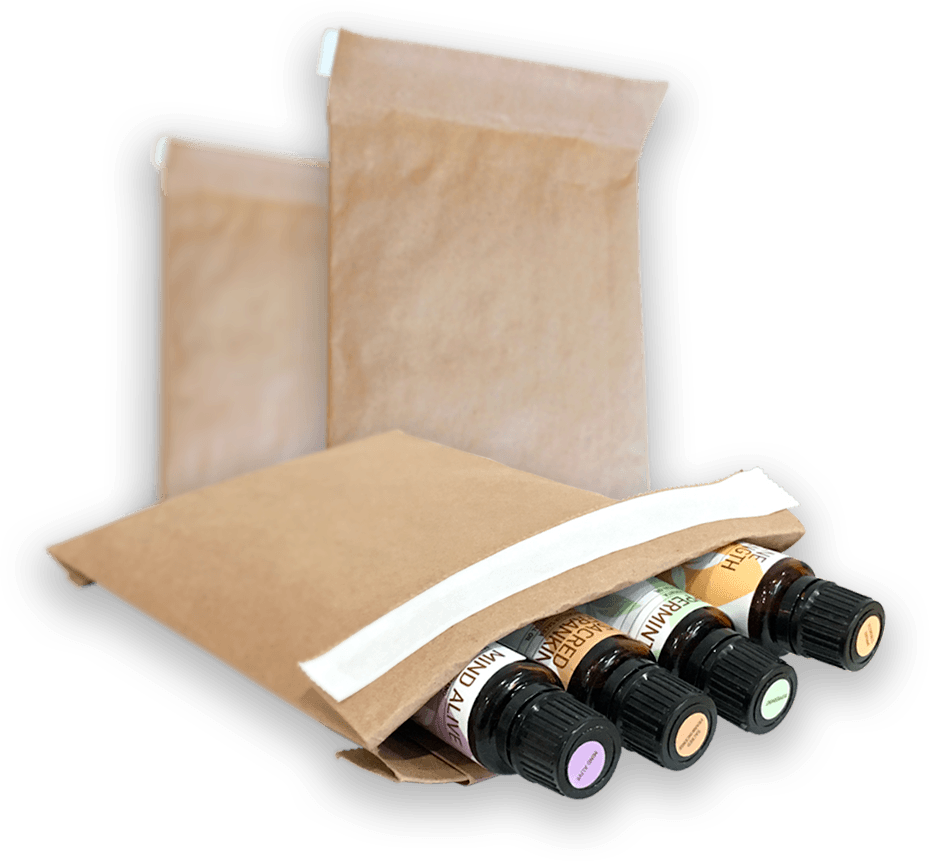 In addition, in the name of sustainability, RMO has moved away from plastic bubble wrap and is transitioning to 100% recycled paper tubes. RMO's products will arrive in branded recycled paper tubes, sized to fit their essential oil bottles. While paper tubes were not yet a standard EcoEnclose offering, once we knew RMO sought 100% recycled paper (a material we work with often) and understood the required volumes, we presented this unique solution.
"Our next exciting evolution is supporting the use of Algae Ink for printing instead of traditional chemical ink. We're extremely excited about the idea of eliminating the use of harmful chemicals from printed materials and look forward to incorporating Algae Ink more and more as the technology continues to evolve."
- Rocky Mountain Oils, LLC
How can EcoEnclose help you?

We welcome the opportunity to serve as your sustainability partner. With EcoEnclose, you can order what you need through our site or contact us; we'll help you find the perfect packaging solutions for your brand.
Our favorite part of client projects? The opportunity to collaborate with our partners: using our sustainability and packaging mastery to research, design, and test ideas until we find the perfect solution to meet your needs. We invest time in learning your organization - your brand, your operations, your sales channels, and fulfillment requirements - so we're equipped to deliver intelligent options that aren't just sustainable but strategic and high performing.
We're open to exploring innovative solutions when standard offerings don't meet your custom needs. We love partnering with companies interested in innovation and who challenge us to expand our capabilities. Our partnership with Rocky Mountain Oils means we can offer paper tubes to a broader range of companies and continue to partner with Living Ink Technologies to expand our Algae Ink offering.