Eco-Friendly Packaging Is Great For Business
Packaging matters in the retail world. It's the first impression of a product and often what separates one product from whatever is sitting next to it on the shelf! The big brands know this, which is why they spend billions of dollars on packaging.
As an ecommerce company, it is easy to think – "our customers have already ordered from us by the time they see our shipping packaging" or "our customers don't care as long as their order arrives in good shape".
But the truth is that online shoppers do notice how you ship products to them. It influences their perception of your brand, their likelihood of ordering again, and whether (and what!) they tell their friends about you!
---
Online Customers Care (A Lot) About Their Packaging
A Harris Poll found that about half of all consumers (48%) feel that packaging reflects the value of the shipment – the better the packaging, the better the product inside. Another survey, conducted by Dotcom Distribution, found that 52% of consumers are likely to make repeat purchases from an online merchant that delivers in "thoughtful packaging" and over 40% said it makes them more likely to share a product image or video on social media.
The top three things customers notice are (1) whether or not their items were delivered in good condition, (2) custom branding and design, and (3) how environmentally conscious the packaging is.

Sustainable, Green or Eco-Friendly packaging is a TOP THREE concern!

According to Shopify's Future of Ecommerce report, 73% of consumers are more likely to buy a product packaged sustainably. Many will also pay a premium.
These trends are echoed in other reports as well. In a study commissioned by Pro Carton, an astounding 75% of customers emphasize their desire to receive products in eco-friendly packaging. DotCom Distribution found that green packaging is important to 57% of customers!
---
Five Specific Ways Sustainable Packaging Benefits Your Brand
Sustainable packaging can strengthen the consumer experience and brand perception in a variety of ways.
1. Improved Customer Loyalty
Customer loyalty has never been more elusive. According to Inc.:
61% of people switched brands in the past year

77% of people retract brand loyalty faster than they did 3 years ago

78% of millennials say brands have to work harder to secure their loyalty
But, hope is not lost!
According to a 2020 survey, customers are most likely to return to a brand for the product's quality, but sustainable business practices come a close second. 68% of consumers say that their loyalty to a brand is strengthened if they share the same values.
And a rapidly growing number of consumers see sustainability is one of their core values. According to an IBM Research Insights report, nearly six in 10 consumers surveyed are willing to change their shopping habits to reduce environmental impact and nearly eight in 10 respondents indicate sustainability is important for them.
2. Increased Customer Referral
Shoppers who are referred to your brand by a friend's recommendation have a 3-5 times higher conversion rate, with a 16% higher lifetime value. They are four times more likely to refer more customers to your brand, once they become engaged.
Capturing enough of your customers' attention to then encourage them to refer their friends to you is no easy task. But, your investments in sustainable packaging can really help. 40% of consumers are more likely to share a purchase on social media if it arrived in thoughtful packaging.
Research has shown how people's social media posts help to shape their public identity. And many people today see sustainability as a key value and differentiator to their identity.
So, shipping your goods in packaging that is truly differentiated in terms of its commitment to sustainability can help give your customers a reason to share the product (and its packaging) with their friends - in person and on social media.
Referrals made through public forums like social media may be more successful than those made in 1-1 contexts. Research has shown that there is a gap between people's stated desired behaviors and their actual behaviors, but that this gap is narrowed significantly through social influence. So when a person is compelled to share their eco-friendly purchase on social media, that person's friend not only see that recommendation, they see it in an environment that provides social proof that is more likely to motivate behavior change.
3. Decreased Shipping and Packaging Costs
One of the first steps in making your packaging more sustainable is to "right size" it - so your mailers or boxes are the right size given the product(s) you are shipping.
When you ship your goods in the most efficiently sized package, it means you are minimizing the cost of shipping and the cost of packaging (since you are only paying for the shipping material you need).
Additionally, some companies find that when they shift to a more sustainable shipping strategy, they identify components of their packaging that aren't needed - excess void fill and decorative additions. Eliminating these excess materials that aren't contributing greatly to the customer experience helps reduce costs as well.
Reduced shipping prices can lead to higher conversion rates, and reduced costs overall can result in lower pricing for you customers.
4. Improved Engagement and Performance From Your Team
A commitment to sustainable packaging shows your entire team, including your team fulfilling your orders, that your company is focused on shipping goods thoughtfully.
Research has shown that 74% of employees are more fulfilled at work when they are provided with opportunities to make a positive impact on social and environmental issues – and 70% would be more loyal to a company that helps them contribute to important issues.
Some companies go a step even further by engaging their operations team in their sustainability efforts.
When executed well - these steps lead to increased customer commitment, improved performance, and a collective effort to increase the sustainability of the delivery experience. These types of actions can have a noticeable positive impact on the customer's experience.
Unilever has some exciting success stories to learn from on this front. Inspired by the company's sustainability slogan, "Small actions can make a big difference," workers at the company's PG tips tea factory in Trafford Park, England had the idea to shorten the ends of their tea bags by 3 millimeters, saving 15 reels of paper each shift.
5. Protect Your Brand From Negative Publicity
Even if you're skeptical that eco-packaging can strengthen your brand, evidence indicates that you should at least consider the negative impact of not using green packaging. 48% of all Dotcom Distribution respondents said they would consider switching brands if a product they received contains excessive or unsustainable packaging. And Forum for the Future, found that 90% of consumers would stop purchasing from a company if they learned about irresponsible practices.
Take note – this is not just lip service on a survey.
We operate in a culture which is quick to turn its back on companies for a variety of reasons.
But a recent Porter Novelli survey showed that 73% of respondents are less likely to cancel a purpose-driven brand.
Packaging is certainly a powerful and lasting way to convey your company's commitment to purpose.
Here are two examples of customers showcasing their recent purchases with eco-minded brands on social media.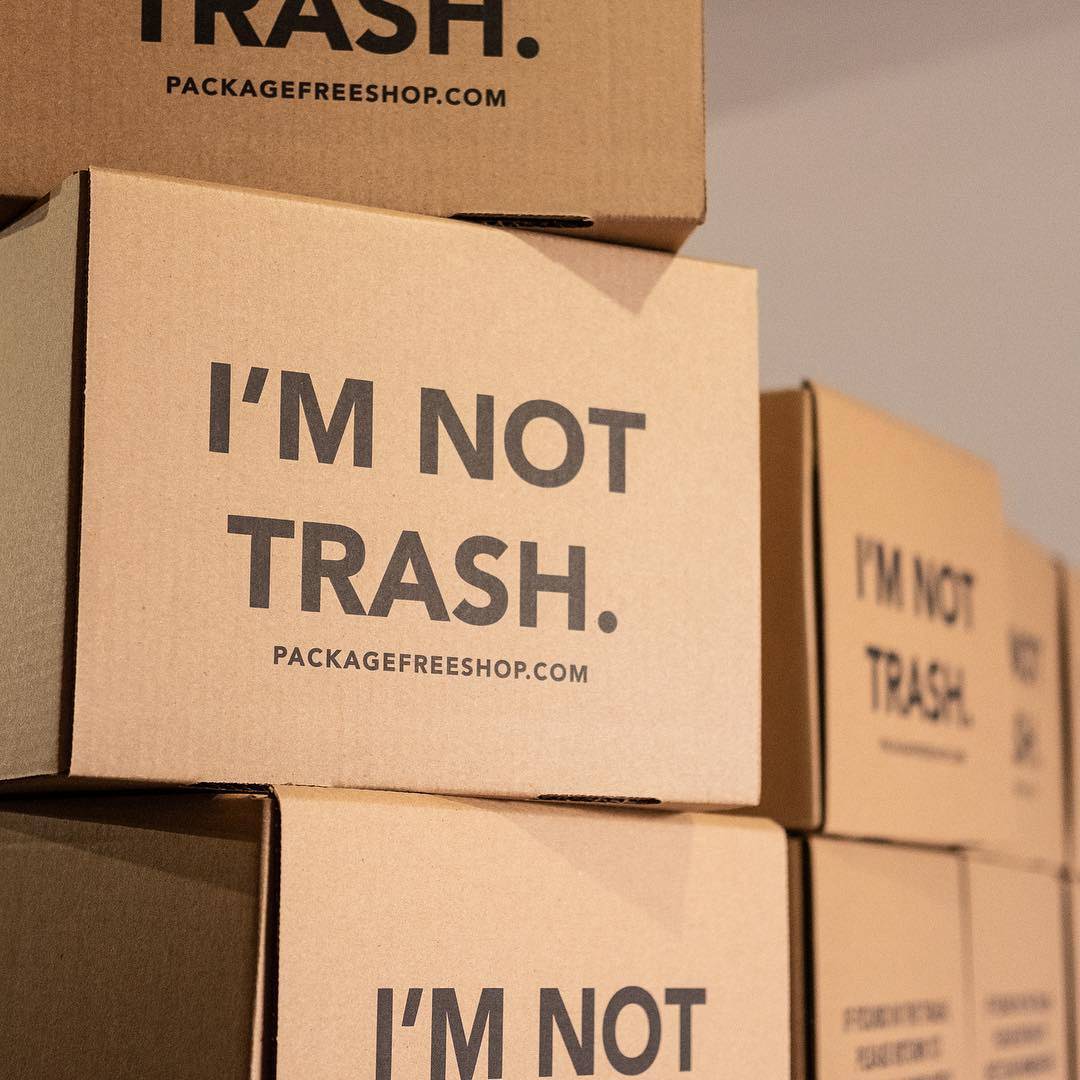 And here are three examples (one is hilarious!) from angry customers and bloggers lamenting about shameful, wasteful, environmentally unsustainable packaging of products they ordered.
---
What does "green packaging" or "eco-friendly packaging" actually mean to your customers?
When asked what they mean by "environmentally friendly" packaging, customer answers vary.
Recyclability and recycled content emerged as most important.
Over 75% of Pro Carton survey respondents indicate that "environmentally friendly" means packaging that can be easily recycled and that it is made from recycled materials.
Shopify's "The Future of Ecommerce" report echoed this, suggesting that consumers' main focus is on zero-waste packaging, where all materials are used, reused, or recycled.
Reusability and biodegradability followed suit, with both features ranking as important to over 50% of those surveyed.
Finally, many lament over packaging or excessive packaging. 47% felt that over-packaging was a pet peeve given how harmful it is for the environment.
---
Okay, I get the message.
But what does all of this REALLY mean for my business?
We don't know your exact business. But, with the above information, we think it makes sense to at least evaluate the cost / benefit of earth friendly packaging for your business.

Here's the quick 4 Question Quiz to help determine if green packaging could be good for your business.

1. Do you produce or sell:
High end or luxury items?
Items that intend to be durable, long lasting and/or uniquely high quality?
Health and wellness items?
Skin or hair care items?
Unique art?
Unique jewelry?
Quality apparel and/or gear?
Home goods
2. Are your customers:
Millennials?
Moms?
Outdoor enthusiasts?
Adventurers?
Naturalists?
3. Is your brand an important part of your company's growth and success?

4. Does your brand stand for ethical or environmental values?Are you focused on building your strong social media strategy and presence?

Did you answer YES to any of the above questions? If so, going green in your packaging could:
a) lead to a measurable improvement in your brand, sales and revenue
b) provide some easy protection against negative publicity

Here's a scenario to see how numbers might play out.

Baseline Scenario: Let's say that with your current, conventional packaging, an average customer buys $50 worth of stuff. This week, you acquired 100 new customers. Of those customers:
25% never order again
50% order one more time
25% order two more times
You just acquired $10,000 this week – right on!

Eco Friendly Packaging Scenario: Remember: 48% of customers may decide not to reorder from a company for using un-ecofriendly packaging and 52% of customers would be more likely to consider reordering from a company that uses eco-friendly packaging. So, let's just cut those numbers WAAAY BACK, and say that only 5% (vs ~50%) actually take action. Then, with eco-friendly packaging, you find that:
20% of your customers never order again
45% order one more time
35% order two more times
What's more, your eco-friendly packaging has inspired three of these customers to post on social media, which generates five new referred customers.
In this scenario, you just acquired $11,288 this week!

That represents a 13% increase in sales due to eco-friendly packaging. And that 13% improvement happens every single week – just by continuing with the eco-friendly packaging!

Is that what will happen for your company? Let's find out. It might be higher, it might be lower. It depends on countless factors of course. But the point is that the decision to explore eco-friendly packaging is, in large part, a branding and marketing decision. Moving to more thoughtful packaging, especially if your company is already rooted in ethics and sustainability, can strengthen your reputation and your brand. This drives more sales and real long term value.
---
Showcasing your Eco-Friendly Packaging Commitment
Once you've made the commitment to eco-friendly packaging, don't forget to showcase it to your community!
There are several ways to make your customers aware of your eco-friendly packaging commitment. Here are a few examples.
On your website: This can be in a shipping section, an about us page, or a values section. Discerning customers often review these pages before making a purchase!
This photo is an excerpt from Fancy Tiger Crafts "Our Values" page.

On or in your packaging: Can be part of the design printed on your packaging or on notecards or stickers (or even your packing slip!) inside your packaging.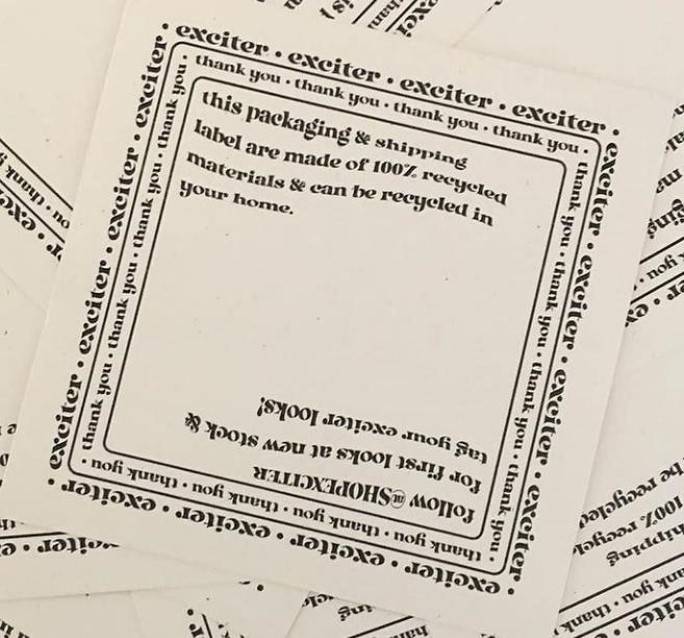 On your confirmation emails: Did you know confirmation emails have an open rate of 65%! This is an invaluable resource and can be the perfect vehicle to let your customers know that their product will be shipping in sustainable packaging.
On your social media: Sprinkle in posts about your packaging strategy throughout your social media feeds and blog posts. You might be surprised at just how much your community wants to hear about your packaging journey, decisions and tradeoffs.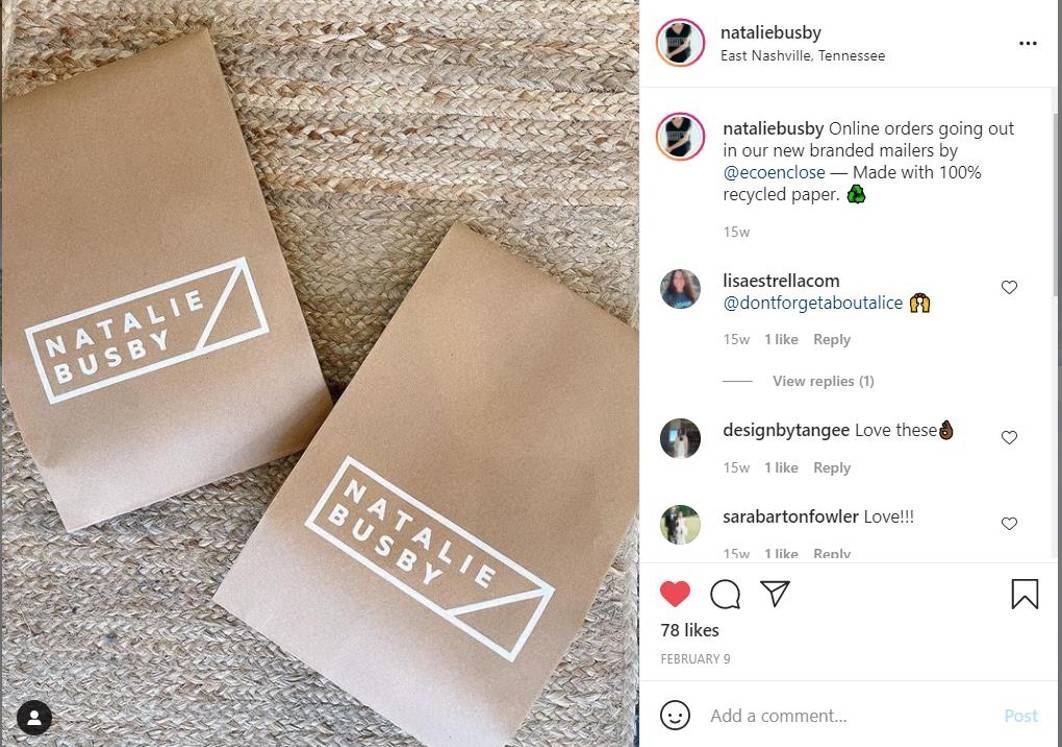 Your "Eco Story" must be integrated with your packaging and immediately recognizable if you want to drive a positive response with your customers.
We try to make this easy by providing branding, language and materials that promote your sustainable packaging - in the shipments themselves, on your website, and on social media.