Recycled Bubble Mailers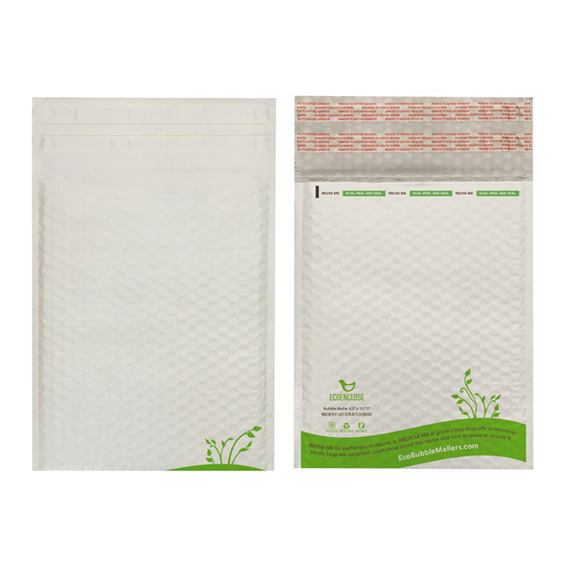 ---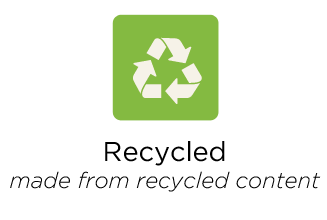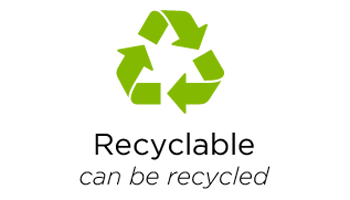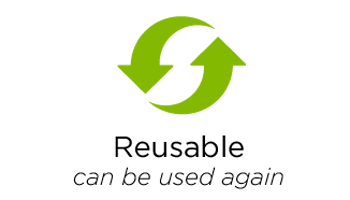 20% OFF our 6.5 x 8.75" Bubble Mailers. Use coupon code
20POFFBBM at check out!
Introducing the world's most eco-friendly bubble mailers -- made with at least 32.6% recycled content and fully recyclable! These padded poly bubble envelopes have cushioning to protect your goods in transit. They are moisture resistant and offer exceptional puncture resistance.
We are psyched to introduce a bubble mailer that is ecologically superior to anything else out there today. We stand behind and have verified the recycled content and recyclability of our air jackets. They have a tear strip and dual peel-and-seal so your customers can reuse them at least once before they are recycled. Our bubble mailers also have a unique, eye catching design that helps showcase your green values and efforts, and to encourage recipients to reuse these eco-friendly mailers for returns or to responsibly recycle them.

Bubble mailers are complicated to manufacture and the journey to 32.6% recycled content has been a challenging battle, with many "no way, it can't be dones" in our midst. With this journey, we've learned a ton about padded poly mailers, and we believe we can achieve higher levels of recycled content going forward. We will continue to invest in R&D to increase the recycled content and we will post updates on our progress here: www.ecobubblemailers.com.

If you've come this far and have decided you'd prefer to ship your goods with a 100% recycled paper-based padded mailer, we've got you covered! If you're still debating between different cushioned mailer options, check out our Definitive Guide to Protective Mailers.
Environmentally friendly- no other bubble mailer on the market compares
Ivory color (white bubble mailers)
Made from 32.6% post industrial recycled content (51% recycled content in the outer layer, 8% recycled content in the bubble layer and 8% recycled content in the capping layer).
Features a handy tear strip for easy opening
Dual self-seal adhesive strip allows for reuse
Durable, moisture, tear and tamper resistant
Pre-production custom printing / design available for large orders
Fully recyclable; accepted at store drop off or curbside services that take grocery bags
Made in the USA!
Bubble Mailer Sizes, Weights and Dimensions
If you're looking for the weights and dimensions of a specific bubble padded envelope listed above, look no further! Whether you're looking for small bubble mailers or large, find the product size and bundle/case type that you are considering in the table below.
Note that dimensions in the Product Description refer to the INTERNAL / USABLE dimensions of the mailer. The third column in the below table provides the Outer dimensions of each bubble mailer. Here's what we mean by internal and outer dimensions:
Product Code
Product Description
Outer Dimensions*
Parcel Weight (lbs)
Parcel Dimensions
Mailer Weight (oz)
BBM4-500

4" x 6.75

"- RECYCLED BUBBLE MAILER - CASE OF 500

4.875" x 10.0"

9
26.75 x 15.625 x 11
0.2
BBM4-25

4" x 6.75

"- RECYCLED BUBBLE MAILER - BUNDLE OF 25
4.875" x 10.0"
0.5
0.2
BBM6-250
6.5'' X 8.75'' - RECYCLED BUBBLE MAILER - CASE OF 250
7.375" x 12.0"
9
27 x 15 x 10.5
0.4
BBM6-25
6.5'' X 8.75'' - RECYCLED BUBBLE MAILER - BUNDLE OF 25
7.375" x 12.0"
8
0.4
BBM8-100
8.5'' X 10.75'' - RECYCLED BUBBLE MAILER - CASE OF 100
9.375" x 14.25"
5
11.5 x 9.75 x 21.375
0.6
BBM8-25

8.5'' X 10.75'' - RECYCLED BUBBLE MAILER - BUNDLE OF 25

9.375" x 14.25"

1.25
0.6
Still Have Questions About These Eco Friendly Bubble Mailers?
Hello! You may have realized at this point that there are a lot of questions to ask when trying to determine what you'll need to ship your products. Don't panic! We're here to help! We put together a quick FAQ below on questions we have received and anticipate receiving about these air jackets. If you still have questions, don't hesitate to reach out to us at Support@EcoEnclose.com.
Why don't you have a 100% recycled Bubble Mailer?
Today, the vast majority of bubble shipping envelopes and bags are made with only virgin material. Self-proclaimed eco alternatives exist, but these all claim to have less recycled content and their recycled content numbers are unverified and can be misleading (typically they claim a recycled content number, but that number only refers to the outer layer of a bubble mailer). Many padded envelopes cannot be recycled, because they have both paper and plastic or because they have foil lining. The majority of bubble mailers are difficult to open and impossible to reuse.
The journey to achieving this 32.6% recycled bubble mailer has been a long and challenging battle. You might think a bubble bag is simply a poly mailer with bubble wrap glued to the inside, but not so! Bubble mailers have a whopping nine layers of film, and the traditional bubble envelope manufacturing process is complex. The actual layer of bubble in these mailers is made as film is heated and sealed onto the outer layers while a machine puffs air into its pockets. The manufacturing process is therefore extremely sensitive to temperature and melting points, and highly partial to the purity and consistency of virgin content.
But do not despair! Through our efforts to develop the world's most environmentally friendly bubble mailers, we have learned a ton about poly bubble mailers, and we believe we can find a much better solution in the coming years. Our launch of these recycled air jackets is the first step in our efforts to drive the market for innovation and education in this space. We will continue to invest in research and product testing, so we can keep upping our game. If you are an eco packaging geek like us and want to stay posted on our progress, check this site for updates:
www.ecobubblemailers.com
.
How thick is the bubble layer?
The bubble layer in each of the Airjackets is 7/64" thick.
What is the difference between your Padded Mailers and Bubble Mailers?
For more detail on the question of which protective mailer to use -
poly bubble mailers or padded mailers
- check out our detailed blog post on this topic.
EcoEnclose padded mailers are paper-based mailers that - like bubble mailers - have a layer of padding and protection inside.
There are a few eco advantages to these padded mailers. First, they are made with 100% recycled paper, and over 25% post-consumer recycled content. Music to our ears! Additionally, custom printed padded mailers are available at relatively low volumes of 500 units or more. Finally, they are more easily recyclable, because all curbside recycling programs accept them. As an added bonus, they are also compostable! We also love their kraft look and earthy appeal.
But, our 32% recycled bubble mailers do have some important advantages, depending on your operation and what you are shipping. First, they are weather proof, on that small chance your package ends up outside in a rain storm while its waiting on a porch.
Second, they are lighter and more compact than padded mailers. Comparing two of these mailers - a 8.5 x 10.75" bubble mailer size and an 8.5 x 11" padded mailer size:
The bubble mailer weighs 0.8 oz and the padded mailer weighs 2.2 oz
A case of these bubble mailers holds 100 units and weighs 5 lbs. A case of these padded mailers holds 100 units and weighs 20 lbs.
A single pallet can hold 8,000 bubble mailers and 2,400 padded mailers
These differences result in improved costs and reduced environmental impact of shipping mailers to your operation, and then shipping your products out to customers.
What is a Bubble Mailer? What are Bubble Mailers used for?
Bubble mailers (aka "air jackets" or "padded poly mailers") are mailers with bubble lining that provides cushioning and rigidity. Companies that use bubble mailers are typically shipping items that are relatively lightweight and either need some protection and/or are an awkward size that wouldn't fill out a poly mailer. Additionally, some people like padded poly mailers over paper-based alternatives like padded mailers because they are weather-proof.
Fragile, smaller items need bubble mailing envelopes to survive the journey. Jewelry, perfume, essential oils, makeup, books, some articles of clothing...these are all examples of products that might be well suited for shipping in padded bubble mailers.
What size Bubble Mailer do I need?
First of all, what size do bubble mailers come in? EcoEnclose currently carries three bubble mailer sizes: 4 x 6.75", 6.5 x 8.75" and 8.5 x 10.75".
The 4 x 6.75" bubble mailer size is excellent for jewelry or small vials of cosmetics and oils.
The 6.5 x 8.75" bubble mailer size is great for larger jewelry items, wallets, larger cosmetic items, and some clothing items (like snow hats, socks, baby onesies and underwear).
Our 8.5 x 10.75" bubble mailer size is great for clothes (t-shirts, scarves, pants, etc), books, journals, some clutches and handbags, picture frames, and more.
Sizing is one of the most common questions we receive as far as mailers are concerned! To confirm the best bubble mailer sizes for your needs, we recommend laying out the items you will be shipping on a table and measure the imaginary bounding box it would fit in. The two dimensions of your selected bubble mailer size need to exceed the largest two dimensions of your products' bounding area plus a little extra room to compensate for the mailer's expansion when it's filled.
Once you have what you think is the perfect bubble mailer size, the next step is to order a sample of our bubble mailers (and any other eco friendly mailers you also want to try out) to test them. One of the worst feelings in the world is ordering everything you need to start shipping your product and finding out that what you thought was perfect is actually too small to ship your items. We want to avoid any issues with our bubble envelopes, so we definitely encourage people to use our samples to test bubble mailer sizes!
Can I get branded custom Bubble Mailers?
Yes, but unlike our other paper and poly mailers, these bubble mailers can only be custom branded at
large runs
for most sizes. These go through pre-production printing, with the outer layer of the bubble bag printed in large sheets of recycled poly material before that material is converted into mailers. If interested, please contact us at Sales@EcoEnclose.com.
In order to print at lower runs, mailers must be printed "post-production" (i.e. after they are manufactured). This is successful for most mailers, including poly mailers, padded mailers, kraft mailers and rigid mailers. But it just does not work well for bubble mailers. The uneven surface of these bubble mailers make them extremely difficult to successfully print on. The quality is just not high enough for us to feel good about offering this service.
This is one of the reasons we have developed our stock bubble mailers with a unique, eye catching design to help you showcase your green values and efforts to your customers. Its language also encourages recipients to reuse these mailers for returns or to responsibly recycle them. If branded mailers are essential to the customer experience you envision (which we definitely understand and respect you for!), you could consider branding your packaging with uniquely designed stickers.
How can your Bubble Envelopes be reused?
Our bubble mailers have two adhesive strips. This makes it easy for customers to reuse them. You use the top adhesive to seal the bubble bag. Your customer uses the tear strip to neatly open the air jacket, and then they can use the second (lower) adhesive for reuse. Over 30% of ecommerce purchases are returned. Making this process seamless is great for the customer experience, and good for the planet (since no new packaging has to be used)!
How can your Bubble Mailers be recycled?
Our bubble mailers are made with recycled content and are recyclable. Their outer material is #4 LDPE plastic and their inside layer if #2 LDPE plastic.
A small but growing set of curbside recycling programs accept bubble mailers (recipients can check with their waste management provider to confirm). However, currently, most curbside programs do not accept these bubble mailers because the bags are too thin to be effectively sorted by equipment in most MRFs (materials recovery facilities, i.e. recycling sorting centers). You would recycle these the same way you would recycle grocery bags, typically by taking them to a grocery store that participates in the collecting and recycling of these plastics. You can use the zip code locator here:
http://www.plasticfilmrecycling.org/
to find a participating store.