---
All of our corrugate items are made to order. Please reference our processing times here.
EcoEnclose Corrugated Bubble may very well be the single MOST earth-friendly shipping supplement ever witnessed anywhere in the sordid multi-millennial epic history of packaging parcels. We are always on the hunt for greener alternatives and ways to lighten our tread upon the globe. This explains the elation we feel now bringing this amazing product to the marketplace: we are thrilled beyond belief to be sharing with you EcoEnclose's green alternative to traditional bubble wrap and foam peanuts! Our unique Recycled Corrugated Bubble is comprised of 100% recycled cardboard made entirely from post-consumer and post-industrial waste. We're pleased to offer you the option to purchase Corrugated Bubble made to your exact specifications. Even more, Corrugated Bubble is completely recyclable & naturally biodegradable.
Looking to take the green factor a step further and feel all bubbly inside for doing it? Choose our Upcycled Corrugated Bubble which is manufactured utilizing our own in-house manufacturing waste. Its upcycled recycled!

Check out our Definitive Guide to Cushioning and Void Fill to learn how and when to use Corrugated Bubble over other void fill options you might be considering.

Corrugated products and custom items are non- returnable, but if you have any issues please let us know and we will work toward a resolution.
Volume Discounts
| Purchase... | And Save... |
| --- | --- |
| 50+ units | 2% |
| 125+ units | 5% |
| 250+ units | 10% |
| 375+ units | 15% |
Start building your perfectly sized corrugated bubble!
Note that the width of your corrugated bubble must be between 4" and 16" and the length must be between 8" and 48".
Wondering what we mean by length and width? Great question!
As described above, there are limits to how long and wide we can make our corrugated bubble. The minimum width is 4" and the minimum length is 8". The maximum width is 16" and the maximum length is 48".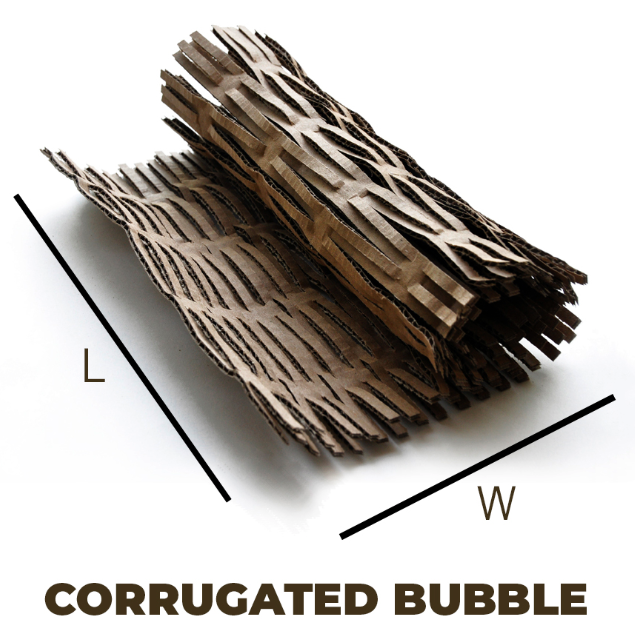 Please let us know if you have any questions or concerns.