Plastic Free July 2021: What's Your Pledge?
Jul 1st 2021
Plastic Free July 2021: What's Your Pledge?
And just like that, it's July 1st! Which means it is the start of Plastic Free July!
For me, Plastic Free July is a time to take stock in my own habits, and the practices of our business, and take tangible steps to reduce unnecessary, single use plastic (though we expand it to include all unnecessary single-use). It feels cleansing and invigorating (think New Years Resolutions but more tangible), and I've found that each year, a few new habits really stick long-term.
A Brief History of Plastic Free July
In 2011, a group at the Western Metropolitan Regional Council in Perth, Australia decided as an office to avoid single-use plastic for the month of July. They kept plastic they used in a canvas bag, and shared wins and ideas with each other. How awesome is this collaborative and positive approach?
Fast forward six years and a campaign founder, Rebecca Prince-Ruiz helped form a non-profit called The Plastic Free Foundation, which spearheaded the now official, worldwide Plastic Free July.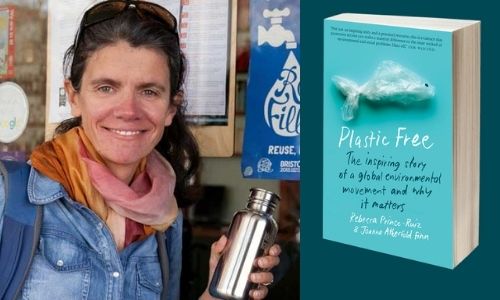 If you're looking for some great reading material, there is no better time then to read Prince-Ruiz's wonderful book: Plastic Free: The Inspiring Story of a Global Environmental Movement and Why It Matters
Through Plastic Free July's website, you can take a pledge to avoid single use packaging, avoid the top four single-use plastics (plastic bags, plastic bottles, straws, and coffee cups), or go completely plastic-free.
Participants pledge to do this for one day, 1 week, all of July, or "from now on." The flexibility is awesome because it meets people where they are.
If you've never thought twice about plastic shopping bags, avoiding the "Top 4" for a week is a great start.
Taking the Pledge and Setting Your Plastic Free July Goals: Tips for Businesses
Make a pledge, and then make at least one concrete commitment.
Stumped for ideas?
Beginner examples include: Ditch the k-cup for a multi-serving coffee pot, eliminate disposable cutlery and dishware, saying no to straws, and banning plastic bottles from your office.
Intermediate examples include: Hold team member competitions that give points folks who use reusable totes, reusable coffee mugs and bring their lunches in containers and not Ziploc bags. At the end of the month (or a week), offer rewards for employees who earned the most points.
Advanced examples include: Finding non-plastic replacement for shrink wrap or doing away with your inner, wholesale plastic packaging altogether. Transition from virgin poly mailers or styrofoam (or some other non-sustainable plastic packaging) to recycled natural fiber packaging - think recycled paper packaging or packaging made with hemp.
Share your commitment(s) with your customers and community
This isn't simply to market your commitment.
This public statement is a commitment that will help hold you and your team accountable to broader sustainability goals, and because by sharing this information with customers, you may get awesome feedback and ideas on how to achieve your goals. One of the beautiful things about Plastic Free July is that it fosters positive and collaborative engagement. Sharing your goals with the world helps you become part of that conversation and collaboration.
Remember that plastic free doesn't automatically mean "better." Source alternatives wisely and seek to eliminate single-use whenever possible.
Ideally you are just eliminating the single-use altogether and replacing it with a long-term and durable solution, such as swapping straws for stainless steel versions or deciding you don't really need straws anyway.
But if you find yourself replacing it with something made of a non-plastic material (such as replacing single-use plastic with single-use paper packaging instead), take time to assess if the swap was the right one for the environment. There are a lot of reasons plastic poses significant challenges for the planet, but paper and other natural fibers typically have higher carbon footprints.
EcoEnclose's Plastic-Free July Commitments
The beauty of Plastic Free July is that it encourages individuals and businesses to make a pledge to reduce or eliminate one single-use plastic habit.
What's our goal? I labored on this question for a long time.
While we don't use that much single use plastic at EcoEnclose (we don't have k-cups, or disposable cutlery, or disposable cups here), our two biggest downfalls seem to be (1) pallet shrink wrap and (2) food packaging for our company events.
This excessive food packaging became a much bigger issue during COVID, when we were doing what we could to retain a strong company culture while still keeping people safe and distanced, and not sharing from a communal snack bowl. As we start to see the light at the end of this particular tunnel, Plastic Free July is a wonderful time to recommit to Zero Waste Events.
With that in mind, our commitment this July is to drastically minimize single-use packaging associated with our team events.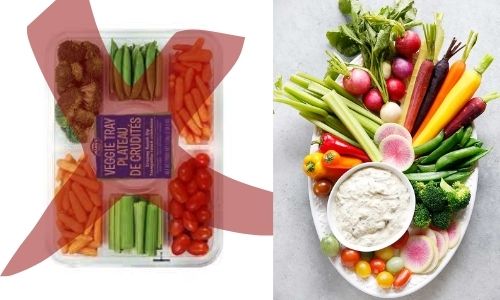 Specifically:
Eliminate any single serving snacks. Seek out bulk snacks from our nearby zero waste store whenever possible.
Eliminate all disposable cutlery and disposable drinkware and plates
Work with and cater from local restaurants that are committed to reducing packaging and are open to utilizing reusable containers we provide. Organize a potluck style event that eliminates the need for restaurant packaging altogether.
Stay tuned for an update late this month to share how we did!
Plastic Free Packaging for Your Shipments
If your Plastic Free July goal is to swap your plastic packaging for non-plastic alternatives, check out our Plastic Free Packaging Solutions and our Plastic Free Packaging Resource Center.
Our paper packaging options are almost all 100% recycled and curbside recyclable, naturally biodegradable, compostable (though they should definitely be recycled and not composted!), manufactured in the USA and printed with Algae Ink.
Happy Plastic Free July!