Plastic Free July: A Guide to Help Your Business Ditch Single Use Plastic
Jul 13th 2020
Guide to Help Your Business Ditch Single Use Plastic
History of Plastic Free July
In 2011, a group at the Western Metropolitan Regional Council in Perth, Australia decided as an office to avoid single-use plastic for the month of July. They kept plastic they used in a canvas bag, and shared wins and ideas with each other.
Fast forward six years and a campaign founder, Rebecca Prince-Ruiz helped form a non-profit called The Plastic Free Foundation, which spearheaded the now official, worldwide Plastic Free July. Through Plastic Free July's website, you can take a pledge to avoid single use packaging, avoid the top four single-use plastics (plastic bags, plastic bottles, straws, and coffee cups), or go completely plastic-free.

Participants pledge to do this for one day, 1 week, all of July, or "from now on." The flexibility is awesome because it meets people where they are. If you've never thought twice about plastic shopping bags, avoiding the "Top 4" for a week is a great start.
Last year 120 million people participated globally, and 90% said the effort led to permanent changes to their habits!
For us, Plastic Free July isn't about simply replacing single use plastic with another material. Often, this type of thinking inadvertently leads to less sustainable choices (for example, replacing plastic with single-use glass can often be a significantly less eco-friendly step, as glass is highly polluting to make, heavy to transport, and difficult to recycle). Instead, the month is a time to renew your focus on replacing single use with reusable wherever possible, and when it is not possible, switching to new materials that you've researched and found to be truly more ecological.
Making efforts to eliminate single-use items in your life (which are often made of plastic) is an empowering exercise. Most of us have come to see single use items - like disposable coffee cups, cutlery, plastic bags, and straws - as norms that we can't live without.
Paying attention to and replacing these with reusable counterparts makes us more mindful in our day-to-day actions, and shows us that these steps are often pretty easy (and actually really fun!).
There are loads of incredible resources out there that teach you how to go plastic free in your home and personal life. But as a business, it is often much more challenging to eliminate single-use plastic, because to do so, you have to factor in the cost of changes and you have to influence the habits of your employees, partners and customers.
Here is a guide to helping your ecommerce business rock Plastic Free July (or any Plastic Free Month) by using it as the kickoff to a variety of new plastic-free strategies!
Step 1: Align Decision Makers
If you are the only decision maker, great! If not, get the group together, commit to your vision and goals for the plastic-free challenge, and determine if and where you are willing to incur higher prices or new costs in order to make your business eco-friendly.
Step 2: Have a Kickoff
Announce your company's Plastic Free initiative, share the plan, explain how different departments and employees will be engaged, and - if possible - share rewards you'll have for people who show a deep commitment to the effort. For example: reward team members with a plaque, gift cards, or time off if they identify the most instances of plastic use in your "Audit" or come up with the best ways to move away from single-use materials.
Step 3: Plastic Audit
Over the course of a few days, take note of every instance where you come into contact with single use plastic.
Write down the type of item, and put a tally next to it each time you see it. At the end of the exercise, estimate the weight of each category or item. Here's an example.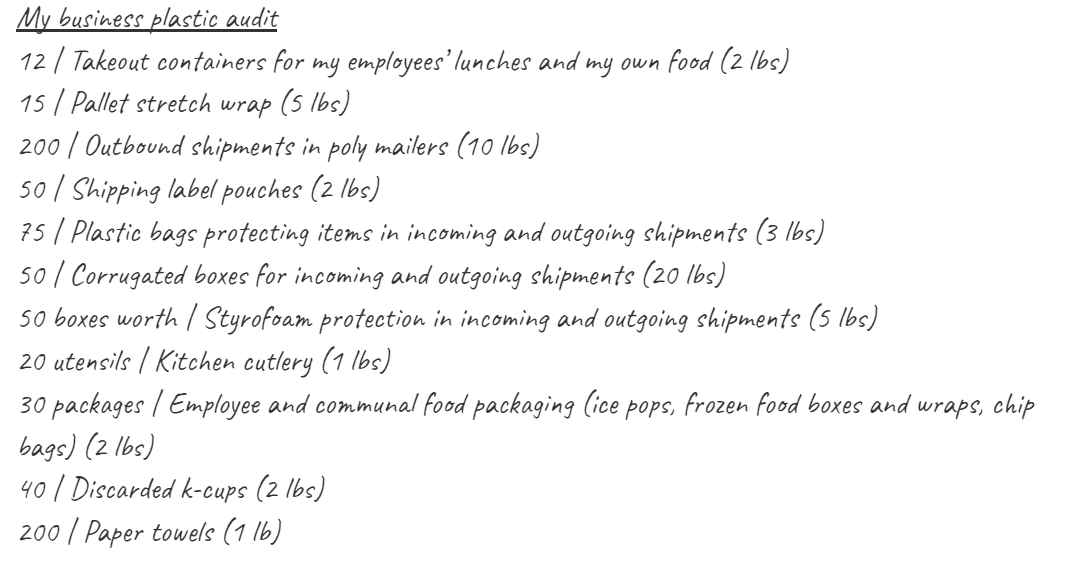 You'll likely find that the items will fall into a few categories:
1. Plastic being used by you or your manufacturing partners to package, protect and manage materials across your supply chain (i.e. pallet wrap, plastic bags for product protection, plastic hang tag fasteners)
2. Plastic in office, warehouse and kitchen supplies (i.e. k-cups, straws, cups, cutlery, plastic wrap around paper towels, etc)
3. Plastic in items you or your employees bring in for personal use / consumption (i.e. take out containers, chip bags, soda or water bottles, etc)
Step 4: Prioritize
Use the information you gathered from your Plastic Audit to prioritize a list of offenders you will tackle during your Plastic Free Month. Think about:
Difficulty: How quickly and cost efficiently can you address it? Does it require a myriad of partners to change their behavior or just a single person? If you're really focused on making a few swaps in your business for Plastic Free July, steer away from the complex changes that require buy in from a lot of stakeholders.
Eco Rating: Is the item recycled (preferably 100% recycled with as much post consumer waste as possible). Does your company recycle it? If both of those things are a "YES" for an item, it may not be the most critical place to start. If the item is virgin and unrecyclable, it could be the best one to start with.
Volume rating: How much of the item do you use? How much of a dent will the change make.
Here's an example.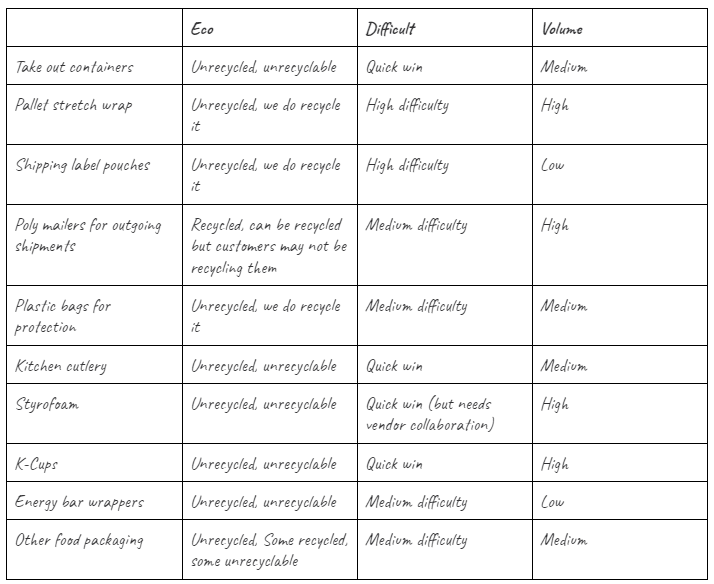 The above list might lead you to pursue some easy wins along with harder changes that can generate a ripple effect with partners and customers:
K-Cups
Cutlery
Take out containers
Styrofoam protection
Poly mailers
Energy bar wrappers and other food packaging
Plastic bags for packaging
Step 5: Plan and execute changes to each prioritized offender
This is the fun part! Look at each item on the list and decide what kind of change needs to be made. Sometimes it is obvious. Sometimes it requires a lot of research! Often, you'll need to set up a meeting with supply chain partners or employees to truly understand what can be done.
Take K-Cups for example.
If you are using a single cup pod coffee maker, your alternate choices are fairly straightforward - move to a batch coffee maker with a reusable filter, or replace your plastic pods with a fillable, reusable pod. You might make the decision yourself, or you might decide to engage a group of employees to make the final call.
On the other hand, establishing a Plastic Free Packaging Game Plan is more challenging, as items like protective plastic packaging or styrofoam inserts often serve multiple purposes throughout the supply chain. Switching these to plastic-free alternatives might require vendors to make significant changes to their own operations. Our Plastic Free Packaging Resource Center has a myriad of articles to help companies make smart, well-researched changes, including a guide to Plastic-Free Poly Mailer Alternatives and Plastic-Free Alternatives to Clear Plastic Bags.
Some of the changes you decide to make may lead to a new or higher cost. For example, if your team goes through a lot of energy bars, you might consider offering energy bites to your team that you purchase from a bulk goods store. This is a great way to kick the wrapper habit and support your team, but it also costs money.
Similarly, asking your vendors to switch from styrofoam to packaging paper or moving your poly mailers to a Paper Apparel Mailer may cost you more, so deciding what you are willing and able to pay up front (in Step 1) is an important first step.
So what happens when July is over? Since 90% of Plastic Free July participants say the initiative leads them to make permanent changes to their habits, its likely that your plastic free month won't end on July 31st. You might maintain the changes you made, or continue to pursue new strategies ongoing. You might find that the exercise leads to personal changes among your team. Whatever the long-term impact, embrace the month and have fun with it!