The Collective Impact of Our EcoAlly Community in 2021 (So Far!)
Posted on Nov 16th 2021
The Collective Impact of Our EcoAlly Community in 2021
Every day, I reflect on how lucky we are to work with such a passionate, committed group of eco-minded brands. 2021 has brought new levels of complexity for all businesses - from continued management of COVID threats to global freight delays to supply chain crises to hiring shortages. Despite these immense challenges, our EcoAlly community has continued to invest in sustainability and eco-friendly packaging.
By choosing recycled packaging for your shipments this year, so far you have collectively saved 21.7 million gallons of water, 13,700 tons of GHG emissions and 270 acres worth of trees.
With six more weeks left in 2021, we hope we can help you continue keeping the planet front of mind as you prep for the holiday season.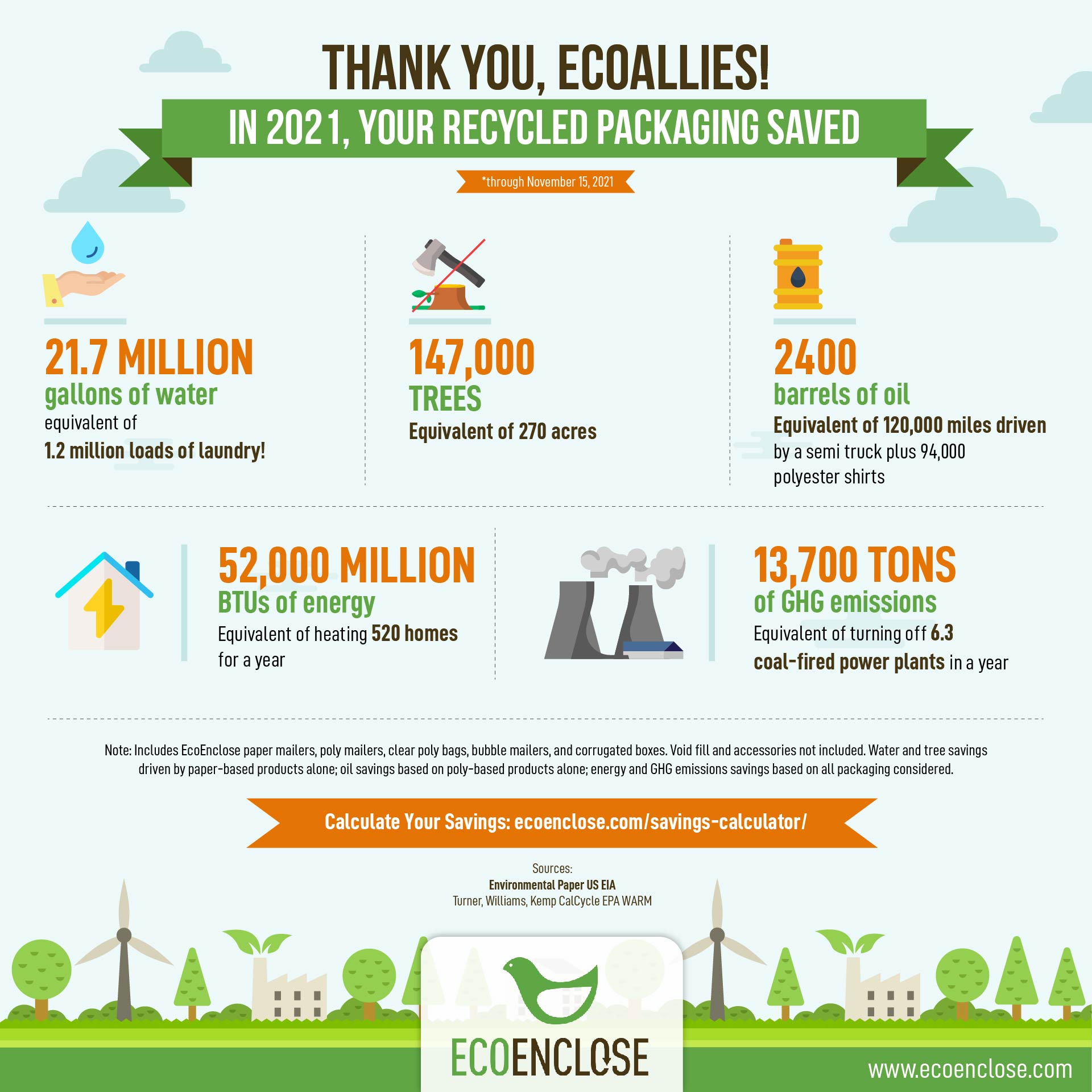 How We Calculate These Eco Packaging Savings
We analyzed all packaging we've produced and shipped in 2021 to date (through November 15th), to assess the total weight of each type of material.
For this calculation, we focused on: recycled paper mailers, recycled poly mailers, recycled poly bags, recycled bubble mailers and recycled shipping boxes. For this particular assessment, we did not consider packaging paper, labels or stickers, tissue paper, office paper, EcoBand and other recycled packaging we offer as these represent a very low percentage (by weight) of the packaging we offer.
In 2021 so far, our EcoAlly community has used the following (by weight, in pounds) for their packaging needs.
| | |
| --- | --- |
| 100% Recycled Paper Mailers | 2,548,099 |
| 100% Recycled Corrugate | 1,664,000 |
| 100% Recycled Poly Mailers and Poly Bags | 555,102 |
| Recycled Bubble Mailers | 107,742 |
Once we calculated the weight of packaging by material type, we utilized our internal Eco Savings Calculators to assess the resource savings achieved when comparing 100% virgin options with recycled alternatives.
Our internal Eco Savings Calculator is based on assumptions provided by:
Calculate Your Own Savings
The calculations above are based on the sustainable packaging decisions made by our collective community of EcoAllies.
Curious about the impact of your company's individual recycled packaging decisions?
We've created a tool that (we hope!) is easy to use and can help you translate your weekly shipment volume into your own resource savings.
Check out our Eco Savings Calculator here. Plug in your weekly volume of shipments, the type and size of mailer or box you use, and the calculator will output your resource savings.
Create Your Own Infographic
And if you want to create your very own infographic, based on the data provided by our Eco Savings Calculator, you can do that as well!
Click here to download the original, editable infographic image and (using Adobe Illustrator), you can update the numbers to match your own data.
We hope this helps you tell your eco story to your customers!