Custom Printed Box Art Specs & Requirements
These guidelines serve as an overview of our post-production box printing parameters. We have a real, live human review and proof your artwork prior to production. Look out for your final preproduction proof in the next business day after your order is placed.
Lead time begins after final preproduction proof approval and custom ink swatch approval, if applicable. Check out our current lead times here.
Contact us

with questions about our custom printing services and to learn more about advanced box printing options; including two color prints.

Looking for 3+ color designs or flood coats? Contact us

for high volume quotes and capabilities.

Want to go fully branded with your packaging? Check out all of our custom branded packaging

options for more info.
---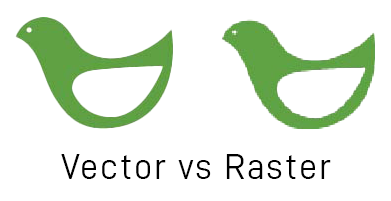 To ensure a clear, high-quality print, please send us your artwork in vector format with all fonts outlined and all supporting files embedded. PDF, AI, and EPS are our preferred choices, but we also accept SVG.
We require artwork to be in vector format so that we can scale designs to size without losing any detail. Raster images are typically pixelated and these pixels are visible in the final print.
For additional help, check out Vector vs. Raster in our Knowledge Bank.

Please find our minimum baseline font sizes below. We cannot specify font size for every font.
Positive (Sans Serifs): 9 pt. (Helvetica)
Positive (Serifs): 10 pt. (Times New Roman)
Negative (reversed out): 16 pt. (All fonts)

Sometimes bold lettering increases the risk of test filling in or smudging. To ensure a high-quality print we recommend using a larger font size for any bold text.
Ink may fill in spaces less than 1/16th of an inch (for both fonts and graphics). Any text smaller than our suggested font sizes is subject to filling in and has a high risk of being illegible.


For any art element, we require at least a 1 point stroke weight and a 2 point reversed out stroke weight as this is a plate manufacturing requirement. Any art element lower than this minimum may cause the plate to break or not print as intended.
Side-to-side alignment tolerance: 1/16"
Registration Factor: 1/8" plus or minus
Ink may fill in spaces less than 1/16th of an inch (for both fonts and graphics)
Bleeds must be greater than 1/8"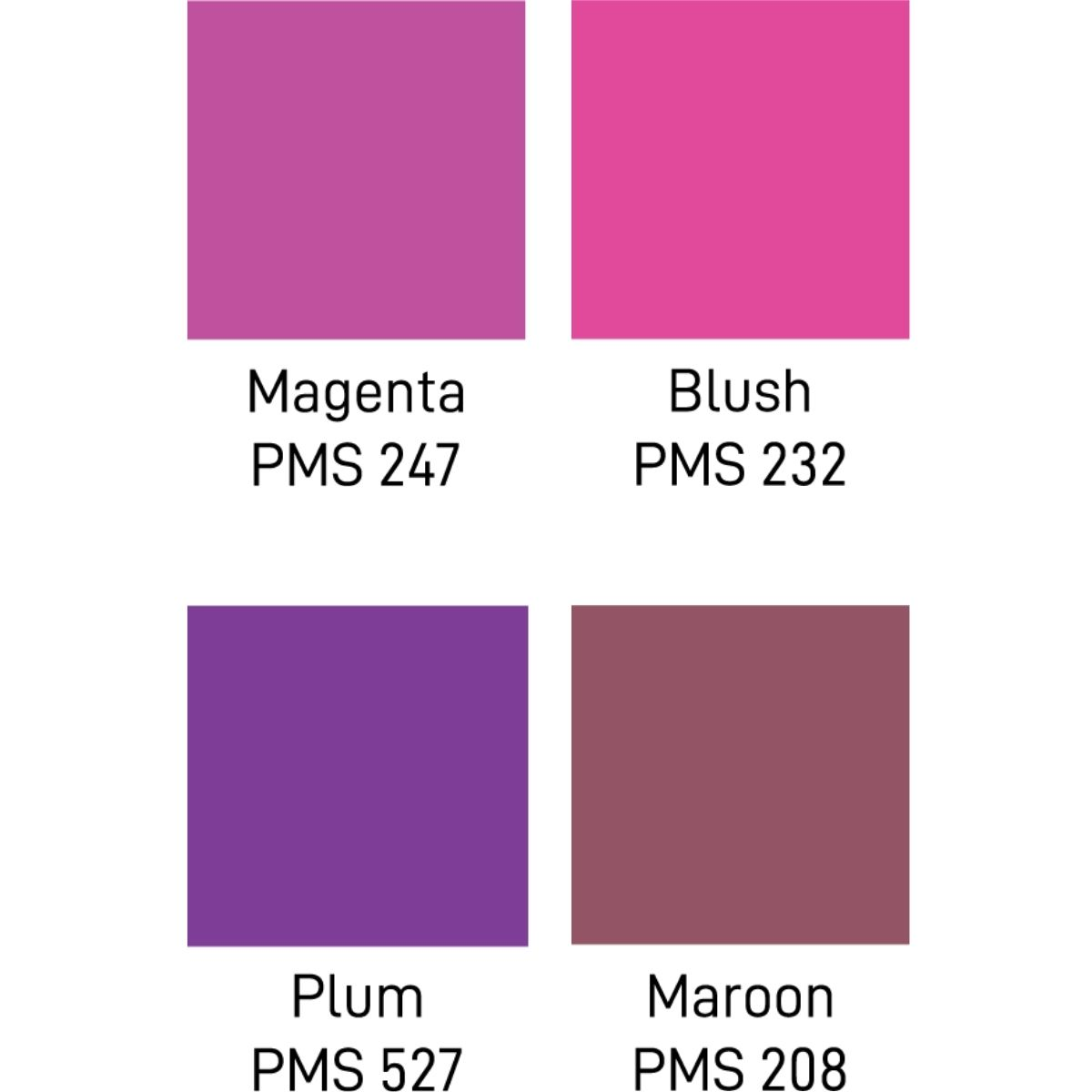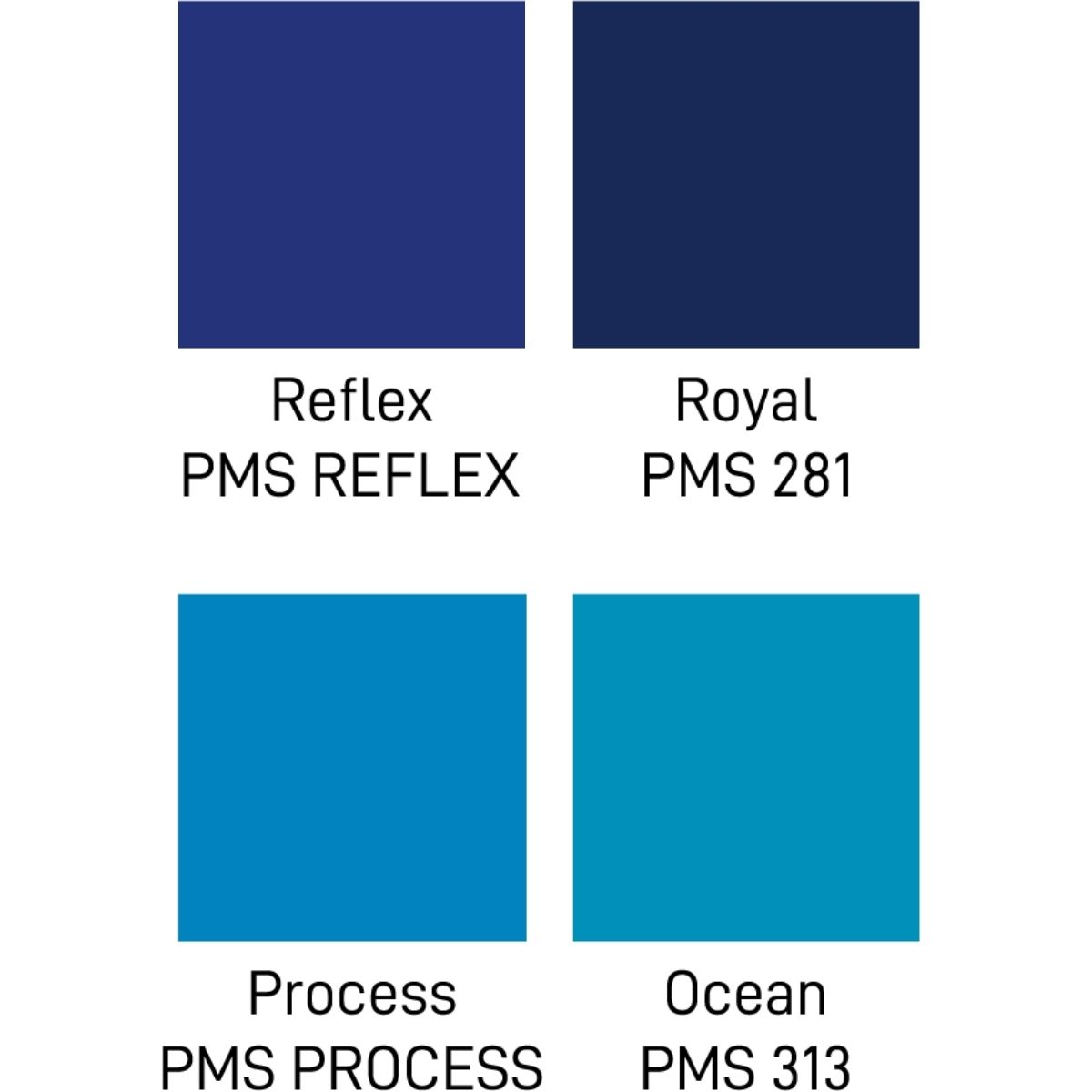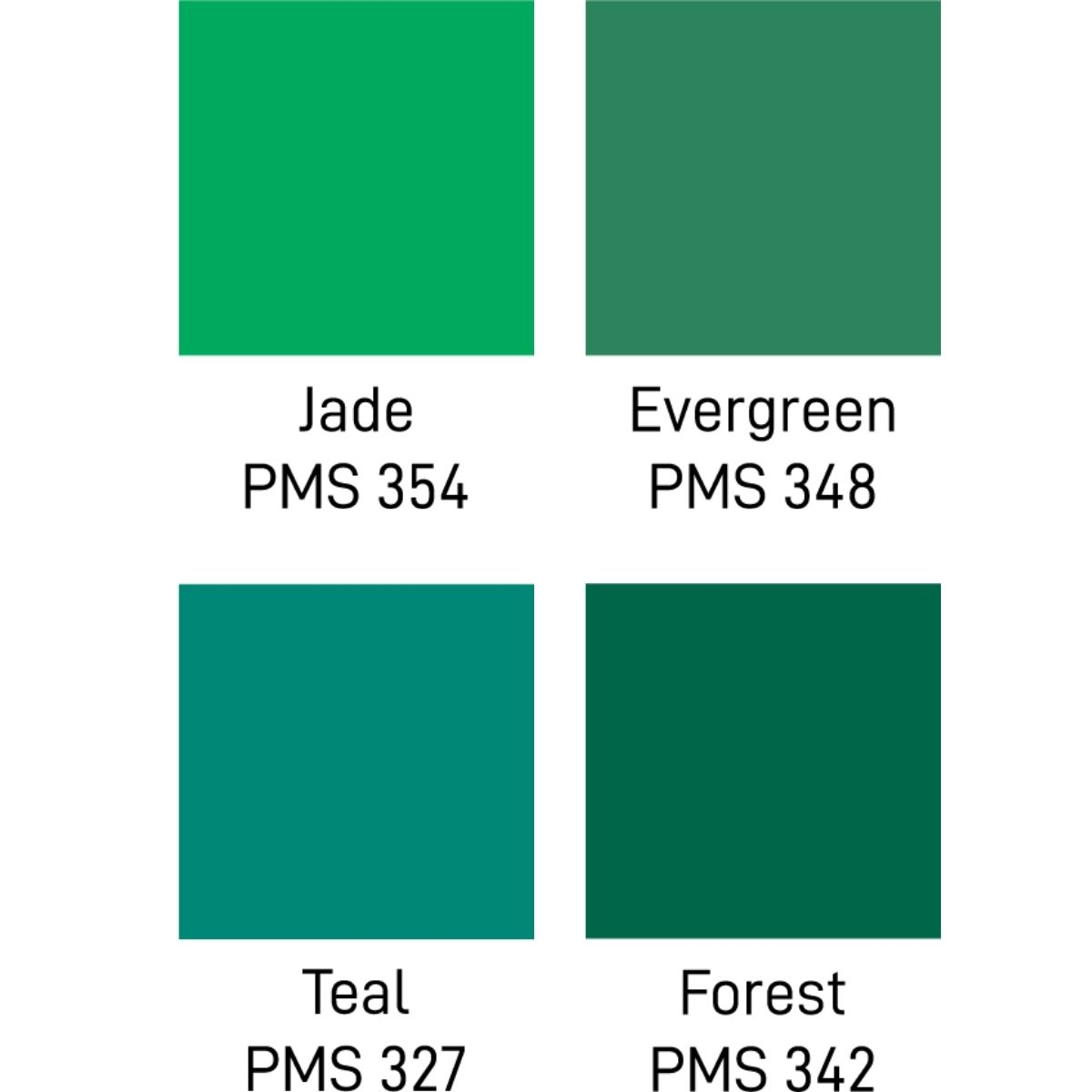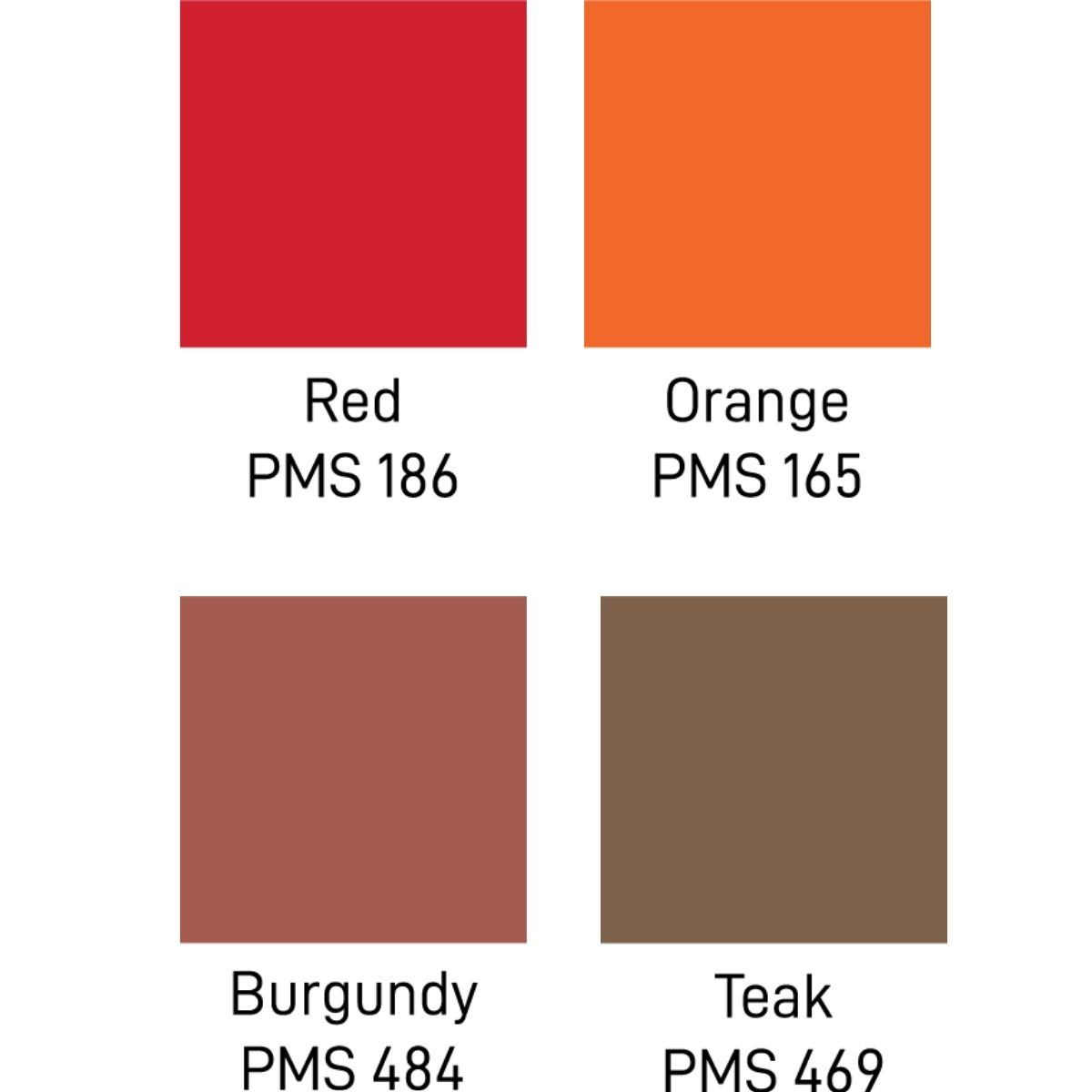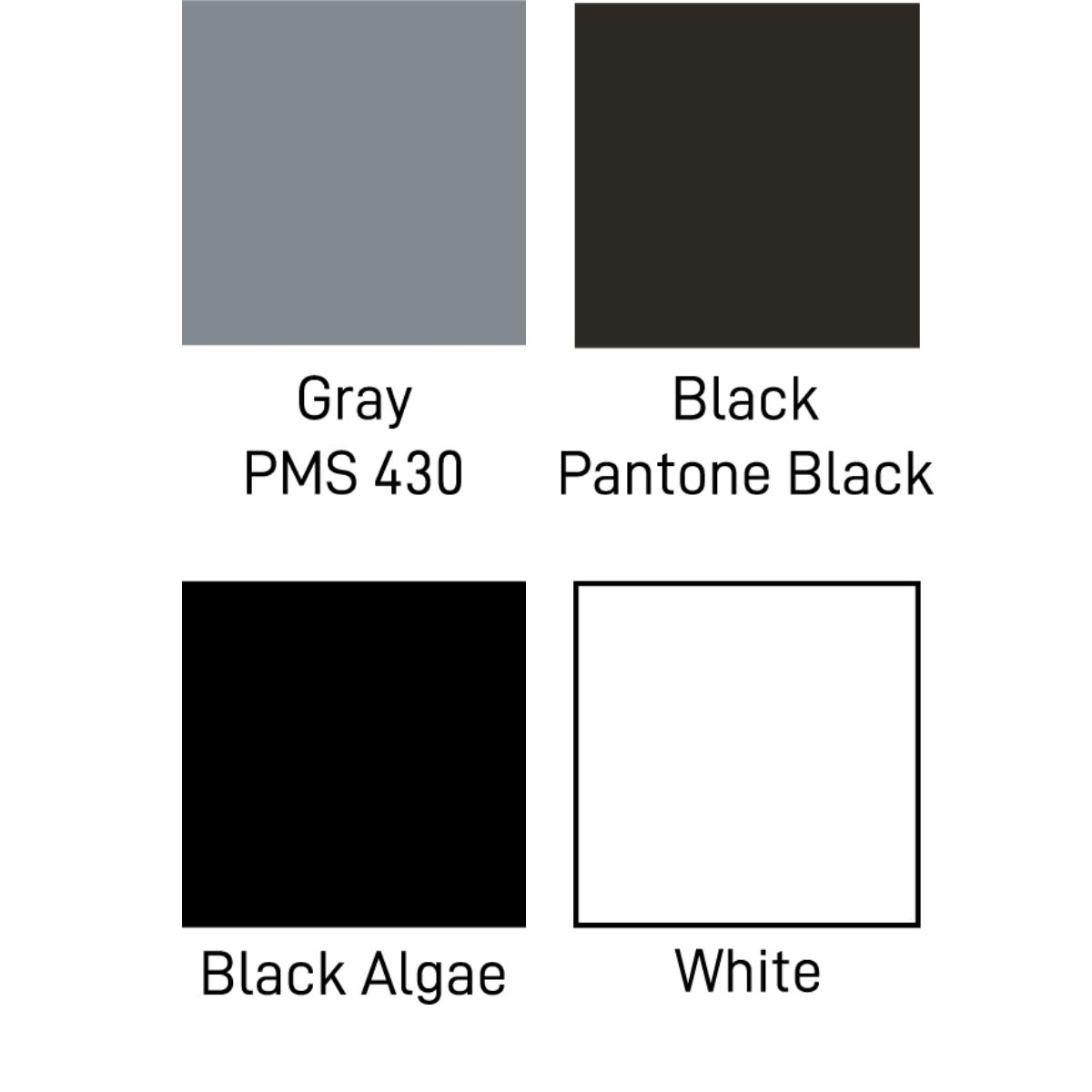 Our boxes are printed with flexographic printing with HydroSoy or Algae ink. Choose from 20 stock ink colors including black algae ink.
Custom PMS matching is available at $140.00/color. Custom ink typically lasts between 12-16 months, and once custom ink runs out or expires, it must be purchased again. Contact us to get started on your custom ink and ink swatch order.
Our post-production boxes are printed in 1 or 2 colors. Each color requires it's own printing plate (see plate pricing below).
To see an accurate representation of a PMS color, we can send you a complimentary physical sample of our stock ink colors or we can create swatches of your custom color on our box material - contact us to get started.
PDF previews may render differently in browser previews and phones. Proof colors will vary from monitor to monitor and are only used as reference. Printing the proof with a digital printer will not give you an accurate representation of color because the conversion from PMS to CMYK is not perfect.
Fill out your box details below and our design team will follow up within 24 hours with a downloadable PDF template and custom printing box details to help you get started. Interested in templates for multiple box sizes? Please fill out a request for each box size.
Custom Box Template Request Form
Looking for guidance on how to orient your multi-panel box design? Reference these layouts that shows how artwork on our flat boxes needs to be oriented so your design is perfect once folded. Fill out the form above to receive a downloadable PDF template for your specific box style and size.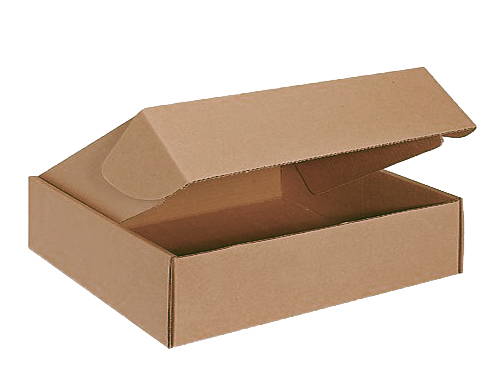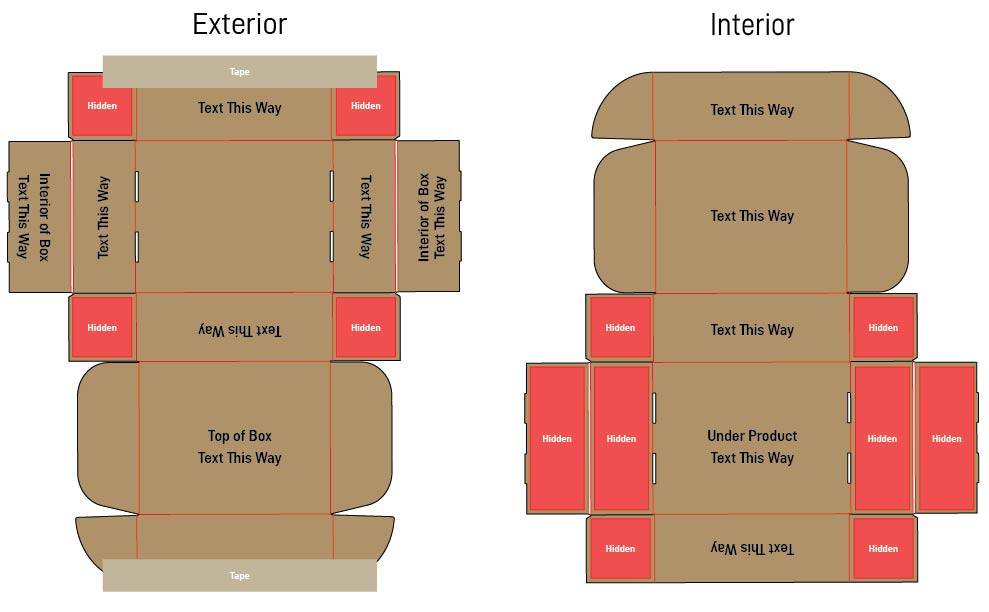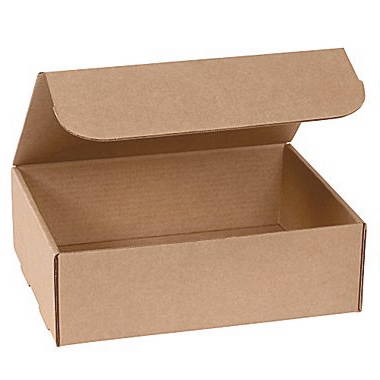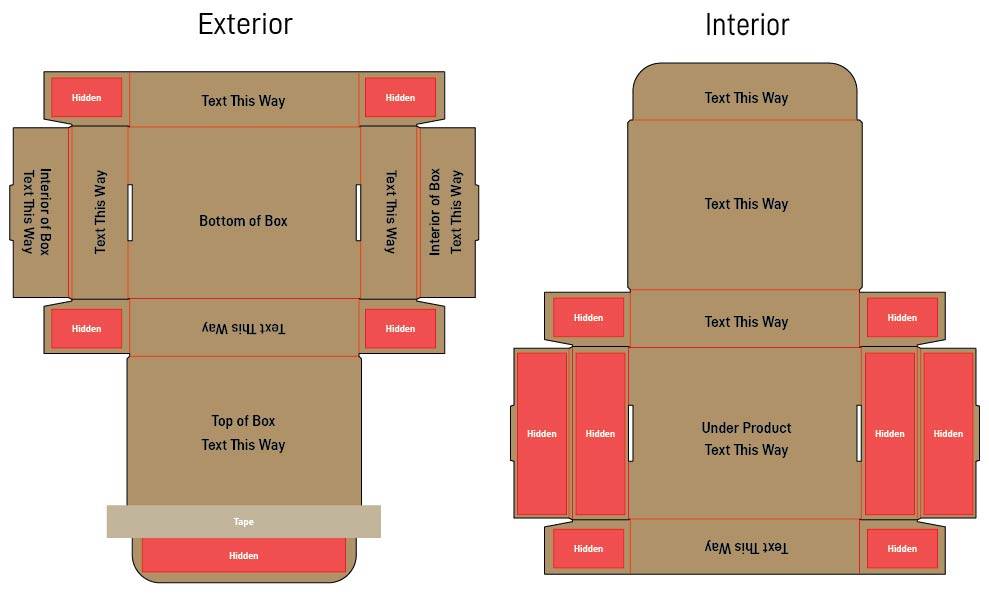 Regular Slitted Container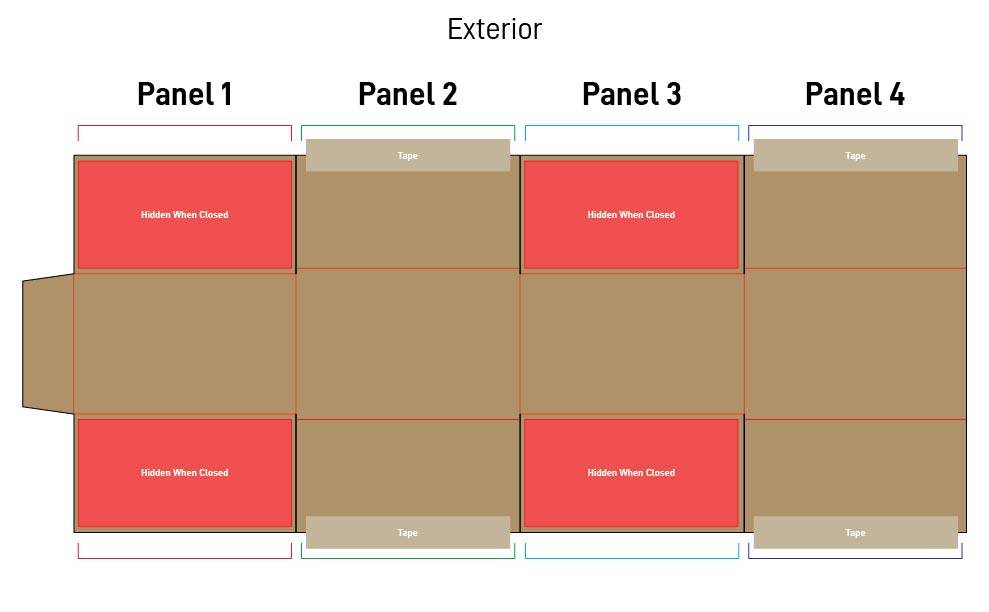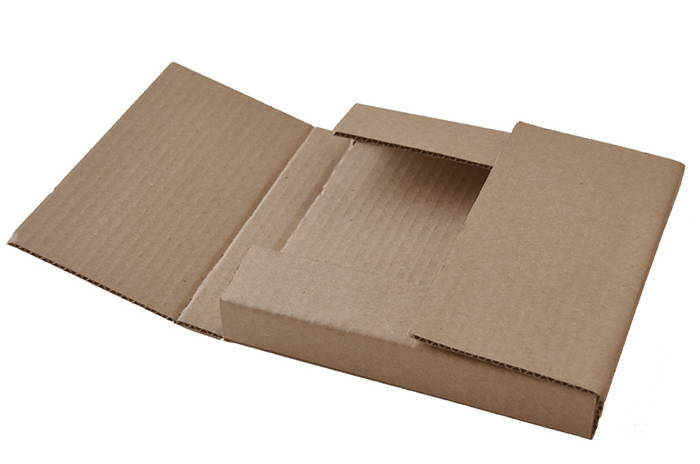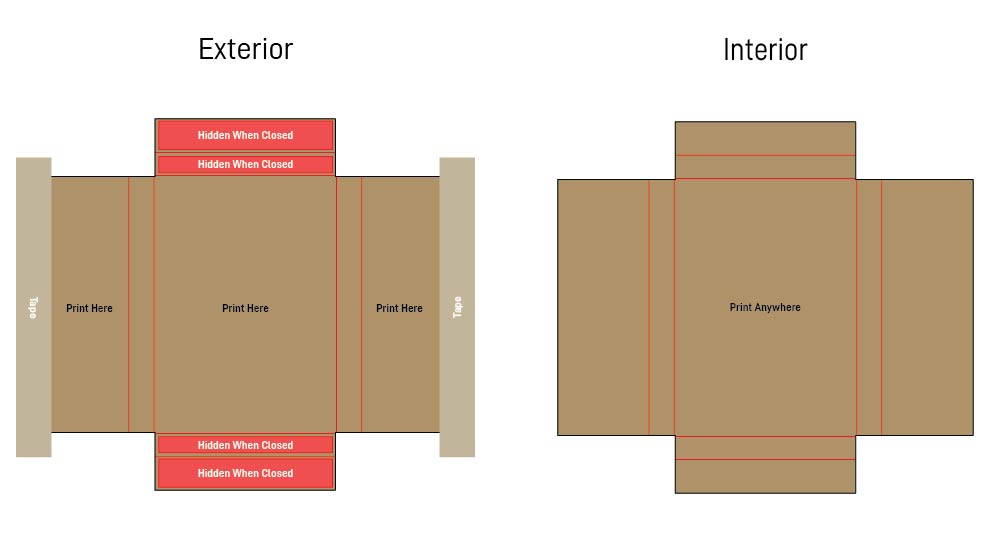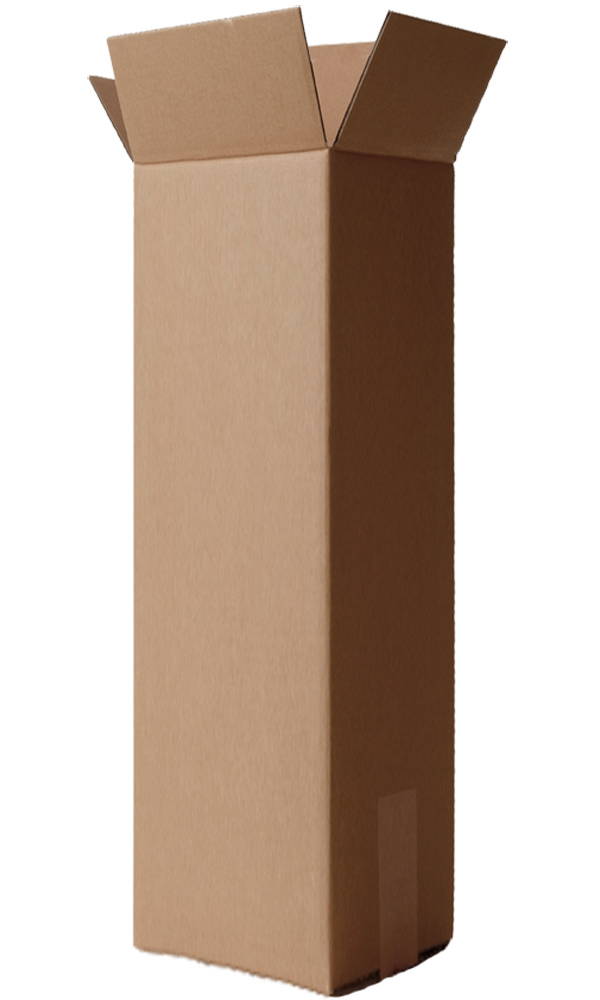 We have a tiered pricing structure for printing plates, based on the type and size of your box and the number of panels you intend to print. Plate prices start at $95 for a single panel print, average about $200 for a mid-coverage print, and can be $300-800 for a full coverage print. Each printed color and printed side will require its own plate.
If you're not sure, feel free to submit your order and we'll let you know in the proofing process if we need to change your coverage and plate fee. Please feel free to contact us at any time for guidance!
Tab Locking Boxes, Literature Mailers, One Panel Fold Boxes, and Trays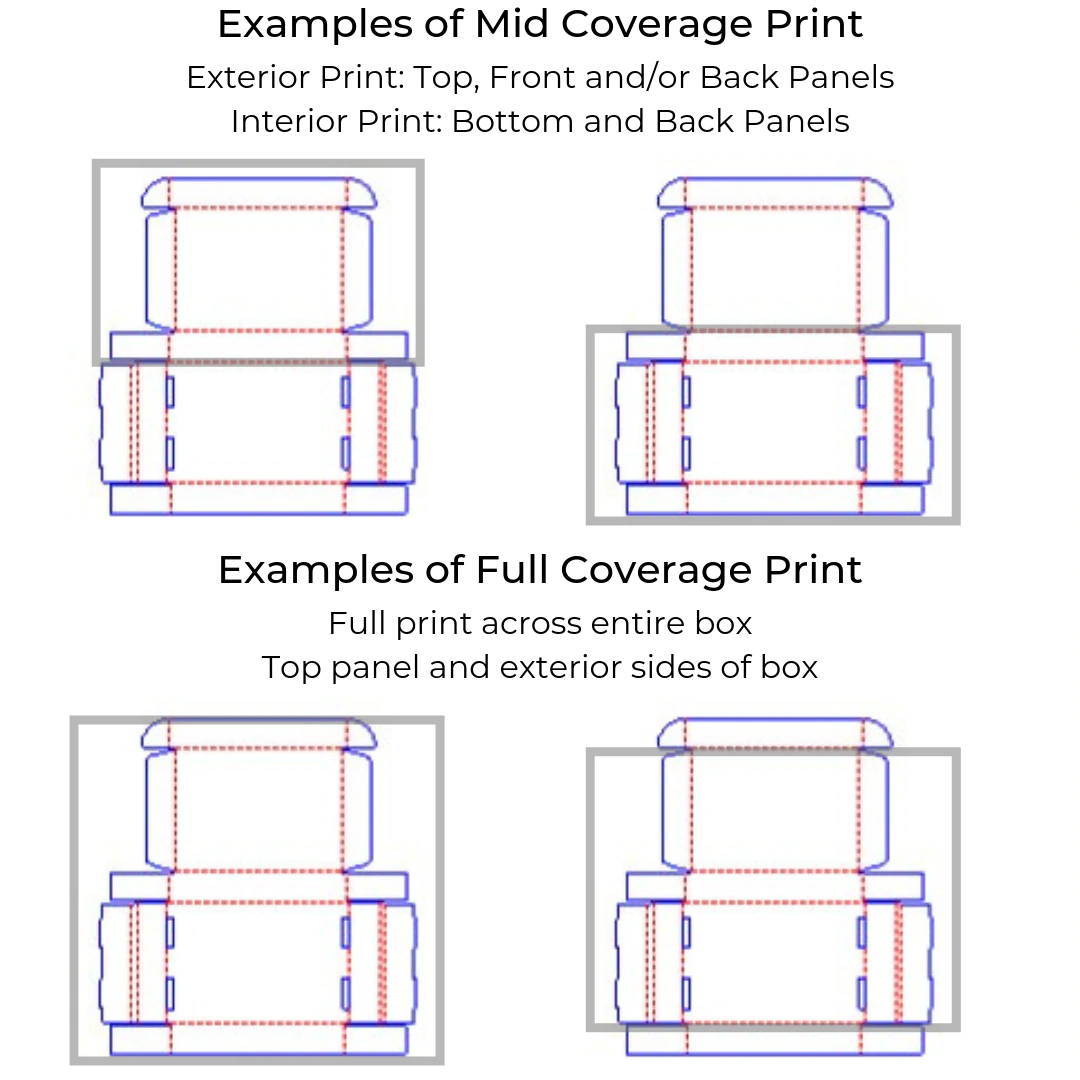 Mid Coverage vs Full Coverage
Looking for a multi-panel box print but not sure if your design is a "mid coverage" or "full coverage" print?
What is a Mid Coverage Print?
Plate is typically about half of the size of the flat box
For an outside box print, it will often be a printed box in which the top panel + front and/or back panel are printed (can also include printing on the left and right flaps that are tucked INTO the box)
For an inside box print, it will often include a bottom panel print + back and/or right and left panel
What is a Full Coverage Print?
The printing plate is more than half of the size of the flat box
It will often include the top panel and the left or right side of the box (and/or the bottom of the box)
In many instances, these are full wrap print across an entire box
| | | | |
| --- | --- | --- | --- |
| If Your Longest Dimension Is | Single Panel | Mid Coverage | Full Coverage |
| | | | |
| | | | |
| | | | |
Regular Slotted Container or a Five Panel Fold Box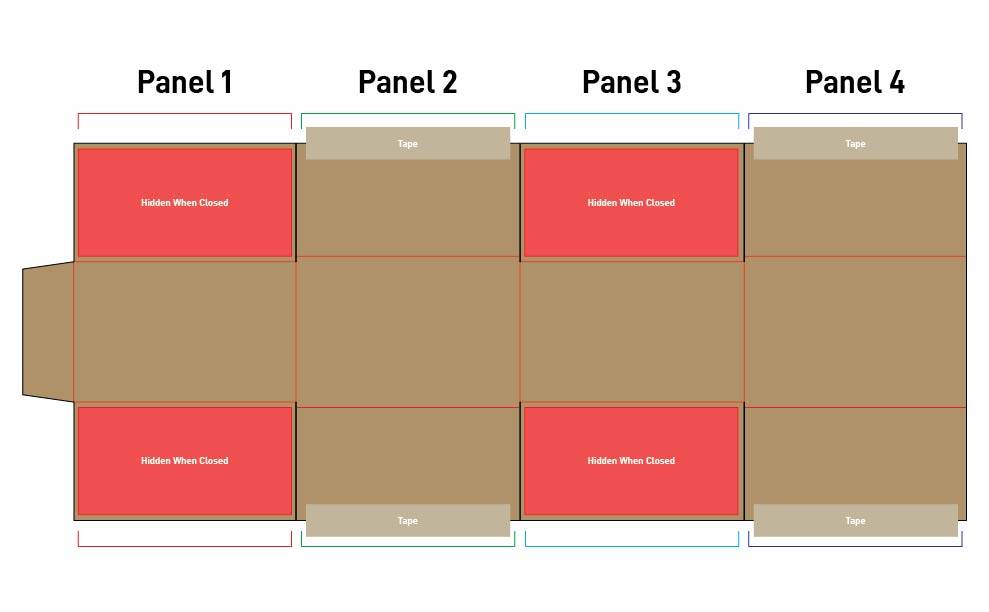 Each RSC or FPF box has 4 printable panels. The top or bottom flaps of any given "side" of the box are not considered individual panels.
| | | | |
| --- | --- | --- | --- |
| If Your Longest Dimension Is | 1 Panel | 2 Panels | 3+ Panels |
| | | | |
| | | | |
| | | | |
We are cautious when it comes to flood coating any large surface area. Printing large ink bodies may lead to uneven coverage or speckling where the corrugate shows through. This is especially common with our B-Flute box where the spacing between the fluting is more pronounced.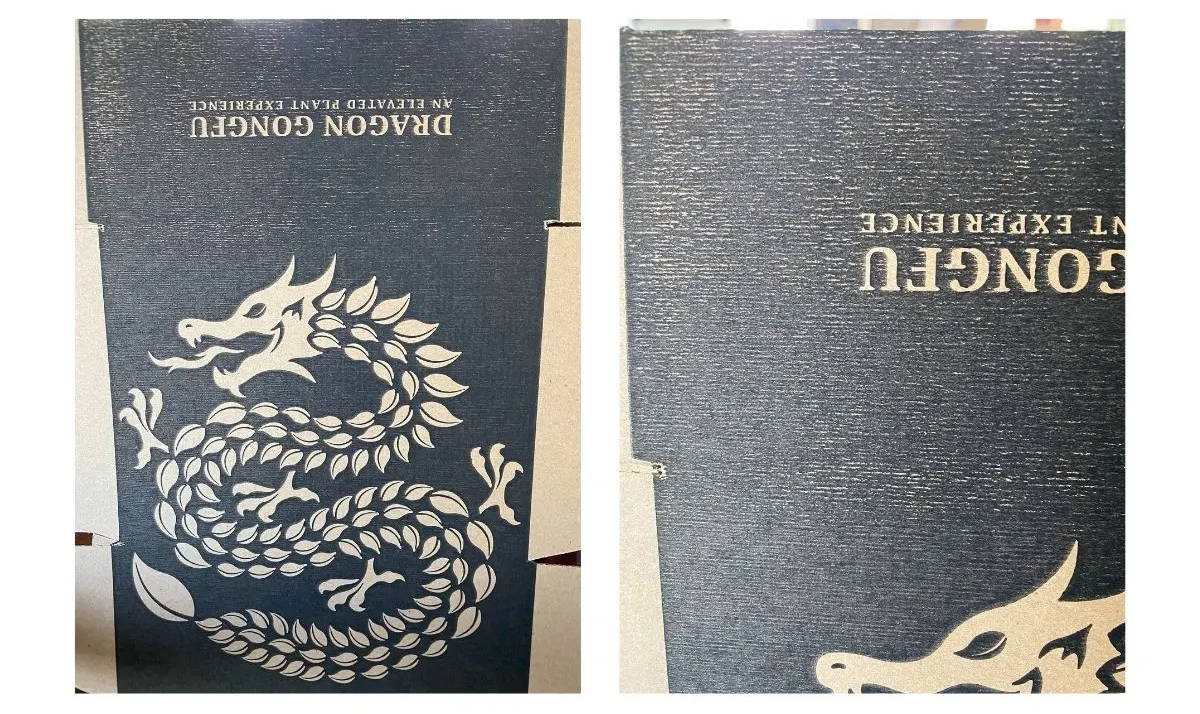 We have printed many creative solutions! From a sustainability standpoint, we are mindful of the amount of ink used in all our products, and, where possible, we recommend using less ink to achieve beautiful designs.
Check out our Instagram for more examples of creative solutions - Herbal Moon, Trail Fork, Tea Sip, Good Trip, NavTool, EarthLove, Treat Yo Self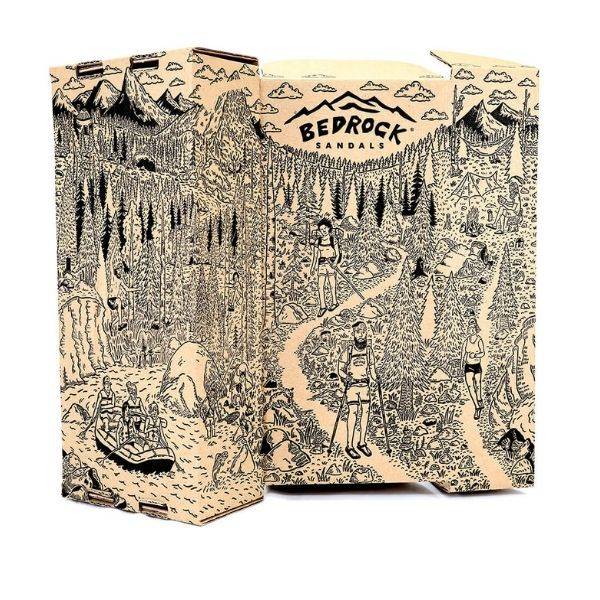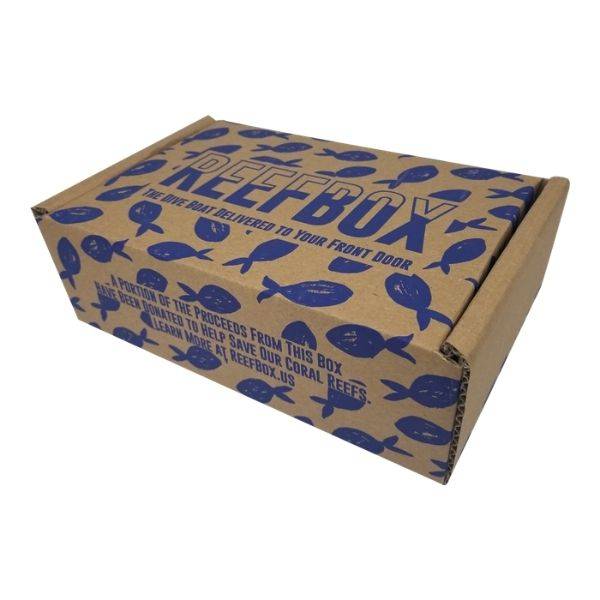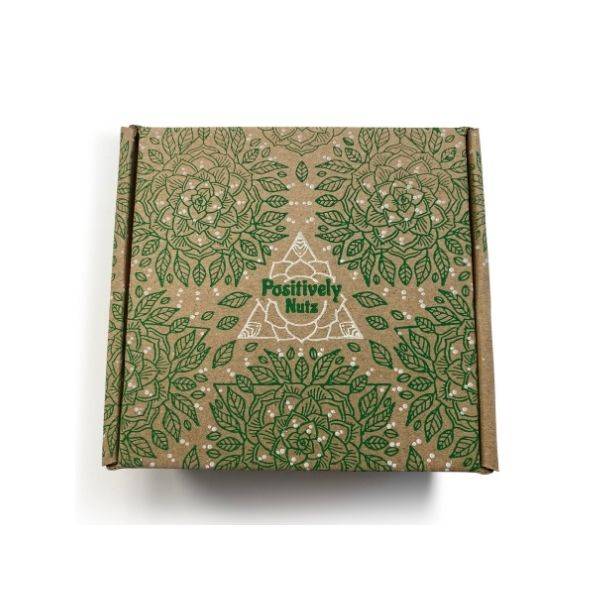 ---
When printing large volumes of boxes, we can utilize higher volume equipment where we print on the board before it is cut into your box. This allows us to achieve consistent high-quality flood coat designs. Explore our high capacity capabilities for more information.
Contact us to get started on a two-color printed box order. Include the box style, box dimensions and quantity of boxes you're interested in ordering as well as an art file for your printed boxes.
When thinking about your ink colors and your design, consider the following.

First, we can see up to ⅛" movement in registration per color. Because of this, we strongly recommend that your box design not require the two colors to interact precisely with each other.
For example, if your design has an "i" in it, we would not recommend that you dot your "i" with a different color because the dot could be up to ⅛" inches off in registration.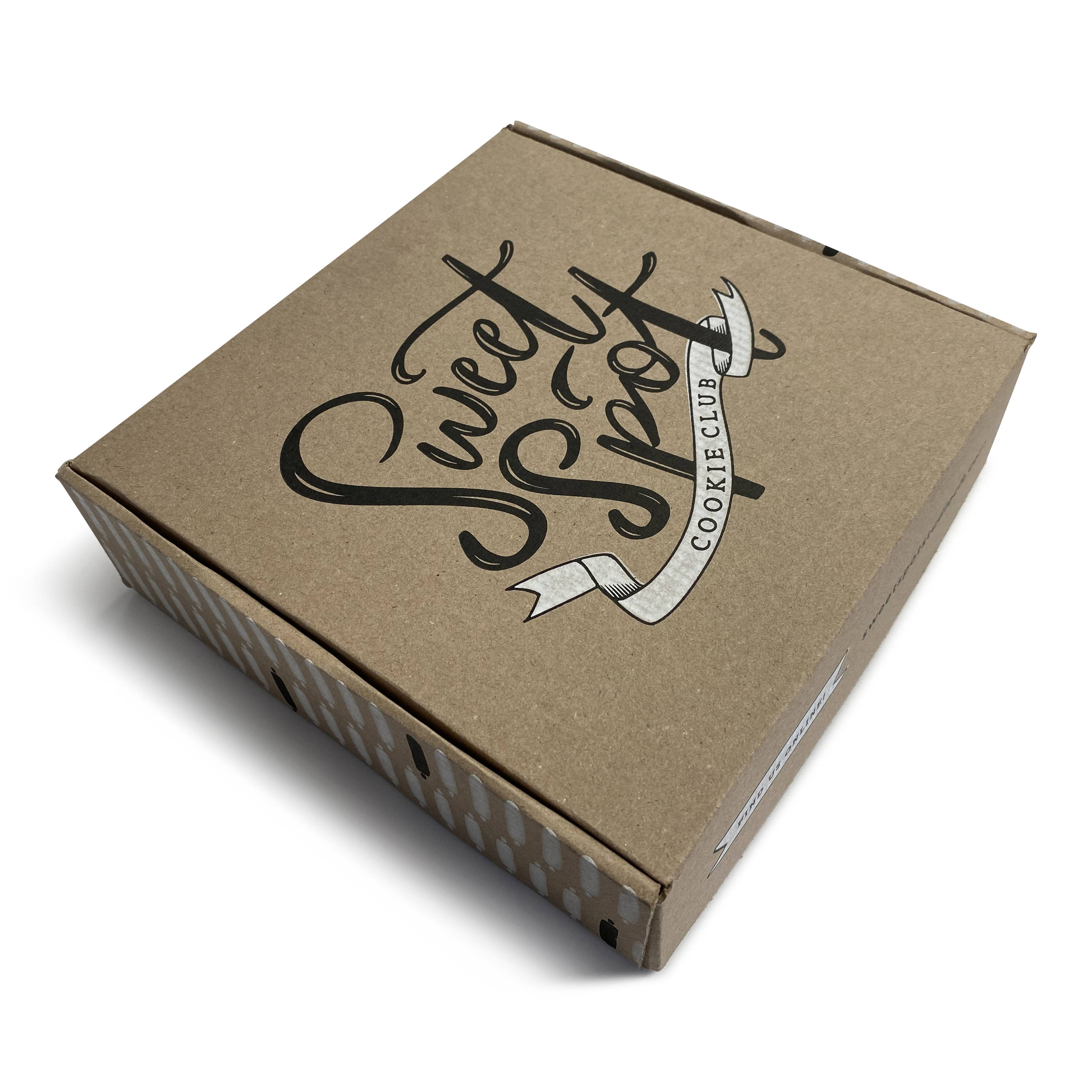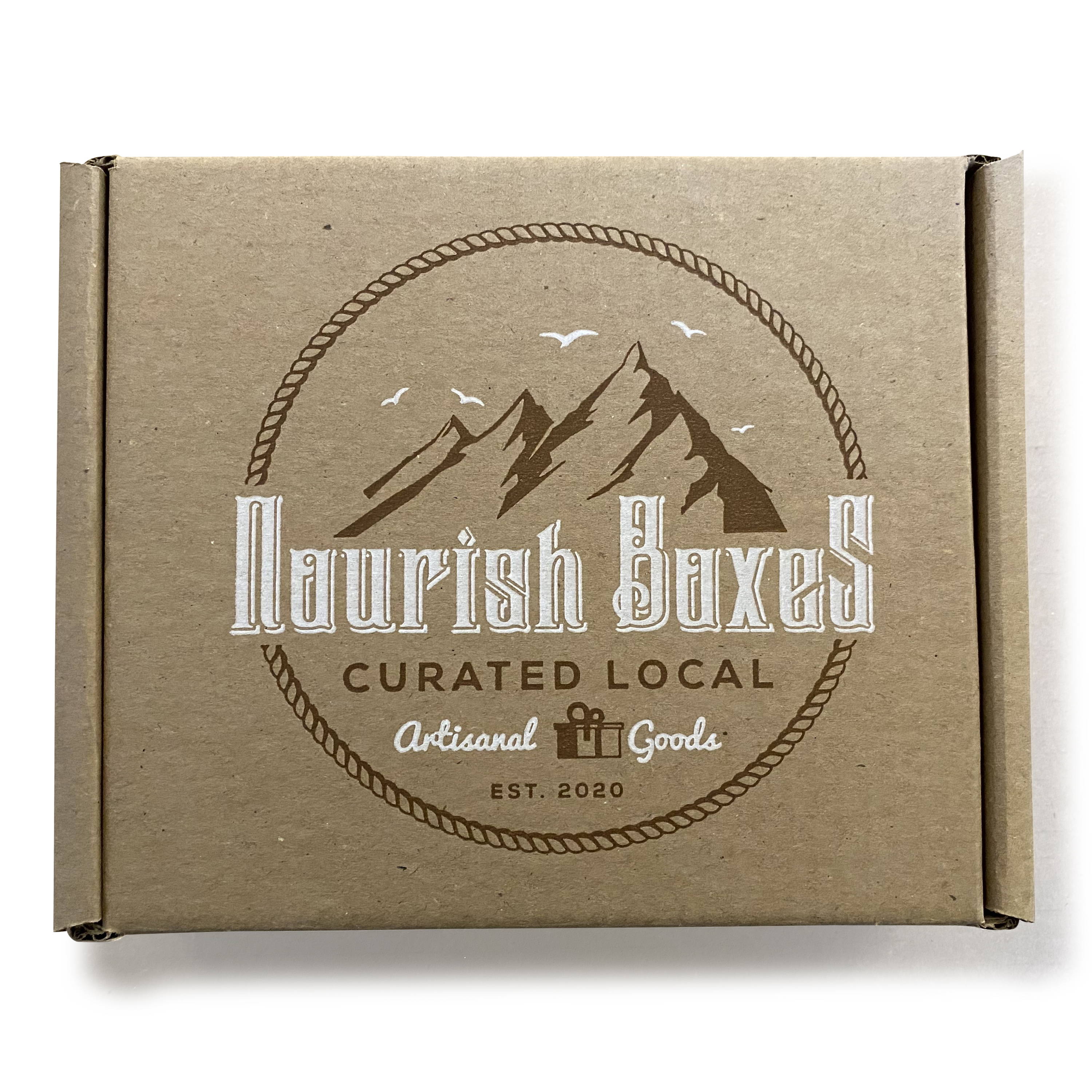 Second, we recommend that your color scheme not require a light color be printed on top of a dark color. For example, if your design is printed in black and white, this would be feasible as long as the black design elements were always on top of the white design elements.
Finally, the layering of the two colors has to be consistent throughout. So if you are printing in green and orange, and have green layering on top of the orange design component in one spot, the green design components must be on top of the orange throughout.
These recommendations are all driven by the fact that your boxes are printed using flexography, a printing process by which a flexible relief plate is inked and pressed on your custom cut shipping box. We will create a plate for each color and each plate is inked and pressed on your box sequentially. In the example above, the plate for the orange design components would be pressed first and the plate for the green design components would be pressed next (so all of those elements would sit on top of the orange).
---
If you are new to box printing or have more questions, don't worry! Just contact us. We would be happy to review your design with you and share our experience and thoughts on how to make sure you turn your into a great print and opening experience for your customers. And we will then work closely with you during the entire process - from art proof to the delivery of boxes to your door.