100% Recycled Rigid Mailers - Self Seal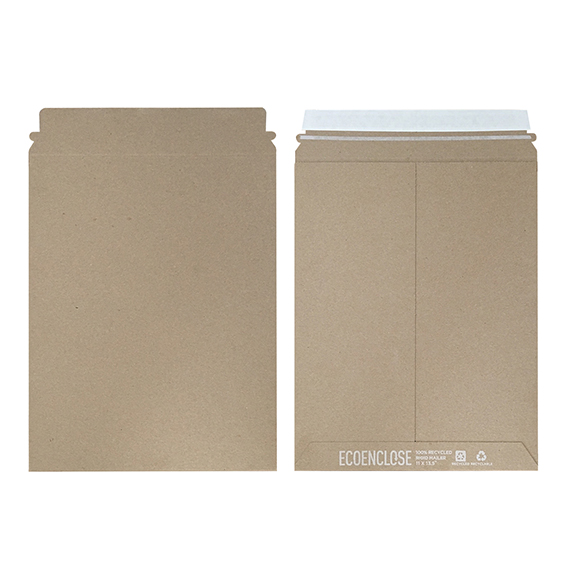 ---
Elevate the customer experience with branded mailers!
We get excited (ok, maybe too excited) about reducing landfill waste! But if you share at least some of our enthusiasm, then you're going love our 100% Recycled Rigid Mailers - Self Seal. In fact, by choosing our mailers over the average competitor, you will salvage, rescue, and reuse almost twice as much paper otherwise headed for the local dump heap. The boilerplate rigid mailer is sadly constructed from just 50% virgin fiber. Not ours! We are proud to present the EcoEnclose Rigid Mailer - Self Seal, constructed from 100% recycled paperboard - 90% of which is post-consumer recycled content.
The convenient peel-and-seal design will allow you to package your goods with speed and ease. The sturdy construction of our 100% Recycled Rigid Mailer - Self Seal ensures you will be able to ship your art prints, photos, and documents in confidence. The unvarnished board has a high-end, organic, and earthy feel that you and your customers will enjoy. These mailers combine performance, appealing aesthetics, eco-construction and efficiency. Try them out today!
Looking for a branded package?
Custom brand this rigid mailer! Order today.
Read our art specs and requirements prior to placing your custom branded order. Learn more.
Looking for 5,000+ units? Work with us on unique high volume custom projects. Request a quote.
Features
90% post-consumer content
Fully recyclable and naturally biodegradable
Features convenient self seal closure
Constructed from sturdy 28 pt. paperboard
Ideal for shipping photos, stationary, documents, etc.
Made in the USA
| Purchase... | And Save... |
| --- | --- |
| 2-4 units | 2% |
| 5-9 units | 5% |
| 10-14 units | 10% |
| 15+ units | 15% |
Weights and Dimensions By Mailer Size
If you're looking for the weights and dimensions of a specific product listed above, look no further! Find the product size and bundle/case type that you are considering in the table below.
| | | | | | |
| --- | --- | --- | --- | --- | --- |
| Product Code | Product Description | Parcel Weight (lbs) | Parcel Dimensions | Mailer Weight (lbs) | Mailer Weight (oz) |
| RMS11x13-10 | 11 x 13.5" - 100% Recycled Self Seal Rigid Mailer - Bundle of 10 | 2.5 | 15 x 11 x 1 | 0.25 | 4 oz |
| RMS11x13-100 | 11 x 13.5" - 100% Recycled Self Seal Rigid Mailer - Case of 100 | 25 | 16 x 11 x 9 | 0.25 | 4 oz |
| RMS11x13-100-CUST | 11 x 13.5" - Custom Printed 100% Recycled Self Seal Rigid Mailer - Case of 100 | 25 | 16 x 11 x 9 | 0.25 | 4 oz |
| RMS6x8-10 | 6" x 8" - 100% Recycled Self Seal Rigid Mailer - Bundle of 10 | 1 | 10 x 6 x 1 | 0.1 | 2 oz |
| RMS6x8-100 | 6" x 8" - 100% Recycled Self Seal Rigid Mailer - Case of 100 | 10 | 11 x 11 x 6 | 0.1 | 2 oz |
| RMS6x8-100- CUST | 6" x 8" - Custom Printed 100% Recycled Self Seal Rigid Mailer - Case of 100 | 10 | 11 x 11 x 6 | 0.1 | 2 oz |
| RMS9x11.5-10 | 9 x 11.5" - 100% Recycled Self Seal Rigid Mailer - Bundle of 10 | 1.6 | 14 x 9 x 1 | 0.16 | 3 oz |
| RMS9x11.5-100 | 9 x 11.5" - 100% Recycled Self Seal Rigid Mailer - Case of 100 | 17 | 14 x 9 x 9 | 0.16 | 3 oz |
| RMS9x11.5-100-CUST | 9 x 11.5" - Custom Printed 100% Recycled Self Seal Rigid Mailer - Case of 100 | 17 | 14 x 9 x 9 | 0.16 | 3 oz |