The Anatomy of a Sustainable Unboxing Experience
Jul 13th 2022
The Anatomy of a Sustainable Unboxing Experience
Make Unboxing A Critical Lever In Your Branding And Marketing Strategy
If you have been on the internet in the last decade, the chances are you've seen an unboxing video.
On the surface, it seems like just another bizarre internet trend, but the unboxing experience has become critical in the world of retail - especially in eCommerce.
Over 90,000 people type 'unboxing' into YouTube every month
Unboxing has become a top content format on TikTok, with relevant videos generating over 12.6 billion views
Viewers are 64-85% more likely to buy after watching a product video.
There are almost 40 unboxing videos with over 10 million views.
Unfortunately, unboxing culture can be an environmental nightmare.
Often, the packaging featured is excessive, made with virgin materials, and (due to glossy coatings for fancy prints) unrecyclable.
Thankfully, your brand can create a memorable and shareable unboxing experience using sustainable packaging. In this article, we help break this down for you by covering:
What exactly unboxing is, and why it is important
How to create a sustainable unboxing experience for your brand
How to leverage the unboxing trend to support your marketing efforts
What Is Unboxing And How Can It Help Build Your Brand?
In the simplest terms, unboxing is opening and removing a product from its packaging for the first time.
Unboxing videos are when one of your customers opens your product on camera, often discussing aspects of the packaging and giving the viewer a breakdown of what it's like to open and use the product themselves.
There are unboxing videos for every product imaginable, from big-ticket tech items like iPhones to $1 Kinder Eggs.
If you can purchase it, chances are you can find an unboxing video for it.
It feels easy to disregard this showcasing of the unboxing experience as a fad or something silly that a small group of people does.
But product unboxing videos have become a vital driver of the online purchasing experience.
When influencers or friends showcase what they've ordered and how it arrives, it helps potential customers (1) understand what they'll get if they order from a brand and (2) gain trust in that brand and what the company will deliver. Most creators of unboxing videos provide thoughtful commentary about their experience - what meets expectations, exceeds expectations, and falls short. These types of videos build a community of brand followers. Community members trust each other and create a collective experience of what it is like to engage with the brand in question.
Acquire Customers: Given how popular unboxing videos are on TikTok and YouTube, they are a great way to bring exposure to your brand. When potential customers learn about your offerings, they are more likely to buy your products.
Convert Customers: In the absence of a physical store, customers must purchase from you before they can feel your products and experience your company firsthand. This can lead to much trepidation and uncertainty, a friction point that hurts conversion.
Unboxing videos help bridge this gap. For example, before a customer purchases from a brand they recently heard about, they may check out TikTok or YouTube unboxing videos to confirm what they are about to order and receive.
Don't just take our word for it! Research has shown that viewers are 64-85% more likely to buy after watching a product video.
Retain Customers: Customers who know what they will get from your brand (because they have watched a product video first!) are far less likely to be disappointed by what they received and more likely to stay with your brand long-term. This leads to a higher lifetime value of customers who experienced an unboxing video as part of their process of discovering your offering.
It's true that some of the most-watched unboxing videos are of iPhones and Gucci purchases.
But, even the smallest brand can benefit from this trend. Improving your packaging and unboxing experience will help your brand image, customer retention, and, most importantly, your bottom line.
You don't have to be Apple to design a memorable packaging experience. You don't even have to ship in boxes - mailers can also lend themselves to beautiful "unboxing"!
Read on for tips and tricks that any eCommerce can use.
How To Create A Memorable And Sustainable Unboxing Experience
Tell Your Story Without Additional Materials By Leveraging Custom Branded Packaging
Packaging worthy of an unboxing video is almost always custom branded! This makes intuitive sense and is backed by data.
According to a recent study in partnership with the University of Wisconsin, the exact product wrapped in premium custom packaging was rated higher than its plainly packaged (identical) counterpart in 76% of instances. The better-packaged product was also rated as being a better value. According to a 2018 survey by Packaging Matters, 63% of customers purchased products again because of their packaging appearance.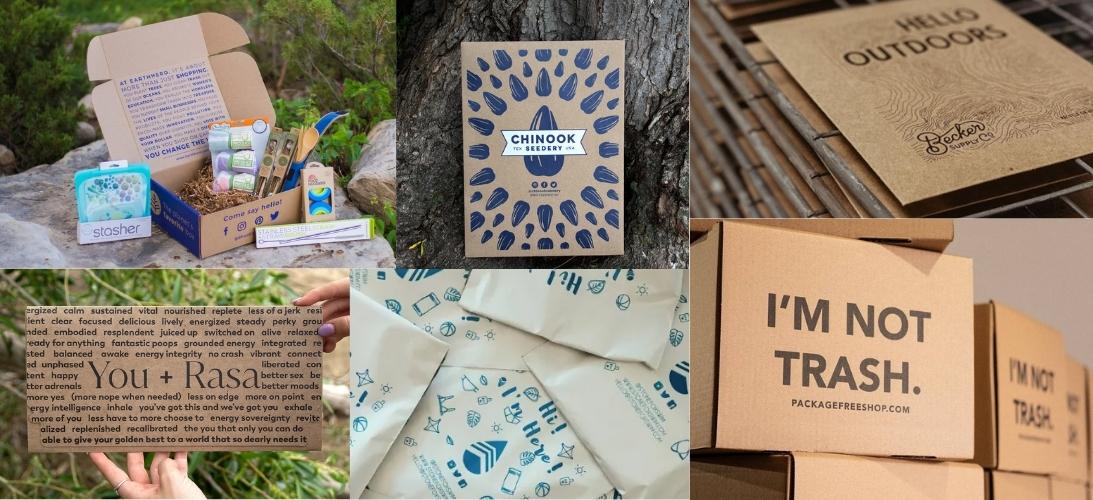 The first thing your customers will physically experience about your brand and product (in the absence of a physical store) is your packaging. Make them feel closer to the retail experience by including branding on the outside of the box. The unboxing experience could be described as almost a retail-like experience, with the box/packaging standing in for the physical store. What store doesn't have its name on the outside?
A branded experience from start to finish shows that you care about the details- and that nothing about your business is generic. Don't stop with just the outside of the box, however. Instead, customize the inside with brand values, witticisms, or art to further cement that bespoke, personalized feeling throughout the unboxing experience. Custom branded packaging is the first step in a premium unboxing experience that will give your customers the best possible first impression- and keep them coming back for more.
If your package is sensitive or liable to be stolen or snooped on because your brand is so famous, use a plain outer box or mailer, but spice up your packaging with a beautifully branded inner experience. This is as easy as custom printing the inside if you're shipping boxes. If you're shipping in mailers (or boxes), you might also consider custom tissue paper, notecards, or stickers. There are innumerable ways to customize your packaging- don't be afraid to get creative with every aspect.
Make Your Packaging Easy To Open
This should go without saying…but I'm shocked at how often I get packaging that doesn't keep this in mind. Here are two examples:
Poly mailers (frankly, any mailers!) without a tear strip. Imagine a customer sitting down to open your package on video only to find that your mailer has no tear strip. Then (if it is a poly mailer), they start to pull at the flap, but the plastic stretches, and the mailer doesn't open. That would be frustrating for your customer, frustration that your customer would then capture on video (or would bleed into their overall review of your delivery)! Luckily our poly mailers have tear strips - check them out if you need to make the switch.
Boxes packed in such a way that products are damaged if you use a scissor or knife to slit the tape. This has happened to me before! I've received a box, taken my box cutter, and slit the tape that seals the top flaps. I then opened the box and, voila, the cover of the book at the very top of the box had been slit by my cutter. This frustrated me to no end! Of course, the book was still usable (and it was used, so not really a huge deal). But what if it was a shirt or a painting? This type of experience is hard enough for a customer to experience, but memorializing it in an unboxing video would be terrible.
Add Layers To Extend The Unboxing Experience
Anticipation is a big part of the online shopping experience- the time between when you place an order and when you receive the object builds expectations and suspense. People wonder if what they ordered will be worth it.
Making them wait a little longer is a great way to add excitement to this experience (making it more memorable for the customer). For example, suppose you are working on an unboxing video campaign, encouraging your customers to post content. In that case, the layering has the added benefit of creating an unboxing video with steps and anticipating, making it much more likely to be worth watching.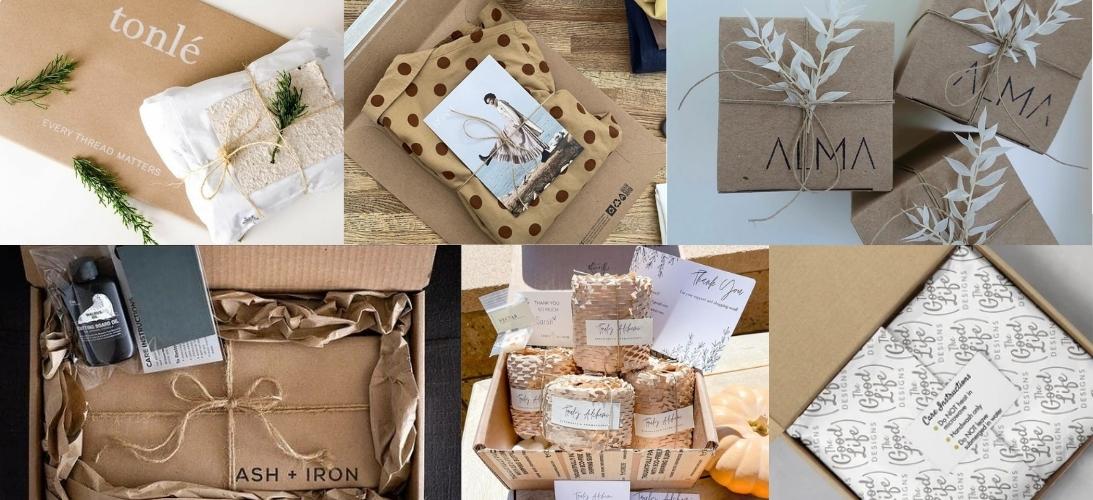 When it comes to layers and inner packaging, consider any functional needs your products have. Make sure NOT to surprise your customers (and any viewers of their unboxing videos!) with a broken product - secure inner packaging is as critical as attractive inner packaging, and luckily the two can work together to great effect.
GreenWrap and Ornament Paper Shred are gorgeous additions if you're shipping fragile goods. They protect products, have a luxurious look and feel, and are not messy. (Crinkle Paper and Peanuts are my absolute least favorite forms of inner packaging as they are insanely MESSY for customers to deal with - no brand wants to end up with that type of unboxing video showcasing what they are all about!).
If you're not shipping fragile goods, consider layered accessories selected for aesthetics and building a customer connection, but don't need to provide product protection. Tissue paper is a great choice! Research has shown that beautiful tissue paper can increase customer perception of the price and value of what they are receiving! Kraft Paper or hemp twine with a bit of greenery or embellishment can make things pop.
This type of layering - whether for protection or more for aesthetics - can help extend the unboxing experience. Without these additions, opening a package can give your customers the "that's it?" factor if more than one thing is included. But, on the other hand, there may not be enough for them to sink their teeth into, making it unlikely that your brand will become a candidate for viral unboxing video trends.
And, if your customer opens your package (especially if they open it "live" in an unboxing video!) and your products are scattered around randomly, your brand could be seen as sloppy or haphazard. As a result, the perceived value of what you're sending could plummet.
Sustainable Packaging Matters. Don't Let A Focus On "Memorable" Make You Lose Sight Of The Planet.
Unfortunately, the rise in unboxing culture can lead to some truly egregious examples of excessive packaging. All those layers and custom touches often result in even more waste than function. You certainly don't want your business to contribute to our planet's waste and overconsumption problems!
And while ecological concerns should be compelling enough to prioritize eco-friendly packaging, keep this business rationale in mind as well: environmentally friendly packaging is good for business. If sustainability is one of your business's core values, your packaging should reflect that. Likewise, your customers are likely sustainability-minded, and they'll notice if there's a disconnect between what you say you value and your packaging. That consistency between your brand's values and your packaging appeals to consumers should be at the center of the customer experience.
Don't just take our word for it - 86% of customers surveyed in 2018 said they preferred products in sustainable packaging, and 72% said they trusted brands that included sustainability benefits on the packaging. That said, customers don't always seek out sustainable packaging. The same survey reported that only 27% of respondents "actively seek out products in sustainable packaging," and only 21% said they would pay more for sustainably packaged products.
That said, we recognize that balancing aesthetics, a layered experience, and the eco-friendly in your packaging is incredibly challenging. But, the balance is achievable if you focus on the suitable materials and ensure you don't go overboard. To balance sustainability and brand in your unboxing:
Look for 100% recycled materials wherever possible.
Right-size your packaging by sizing it to fit your products and choosing materials that are the right thickness.
Add only enough layers to protect and achieve your brand goals. Do not go overboard!
Add messages to your packaging to help your customers understand why you chose the materials you did, why you avoided unsustainable materials, and how to responsibly recycle your packaging.
Consider the sustainability of your ink, and print with algae ink when possible.
Consider making a bold and innovative change to your packaging and showcasing this change to your customers in a way that encourages them to share your innovations with the world. For example, switch from clear poly bags to EcoBand Paper Product Wrap. Let your customers know why and ask them to share their feedback on social media!
Changes made for the planet can do wonders in promoting your brand and could - if done well - lead to more unboxing videos. For example, when prAna switched to raffia ties instead of clear poly bags, it led to quite a few social media posts from customers raving about the big eco step AND the fact that it looks much better than utility plastic bags. Want to achieve something similar? Go with paper bands instead of poly bags and print (on the bags themselves) why you made this switch. It doesn't take something drastic to make a difference—every component matters.
Using your packaging to encourage your customers to recycle their packaging also serves the dual purpose of increasing recycling rates (good for the planet) and engaging customers (leading to more unboxing videos).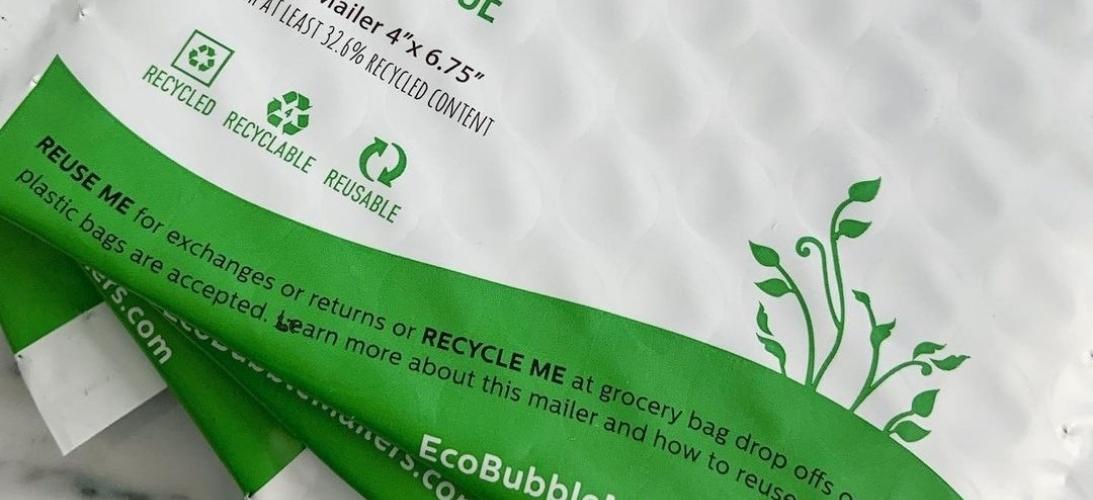 Sustainable, custom packaging worthy of unboxing videos might seem like a tall order for some small businesses, but EcoEnclose makes it easy. Contact us anytime; we'd love to help you figure this out!
Use Personal Touches To Bring It Home
While the unboxing experience is greatly enhanced with premium packaging, one of the most effective ways of improving customer perception and retention is with a simple personalized touch.
The most common strategy is to hand-write (or simply sign) a thank you note to include in the box. It adds a distinctly human touch to the otherwise impersonal and anonymous online shopping experience, reminding your customers that you and your brand are more than just a website.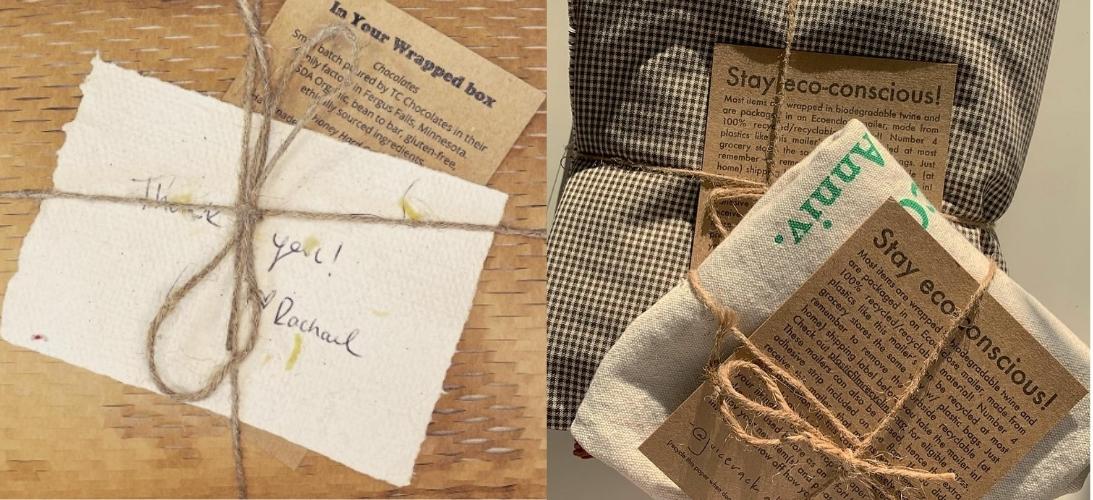 It doesn't have to be a complete, hand-written note, either. Include a newsletter to let your customer know what your company is up to, profile one of the workers that packaged the product, or include a joke or compliment on the inner packaging. Personalizing the unboxing experience makes each customer feel special- like they're doing a good thing by buying from you.
Encourage Creative Reuse Of Your Packaging
If your packaging is good enough, it can become a free advertisement in and of itself. For example, if a customer uses your sturdy, branded shipping box to take something to a party, everyone there is exposed to your brand and will wonder about the interesting box.
Are you not using a box? Include an attractive, branded gift bag to showcase your brand if your product is given as a gift. Customers have even been willing to spend more on a product with easy-to-open, reseal, and reuse packaging.
If you want to go the extra mile regarding reusability, encourage your customers to use their boxes to donate to charity. Organizations like Give Back Box provide customers with a prepaid shipping label to fill their boxes with donation items and mail them to those in need. Programs like these are cropping up with increasing frequency across the world. Talk about reusability!
Engage Your Customers With Interactive Features And Messages
Another strategy is to include things other than the packaging that lengthen the interaction between you and your customer.
Free, branded postcards are fun. Your customers can use them to send notes to friends, getting your brand's information into the hands of other like-minded leads.
Want them to try your other products? Include some cute samples or a little catalog.
Add a QR code to your packaging that links to a hidden page on your site or secret coupon codes for future orders, information that your customers can only find through this QR code link.
Want to make a customer laugh? Include a mad lib or uncaptioned cartoon related to your product.
There are many ways to keep the interaction going with a customer- don't stop at the unboxing.
Summary Of Tips For A Sustainable And Memorable Unboxing Experience
Instead of adding extra materials to the experience, look at every essential element and see how you can enhance it. This is why printing your boxes or mailers outside or inside is incredible; you don't have to add additional resources to make your package stand out. This is why we particularly love internal prints, where you can convey a clear message and brand (one that small parcel carriers won't dirty up.)
Use packaging to educate your customers about the sustainability or ethics of your product or the steps you've made to provide a more eco-friendly packaging experience.
Have your packing slip double as your personal note or guidance. Use more upscale paper (such as 100% recycled, 100% post-consumer office paper) or cardstock (such as 100% post-consumer notecards) for your packing slip. You can pre-print a note at the bottom or leave room to add a special handwritten note.
Use our complimentary We Care Cards; leave a personal note on the back!
Are you incorporating a sticker? Use the sticker for an actual, needed function - taping the box closed or taping down tissue paper or void fill.
Go with custom branded tape - since almost every box needs tape to ship anyway, why not customize that, too?
Give your customers explicit guidance on how to reuse your packaging. For example, remind them to save the package for returns or ship something back to a friend.
Changes made for the planet promote your brand. For example, when prAna switching to raffia ties instead of clear poly bags has led to quite a few social media posts from customers raving about the big eco step AND the fact that it looks much better than utility plastic bags. You can use paper bands instead of poly bags for a similar measure.
Try algae ink - a small step like switching to black algae ink AND promoting it on your box can go a long way in solidifying your brand's commitment to the environment.
Leveraging The Unboxing Trend In Your Marketing Strategy
You've done it! You've revisited your packaging experience and established a memorable, shareable, and sustainable strategy. Congratulations! Now, just sit back and wait?
No! While unboxing videos are typically taken and posted organically, most brands take some steps to help catalyze the movement.
Start With Your Own Unboxing Video: Film a brand-aligned unboxing video that gives your customers an authentic inside view into what it feels like to experience your products and packaging firsthand.
Encourage Your Customers Through Your Packaging: Review your packaging design. Are there places you can guide your customers on how to unbox their order (and ask them to share their experience with friends)? The inside panel is the perfect place to include this type of guidance if you are shipping in a presentation-style shipping box.
Incentivize: Add a note in your shipping confirmation emails, asking customers to post their unboxing videos, and giving customers a coupon code when the video is live.
Work With Paid Influencers: Find well-known influencers in your particular industry. You can simply pay them for an unboxing video or work with them to develop a unique and creative campaign that does justice to your brand.
Don't stop there! Once you make Unboxing a crucial part of your branding and marketing strategy, you need to track and monitor your results weekly. Track how frequently unboxing videos about your brand are posted. Review comments (and where appropriate, respond to them with your comments). Thank customers who have posted these videos, and (where applicable), send them discounts for future orders. If you're not seeing traction after a few weeks, engage different influencers or make specific requests to key customers to help catalyze these efforts.
Unboxing Videos In Action
If you've read this far, you already know millions of unboxing videos are out there! Here, we showcase a handful of unboxing videos that have helped brands we work with at EcoEnclose. As you'll see, some of these videos are short; others are long. Some are well-produced, and others are very casual. Some have a lot of views; others have just a few hundred. What they all share, however, is that these are seemingly authentic, trustworthy videos that help potential customers learn about a brand and gain trust and assurance that the brand is worth spending money with.
Ritual
Ritual is a subscription-based supplement company that offers a variety of multivitamins and protein powders. The brand is committed to clinical-backed formulations with proven results, transparency around their ingredients and suppliers, and end-to-end traceability.
In this video, The Mom's Take offers an unboxing video and product review of Ritual's multi-vitamin. This type of paid influencer unboxing strategy is a great strategy to help build brand and product awareness and trust among potential customers. This video has over 4,000 views and a direct link to shop on Rituals' site.
Bedrock Sandals
Bedrock Sandals has built a passionate community of customers who love showcasing themselves on various awesome adventures, sporting their minimalist Bedrock Sandals. As a result, there are quite a few Bedrock Sandals unboxing videos on YouTube, all of which seem to be developed by ardent customers (rather than paid influencers). This particular video, which showcases Bedrock's unique, gorgeous, algae printed box, has garnered 260+ views.
Armoire
Armoire is a great clothing rental subscription business that matches clothing to each subscriber's unique style and needs. This is a fantastic unboxing video made by an affiliate (who is compensated based on how many people clicked on her unique link and made an Armoire Style purchase). It is relatable and details all aspects of the package - the clothes, the packaging, the notes and messages, and the service itself. It has over 325 views.
Kinder Beauty
Kinder Beauty is a monthly subscription service sending the best clean makeup, skincare, and more. They have many unboxing videos - some from paid influencers, some by affiliates, and some from "regular" customers. Kristy Smith, a subscription box unboxer and influencer, showcases her Kinder Beauty unboxing experience. While you can't see how many views this video has, there are over 440 likes and 120 comments, with many comments talking about how excited viewers are to try Kinder Beauty soon.
EcoEnlose
I'd be remiss not to mention ourselves! We are so proud and lucky to work with such incredible brands - brands that have set up their own YouTube channels and TikTok account for the primary purpose of helping teach their community and customers about sustainability. So many of them share information about us and put their unboxing of the packaging we ship to them online. It is fun - and educational - for us to watch these, to help us learn what we're doing well, what our customers don't love, and how we can better serve our community.
Here's one example of an incredibly informative video by Forever Orthodox. She opens her sample order on video, sharing information about each mailer and box she receives, her thoughts and initial reflections, and offers excellent commentary for any other business seeking packaging for their online orders.