GreenWrap Dispensers: Refillable versus Disposable
Oct 25th 2021
GreenWrap is one of our favorite protective packaging solutions. It features a honeycomb die cut paper that expands with tension (applied by a unique dispenser). Once expanded, the honeycomb can be molded around your products, offering protection, cushioning and a unique and beautiful presentation. GreenWrap is an amazing cushioning solution for a variety of products and industries, ranging from cosmetics to candles to skincare to dishware.

A common question we get about GreenWrap - Can the dispenser be reused and simply refilled with a new roll. Unfortunately, this is not feasible with our standard offering. The roll (which includes a Kraft or white die cut layer and a liner tissue layer) arrives in a carton that has been uniquely designed to be both the product's case and its dispenser.
However, as companies find themselves using GreenWrap in higher volumes, we do offer refillable dispenser solutions. If you go through 20 or more cases of GreenWrap in a year, you may find that our entry level refillable dispenser solution works well for your business.
Manual GreenWrap Dispenser
The manual dispenser is available for a one-time $50 leasing fee. Along with the dispenser, you need to order a minimum of one pallet of material (20 rolls of the die cut layer and 10 rolls of the tissue inserts). The manual is easy-to-refill, easy to use and the system reduces your per square foot cost of GreenWrap by 35%.
The following chart compares the features, costs and minimum order requirements of the disposable and refillable GreenWrap dispensers side by side.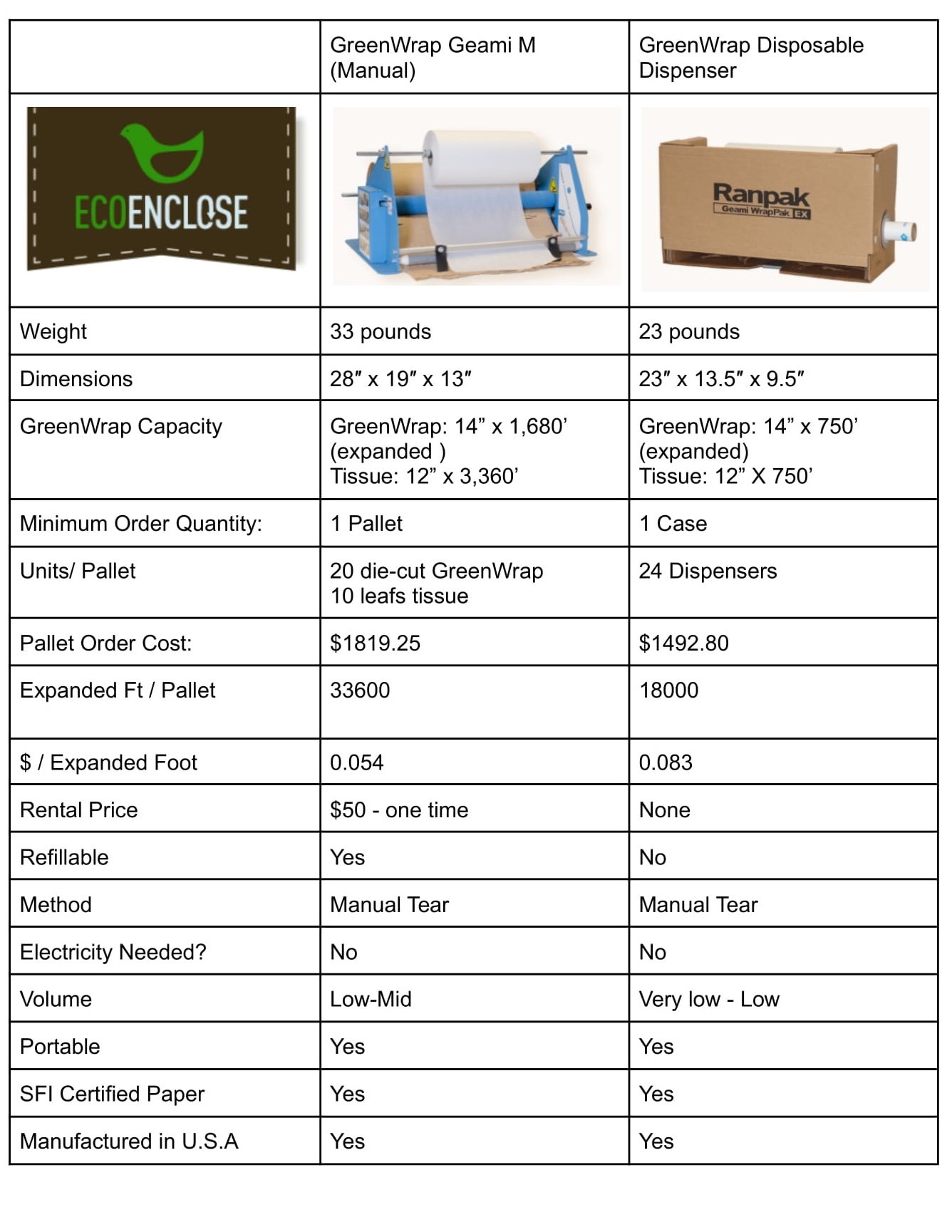 For businesses with even higher volume needs than this, consider the Electric Tabletop Dispenser for GreenWrap.
Learn more about GreenWrap here and contact sales@ecoenclose.com for more information about GreenWrap dispenser options.