Prepare Your eCommerce Business for an Uncertain 2023 Holidays Season
Posted on Aug 8th 2023
Prepare Your eCommerce Business for Holidays
11 Actionable Tips to take in the 2023 Holidays
It has been three years of seemingly constant change, and once again, eCommerce brands are looking at another holiday season of uncertainty ahead. In our conversations with brands, it is clear that many EcoAllies are feeling overwhelmed and uncertain about preparing their companies for the next few months. If this describes you, know that you're not alone.
We've created this resource to help you understand the current economic landscape and forecast and make a research-based plan for the holiday season. In this article, you'll learn:
Three of the main challenges for businesses this year
Key projections for the 2023 holidays
Actionable tips to help you navigate the season
Challenges for Brands This Holiday Season
Three of the most challenging trends brands are grappling with this year are:
Uncertain expectations about consumer spending, especially as it relates to the products most commonly sold by D2C brands
Excess inventory and inventory management concerns
Higher costs and tighter margins
These issues are complicated, connected, and don't have apparent answers, but understanding them can help you build your holiday plan more confidently.
Uncertainty About Consumer Spending
In a CNBC Supply Chain Survey, 71% of retailers reported concern about consumers cutting down on holiday spending this year.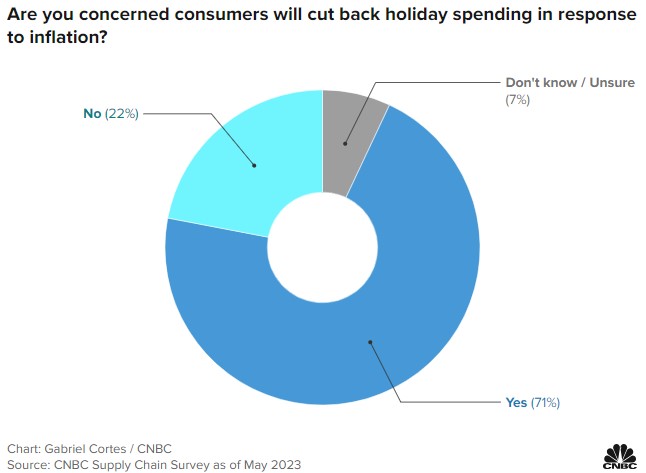 Last year, 19% of shoppers said they exceeded their holiday budget.
Additionally, it has become more apparent with recent jobs and spending reports that while Americans continue to spend money at higher rates than economists predicted, this spending tends to be on services and experiences rather than physical goods.
Experts also predict that the federal student loan payments starting in October will hit middle-income consumers, further stressing their budgets and impacting spending for the remainder of the year.
Because of this, it is forecasted that while consumers will continue to spend modestly next quarter, we should expect that more shoppers than last year will feel the financial pinch as the 2023 holiday season draws nearer.
Managing Current Inventory Levels and Forecasted Inventory Needs
Another big challenge brands are dealing with is managing inventory for the holidays.
Last summer, retailers announced major inventory gluts that led to an extended period of steep markdowns. Brands and retailers have excess inventory; many still need to draw from out-of-season stock.
Due to lower overall forecasts and brands sitting on excess inventory, almost half of the companies engaged in a supply chain survey expect to carry less stock and order fewer supplies than last year.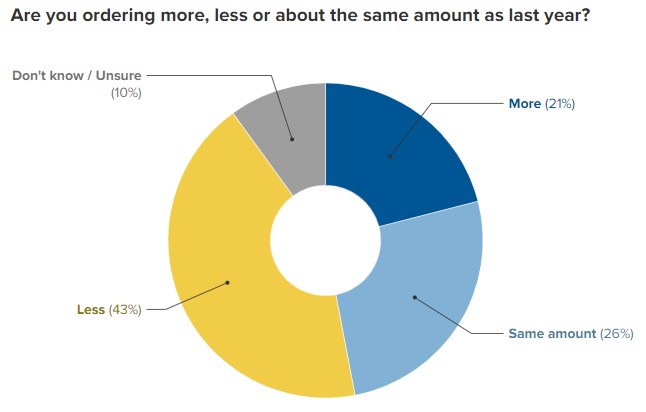 Higher Costs and Tighter Margins
Over the past two years, many headlines have been dedicated to inflation on rising consumer costs. Businesses - especially independently owned companies - have experienced these just as painfully as consumers (if not more so). While inflation growth trends are subsiding, consumers and businesses continue to experience higher costs in areas like:
Materials
Production
Facilities Costs
Shipping and Freight
Labor Costs
These higher costs often mean tighter profit margins, which adds another layer of complexity to holiday planning.
Now that we've explored some of the 2023 holiday season's unique challenges let's look at what experts are predicting for this year's consumer spending.
Four Spending Trends for the 2023 Holiday Season
With so much uncertainty, predictions about this year's holiday season vary. However, there are four significant trends many sources agree on.
Back-to-school spending is expected to increase.
Consumers will be looking for discounts.
In-store shopping is projected to rise.
Customers will favor smooth purchase and return experiences.
Back-to-School Spending Is Expected to Increase
Historically, back-to-school spending has been a good indicator of what to expect for the holiday season.
This year, sources like the National Retail Federation predict that school spending will reach a record high, increasing from 2022 by an average of $25 per household.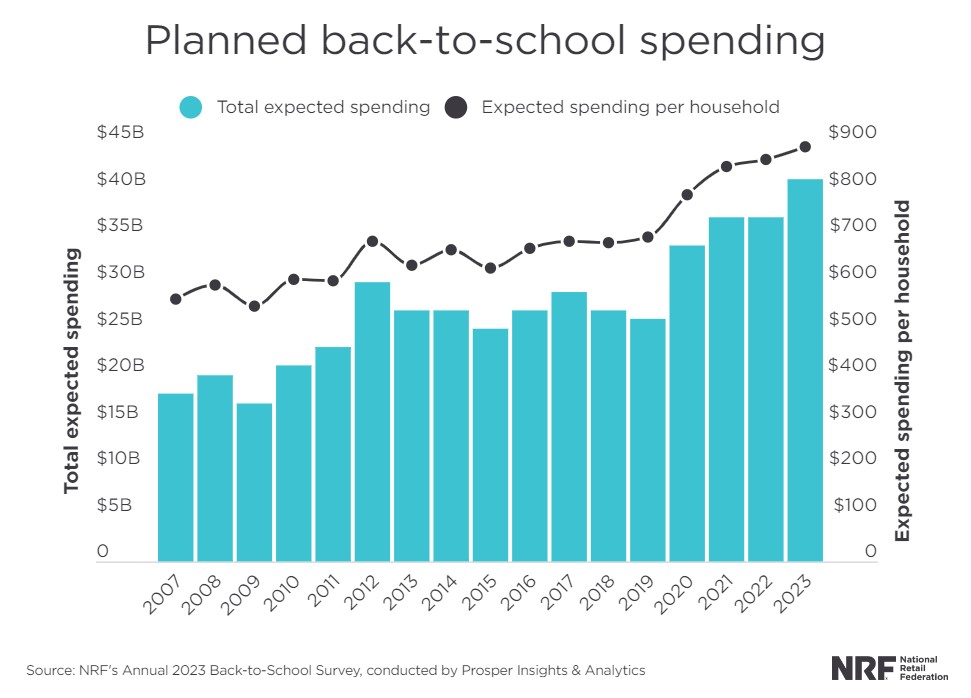 The NRF's studies also showed that back-to-school shopping began early this year.
This aligns with the trend of significant spending events (like holidays) starting earlier.
This early indicator is a somewhat promising sign of what's to come for the holiday season and suggests that the next few months may be more favorable for e-commerce brands than some economists predict.
Consumers Will Be Looking for Discounts
Across the board, all analysis suggests that 2023's holiday shoppers will be focused on finding the best deals and discounts.
CNBC's survey found that 67% of brands are expecting discount-seeking shoppers.
Amazon's recent, extremely successful Prime Day showed how appealing inflation-weary shoppers found the above-average deep discounts and exclusive perks.
In-Store (and Experiential) Shopping Is Projected to Rise
Online shopping will continue to make up a big part of holiday spending.
But most predict that 2022's dramatic rise in in-store shopping will continue to grow, with more shoppers eager to return to physical stores this coming year. In 2022, Thanksgiving weekend saw a 17% increase in foot traffic compared to 2021. This growth shows no sign of slowing; research from Forrester predicts 72% of all U.S. retail sales will occur in brick-and-mortar stores.
Additionally, brick & mortar stores are shifting away from business as usual, as consumers place more value on experiences over physical goods. As such, retailers must move away from purely transactional spaces and instead evolve into lifestyle hubs and experiential destinations, with entertainment options operating alongside traditional shopping options.
Customers Will Favor Smooth Purchase and Return Experiences
Consumers are increasingly pressed for time and expect frictionless transactions – so smooth, frustration-free shopping is a must for attracting business in 2023.
Additionally, returns often surge around, during, and after the holidays. In fact, during last year's holiday shopping season, there was a significant 12% increase in returns.
As a result, many brands and retailers changed their returns policy to reign in the tremendous cost of returned merchandise. But, a study by FedEx reinforced what most e-commerce brands already understand - 98% of shoppers consider ordering from a brand again after a fast, convenient return. A Salesforce study found that consumers want returns processes that are:
Clear: 93% of shoppers research a brand or retailer's return policy before purchasing.
Easy: 81% of shoppers have stopped buying from a brand or retailer after one bad return experience.
Reasonable: 78% of shoppers have abandoned a shopping cart if free returns weren't available. And 30% said getting a refund instead of store credit influenced where and when they purchased.
This leaves brands in a tricky position of having to balance a lax return policy (to maximize conversion), an easy returns process (to optimize retention and loyalty), with a protective approach to returns (that minimizes bracketing and other costly buying practices that are exacerbated by generous returns policies).
Bad returns policies and processes will put an estimated 21% of online orders at risk. However, brands that don't plan thoughtfully and strategically to curb returns and minimize the return rate of non-sellable items stand to lose a significant amount of money.
In our tips section below, we'll review how you can work through challenges and leverage trends to help make your 2023 holidays successful.
But first, let's consider one more critical factor: sustainability.
How Will Sustainability Affect Holiday Shopping?
In a Justuno survey this year, 17.24% of Gen Z shoppers and 25.81% of Millennials said they'd pay more for sustainable products.
Even for those unable or still unwilling to pay more, sustainability still plays a crucial role in buying decisions. A five-year study by McKinsey found that customers are shifting their spending toward sustainable, socially conscious brands.
Their study also found that brands with ESG goals and messaging grew more over that period than similar brands without a sustainability focus.
And as the climate crisis continues, eco-conscious spending is likely to increase.
June and July exceeded the average global temperatures this year - and July 4th marked the hottest day ever recorded. Along with extreme weather, other climate-related issues like wildfires and flooding drive more consumers to think about climate change.
How will this consumer commitment to sustainability impact purchasing decisions this holiday season? We believe it will play out in a few ways, including:
A desire to purchase experience over physical goods
Consumer embrace of the resale market
Interest in rental services and other businesses rooted in a shared economy
Increased customer loyalty towards brands that maximize transparency, traceability, and a public commitment to sustainability-oriented practices
This increased interest in the environment is one reason we strongly encourage brands to hold onto and find ways to strengthen sustainability goals during the holiday season - even one rooted in economic and operational uncertainty.
And, as always, we're here as your EcoAlly to help you navigate today's challenges.
With that in mind, here are 11 actionable tips to help you succeed in the 2023 holidays.
11 Tips to Help You Prepare Your eCommerce Brand for the 2023 Holidays
Here, we share tips to help brands plan for this coming holiday season based on the abovementioned challenges and trends.
Your brand is unique – so your plan for the holiday season will be, too. Some tips may apply to your business, and others may not. We hope you see these as valuable guidelines to help you make decisions.
We've created a simple worksheet to help you navigate these tips, decide which ones make the most sense for your brand, develop goals and a plan, and identify who can help you turn your project into a reality. We encourage you to download and use this template as a working tool while you read the rest of this section.
Download Our Accompanying Worksheet Here!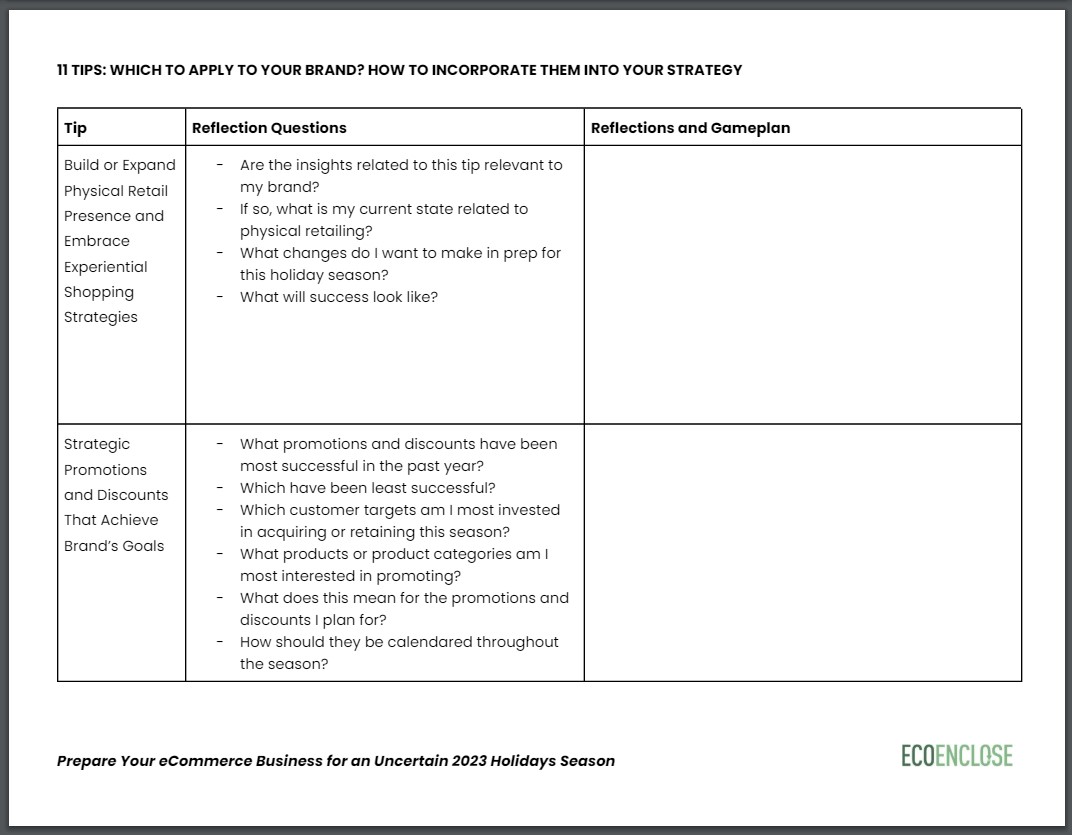 And remember to reach out to us if you need an extra hand!
Build Out a Physical Retail Presence
As more shoppers gravitate towards in-store settings, you can use foot traffic to increase sales.
If you already have a brick-and-mortar store:
Offer in-store-only discounts.
Hold sidewalk sales.
Use signage to catch customers' attention.
Create unique experiences to tap into the current consumer desire for more memorable shopping experiences - entertainment, socializing, food or wine tasting, and expert lessons or consultations are potential ideas to take your retail presence to the next level.
If you have an online presence and have products that can be purchased at storefronts:
Use "Buy Online, Pick Up In-Store" options to get customers inside physical stores to view the full spectrum of your product offerings.
Give customers coupons after online purchases to encourage them to shop in-store.
Create an in-store return hub online customers can use.
If you're currently selling exclusively online:
Rent a booth at a local artisan or holiday market.
Seek out, retail channel partners. The process of getting stocked and sold through large, national retailers is a very long one! But working with independent retailers is much simpler and quicker. Contact local retail stores and boutiques that would match your products well.
Set up limited-time, limited-offer pop-up shops.
Building a unique and experiential retail presence allows customers to engage with your products in person – and discover what makes your brand shine.
Plan a Series of Strategic Promotions and Discounts
As we mentioned, many shoppers will try to save money by looking for the best deals and discounts this year.
You can use promotions to help drive purchases and serve customer needs without massively cutting your profit margins by choosing strategic sales tactics.
The goal is to balance the discounts your customers want with margins that make sense for you. For example, you might consider:
Running sales on specific collections, especially product sets, you have excess inventory and need to unload.
Sending discounts to specific customer segments. For example, coupon codes for last year's customers may be cost-effective, as they don't require any new acquisition spend.
Pairing deep discounts with friend referrals can help lure previous customers and encourage them to bring in new customers (again, helping to offset costs you'd otherwise spend on acquisition).
Partnering with a like-minded brand or service and offering each other's communities freebies.
Offering minimal time sitewide discounts.
Giving a gift with orders over a certain amount.
Implementing a Buy X Get X offer.
Increasing charitable contributions (like trees planted) during a sale period.
Avoid running promotions too frequently. This can cheapen your brand image and make your customers too discount-sensitive. Instead, choose your promotions thoughtfully and get the word out!
Look at past data to see which types of promotions your customers prefer and what's feasible for you right now.
Before setting up your promotions calendar, be sure to spend some time reflecting on what your goals are. If they are to maximize the number of customers you sell to this year, promotions can be invaluable. This strategy may make less sense if your goals are to maintain a specific profit margin. If you want to gain new customers, focus promotions on this segment. If they are to increase AOV, set promotions that encourage higher order sizes.
Manage Inventory Thoughtfully to Avoid the Need to Slash Prices
With so much uncertainty, knowing how much product to produce and supplies to order can be complex.
While we can't give you an exact number to hit, we encourage you to:
Get the best information by looking at past holidays, this year's sales data, and current market trends. Some forecasts suggest sales are likely to be pretty flat compared to 2022. Others (including Business Insider, below) predict a 10.4% year-over-year growth rate for e-commerce sales this year.
Meet with your supply chain partners to develop the most favorable purchasing agreement possible. Your vendors are eager to retain and grow business during the holiday season. Some may be open to creative strategies to help you manage risk, cash, and the fear of excess inventory. For example:

Can you extend your terms (if necessary, in exchange for slightly higher prices) to manage your cash flow?
Can you establish an open Purchase Order with your vendor with a flexible time horizon? This allows you to minimize your owned inventory but cuts the lead time between when you need supplies and materials and when you receive them. If you need items quickly and urgently during the season, they are available for you at a quick turnaround. If your sales don't hit your forecast, you can dip into your open PO in Q1 and Q2 as needed.

In 2020 and 2021, when supply chains were backed up across most industries, brands were focused on ensuring they had inventory to sell. In 2022, we didn't know what to expect. This year, most brands seem to favor a more conservative approach to inventory. While stocking out is never optimal, brands prefer to own slightly less merchandise to minimize the risk of excess inventory.
Review your entire portfolio of products and supplies. Once you determine your purchasing and inventory strategy for each, set contingency plans for what you'll do if you sell out or end up overstocked on each type of item.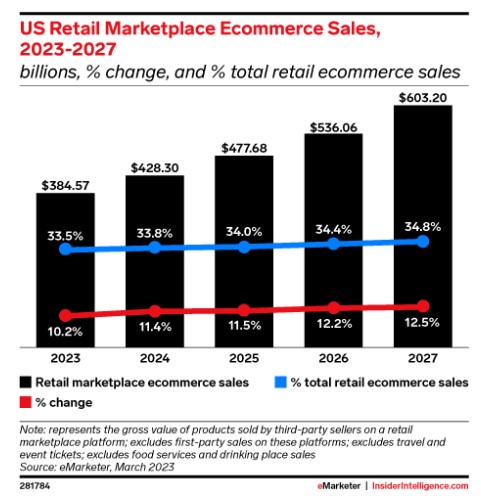 Depending on your production and sales cycles, you may want to break the holiday season into smaller chunks. At the end of each period, assess your current sales and inventory and update your strategy accordingly.
Clarify and Promote Your Unique Strengths and Points of Differentiation
In the face of lower customer spending, staying true to your brand's personality and values is more important than ever. That's what your customers love about you. And it's why they choose you over your competitors.
You can leverage your brand's strengths by:
Defining your values, voice, and mission more clearly
Make sure your messaging is consistent and feels like "you."
Reviewing customer feedback to see what they most appreciated
Leaning into your strong points (such as customer service, quality, or personalization)
This helps you stand out from the competition and gives you a better idea of where to put your resources.
Optimize and Focus Your Marketing Spending
If you're working with a limited budget this holiday season, consider using a "fewer but better" approach to marketing and sales.
Rather than spreading your spending thin across many channels, hone in on your most effective channels during the holiday push. Not sure which channels are working best for you?
Review your year-to-date data on your email marketing stats, paid advertising spend, and social media engagement. Are certain marketing vehicles driving more or higher value traffic than others?
Lean into research from some analysis suggesting that social media ads will deliver the best ROI for D2C businesses. In the first quarter of 2023, traffic referrals from social media platforms grew 27% year-over-year. In the past three months, more than half of consumers visited a physical store to see or buy products they discovered on their social feeds. Assess if these trends have been true for your brand, and if so, consider investing advertising dollars in these channels.
Consider "free" marketing partnerships by aligning with complementary brands and marketing to each other's communities.
Remember that physical marketing isn't dead! If it makes sense for your brand, consider creating marketing notecards, free sample kits, and other physical marketing items you can distribute at in-person events such as holiday marketplaces.
Increase Strategic Touchpoints with Current and Potential Customers
Staying in touch with your customers helps you come to mind first when they're ready to buy. Look for ways to create more touchpoints or moments of contact with your customers.
For example, you could:
Send an "anniversary" email marking a milestone since a customer's first purchase.
Create purchase follow-up email flows with tips for using their new product and a review request.
Update your welcome email flow with holiday-specific onboarding, and remember to change it back when the holidays end.
Reply to reviews on platforms like your website, Google Reviews, and Etsy.
Include handwritten notes with purchases. If you can't do this for all customers, consider implementing it for your most frequent buyers or large orders.
Engaging with customers and bringing value to each interaction creates a stronger connection with your brand.
Establish a Customer Loyalty Program
Increasing customer touchpoints is one way to build loyalty – and, as you know, loyal customers are foundational to your brand's success. One reason is that selling to an existing customer is easier and less costly than seeking a new customer.
So this holiday season, do all you can to build and reward brand loyalty. Another way to do this is through a loyalty or rewards program.
How you set up a loyalty program will depend on your business model. You might offer loyalty points for purchases or create a referral incentive for people who refer new customers.
If you're unsure what kind of loyalty program would work well for you, check out what competitors are doing and look for ways to adapt and improve their models to fit your brand and customers.
Provide Financing Options
Recently, "Buy Now, Pay Later" programs have become increasingly popular in e-commerce. These third-party programs let customers purchase now and pay in installments.
Buy Now, Pay Later programs can be helpful for customers who aren't able to make a larger purchase all at once. Financing options can also help you bring in more sales and increase average order values.
To give your customer the best experience, choose a financing option with no or low interest and unambiguous terms.
Some of the best Buy Now, Pay Later options available right now include:
Klarna
Afterpay
Affirm
Sezzle
Splitit
Before choosing a platform, research options to find the best fit for you and your customers.
Make Shopping and Returns Clear and Hassle-Free
Earlier, we discussed the importance of creating a smooth shopping and return experience for your customers.
This is especially valuable during the busy holiday season. Customers have a lot on their plate (and shopping list) and will favor stress-free, easy shopping processes.
You can create a smoother shopping experience by:
Asking an employee or friend to go through the purchase and return process to provide feedback
Streamlining your checkout process
Enabling autofill or information-saving features
Testing for bugs or technical issues
Making sure order confirmation and tracking are precise and accurate
Including upfront return and exchange terms
Offering extended returns during the holidays
Making your reverse logistics simple and sustainable is a win for you, your customers, and the planet.
Stick to, Expand, and Promote Your Sustainability Values
To recap the sustainability trends we discussed earlier:
Shoppers are willing to pay more for sustainable products, particularly millennials and Gen Z
Recent studies show that ESG-focused brands grow more during periods of economic downturn
Consumers are increasingly focused on choosing environmentally and socially conscious brands
Extreme weather and natural disasters have put climate change on the mind of more consumers this year
So even if your budget may be tight or your situation challenging, don't give up sustainability. Instead, lean into it in creative and revenue-generating ways. Examples include:
Build a recommerce strategy.
Establish a rental business model.
Create a highly sustainable, conscious product or product line.
Make your packaging much more circular.
Establish a partnership with the right nonprofit partner(s).
Offer carbon-neutral products, shipping, etc.
Offer sustainable gift wrapping.
Once you identify sustainability strategies you'll embrace, establish or lean into this season, invest heavily in promoting these efforts during your holiday marketing efforts.
These investments will help set you apart from the standard "compete on price" game, enabling you to build more of a premium around your brand experience - hopefully allowing you to avoid those excessive discounts that can significantly hinder a brand's bottom line.
Sticking to your sustainability goals during tough economic times is a wise investment. It shows people you're dedicated to doing good, strengthens your brand image, and helps you attract more ideal customers – during the holidays and beyond.
Launch Promotions and Marketing Early
While planning, look for ways to get the word out early.
And believe it or not, it is never too early! Last year, 50% of Millennials and Gen Z shoppers bought earlier than ever, driven by a desire to spread out their spending and address fears of stockouts and shipping delays.
You want to stay in mind with current customers and build awareness in new and potential customers as soon as they begin thinking about their holiday shopping needs - which can be as early as September!
A few ways to promote your brand ahead of the holidays include:
Sending out a survey or email to your core customers asking about their holiday needs and plans so you can tailor messages to them based on their timeline, concerns, and requirements
Creating more frequent email and social media campaigns
Using pre-holiday sales (Labor Day, Back to School, Autumn Kick Off, etc.)
Building a gift guide with ideas for different budget ranges and getting this out early
Running a September giveaway to drive word-of-mouth marketing
Since consumers begin holiday shopping earlier in the season, this can help you capture more sales before and during the holidays.
Start Planning Now
One of the most important ways to set your brand up for success is to start holiday planning early. That way, you avoid a last-minute rush and have more time to create a thoughtful strategy.
You can use the following tips in your planning process. And along with that, consider asking yourself questions like:
What will our timeline for sales and promotions look like?
How will we plan for holiday shipping delays?
Who are our most important strategic partners to coordinate with? (IE retailers, contractors, or influencers.)
What potential problems can we eliminate ahead of time?
If you've been in business for a previous holiday season, also take a look at what worked and didn't work in your marketing.
Helping You Navigate the Holiday Season
We hope these tips help you feel confident as you prepare your brand for the holidays in 2023. Your commitment to doing good for the planet and your customers inspires us – and we're here to support you as an EcoAlly, especially during times of uncertainty and stress.
If the holidays are a mountain at night, we're here with a flashlight and a map to help you find the best path forward.
So if you have any questions or need specific guidance, contact us.
All of us at EcoEnclose wish you a happy and prosperous holiday season!