Q&A With StartUp FASHION Businesses: Her Riding Habit, Poppy Row and Miakoda
Sep 27th 2019
Packaging Q&A With Fashion Businesses
We are thrilled to work with StartUp FASHION, which helps independent startup designers grow their businesses by giving them the confidence they need to move forward, the community they need to bounce ideas around, and the resources they need to learn. Their goal is to support and encourage designers to take action, make progress, and reach their entrepreneurial goals. We've been so inspired by StartUp FASHION founder Nicole Giordana's knowledge of the fashion industry, passion for the entrepreneurs she works with, and interest in sustainable fashion!
We were even more excited to find out just how many of the emerging fashion brands they support are focused on sustainability! Read on to learn from three amazing eco-friendly fashion companies who are part of StartUp FASHION and who utilize EcoEnclose packaging: Her Riding Habit, Poppy Row and Miakoda.
Read on for interviews with founders of these three companies to learn how they got started, how they've built sustainability oriented brands, and what they are focused on for the future. While the companies are very different from each other in many ways, a few great insights were consistent throughout:
That old saying - "don't let perfect be the enemy of progress" - emerged quite a bit. To be a sustainability oriented business, you need to be comfortable make small improvements often, knowing that each decision is a step in the right direction (even if it is still fraught with concerns).
Domestic manufacturing: All three companies were manufacturing domestically, and that this commitment to US made was very important to them - which was really cool to see! Being able to visit and easily engage with a partner is an essential aspect of ensuring a more environmentally friendly and ethical manufacturing process.
The pros and cons of plastic: These businesses have all been so thoughtful about what kind of raw materials they use throughout their business (including using organic fabrics or eucalyptus based fabrics) and have brought this same level of discipline to their packaging. In weighing different options, they all have found 100% recycled poly mailers and/or poly bags in their packaging strategy, despite recognizing some downsides of plastic.
Customer education: When you run such a thoughtful business, it is important to give your customers an inside look at the decisions you've made! These businesses have content or even entire website sections dedicated to sustainability across their operation. This type of education helps customers understand why certain materials are used (including why 100% recycled plastic was the most eco-friendly option in a packaging strategy!).
Fulfillment centers: Despite the appeal of third party fulfillment, it does seem that in-house fulfillment allows an emerging fashion brand to maintain a close eye on quality and packaging sustainability.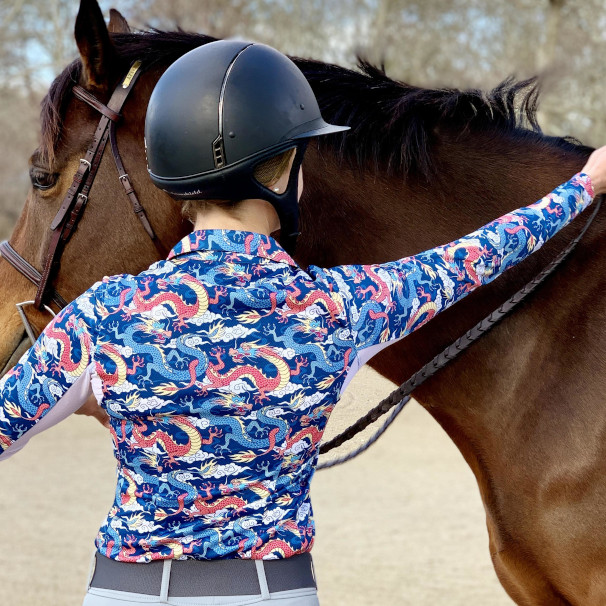 HER RIDING HABIT
Tell us about Her Riding Habit. How did you start and what are you hoping to achieve with your business.
Her Riding Habit sells equestrian apparel for women. The first collection is a variety of athletic polos in fun colorful prints. The shirts are manufactured in Oregon and they send them to me (in MA) to be individually packaged. Because this is my first experience with the production and manufacturing of a line of clothes, I wanted to be 100% involved in the packaging of the shirts. I was nervous they would just be thrown in plastic bags and tagged with a plastic tag. So, I get boxes of the shirts and as I fold, tag and package each shirt I am able to check over the quality of the manufacturer. It is a lot of work, but I feel like I need to know from the ground up how to achieve my quality goals. When I receive an individual order from the website or an order form from a tack shop (for wholesale orders) I am the one fulfilling the order and printing out the mailing label and sending the package off to it's destination.
I started Her Riding Habit because I was always searching for specific details in clothes I would wear for riding. There was always a detail I wanted adjusted or a style was nice but it didn't quite fit right. I suppose I'm picky, but there was always an idea in my head of what I would really like… eventually I decided to just move forward and give it a try.
Tell me about your process of developing your sustainable fashion line. How did you find your ideal materials and partners?
I feel like the sustainable aspect will always be in continual development and improvement. Accepting the fact that if I waited for perfection I would never get it started, I sourced fabrics that have some sustainable aspect, either in the fiber content or manufacturing process. Finding the right printer and manufacturer was a process of asking for recommendations, googling the hell out of people and businesses, asking for quotes, discussing their process and finally just feeling the right connection has been made. For me it's always been a combination of location, price, communication skills, and quality. I wanted a factory in the USA, so that was a standard. Getting estimates helped narrow the options, if they were in the ballpark of what made sense to make the business work, they could be considered. Most important to me was the manufacturer's ability to communicate with me like I'm a person and not an account. I needed to know I could call them up with any issue and get an answer or resolution. Once I felt that vibe, I would request a sample so I could check for the quality. Those communication skills are what makes the difference in having a good experience and being able to avoid or resolve the inevitable errors.
What resources would you recommend to other eco-minded entrepreneurs?
I participated in Factory45's program with Shannon Lohr and I am also a member of StartUpFashion whose FaceBook group is an amazing source.
How do you package your outbound shipments?
[ This blog post is an amazing overview of Her Riding Habit's packaging strategy!]
My shirts are folded and hang tags are tied together with hemp string and then that string is wound around once on the bottom button of the collar placket. There are three hangtags, one for the brand, one for the front fabric of the shirt and one for the back fabric of the shirt (those two explain the fabric properties and are provided by the fabric vendor.) Then I put the folded shirt in the clear plastic bags from EcoEnclose. I use a small round kraft paper sticker on the outside lower right corner to indicate the size. The outside size sticker helps me keep inventory straight with a quick visual look. When I go to fulfill an individual order, I grab a clear packaged shirt off the shelf and put it in an EcoEnclose poly mailer. I include an invoice/packing list (signed with a thank you!) and fold it with the the We Care Card. It is a no frills experience but as a startup I wanted to keep my packaging costs low. I reflected on my own experience of receiving different brands in the mail, and ultimately, all the fancy tissue and stickers just get tossed along with everything else, so I wanted to keep it as minimal as possible.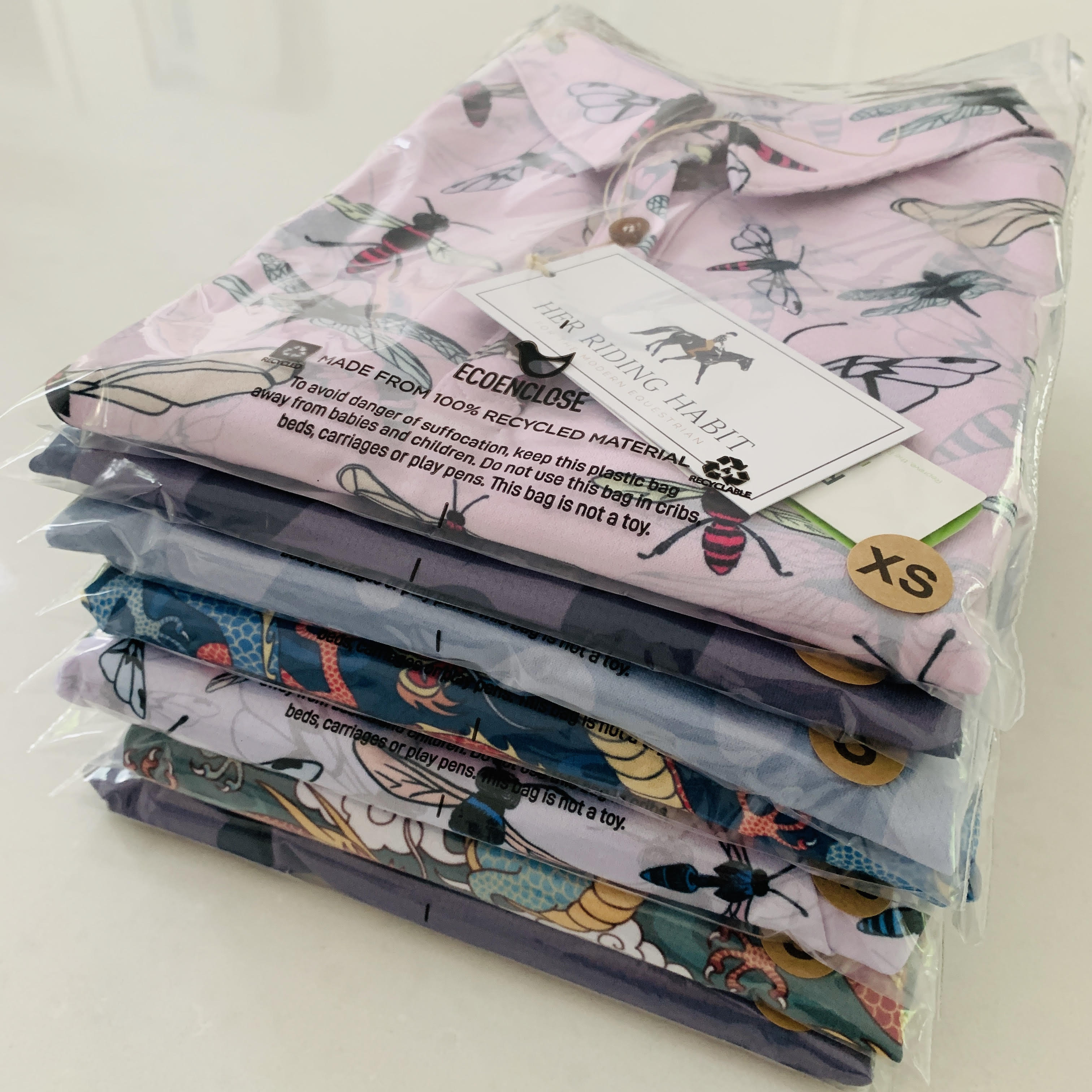 In making your packaging more sustainable, what has been most challenging?
I package everything myself now because I was worried about letting the manufacturer tag and bag. They gave me a quote for the service, but I don't believe they took into account the additional time for the hemp string versus a tagging gun. I also wanted to be able to be the last quality control inspector. If I grow to a point where I need to outsource this, I'll worry about quality control, but will definitely hand it over with specific instructions.
Are there any elements of your packaging you continue to struggle with and want to change?
I'd love to brand the packaging, at least the poly mailers and maybe the clear bags. I suppose that's just a matter of future cost considerations. The hang tags explaining the fabric properties are also a sore point because they are provided by the fabric vendor but I don't believe they are on recycled paper (?!) so that could be improved or my own hangtag could include all the info.
Outside of your product and your packaging, what sustainability priorities do you have?
In my office I recycle and reuse as much as possible. Quite honestly it's a frugal habit that works well with sustainability. I try not to print out as much - but even when I do I save all paper that can be used as scrap once it's front page use is over.
I have a stack of turned over 8x10 paper on my desk that I use for quick notes while I'm on the phone, or to doodle out a concept. I draw out a lot of layouts and processes on paper so having scrap paper is important. And then eventually the scrap goes out to the recycled paper bin.
I also reuse file folders, binders, all kinds of office supplies, etc. All package boxes received are saved to use for wholesale orders to be shipped out. I can't imagine buying a box! Basically, if I can reuse it, I save money and have less trash and recycling to put out.
The holiday season is coming! What is the most important thing you do to get prepared?
I actually don't do much for the holiday season, although I should start thinking about sales!
I can happily say I haven't been "holiday shopping" in years, maybe 15. I'm a horrible gift giver and the crowds drive me mad. The internet solves the crowd problem, but I still don't feel the urge to holiday shop and I'm totally at peace with not doing it.
The idea of wrapping paper upsets me! I did find some vintage wrapping paper at Brimfield's Flea Market and loved using it. Otherwise I have a big bag full of received gift bags, used bows and tattered tissue paper options… those generally get used throughout the year (I do occasionally give gifts!) Growing up we would use the comic pages or other interesting newspaper pages as wrapping paper. Sometimes I get my kids to wrap a gift for a friend in paper bag paper and decorate it with marker. Hmm, I guess I have wrapping paper issues. How should I prepare for the holiday season?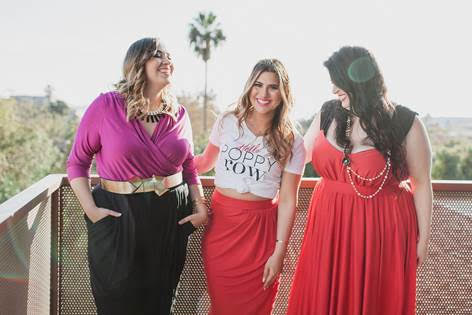 POPPY ROW
Tell us about Poppy Row. What inspired you to start this company?
Poppy Row is a line of modular staples made from eucalyptus. All of our pieces are designed to be worn 3 ways: as a jumpsuit, dress or separates. We have been size inclusive from day 1- breaking down the barrier between straight and plus size - carrying women's sizes 2-28.
I started Poppy Row after working as a celebrity stylist + merging that with a life coach certification to create an award-winning online style school where I helped women learn to love their bodies + use style as a vehicle to do so. I saw there was a need for a line of great staple pieces that were available consistently that you could get in an updated color or pattern each season.
Having dealt with fibromyalgia since I was in high school (a chronic pain condition), I knew I wanted fabric that was comfortable + I felt strongly about manufacturing in the US. As I had taken a short hiatus from my style school to go to design school in Italy, I started learning more about the detrimental impact the clothing industry had on the environment, so that was also something I kept in mind going into my line. I was able to find my clothing manufacturer + source our material all in Los Angeles through a couple designer programs I was a part of - like Factory45 + Startup Fashion. This helped me know what to ask going into it + although we've had some bumps along the way, having these groups to support me was really a huge key in making the launch happen.
We manufacture all of our clothing in LA and everything we use in production to fulfillment is sourced locally and/or has to have a positive impact on the environment. Since we carry 14 SKUs per style, it was a lot when we first and we couldn't find any fulfillment companies willing to take on a new company with many SKUs so to this day, we still fulfill all in house.
Fortunately my father oversaw the logistics for a major retail corporation of 1000+ stores, so he helped me figure out how to organize everything!
How can you continue to make your clothing line more sustainable going forward?

I definitely see a few options - I want to expand into doing some more limited edition pieces made from deadstock (we currently have some mesh pieces in development).
I've also looked at ways to make our production process more made-on-demand so we aren't overproducing. We also have just 10% spandex in our product, which doesn't make our clothing compostable, so I'm looking to have us bring it under 5% as we move forward.
What resources would you recommended to aspiring sustainable fashion entrepreneurs?
Factory 45 and Startup Fashion were amazing. Not only do they provide you the foundation, the communities in both were amazing and a large part of my success. They were my angels many time when I hit a road block + got stuck somehow! My Poppy always encouraged us to ask lots of questions (his best friend said at his funeral it was what he thought was the key to his success) so I just got even more comfortable asking a lot of questions in these groups + also to manufacturers.
How do you package your outbound shipments?
At this point in time, I have all our inventory in a second bedroom in a bath and closet that's dedicated exclusively to housing my products.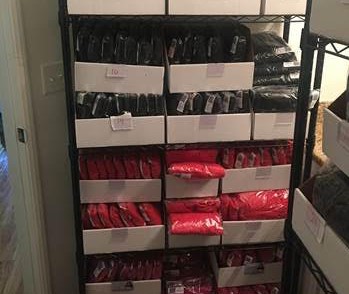 We have our manufacturer package each product in an EcoEnclose Clear bag, we take it from inventory and wrap it in a pink tissue paper from Nashville Wrap that's made from 100% Post Industrial Recycled Fibers sealing it with a Poppy Row sticker. We then put it in a customized EcoEnclose Poly Shipper bag with our logo and "Your Closet Just Got a Pop" printed on it.
Minimums were honestly the most challenging part. I found EcoEnclose super early on so I didn't struggle a lot. I will say, when I first was discussing fulfillment options with my father + he mentioned poly bags would save me a ton of money, I told him I was horrified with having to use plastic + some sort of unsustainable option but was so grateful to find EcoEnclose's poly bags could be branded.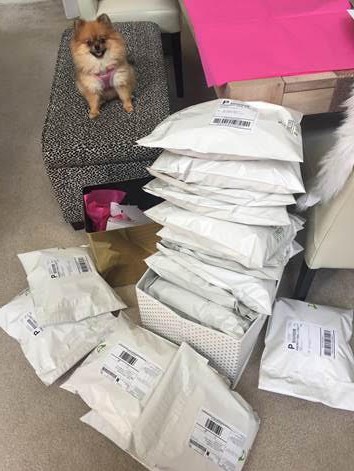 What kind of feedback have you gotten from customers on your packaging?
I've seen lots of comments and feedback about our packaging. We get a lot of customer photos of people who are excited about the shipment and send us a pic of their package (which is one of my fav things to see).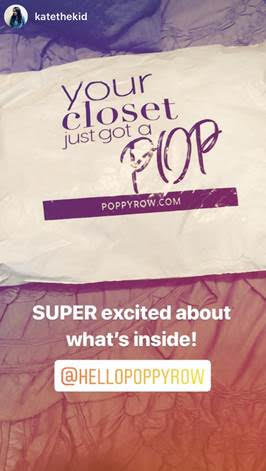 I've also seen customers commenting on one another's posts about how the packaging was great + well branded.
Are there any elements of your packaging you continue to struggle with and want to improve / change?
I want more colors and the ability to brand an overall box (with more colors). I love EcoEnclose doesn't have high minimums for customization but would love to be able to brand the entire packaging with a couple colors + the same goes for boxes! We have a pretty even split between multiple pieces (given the modular/mix-n-match aspect we get lots of sets orders) and individual pieces. I'd love to create a more high end experience with a box branded inside and out. Most places are in the thousands for minimums, so that doesn't quite work for us yet.
Outside of your product and your packaging, what steps have you taken to run a sustainable brand? What steps do you hope to take in the future?
Our fabric is from a eucalyptus based fabric, Tencel + all produced in Los Angeles. I'm looking forward to expanding our base fabric to include other botanically based materials as well as using deadstock!
What advice would you give an aspiring eco-focused entrepreneur?
Slow and steady wins the race. This will take money so make sure you're supported in some way.
The holiday season is coming! What is the most important thing you do to get prepared?
We're looking at offering gift wrapping options, as well as changing out our tissue paper and inserts to be holiday specific. We've also been pitching out to publications to get into some gift guides, which has been our biggest focus for holiday.
We'll also be working on a holiday shoot and content in the coming month from how to style yourself for the holidays to packing for holiday travels to help drive individual as well as gifted sales.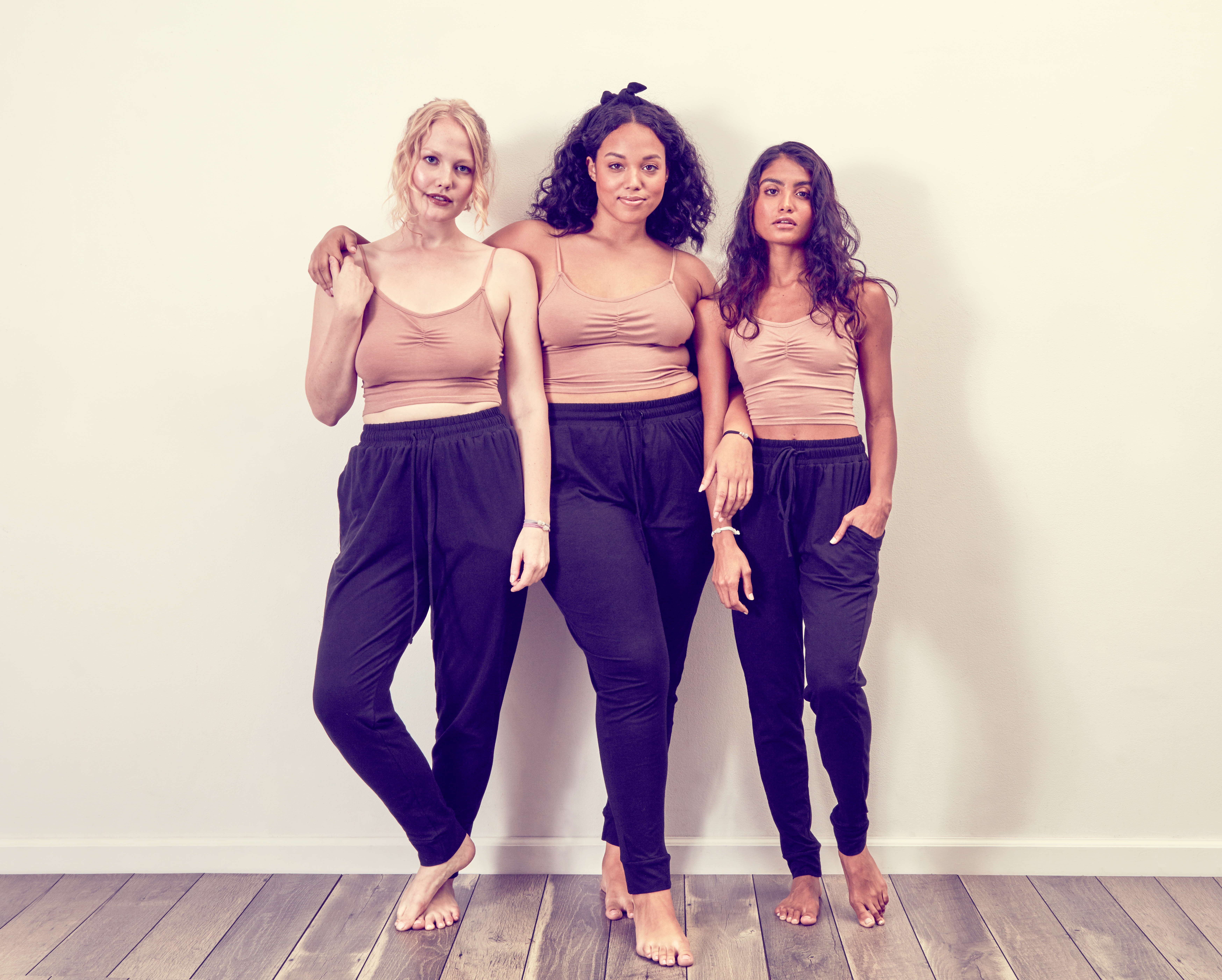 MIAKODA
Tell me about Miakoda and how you got started.
Miakoda is a sustainable and ethically made plant based clothing line. We work with an ethical factory in NYC to make our collection, and I hand pack all the orders in our office on Long Island.
I started this business in 2013 with my sister, Laura, after learning about all the down sides of the fashion business. I wanted to work for a company that felt good about supporting—one that's vegan, ethically made, sustainable, and really cares about the planet and the people making our clothing—that's how Miakoda came to be!
We work with exclusively plant based fibers. As a vegan owned company, that was really important to us. Animal agriculture also has a huge footprint that we don't want to support.
We work with fibers such as organic cotton, bamboo, soy, lyocell, and modal. Finding the right manufacturing partner has been a process. We've worked with a few in NYC. Ethics are most important to us. We want to make sure that our garment makers are treated and paid fairly. Having production done locally is important to us as well. I've always worked with NYC based manufacturing partners so that we can visit the factory regularly to make sure the ethical standards are up to par! Our current partner is really awesome—all the workers and the owner are awesome. We are proud to partner with them!
Do you see opportunities to continue to make your apparel more sustainable as you grow and expand?
Of course! As we've been growing we've learned about more aspects of the business that have inspired our sustainability journey.
Most recently, our manufacturing partner shared with us how much fabric gets thrown out during the cutting process. We were shocked and horrified! This led us to start our zero waste accessories that we actually make out of the fabric scraps that would get thrown away during the cutting phase of production. We make scrunchies and headbands!
As we learn more, there is always more room to expand our sustainability efforts.
How do you package your outbound shipments?
Sustainability is just as important for the packaging as it is for the product. We use EcoEnclose recycled shipping bags and boxes for the outward portion of our packaging. I love how clean and sleek the design is with just our logo on the outside of the package.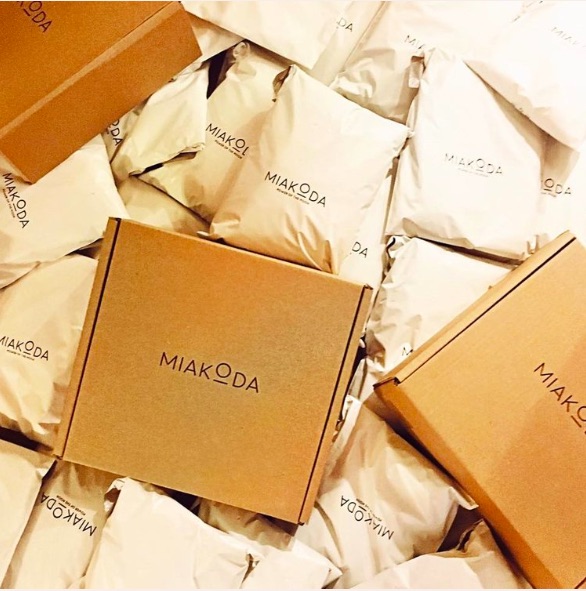 On the inside you can find out clothing packed in recycled poly bags or our newest trial, organic cotton and fair trade drawstring bags. We are currently transitioning to use the organic cotton bags since they're reusable. In addition, you'll find two cards: one thanking you for your purchase and sharing why shopping with us is special [shopping small, shopping sustainably, shopping ethically], and one sharing the best care instructions.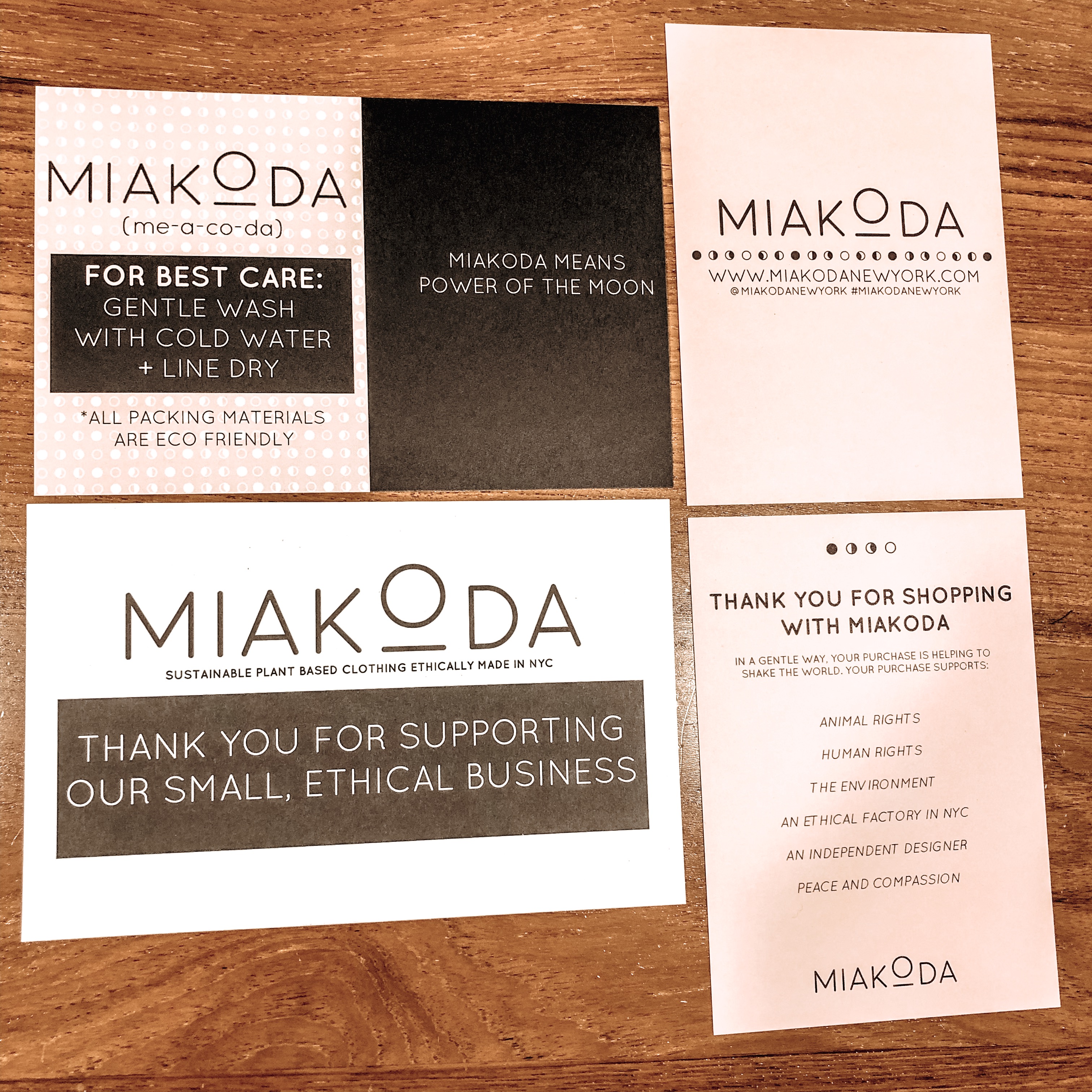 Both cards are printed on recycled paper. We also use recycled shipping labels and biodegradable tape!
When it comes to balancing cost, sustainability, functionality, and the customer experience, we prioritize sustainability but believe you can have it all. We've designed our packaging to be sleek, clean, minimalist, and user friendly. There are no frills to avoid excess waste. Balancing cost can be difficult since eco friendly options are more expensive, but we believe the cost to be 110% worth it.
What is the hardest part about creating an ecofriendly packaging strategy?
I think the most difficult part of packaging is how much plastic is involved.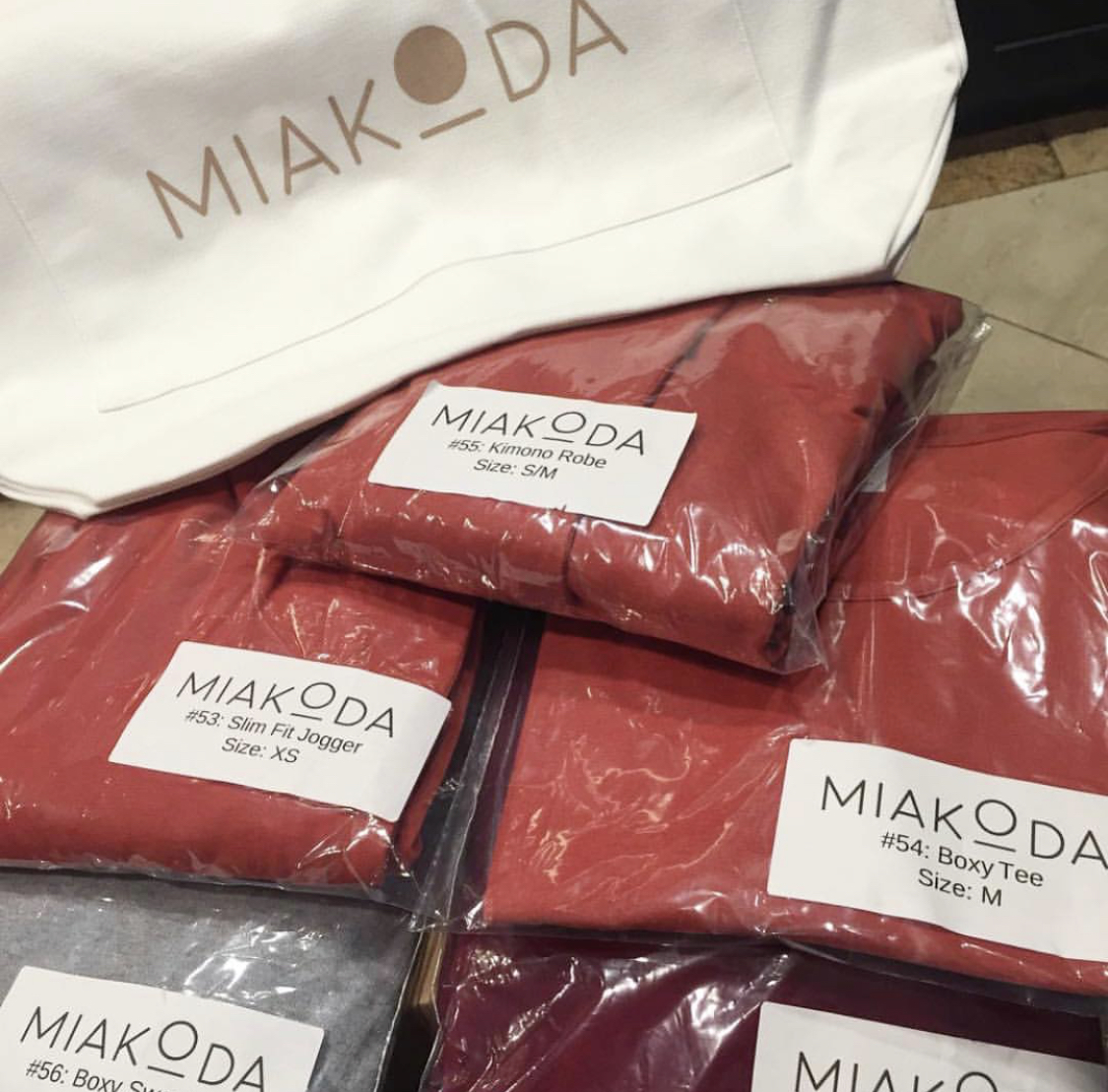 We love recycled and recyclable options because they're a huge improvement from plastic that is either new or can't be recycled. One of the biggest hurdles has been informing people that our packaging is a more sustainable and eco friendly option. To help do this, we actually added an entire sustainability section on our website that outlines how we are a more sustainable company with a whole section on our packaging.
What advice would you give an aspiring eco-focused entrepreneur?
I would say, always be open to learning. It's easy to get defensive when something is brought to your attention or you learn something new that challenges what you're currently doing or currently believe. Be open to new ideas, new possibilities, and new ways of improving. We've benefitted so much from critical feedback and input that has helped us to become a more sustainable and eco friendly brand.
The holiday season is coming! What is the most important thing you do to get prepared?
I love the holiday season! It's most important for us to make sure we have enough packing materials [we ran out last Black Friday!], enough inventory, and a good playlist to pack orders to!