Custom Box Designs
Gorgeous Presentation and Product Protection
ECOENCLOSE IS CURRENTLY UNABLE TO DESIGN CUSTOM INSERTS. WHEN WE ARE ABLE TO OFFER THIS SERVICE AGAIN, WE WILL UPDATE OUR INFORMATION HERE. IF YOU HAVE DIELINES AND NEED INSERTS CUT TO THOSE DIELINES, WE CAN LIKELY HELP! PLEASE EMAIL DESIGN@ECOENCLOSE.COM WITH THIS INFORMATION.

Did you know that EcoEnclose can design custom box inserts and other unique shipping box designs - beyond the basic styles you see on our website - that can serve the dual purposes of protection and presentation? With our eco-friendly custom box inserts or "scored pad dividers," e-commerce businesses can add an additional level of sophistication and sleekness to the customer experience.
With custom box inserts, product jars, bottles or vials sit snuggly in their shipping boxes. Goods are separated from each other and are protected from movement and impact while in transit. And, when recipients eagerly rush to open their delivery, they are treated to a beautiful #unboxing experience.
Products are showcased brilliantly and neatly and are easy to remove.
It is important to emphasize that almost all e-commerce businesses can effectively protect and present their goods without needing custom designed inserts. Most EcoEnclose companies that ship in custom boxes protect their goods in transit by using packaging paper, GreenWrap and corrugated bubble - all eco-friendly void fill options that can keep goods snug and safe inside their shipping boxes. This type of void fill even works well for fragile items like glass and ceramics. Additionally, packaging accessories like GreenWrap, ornament shred, hemp twine, note cards and packaging paper can be used in ways that make for an exceptional experience for recipients. However, for many businesses - a custom designed box with inserts or scored pad dividers is the right way to go, as it provides the functionality, custom experience and visual appeal that perfectly aligns with their brand and needs.
If that sounds like your business, where do you start? How will EcoEnclose work with you to develop and finalize your unique box design?
Step one is to email design@ecoenclose.com. Let him know:

What you will be shipping?
How many items you plan on shipping in a single box?
Do those items vary in size?
How many boxes you anticipate ordering? Note that the order minimum for custom inserts is 250 with a $1000.00 minimum per SKU.
Whether or not your products are made of glass, ceramic or other fragile material?
Weight and dimensions of each of the items (in inches)?
To what extent you are looking for custom inserts to provide protection or presentation?
Any other important uses or scenarios (perhaps you envision the box being used to return items or empty bottles, or want the item to serve as a long-term storage box for your customers.)
Timeline for when you need boxes and inserts in your facility? Note that leadtimes can be 2-6 weeks depending on complexity of design
Preliminary vision you have for the design of the box and the inserts (please send over rough sketch of vision).

You'll then receive an email response with preliminary perspectives on feasibility, follow up questions and a request to send some of your items to EcoEnclose so we can design and test your box more efficiently.

If at that point, you want to move forward, you'll pay a $99 design fee to work with EcoEnclose on your custom box and inserts. This fee covers all of our time and materials to design, test and iterate until we have settled on the best packaging for your products.

Once the fee is paid and we have your products on hand, the design process begins! We'll take the first stab at a layout and design, cut the boxes and send you pictures of the packaging. From there, we iterate! You'll share feedback via email and we'll make adjustments. In the final iterations, when the design seems very close to final, we'll send physical samples of the custom packaging to work with and comment on.

Depending on your needs and vision, reaching a final design can 1 iteration or up to 5 iterations. This means lead times can vary from a few days to a few weeks.

Hoorah! At this point, the design will be final and we'll provide you with exact pricing for your boxes, based on your order quantity and if you intend to print them or not. We can place your box order, which we typically ship out within one week of the order being placed.
Read on for responses to common questions we get on custom box inserts.
Why might you decide that a custom box project is not feasible?
There are two main reasons. The first is timing. If you are looking for custom designed packaging and inserts to be designed ASAP, we may not be able to accommodate your needs. The process can take several iterations depending on your needs and vision. This timeline can extend when we're in particularly busy seasons. The second reason is if you are shipping something that is fragile and heavy. If you are shipping small glass bottle or jars that are lightweight (2 oz or less), inserts are likely to work for you. Anything heavier is just too difficult to protect using inserts alone, and we would be too nervous that your goods might be broken in transit as our number one goal is to ensure our packaging gets your products delivered safely, undamaged and in high quality.
How are these boxes priced?
A typical custom designed box with inserts has a few components. The box itself is generally a tab-locking box (though sometimes a literature mailer or completely different type of box style is used). The inserts can be one or more pieces, depending on the final, agreed upon design. Inserts can be "skirts" with cutouts to hold your products in place or snaking corrugated pads that fold up and around your products. In some cases, corrugated pads or corrugated bubble is used at the bottom and/or top of the box to provide an added cushion. In most cases, our 32ECT E (e-flute) is used for these boxes and their inserts. E-flute is strong but thinner than other flutes, resulting in a sleek and neat box. Thicker flute might be used for any corrugated pads or bubble that is being used for cushioning, or when the box is protecting heavier items. The main box and any corrugated pads or bubble used in the design are priced standard, as they would be if ordered through our website. Inserts are priced according to the square footage of corrugated used for each.
Does EcoEnclose provide partitions?
What do we mean by partitions? Corrugated partitions are used to divide a case (typically a standard RSC box) into equal sized squares or rectangles. They are used mostly for wholesale shipments of glass jars or bottles when companies are shipping caseloads of their product to a retailer or distributor. Unlike "custom inserts" partitions are more for separation and protection, and not for presentation. YES! EcoEnclose can certainly provide partitions. If this is what you are looking for, email Tim at design@ecoenclose.com and follow the steps above!
How do I reorder my custom designed box?
To reorder a custom designed box, email design@ecoenclose.com with your information, and if you have it handy, your last order number with us. We can place a reorder for you quickly and easily. Unfortunately, our website is not currently able for you to "Buy It Again" through our site for these specially designed custom box inserts or scored pad dividers. If you make any changes to the box design, including adjustments to its size or style, you'll be charged a fee for the redesign. This fee covers the material and time for design iterations, and machine setup time and effort.
Can I order branded custom designed boxes?
Yes! You can print on the outside and/or inside of the main container of your box, and you can even print on the inserts themselves. We do have some size restrictions - boxes or inserts that are either too small or too large to print on. If you are hoping to custom brand your boxes, let us know right away so we can design them accordingly. What might my custom designed boxes and inserts look like? We're glad you asked! Here are a few examples to give you a taste of what we can work with you on.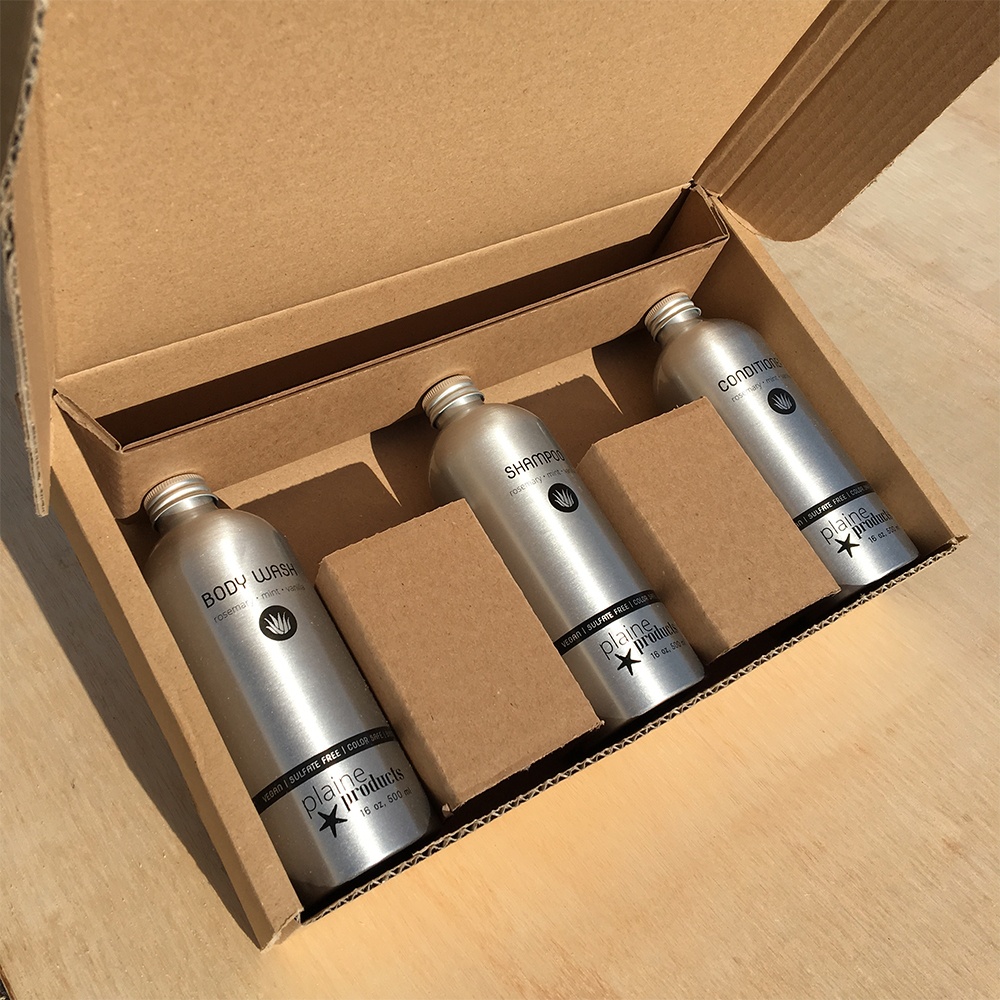 Plaine Products sells hair care products in reusable bottles. When they are empty, customers ship packaging back to the company to be cleaned and refilled. Genius! Plaine Products was looking for a shipping box that would keep bottles and nozzles separated (and prevent the nozzles, which are fragile, from being squashed by the shampoos). They also wanted the customers to have a great #unboxing experience. Five filled bottles of shampoo and conditioner are HEAVY, so ne of our main considerations was to design a package that is strong and sturdy. Ultimately, the package included a Tab-Locking Box made with ECT23B flute. E-flute was not used in this case for two reasons. First, the goal was to keep the box itself as light as possible and 23B is lighter than e-flute. Second, we found e-flute to bow slightly, an issue that was not present with 23B flute corrugated. Creased corrugated pads (i.e. snaking pads) were then used to separate the nozzles and keep five shampoo and conditioner bottles in place and separate from each other. Thus far, this box design has been working beautifully for Plaine Products, and customers have been saving these boxes to return their bottles.
Lemonbug sells jewelry, and most of her jewelry is contained in a white, square jewelry box (envisioned here). Lemonbug did not need any protection. She was instead looking to create a beautiful experience for the customer when they receive and open their package. Additionally, she was looking for a single box that could be used to ship orders of just a single piece of jewelry and two pieces. Ultimately the package shown above was designed. All orders are shipped in this size box, and we have provided Lemonbug with two types of inserts - one for a single jewelry item and one for two jewelry boxes. The main box is a tab-locking style and made with e-flute. We used a simple "skirt" insert, with square cutouts that fit her jewelry boxes perfectly.
Modicum was looking for a way to ship five ceramic bottles, all 30 ml and 1 oz in weight. They were seeking protection with a sleek presentation. These custom box insert "skirts" have flaps that allow each bottle to fit snugly, while still allowing for a small amount of give in transit that will protect the ceramic from breaking if the box is thrown around. The tab-locking box and inserts are made with e-flute. For added protection, a custom fitted ½ inch sheet of corrugated bubble is laid at the bottom and the top of the box.