Custom Printed Tissue Paper Art Specs & Requirements
These guidelines serve as an overview of our tissue paper printing parameters. We have a real, live human review and proof your artwork prior to production. After your order is placed, you'll go through a proofing process with our design team to finalize logo size, placement, print direction, and color. Look out for your proof in the next 3 business days after your order is placed.
Lead time begins after final preproduction proof approval. Check out our current lead times here.
Contact us with any questions about our custom printing services and to learn more about advanced printing options; including continuous designs, metallic printing, and 3+ color printing.
Want to go fully branded with your packaging? Check out all of our custom branded packaging options for more info.
---

To ensure a clear, high-quality print, please send us your artwork in vector format with all fonts outlined and all supporting files embedded. PDF, AI, and EPS are our preferred choices, but we also accept SVG.
We require artwork to be in vector format so that we can scale designs to size without losing any detail. Raster images are typically pixelated and these pixels are visible in the final print.
For additional help, check out Vector vs. Raster in our Knowledge Bank.
We have a 25% print coverage maximum per tissue sheet to maintain the strength and integrity of our 100% recycled material. This means your design may not cover more than 25% of the tissue sheet - no flood coating, heavy ink coverage, or full bleeds.
We print on one side of the tissue sheet. Our 100% recycled material is translucent so the printed design is visible from the back with a softer look.
Please find our minimum baseline font sizes below. We cannot specify font size for every font.
Positive: 8 pt. (® and TM can be as small as 7.5 pt.)
Negative (reversed out): 9 pt.
For any art element, we require at least a 1 point stroke weight and a 1.5 point reversed out stroke weight as this is a plate manufacturing requirement. Any art element lower than this minimum may cause the plate to break or not print as intended.
Use a template to place and size your artwork exactly to your specifications. Use either your original artwork or your designed template as your art file when placing your order. All artwork must remain in the art boundary box.
Looking for guidance on your custom tissue design? Consider a clean and simple repeat of your brand logo. After your order and artwork is submitted, a member of our design team will confirm the following.
Design Direction A, B, C or D
Logo Size, Height or Width
Spacing between logos [default is 1.0"]
Spacing between rows of logos [default is 1.5"]
Angle of rotation, for direction 'A' or 'B', if other than 45° [default]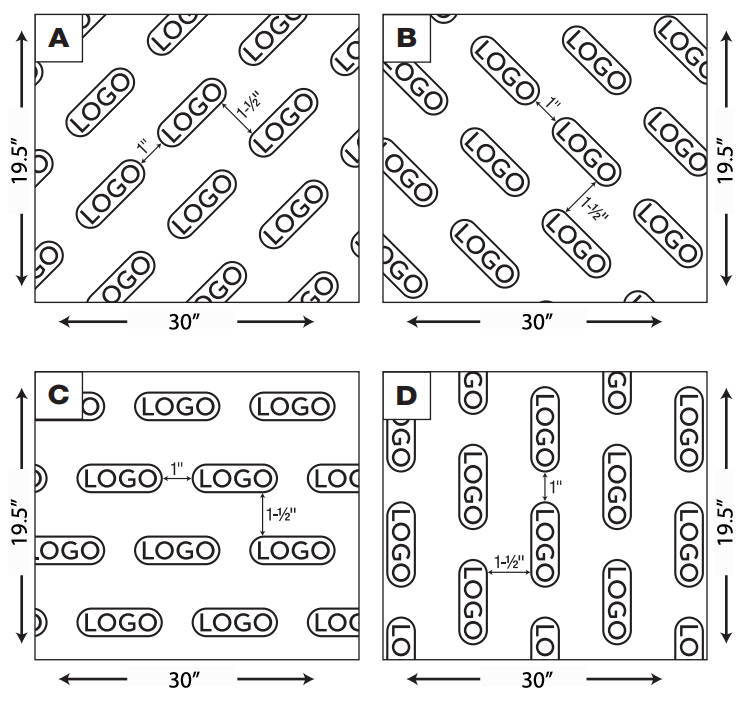 Scattered Repeating Designs
Interested in something a bit more complex? Consider a scattered repeating design. Please note the below specifications when designing your artwork.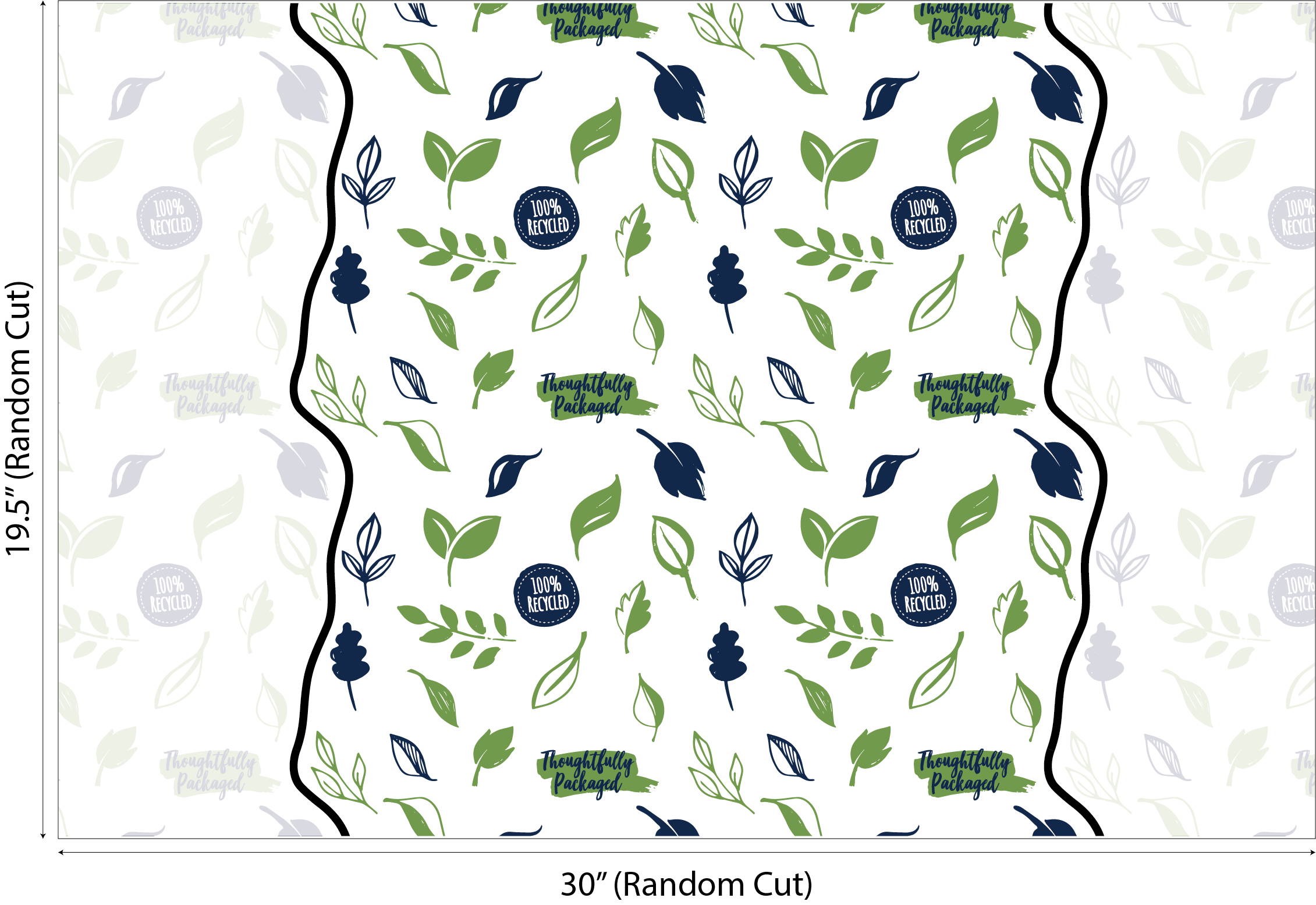 Scatter Prints:
All designs must be created as scattered repeating prints. Each tissue sheet is randomly cut so not every sheet is identical.
A minimum of 0.25" space must be present between all design components.
Repeats:
All scatter print artwork must form a repeating pattern. Our standard procedure is to make minor adjustments during proofing to achieve an existing cylinder repeat. The adjustments may include minor changes to logo size, spacing and design rotation.
Supplied artwork should be set up in a repeating pattern or must be adjustable to achieve repeating pattern. Our most common repeats are 15.0" 16.0" 17.0" and 18.0".
Plate Breaks:
All jobs will require a minimum plate break of .01875" (3/16").
We use flexographic printing with water-based inks and use the Pantone Matching System. During the proofing process, our design team will confirm your Pantone color. If a Pantone color is not provided, we will match the artwork provided as closely as possible.
Each printed color requires it's own printing plate and each plate is $200. This is a 1-time cost to create the plate for a particular design, so you will not see this cost again on reorders.
---
If you are new to tissue printing or have more questions, don't worry! Just contact us. We would be happy to review your design with you and share our experience and thoughts on how to make sure you turn your into a great print for your customers. And we will then work closely with you during the entire process - from art proof to the delivery of tissue to your door.