Video Packaging Tutorials
Video Packaging Tutorials
We pride ourselves on providing exceptional guidance and resources for eco-friendly packaging and sustainability. Our tutorial videos share quick tips and insights on many of our eco-packaging products and sustainable packaging solutions.
We are happy to answer any questions about our packaging solutions and services.
---
Unboxing the EcoEnclose Sample Kit
Not sure where to begin? Looking for a sampling of all our unique eco-solutions? We've bundled our favorite products into one delightful and convenient sample kit.
---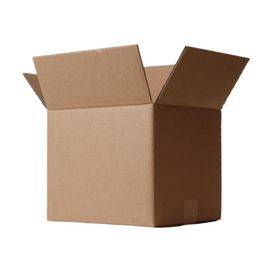 Corrugated Shipping Boxes
Available in a multitude of configurations, every EcoEnclose shipping box is customized to your specific needs so your unique products fit perfectly, creating an incredible unboxing experience for customers. Less empty space in your box means less void fill, if any, is needed.
Choose from a multiple of configurations to create the perfect shipping box for your business.
All Box Styles: How To Choose
EcoEnclose offers six shipping box styles, and each is fully customizable for material strength and size. Depending on your box style, you can choose from a range of currugate in strength and thickness.
This video discusses how to choose the best shipping box style for your business.
Flutes: Choosing Between B, C, and E Flute
Fluting is the middle layer of a corrugated sheet. They vary in two characteristics - height (which creates the thickness of the cardboard sheet) and how tightly or loosely they are waved or "fluted."
This video compares B flute, C flute, and E flute in different strengths.
Tab Locking Box: How To (And How Not To) Fold
Our boxes are shipped flat. Learn how to fold what you receive into a beautiful, eco-friendly shipping box.
This video also highlights common box folding errors - such as prefolding side creases and folding inside out.
OPF Box: When And How To Use
The One Panel Fold box is not that common, but it is actually a great structure for thin mailings, such as books, framed prints, books, and apparel. We use this box style frequently for our own shipments.
Learn more about how they look, how to size, and how to seal.
All Box Styles: How To Fold Your EcoEnclose Box
We offer 7 box styles here at EcoEnclose - Tab Locking, Literature Maielr, Regular Slotted Container, Five Panel Fold, One Panel Fold, Full Overlap Box - all of which are shipped flat to you.
This video quickly highlights how to fold each of our 7 box styles.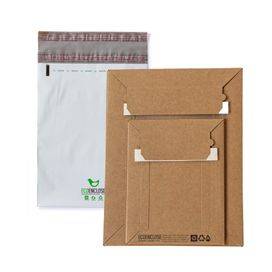 All EcoEnclose mailers are stylish, make for excellent presentation, durable, high quality, and easy to use in fulfillment. They are made from recycled content and are readily recyclable. Each mailer is the result of our quest to find the most sustainable option possible.
Choose from 100% Recycled Poly Mailers, 100% Recycled Paper Mailers, and 50% Recycled Bubble Mailers.
Poly Mailers: Everything You Need to Know
After countless conversations with eco-minded businesses, we've come to understand that people want some basic poly mailer guidelines.
This video answers your questions about selecting the right poly mailers for shipping clothes, soft goods, and more in a cost-effective and eco-friendly manner.
Paper Mailers: How To Pick The Perfect Mailer For Your Apparel
Looking for a poly mailer or a curbside recyclable and/or compostable mailer to ship apparel? We have got you covered.
This video reviews different options for shipping apparel, how to pick the best size mailer for your product, and the dos and donts of shipping apparel.
Rigid Mailers: Self-Seal vs Tab-Lock
Our rigid mailers are made from 100% recycled content and are curbside recyclable, but one is thicker and more rigid than the other.
This video shows how our self sealing rigid mailers differ from our tab locking version.
Poly Mailers: How To Pick The Right Size
It's hard to know how to match packaging sizes with products sometimes.
This video aims to help you visualize our poly mailer size options by pairing them with products you might ship in each.
Poly Mailers: How To Customize
Create an incredible customer experience with custom poly mailers. We offer post-production printing at low minimum order quantities, and offer a world of design opportunities via inline printing at larger quantities.
This video discusses our poly mailer custom printing capabilities and design process.
Poly and Bubble Mailers: How To Reuse
All of our poly mailers and bubble mailers feature a dual tear strip and peel and seal adhesive closure so the mailers can be reused for returns (or a second shipment).
This video shows how to open the mailer correctly in order to use the second seal.
Paper Mailers: How To Seal
100% recycled paperboard can be hard for adhesives to stick to because the paper fibers are much shorter than virgin alternatives. Often, strong pressure can overcome this barrier.
This video shows the impact of using a bit of pressure when sealing a paper mailer.
Padded Mailers: Using Traditional Labels Vs Hot Melt Labels
Some companies have struggled to find an effective label for Padded Mailers, which have the dual challenge of being an uneven surface and 100% recycled paper.
If you have experienced this challenge, this video shows how our
hot melt shipping label line
outperforms standard mailers on difficult substrates.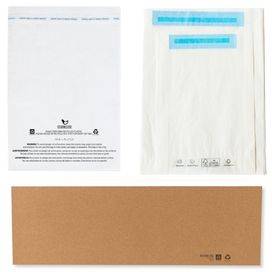 EcoEnclose offers three eco-friendly inner packaging solutions to help separate your goods, manage your wholesale supply chain, protect your goods in transit, and present your goods beautifully.
Choose from 100% Recycled Flap & Seal Poly Bags, FSC Certified Glassine Paper Bags, and 100% Recycled EcoBand Paper Product Wrap.
Guide to Sustainable Inner Packaging
Many brands are grappling with how to replace the ubiquitous virgin, clear poly bag. Extended Producer Responsibility is coming soon, which will push all companies to start rethinking virgin, single-use plastic.
This video discusses our sustainable replacements to the virgin poly bag.
Glassine Bags: Choosing Between Different Size
Glassine is a thin paper that is air, water, and grease resistant. It is made from paper, not fossil fuels, and is both recyclable and biodegradable.
This video helps you visualize our glassine bag size options by pairing them with products you might ship in each.
EcoBand Paper Product Wrap: How To Use
Looking for a plastic-free alternative to clear poly bags? Instead of placing apparel in a clear poly bag, EcoBand them - tightly roll your goods, wrap them recycled paper bands, and seal using
custom zero waste stickers
, tape, or hot glue.
This video shows EcoBand Paper Product Wrap in action.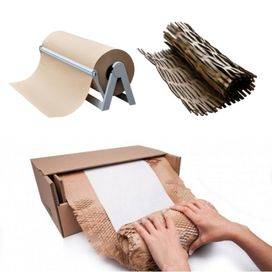 Protective Packaging & Void Fill
Thankfully, the world of protective packaging is no longer limited to virgin bubble wrap and plastic air pillows. EcoEnclose provides a variety of eco-friendly void fill solutions, protective packaging, and shipping accessories to meet your unique shipping needs.
Choose from 100% Recycled Packaging Paper, 100% Recycled Tissue Paper, 100% Recycled Ornament Paper Shred, 100% Recycled Corrugated Bubble, Biodegradable GreenWrap, and Flexi-Hex Air Sleeves.
Void Fill: Choosing Between Different Options
We offer a range of protective packaging and void fill options to meet the unique shipping needs of your business.
Here, we cover different use cases, options, and some tips and tricks to best present, and safely package your products.
GreenWrap: Comparing the Manual and Electric Dispensers
GreenWrap is a lightweight and affordable eco-alternative to plastic bubble wrap. EcoEnclose provides unique dispeners for medim to large-sized businesses. This video explains the difference between our manual and electric version.
Learn More: High Volume Void Fill - Renewable Protection
GreenWrap: How to Set Up and Use
The GreenWrap dispensar is built into its shipping box and is used to expand the outer layer of the GreenWrap.
This video shows you how to set up your dispenser, adjust the tension so your GreenWrap expands correctly, and our preferred method of using GreenWrap.
Corrugated Bubble: Three Ways to Use
100% Recycled Corrugated Bubble is a plastic-free alternative to bubble wrap. Made from shredded corrugated sheets, it is typically made out of the unusable portion of our corrugated sheets after they are cut into shipping boxes.
This video shows you three different ways to use corrugated bubble.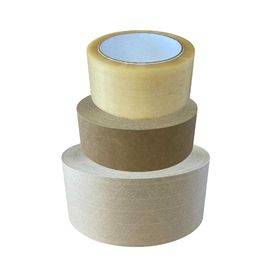 When making an honest crack at going green with your packaging, every transition adds up to a big difference. EcoEnclose offers several options in eco-friendly carton sealing tape. Whatever your needs and your budget, we have an earth-friendly solution for you.
Choose from Water-Activated Tape, Kraft Flatback Tape, and Cello Tape.
Water-Activated Tape Dispenser: Pull & Tear, Manual, Electric
We really love Water-Activated Tape. It is strong, secure, easy to use, and we find we can use less tape than pressure sensitive alternatives.
This video shows different ways to dispense Water-Activated Tape. Whatever your needs and budget, we have a dispenser to help make the switch to this tape.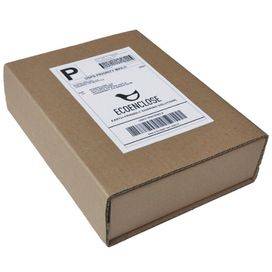 Custom Stickers & Shipping Labels
EcoEnclose is proud to offer the most innovative custom stickers and shipping labels on the market. Many are available on our unique Zero Waste Release Liner which is 100% recycled and curbside recyclable.
Choose from Zero Waste stickers in four facestocks, clear recycled stickers, and four shipping label options.
An Overview of EcoEnclose Custom Stickers
EcoEnclose offers two earth-conscious custom sticker lines for all your branding needs. Delivered on sheets, rolls, or as individual die-cut starting at just 250 stickers, our custom stickers and custom product labels are the perfect addition to any sustainable custom packaging strategy.
New and Improved Zero Waste Label Adhesive
These are the world's only shipping label with a release liner made with 100% post-consumer waste that is also curbside recyclable. In June of 2020, we released a new and improved adhesive that forms a permanent bond to 100% recycled paper and corrugate.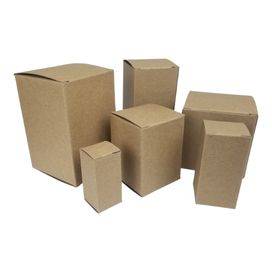 EcoEnclose 100% Recycled Retail Boxes are made from 97% post-consumer waste content. Strong, yet lightweight, and easy to assemble, retail boxes are ideal for retail and internal eco-friendly packaging.
Choose from six stock sizes. Customization available at larger quantities.
Retail Boxes: Product Overview
Our tuck boxes are made with 100% recycled content and are an ideal paper-based primary packaging solution for retail packaging. Customization available starting at 5,000 units and includes custom printing, cutouts, hang tags, and more.
This video highlights our stock retail box offering and available customizations.
Retail Boxes: Finding The Right Size
What size retail box do you need?
See how we match each tuck box with a common product to help you visual the differences and find the best one for your business.
Here at EcoEnclose, we pride ourselves on providing exceptional guidance and resources for eco-friendly packaging and sustainability. Our packaging strategy tutorial videos dive deep into different sustainability topics.
Guide to Bioplastics & Dissolvable Plastics
Biolasitcs is an emerging mateiral within the eCommerce packaging space. But how sustainable is it for eCommerce?
Here we discuss understanding biopolymers on the market, questions to ask when sourcing materials and making sense of the complex use cases of biopolymers.
Transitioning from Plastic to Paper Packaging
EcoEnclose has helped brands of all sizes successfully transition from poly to recycled paper packaging.
Guide to Reusable Packaging for eCommerce
EcoEnclose is thrilled to introduce reusable mailers to our sustainable packaging line to continue our mission.
Here, you'll see our
ReEnclose Mailers
in action, learn how they can be customized, and understand when reusable is better than single-use shipping solutions.