​Choosing the Most Sustainable Retail Boxes
Aug 3rd 2022
Choosing the Most Sustainable Retail Boxes
At EcoEnclose, our primary goal is to offer sustainable shipping supplies to eco-friendly brands, so you can be proud of how you ship. But many of our customers don't realize we also offer retail packaging solutions, including retail boxes and paper shopping bags.
When companies reach out about retail boxes, the conversation typically starts by discussing substrate options and moving into sizes and custom capabilities. At quantities starting at 5,000, we offer fully customizable box solutions - custom styles, inserts for product presentation, full-coverage CMYK printing, and more.
Most brands reach out looking for the type of sleek, pure white retail boxes they are used to seeing on shelves. But, unfortunately, these are typically made with bleached virgin paper - a material that runs counter to the eco-values of the conscious brands we serve.
If you are looking for retail boxes - stock or custom - read on for a breakdown of the three most common materials and our perspectives on which you should choose. Then, keep reading to learn more about what you can purchase quickly on our website and how we can support your custom retail packaging needs.
How to Choose Eco-Friendly Materials for Your Retail Boxes
Here are the three substrates used to make paper-based primary packaging.
[Avoid] Solid Bleached Sulfate (SBS): By far, the most common material used for retail boxes. Unfortunately, SBS is a virgin fiber paperboard made from bleached wood pulp. SBS also contains a clay mineral coated top surface.
It is a very versatile paperboard - medium density, with a low stiffness ratio that provides a lot of flexibility for design and construction, and is a nice printing surface. When companies reach out to us with example boxes they love and want to replicate, these are almost always produced with SBS. Many packaging providers push SBS - it is easy for them to work with, cheap, and readily available. We quickly explain that SBS runs counter to our sustainability framework. It is made with both virgin fibers and is heavily bleached. At EcoEnclose, we work very hard to avoid virgin tree fibers (yes, even when they are sustainably certified). Protecting our world's forests is the most straightforward and most powerful step the world can take to help reverse climate change. SBS is the primary material in retail packaging worldwide. This material demand brings heavy demand to the logging industry, which drives them to log into ancient and endangered forests.
Note that a few products we offer - GreenWrap and Glassine Bags - contain virgin tree fibers because manufacturers can only achieve the tensile strength needed to produce these products with virgin fiber lengths. We are actively looking for ways to make these with recycled content.
Regarding retail boxes, the functional advantages offered by the virgin fibers of SBS are not nearly as valuable. Nothing in the production, converting, printing, or use of retail packaging requires the long fibers of virgin paper. Because of this, brands must produce their retail boxes with recycled fibers! Which brings us to…
Another alternative: SUS (Solid Unbleached Sulfate): has more strength and rigidity than SBS. You are used to seeing this in soda and beer carry boxes and cereal boxes. Not very common for D2C primary packaging applications.
[Optimal] Tan Bending Chip (TBC): Tan bending chip (TBC) is made with unbleached, 100% recycled kraft board. This material is the most environmentally friendly substrate for retail and jewelry boxes. For this reason, EcoEnclose uses TBC for our stock retail boxes. When brands reach out seeking custom designs and printing on retail boxes and need 5,000 or more units, we always start our structural development and quoting by using TBC as the material. TBC has an earthy, unpolished finish which aligns very well with the brand aesthetic of many eco-friendly brands. Companies can print on this material beautifully; however, the finish of the printing is not shiny or polished.
Some companies we work with decide they want a sleeker finish and print than what TBC can offer. Which brings us to…
[When Smooth Printing Surface is Needed] Clay Coated Newsback (CCNB): Clay coated newsback is a paperboard material coated with white kaolin clay on the side to be printed. This clay coating provides a smooth finish for a sleek printing finish. CCNB is typically left natural on the opposite side, leaving a brown or grey kraft, somewhat rough finish. CCNB is curbside recyclable, even with the clay coating. The paperboard within CCNB can be made with up to 100% recycled, and any CCNB projects EcoEnclose works on have this level of reclaimed material. However, it is important to note that CCNB is typically bleached on the front side (the side with the clay coating). Because of the bleaching and the clay coating, EcoEnclose only works with CCNB on one-off projects for brands that feel it is crucial for their packaging to feature a sleeker, more polished printing finish than what can be achieved with tan bending chip.
Another alternative: CCKB (Clay Coated Kraft-Backed): a stiffer and heavier duty board than CCNB. We don't often see a need for this in our projects.
[Avoid] Coated Paper: Occasionally, brands reach out asking for coated paper. Often, these are food brands whose products may be greasy and need a basic barrier. Other times, brands are simply seeking some moisture protection. We do not offer coated paper solutions as they are generally not essential for the D2C brands we serve. Coatings are typically made with polymers or paraffin and often contain PFAs (a toxic chemical for the planet and human health which is slowly being banned worldwide. These additions render packaging unrecyclable (and uncompostable). If waterproofing is essential for your paperboard primary packaging needs, EcoEnclose may not be the right partner for this project. As you navigate your options, ask for clarity around PFAs, source material, and end-of-life, and seek out recycle-friendly options wherever possible.
Our Recommendation: Whether you work with EcoEnclose or not on your retail packaging, we encourage you to choose a 100% recycled, recyclable tan bending chip! It is the most ecologically friendly and circular option. If you determine that your business has a strong need for polished exterior printing, move to a CCNB instead, but look for options in which the paperboard is made with 100% recycled fibers.
Stock or Custom: What Are Your Options for Product Boxes?
If you are looking for less than 5,000 units, we strongly recommend stock retail boxes - ideally ones offered by EcoEnclose if one of our sizes aligns with your product!

These boxes are 100% recycled, made with 90% post-consumer waste, and are available in 6 sizes. They are made with 0.24" tan bending chip and are quick and easy to assemble. Many brands we work with use stamps, labels, and twine to ensure they have a sharp presentation.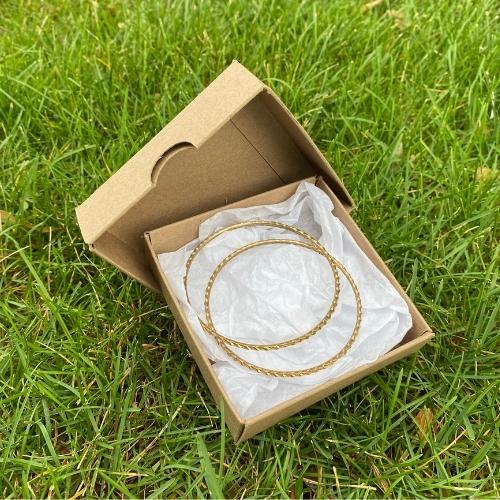 We are excited to announce our stock and custom jewelry boxes! Unlike standard jewelry boxes, these are made with 100% recycled paperboard and ship flat to minimize excess air. Click here to learn more about this offering. We are launching with only one size, so please let us know if other sizes interest you. Shop our entire line of jewelry packaging here.
Looking for something custom? If you are interested in 5,000 or more units, we offer fully customizable retail boxes made from tan bending chip or clay-coated newsback.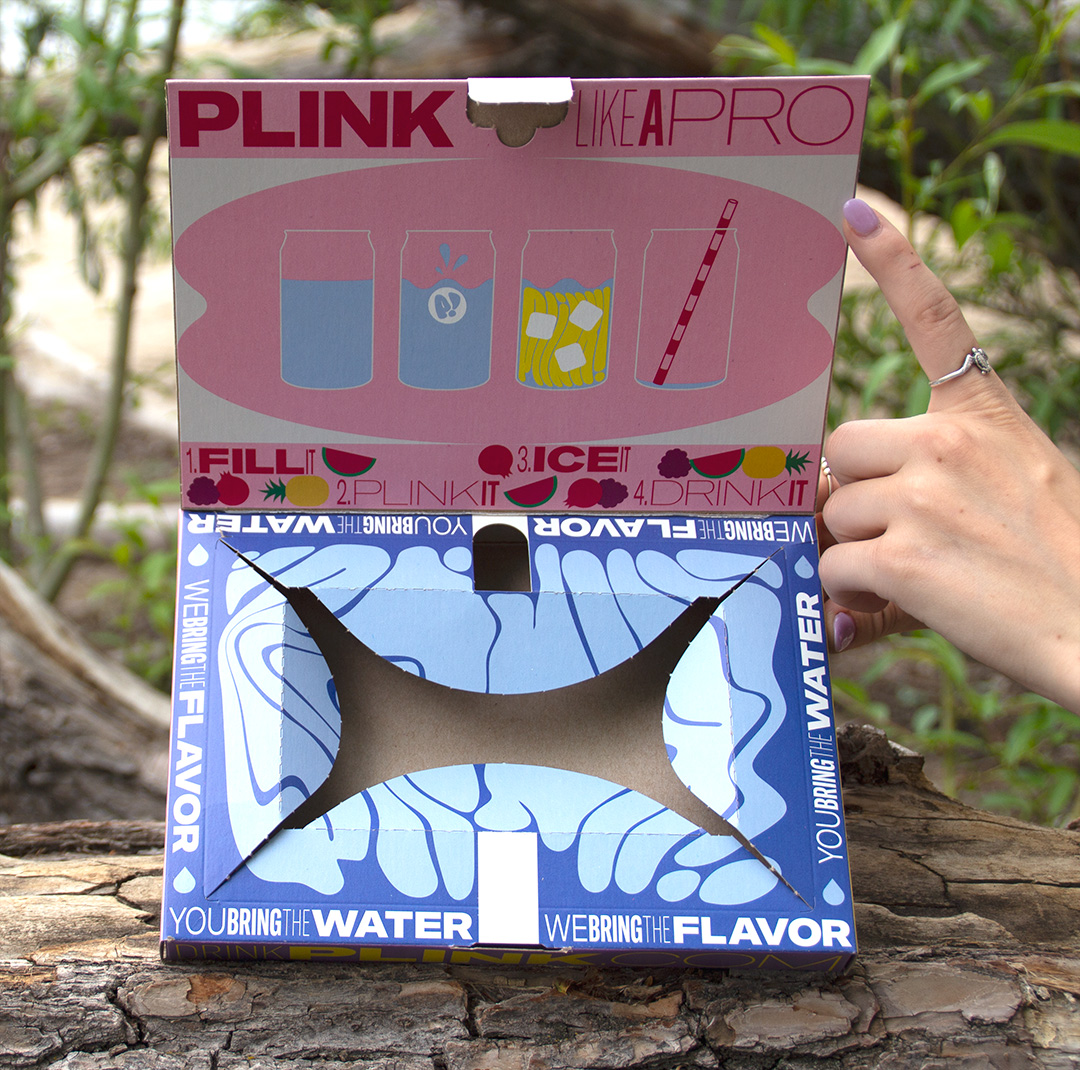 Custom Structural Design: We will work with you to develop the right packaging design and an associated dieline based on your products and the customer experience you want to achieve.
Board Type and Strength: We start most projects with tan bending chip (100% recycled, 90% post-consumer waste), but depending on the needs of your brand, we may move to white exterior CCNB. Our CCNB uses 100% recycled paperboard, of which 35% is made with post-consumer waste. These boxes can be as thin as 18pt and as thick as 36 pt paperboard. Thinner stock means less source material is being used, but thicker stock is often required to provide structural strength and integrity.
Custom Printing: Boxes can be printed with full coverage in full color. The print will be applied to a kraft background when using tan bending chip, which is the most sustainable material. When using clay-coated newsback, your print surface will be white.
Windows and Other Add-Ons: If you're looking for windows, handles, gable tops, etc. - we have you covered! We generally recommend avoiding plastic additions unless they are critical. Recycling facilities can recycle boxes with plastic windows (like spaghetti boxes), but the plastic is skimmed out of the pulp and landfilled.
Interested in a custom retail box project and looking for 5,000 or more units? Contact us today!