Custom Poly Mailers: Are They Right For My Brand?
Jun 30th 2021
What do we mean by custom poly mailers? For EcoEnclose, this means our 100% Recycled Poly Mailers, custom branded with your design and logo to create a more personalized and exciting customer experience.
Market research on ecommerce packaging is clear: customers want their shipments to come in sustainable packaging and really appreciate custom branded packaging. Combining the two - with Custom Printed 100% Recycled Poly Mailers means you hit both of these preferences in one package! Here are some beautiful examples of custom poly mailers done right!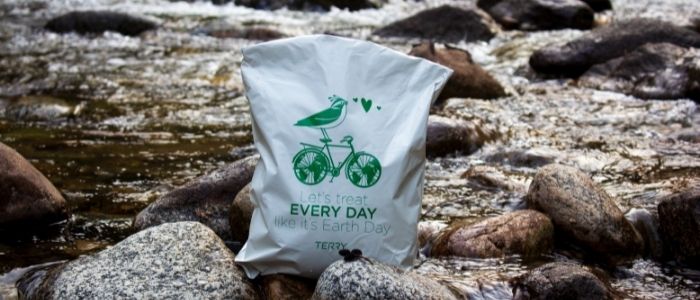 But that doesn't mean custom poly mailers are the right decision for every business! Some companies may find that paper mailers work better for their needs. Others may love these poly mailers, but don't want to (or can't) customize them because of quantity or budget constraints.
The first step is to decide if eco-friendly poly mailers are best for your business.
How to decide if poly mailers (and ideally, 100% recycled poly mailers) are best?
Poly mailers are an excellent shipping solution for apparel, backpacks, textiles and other soft goods. We've seen some businesses use them to send books that can withstand a little bit of wear and for products already packaged in sturdy boxes.
They don't work well for things like cosmetics, jewelry, vitamins, or anything remotely fragile.
Read more: Shop By Use Apparel, The Definitive Guide to Poly Mailers
The second step is to determine if it makes sense for you to go with custom branded mailers
or stick with stock mailers (or potentially to use eco-friendly stickers to give your mailers some flair).
This decisions should be driven by three main questions:
Can you order at the minimum order quantity?
Are you comfortable with the added price of custom branded packaging?
Are you comfortable with the higher lead times of custom branded packaging?
At EcoEnclose, our minimum order quantity for custom branded poly mailers is 500 (or one case, if a case is more than 500).
Branding your poly mailers costs an additional $0.15 per mailer (before any volume discounts are applied). The first time you order printed mailers, you will also pay for your art plate, which starts at $50. We store this plate for all of your future orders.
Finally, custom mailers have a higher lead time than stock mailers. While most of our stock orders ship within 1-2 business days, our custom poly mailers have lead times of more than 6 weeks. Because of this, branding your mailers requires more advanced planning. If you really want to brand your packaging but need your packaging ASAP, consider ordering stock poly mailers to tide you over until your branded mailers arrive.
Read more: Custom Branded Packaging, Custom Branded Mailers
If you decide to go with branded poly mailers...the third step
Is to determine whether to go with post production printing (which starts at minimum order quantities of 500) or to go with in-line printing (which starts at minimum order quantities of 25,000).
The vast majority of the customers we work with go with Post Production printing. The minimums are much more reasonable and the lead times are much shorter.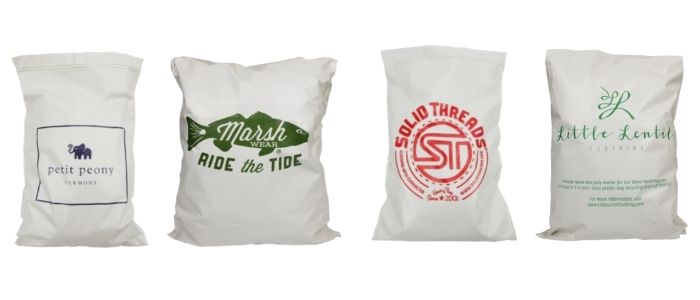 We believe you can get absolutely wonderful, branded packaging through the post production printing process, in which our already formed mailer bags are printed using a flexographic printer. These prints are single color, using eco-friendly water based inks.
Larger companies that need 25,000 or more poly mailers should consider inline printing, in which the 100% recycled film is printed and then converted into poly mailers. With inline printing, you have more printing options (including multiple colors, flood coating, and full bleed prints) and mailer customization options (including wickets, unique sizes, thinner or thicker film, etc).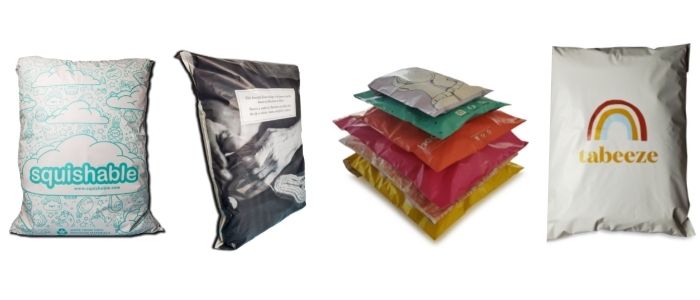 Read More: High Volume Capabilities, Minimum Order Quantities - What They Are, Whey We Have Them