How to Choose the Best Custom Mailers for Your Brand
Posted By on Oct 16th 2023
Market research on eCommerce packaging is clear: customers want their shipments to come in sustainable packaging with gorgeous branding. Combining the two with custom-printed 100% recycled mailers means you hit both preferences in one package.
Whether you want the lightweight durability of recycled plastic mailers, custom shipping bags for clothes, inline mailers, or more, we have all the custom mailer options that your customers will love to unpack.
Because packaging is so important, especially in eCommerce, there are a lot of decisions that you need to make before you land on the right mailers for your brand. We're here to help. Here are some steps to choosing the right custom mailers for your company and why we believe custom eco-friendly mailers are right for every business.
1. Determine which mailer is right for your business
When choosing a mailer, you need it to reflect your brand's values while protecting your products most cost-effectively. It should be easy to use, nice to look at, and, ideally, good for the planet. That's a lot to ask from a simple mailing bag.
Let's look at some of our eco-friendly mailing bags and what they're best for.
100% recycled poly mailers
Recycled plastic mailers are probably your most cost-effective option for soft or durable goods. Because they are made of plastic, they are lightweight, sturdy, and waterproof, ensuring they can handle travel wear and tear.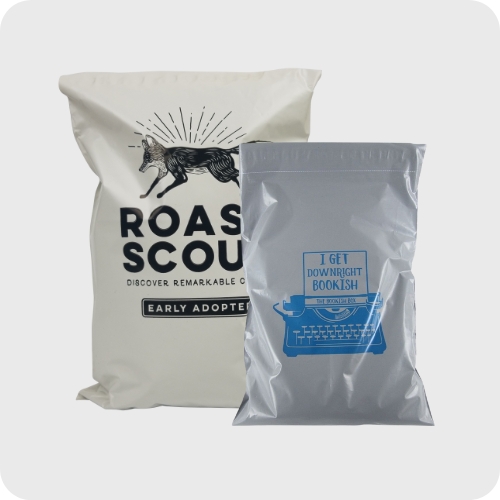 | | |
| --- | --- |
| Best for soft and durable goods: | Not ideal for fragile items: |
| Apparel | Jewelry |
| Backpacks | Cosmetics |
| Textiles | Vitamins |
| Durable books | Glass |
| Boxed items | Artwork |
Although plastic is a highly useful material, it can be harmful to the planet. That's why our poly mailers are made of 100% recycled materials—50% post-consumer, 50% post-industrial. This contributes to the circular economy and keeps plastic waste from landfills. They allow you to reap all of the benefits of plastic while protecting the planet by rescuing plastic materials. It's a win-win!
Learn more about eco-friendly plastic mailers here.
100% recycled paper mailers
While 100% recycled, recyclable poly mailers are a great sustainable packaging solution, we also know that many companies are trying to move away from plastic, or at the very least, are reconsidering their relationship with plastic. This trend shows how many companies are trying to be more thoughtful in their packaging decisions.
Our paper mailers are made of 100% recycled materials, much of which is rescued post-consumer waste diverted from landfills. This makes them a fantastic option for businesses looking to minimize their plastic footprint.
We have a few different paper mailer options to fulfill your needs. All are available for customization for just 500 units.
If you're debating between poly mailers and paper mailers, consider this: our 100% recycled paper mailers are more circular (100% recycled, high levels of post-consumer waste, curbside recyclable) than poly mailers. However, 100% recycled poly mailers are much more cost-effective and have a significantly lower carbon footprint.
Learn more about our paper versus plastic mailers here.
2. Decide whether you want your mailers customized
Although custom mailers can go a long way to elevate your brand, they cost more than sticking with generic mailers (and perhaps decorating them with eco-friendly stickers).
Three main drivers should determine the choice between custom eco-friendly mailing bags and stock options: minimum order quantity, cost, and lead times.
At EcoEnclose, our minimum order quantity for custom-branded poly mailers is 500 (or one case if a case is more than 500).
Branding your poly mailers costs an additional $0.15 per mailer before any volume discounts are applied. The first time you order printed mailers, you will also pay for your art plate, which starts at $50. We store this plate for all of your future orders.
Finally, custom mailers have a higher lead time than stock mailers. While most of our stock orders ship within 1-2 business days, our custom poly mailers have a fluctuating lead time ranging from 4-6 weeks. Because of this, branding your mailers requires more advanced planning. If you want to brand your packaging but need your packaging ASAP, consider ordering stock poly mailers to tide you over until your branded mailers arrive.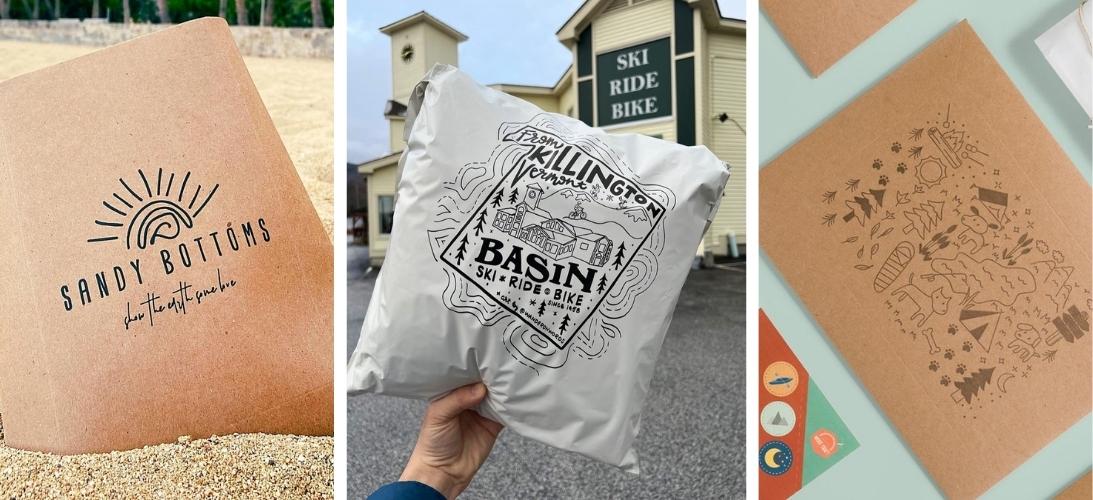 Why is custom packaging important?
If the cost and logistics aren't enough to sway you in either direction, perhaps the benefits of custom packaging will.
In an interview with McKinsey, Amcor CEO Ron Delia emphasizes the customer's "moment of truth" when opening a package from an eCommerce company:
"In promoting the product, it needs to be compelling in that moment of truth when the consumer opens the outer shipper because they're not faced with a wall of on-shelf presentations. They're opening the box, and that's where the moment of truth comes."
He says this moment of truth is more important for eCommerce companies than other channels. The unboxing experience is a customer's first physical impression of the company. If it's poor, they may not return.
Besides offering a fantastic first impression, here are other benefits of custom packaging design:
Cultivate a luxury unboxing experience.
Emphasize your branding, potentially improving customer loyalty.
Tell your sustainability story by sharing the details of your eco-friendly mailing bags.
Educate customers on how to recycle your custom mailers, engaging them in your sustainability journey.
Create an unforgettable experience that your customers want to share.
Is custom packaging worth it for retailers?
The short answer is yes. Custom packaging is often worth it for retailers.
According to Fortune Business Insights, the custom packing market is expected to grow by over 5% over the next seven years. It's believed that the driving factors of this growth come from a rising demand for attractive packaging that reflects the company's brand. This indicates that custom packaging is becoming less of a luxury and more of an expectation, especially when shopping online.
3. Choose the type of custom branding you'd prefer
Now that you've decided that custom mailers are the right choice for your brand, you'll need to determine whether to go with post-production printing (which starts at minimum order quantities of 500) or inline printing (which starts at minimum order quantities of around 25,000).
The vast majority of the customers we work with choose post-production printing. The minimums are much more reasonable and the lead times are much shorter.
We believe you can get wonderful, branded packaging through the post-production printing process, in which our already-formed mailer bags are printed using a flexographic printer. These prints are single-color, using eco-friendly water-based inks.
Larger companies needing 25,000 or more mailers should consider inline printing, in which the 100% recycled film is printed and then converted into poly mailers. With inline printing, you have more printing options (including multiple colors, flood coating, and full-bleed prints) and mailer customization options (including wickets, unique sizes, thinner or thicker film, etc.).
Read more: High Volume Capabilities, Minimum Order Quantities - What They Are, Whey We Have Them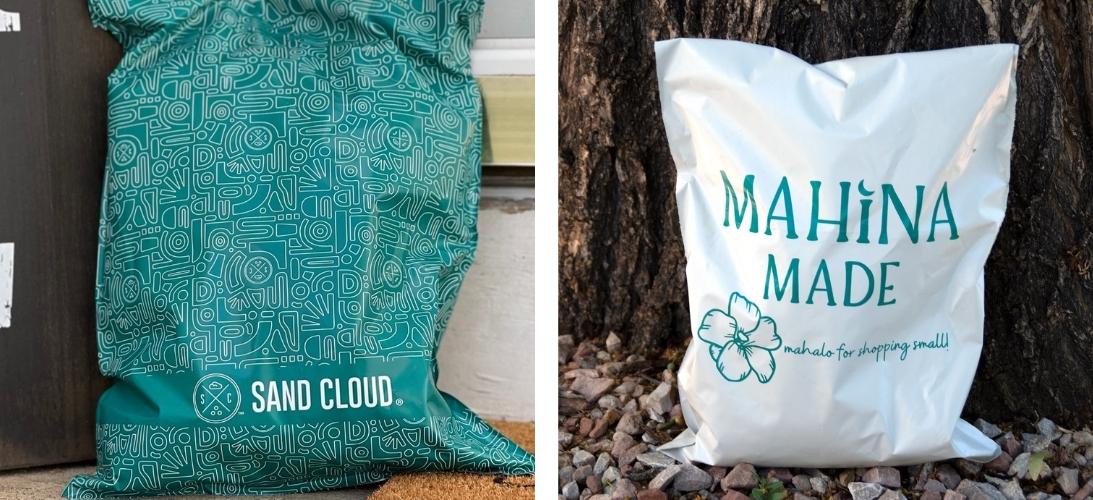 4. Finalize artwork for your custom-branded mailer
When placing your branded mailer order, whether it be post-production or inline printing, you'll need to provide artwork in vector format. We require artwork to be in vector format to scale designs to size without losing any detail. Raster images are typically pixelated, and these pixels are visible in the final print.
For post-production printing, we have a variety of stock and custom colors available for an additional cost. Designs are limited to one-color prints within an art boundary box in the center of the mailer.
For inline printing, full edge-to-edge floodcoats are available, as are designs that reach the edge of the mailer. A maximum of seven Pantone colors can be included in the design. There is also the option to remove the EcoEnclose branding from the mailer itself.
Read more: Post Production Mailer Artwork Guidelines, Inline Mailer High-Volume Capabilities
5. Start your order
Are custom mailers right for you? Start your order today!
What to expect after your order
We have a real, live human review and digitally proof your artwork before production. Look out for your final preproduction proof in the next business day after placing your order.
Once you have reviewed your digital proof and approved your custom ink swatch samples (if applicable), your order will move to production, where it will be printed and shipped within applicable lead times. Find our current lead times here.
If you have any questions regarding the custom-printed mailer process, please contact us. We are happy to help!
Standard Post Production Printing - Contact Us Here