​Ten Lessons From the Sustainability Goals of Leading Brands
Posted on Sep 1st 2021
Ten Lessons From the Sustainability Goals of Leading Brands
I love learning what different businesses of all sizes are up to when it comes to sustainability. In fact, my favorite part of running EcoEnclose is reading the websites, stories and ecological goals of the companies we get to work with every day.
Recently, I did a review of the sustainability goals and strategies of nine global ecommerce companies - Nike, Adidas, Amazon, prAna, Patagonia, Allbirds, Veja, Etsy and Dr. Bronner's.
The first thing that struck me in my review was that these brands - as diverse as they are in their business models and core values - are all attempting to take on climate change in a meaningful way. Gone are the days of performative strategies of simply purchasing offsets or installing solar panels and calling it a day. This is a positive ray of hope amidst a year of tough climate events.
The second thing I noted was that while each brand's goals were unique, there were a variety of common threads and several shared categories of approaches.
In this post, we share ten trends and insights that emerged in our review of these different sustainability plans. These insights are helping us more thoughtfully shape our 2022 and longer-term eco ambitions and sustainability framework. We hope you find these equally valuable.
Sustainability Can Be Foundational To A Brand Or One Priority Within A Larger Business Strategy.

Some brands profiled (Dr. Bronner's, Patagonia, prAna) have rooted their entire business in sustainability and ethics. These companies are the most likely to become Certified Benefit Corporations, which are required by their stakeholders to balance both profit and purpose. But the majority of companies out there did not set out to tackle the environment as their core purpose. The eco plans of these companies (Nike, Amazon, Adidas) show how they are waking up to the fact that their long-term success will be shaped - in part - by how seriously they take the climate crisis and how aggressively they set their sustainability goals.

Data-Driven Goals Vs Frameworks And Initiatives.

Companies we profiled fall into two camps: (1) those that establish a multifaceted roadmap with comprehensive and clear numeric targets and (2) those that embody of a philosophy of sustainability and innovation, which leads to a variety of forward thinking initiatives. Brands that have made sustainability core (Patagonia or Veja for example) seem less likely to have complex, multifaceted, quantified roadmaps. Instead they seem to rely on their core values and ethos to orient their teams towards climate action. Companies like Nike, on the other hand, for whom sustainability is one of many priorities seem more likely to tackle sustainability with a detailed plan and a variety of formal targets.

Laser Focus On Specific Ecological Issues Vs Tackling Everything.

Adidas has made recycled plastic the center of its sustainability strategy. Allbirds is committed to making each product carbon neutral. Etsy has focused on becoming carbon positive. Companies like Nike and Dr. Bronner's, on the other hand, took a broader approach, highlighting many different sustainability issues equally across their plan and communications.
Eight Categories Of Strategies Are Most Common.

Most companies include one or more of eight different categories in their sustainability priorities: (1) Reducing carbon emissions (and becoming carbon neutral or carbon positive), (2) reducing waste, (3) sourcing recycled content and/or regenerative materials, (4) protecting lands and biodiversity (soils, waters and habitats), (5) eliminating harmful substances and materials, (6) fostering an inclusive workplace, (7) treating workers with dignity and respect, and (8) advocating for policies that support equity and sustainability.

Existing Frameworks And Policies Are Valuable Guides.

Most companies we profiled have drawn from the research and thinking that has already gone into the Paris Agreement, the United Nations Sustainability Goals, and/or the GHG Protocols. For example, several companies have set goals of being carbon neutral by 2030 or 2040 (this concept aligns with the Paris Agreement, which pushes countries towards carbon neutrality by 2050). Several considered the 17 UN Sustainable Development Goals, and some - like Nike - even tied targets to specific UN Goals. Finally, many businesses adopt the GHG Protocols approach to carbon accounting, which considers scope 1 (direct), scope 2 (indirect from generation of purchased energy) and scope 3 (other indirect) emissions.

Three Common Approaches To Sustainable Packaging.

Three approaches to packaging include circularity (packaging made with recycled content and is readily recyclable, and in some industries could include reusable packaging), plastic-free (elimination of plastics and synthetics from packaging), and curbside recyclable (packaging accepted by most curbside programs). Brands like Patagonia, Dr. Bronner's and prAna are particularly thoughtful about their packaging, recognizing nuances that are easy to gloss over. For example, they openly comment on the fact that curbside recyclable is a minimum baseline (rather than an ambitious eco strategy). Additionally, they recognize that while going plastic-free can be a good step, it is not ecological to replace this plastic with even more damaging bioplastics or virgin, non-sustainable paper. An "elimination" strategy without thoughtful assessment of alternatives is simply not enough and can lead to poor decisions.

Absolute Reductions And Goals Vs Per Unit Reductions.

Several companies we profiled recognized that while absolute impact reductions are essential to the planet, this approach does not take into account drastic business growth. Companies like Allbirds and Amazon have therefore adopted per unit (i.e. per product or per dollar in revenue) measures of impact. Allbirds' approach is particularly inspiring - they have set a goal that each of their products is carbon neutral by 2030. This has led them to conduct a stacked footprint analysis of each of their lines to identify the biggest opportunities for change.

Many Companies Are Joining Collaboration And Pacts.

It is inspiring to see how sustainability fosters unexpected levels of collaboration among entities that typically see themselves as competitors. And the sheer number of pacts and collaborations is incredible - Amazon's Climate Pledge, prAna's Responsible Packaging Movement, the Outdoor Industry Association's Climate Corps, The Fashion Pact, and the Science Based Targets Initiative are just a few of the countless initiatives out there. At EcoEnclose, we've seen that while collaborations help foster community and get industries rowing forward together, they do not replace the hard work required to make businesses more sustainable and ethical.

Certifications And Third Parties Are Particularly Valuable.

We are often asked if "certifications and third party audits are critical?" Our analysis of companies' sustainability efforts reinforces our typical response: the more global and disparate your supply chain, the more that certifications can help you ensure you are achieving your ethical and sustainability goals. EcoEnclose works with domestic manufacturing plants that we visit regularly and sources largely recycled content. Companies like ours may not have as urgent a need for third party certification. Companies like Patagonia and Nike, who work with hundreds of plants across dozens of countries and manage thousands of SKUs, will find certifications valuable. At this scale, certifications like Global Organic Textile Standards (GOTS), Fair Trade Certified, Responsible Down Standards are essential to making sure the product being sold meets the claims being made. We have also seen that, regardless of certifications, consumers still want transparency, particularly around working conditions. Consumers want to know where things are made, how much people are paid and what kind of benefits they have.

Pushing Downstream Through The Supply Chain (And Upstream To Customers).

Companies like Amazon, Walmart, and Target create a lot of their positive change by setting standards and asking or demanding that their merchants and suppliers meet these standards and switching to new suppliers when these demands can't be met. This type of approach means that sustainability goals may be met more quickly. However, we much prefer the collaborative approach that companies like Dr. Bronner's take, working alongside their suppliers as partners, helping them adopt more ethical and more sustainable practices. Additionally, brands are now becoming more thoughtful about "upstream consumption" and how their customers are using products and packaging. For example, apparel brands are pushing customers to wash less and with cold wash only and soap brands are asking customers not to use too much product or water.
We hope these insights and the below profiles help you reflect on your own sustainability vision, and - as you look to 2022 and beyond - create a plan that will enable your business to become a true force for positive environmental change. Looking for more resources?
---
Nike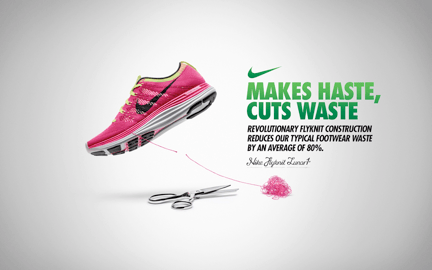 Summary: Sustainability is not foundational to Nike's brand, but is growing in its importance to the company's business strategy. Nike has a comprehensive, multi-faceted 2025 sustainability plan, with 29 separate targets that span many issue areas ranging from water usage to inks to the materials used in their footwear and apparel to working conditions. They heavily focus on both third party certifications and industry pacts. One area Nike has doubled down on is in investing in women - in sports, in their factories and indigenous communities, and in their workforce.
Read More: Nike's 2020 Impact Report and Nike's Climate Action Portal
Nike's website describes their "Move to Zero", their journey towards zero carbon and zero waste to help protect the future of sport. They also have broader areas of impact, which include labor practices, diversity and inclusivity.
Earlier this year, Nike made the bold move of announcing that executive compensation will, for the first time, be tied to achieving 2025 diversity and sustainability targets. Of all the company's profiled here, Nike was the only one who has made a public statement like this.
This announcement came alongside the release of their 2020 Impact Report, which outlined their twenty-nine impact targets for 2025, which include:
Women represent 50% of corporate workforce
Racial minorities in 35% of corporate workforce
Greenhouse gas emissions are reduced by 70 percent in Nike-owned facilities
100 percent renewable energy in facilities in the US and Canada
10x increase in the amount of product waste recycled or donated, among other goals.
100% of strategic suppliers are building world-class, safe, and healthy workspaces for the people making our products
25% reduction in freshwater usage per kg in textile dyeing and finishing
Nike has put together a great website dedicated to showcasing and sharing progress on their sustainability-related efforts.
Additionally, Nike has made dozens of commitments and pacts, including the Fashion Pact, Sustainable Cotton Challenge and the Science Based Targets initiative (a partnership between CDP, WRI, WWF and the UN Global Compact).
Some outside entities have flagged skepticism about Nike's impact, but they have also highlighted the science-based and ambitious nature of the company's goals. Associations like Good on You have suggested that Nike can do more to be transparent about its factory wages worldwide to ensure living wages are paid. Additionally, while Nike is working to minimize plastic packaging in their business, they have not yet made a public commitment to ensure its natural fibers are not derived from ancient or endangered forests.
---
Adidas
Summary: Sustainability is not foundational to the Adidas brand, but is growing in its importance to its business strategy. While Adidas has a broader set of sustainability targets that encompass a myriad of issues, it is clear that circularity and using recycled plastic has become their #1 focus, with a goal of using 100% recycled plastics.
Read More: Adidas Sustainability Initiatives and Commitment to End Plastic Waste

It is a miss to profile Nike without also talking about the sustainability measures adopted by their main competitor - Adidas.
The Adidas Group's stated sustainability priorities include mitigating climate change by reducing their carbon footprint, innovating materials and processes, improving water quality and efficiency, chemical management and environmental compliance.
However, the Adidas brand is currently focused almost entirely on ending the plastic waste problem. In fact, their sustainability statement is "Plastic Waste is a Problem. Innovation is Our Solution." They are focused on using 100% recycled polyester by 2024, and have partnered with Parley for the Oceans to source ocean plastic waste for their shoe collection.
With this lens of tackling the plastic waste problem, Adidas has a Three Loop Focus - the recycled loop (using recycled materials and eliminating virgin plastic), circular loop to ensure products sold have multiple lives, and regenerative loop to create materials and showed in harmony with nature.
While plastic pollution is clearly Adidas' number one concern, they do have broader commitments such as sourcing all energy from renewable sources, removing virgin polyester from their products, and reducing the company's overall carbon footprint by 30% by 2030.
Adidas receives slightly more positive feedback than Nike from corporate critics about their impact goals and strategies. However, Adidas does need to make progress in ensuring their manufacturing workers are paid a living wage.
Additionally, I was struck by the fact that information related to sustainability and innovation on Adidas' site leads customers directly to products to purchase, perhaps missing an opportunity to invest and educate their visitors on their eco practices and why they matter.
---
Amazon
Summary: Sustainability is not foundational to Amazon's business strategy but, after employee protests in 2019, the company seems to have made the environment a real priority, with the establishment of the Climate Pledge and the goal of being climate neutral by 2040. Their main metric is their emissions per dollar of sales. Often, their sustainability strategies (like Frustration Free Packaging and Naked Packaging) are the ones that save materials and money. Their focus has been more on emissions than on labor conditions within their warehouse or across their merchants' supply chains.
Read More: Amazon's 2020 Sustainability Report
I'll be honest that Amazon isn't my favorite company (whereas all of the companies profiled are ones whose values I respect and generally share). I believe their core business model drives a convenience and price-obsessed ecommerce culture that makes it difficult for customers to see and appreciate the unique value of an impact oriented brand. Too often, I've seen friends complain that companies aren't doing enough for XYZ issue, and then turn around to buy every item they want in life via Amazon, buying with the lowest priced vendor each time.
But I also believe no sustainability review of the ecommerce space could be complete without insights into Amazon. And, with their scale and resources, Amazon can certainly make a big impact.
In 2019, Amazon faced a barrage of criticism from its workers about the company's persistent failure to address climate change. After the PR debacle that ensued, Amazon has made what seem to be real and significant changes to their sustainability strategy.
Amazon's site now states that "as their mission to be Earth's most customer-centric company, we are committed to building a sustainable business for our employees, customers and communities." They have established their Climate Pledge, an initiative to achieve net-zero carbon emissions by 2040, which is 10 years earlier than the Paris Agreement's 2050 goal. 100 companies, with annual revenues of over $1.4 trillion, have signed onto the initiative, including Best Buy, Verizon, and Microsoft. As part of this pledge, they have joined the Science Based Targets Initiative (SBTi), to help them set science-based emissions reduction targets. Like many companies in high growth mode, they consider the absolute tons of carbon they generate and carbon intensity (GHG emissions per dollar of sales). So, while their business grew significantly in 2020 and emissions grew 19%, they did find that their overall carbon intensity decreased 16%.
Additionally, as part of the Climate Pledge, they have developed the Climate Pledge Friendly certification for products that meet specific sustainability standards. More than 75,000 Climate Pledge Friendly products are on the marketplace today.
Similar to Nike, Amazon has documented priorities across several different areas of sustainability. On the packaging front, Amazon is focused on Shipment Zero orders (orders that can be shipped in the product's primary packaging and that are delivered in electric vehicles) and Frustration Free Packaging. Amazon has invested in over 200 renewable energy projects to help achieve its stated commitment of powering 100% of its operations with renewables by 2025.
While the progress since the 2019 employee protests related to climate change, there is a lot that seems dark about Amazon's ethics in particular. The company did not pay anything in federal taxes in the US last year (which is made even more ironic by the fact that the US government has awarded Amazon massive public purchasing contracts). Their warehouse conditions are notoriously difficult, with workers subject to grueling schedules and expectations. And while they did raise their wages to $15 / hour, this change came after significant public backlash and requests.
In general, it is difficult to properly comment on the goals and investments being made by a company that generated $118 billion in global sales last year, and whose founder is worth almost $200 billion dollars. Any investment they make seems massive and amazing. But they also have tremendous ability to make much more significant investments in the planet and its people (while still retaining dramatic profits). Additionally, even with their nominal investments in sustainability, it is clear to any of their customers, merchants, suppliers, investors and website visitors that bottom level pricing, efficiency and convenience are far more important than any actions that would support sustainability and ethics.
---
prAna (owned by Columbia Sportswear)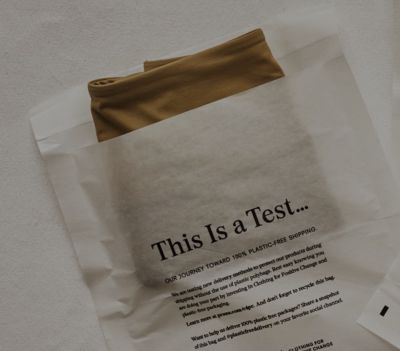 Summary: Sustainability is core to prAna and has been since its inception with a tagline of "Clothing for Positive Change." From the beginning they have been discerning about the fabrics they source and the ethics of their supply chain. More than other brands profiled here, they have made packaging - and replacing plastic with responsible natural fibers - core to their sustainability strategy. Additionally, they are uniquely committed to engaging consumers, partners and competitors in their efforts, as shown by their Responsible Packaging Movement and how they seek feedback from customers.
Read More: prAna's Sustainability Commitment and Initiatives
In contrast to the massive companies profiled thus far, prAna is relatively small when considered as an independent entity within Columbia.
While they seem to have set goals and standards around many aspects of sustainability, prAna (and sustainable brands of similar sizes) seem to take a more focused approach in how they innovate and communicate their efforts.
For prAna, the highest priorities are largely on materials - eliminating "bad" materials; innovating to make materials less harmful and, over time, net positive; and establishing circularity within their materials. They have rejected rayon, invested in Tencel and hemp, prioritized organic cotton, and pursued FSC® certified fibers. They have set the thoughtful packaging goals of eliminating plastic and sourcing only recycled or sustainably produced natural fibers.
Alongside their focus on materials innovation, prAna keeps labor conditions, their supply chain and the climate (with a goal of reducing greenhouse gas emissions 30% by 2030) front of mind as well.
Additionally, despite its relatively smaller size to other major athletic and outdoor apparel brands, prAna is a leader in building collaborations that help make the entire industry more sustainable. Their Responsible Packaging Movement is an initiative to bring together fashion brands and key nonprofits (5Gyres and Canopy) who want to improve the sustainability of their packaging. They are also a founding member of the Outdoor Industry Association's Climate Action Corps.
---
Allbirds
Summary: Allbirds was founded on the vision of utilizing wool for footwear, which hadn't previously been done. While sustainability was part of its inception, materials innovation, design simplicity and comfort were more foundational. Regardless, Allbirds has set ambitious "per shoe carbon neutrality" goals and taken an innovative and analytical approach to achieving it, and are a great example for other brands to learn from.
Read More: Allbirds' Sustainability Progress and Future Commitments
Allbirds has adopted a 'Cradle-To-Grave' accountability plan. Specifically, the company has aggressive sustainability commitments for 2025 and 2030, including a 50% reduction in its per-product carbon footprint in 2025 that expands to a near-zero per-unit carbon footprint by 2030. These goals translate to a science-based target to reduce absolute scope 1, 2, and 3 emissions by 42% by 2030.
The company has identified 10 specific quantitative 2025 commitments that they believe are essential to achieving these ambitious goals.
Regenerative Agriculture:
100 percent of Allbirds's Wool will come from regenerative sources
100 percent of Allbirds's annual on-farm emissions from wool will be reduced or sequestered
Renewable Materials:
75 percent of materials used in Allbirds products will be sustainably sourced natural or recycled materials
Allbirds will reduce the carbon footprint of its raw materials by 25 percent
Total raw materials used by Allbirds will be reduced by 25 percent
Double the lifetime of Allbirds's footwear and apparel products
Responsible Use:
Source 100 percent renewable energy for "owned and operated" facilities
Source 100 percent renewable energy for Tier 1 manufacturing partners
Achieve a steady state of >95 percent ocean shipping
Reach 100 percent of customers machine washing on cold and 50 percent of customers hang-drying Allbirds apparel
Allbirds has taken a truly data and science driven approach to achieving its inspiring carbon emissions goals. Most companies set their target and then identify opportunities across their business to make reductions. Allbirds has taken a product-centric approach.
They looked at each "product's carbon footprint broken down across the phases of materials, manufacturing, transportation, product use, end of life, offices and retail stores...and just started shaving that bar down by saying: What if our wool was all regenerative agriculture? What if our factories ran on 100% renewables? What if our customers were washing and drying our product less often? How much would each of those things contribute to a reduction in our carbon footprint?"
This unique approach was made feasible because they have such a strong focus on data collection and knowing the impact of each product and the factors that drive this impact. They also have a relatively limited set of SKUs and a fairly narrow and well contained supply chain.
---
Patagonia
Summary: Sustainability is foundational to Patagonia's business, with their vision of building the best products that cause the least amount of harm. They are a Certified Benefit Corporation. They have a handful of ambitious carbon neutrality and circularity goals, and a plethora of materials innovation to their name. They have also driven extensive collaboration within their industry and set a new standard for brand activism.
Read More: Patagonia's Annual Benefit Corporation Report
Dissertations can and have been written on Patagonia's contributions to environmental sustainability and commerce. Their mission to build the best products that cause the least amount of harm has guided their strategic decisions from their very early stages.
As expected, Patagonia has clear and ambitious goals around carbon neutrality and materials circularity.
By 2025, we will be 100% carbon-neutral across our entire supply chain. We will do this by reducing our footprint, investing in impactful renewable projects and purchasing certified carbon offsets.
By 2025, all our apparel products will be made from 100% recycled, reclaimed or renewable resources.
By 2025, our packaging will be 100% reusable, home compostable, renewable, or easily recyclable.
By 2030, 100% of the cotton and hemp fiber used in our line will be Regenerative Organic Certified (ROC).
They have also spearheaded and invested in a variety of recycled and sustainable materials innovations, ranging from NetPlus Recycled Fishing Nets to Recycled Wool to Recycled Cashmere (in fact, 87% of their current line is made with recycled materials).
And like many progressive outdoor and fashion brand, they share information on their supply chain and their workers' wages.
Ultimately though, what sets Patagonia apart is (1) their ardent and unapologetic environmental activism, which has birthed the concept of "activist brands" and (2) their willingness to walk the talk, with initiatives like "Don't Buy This Jacket", 1% For The Planet and becoming the first Certified B Corporation. They also recognize and embrace the importance of industry wide collaboration.
Additionally, when Patagonia does find themselves called out for unethical practices, they have a history of addressing these attacks head on. Almost a decade ago, Four Paws criticized Patagonia for their unethical sourcing of down. Soon after, they adopted the Responsible Down Standard, working in partnership with Four Paws to do so.
---
Veja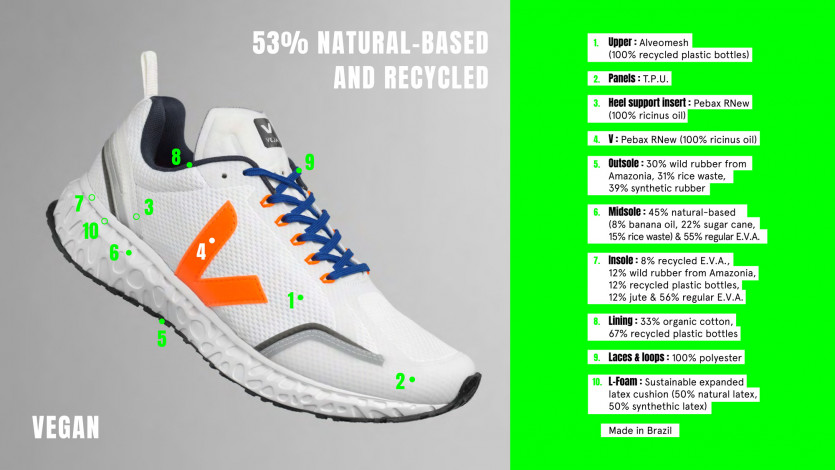 Summary: Sustainability is foundational to Veja's inception. While most brands profiled have a global and complex supply chain, Veja has staked its operational strategies in a far more localized set of Brazilian partners and this more narrow scope has allowed them to invest heavily in the sustainability and working conditions across their supply chain. Instead of quantitative, complicated sustainability goals, Veja seems to simply be committed to making eco-minded choices at every corner.
Read More: Veja's commitment to the planet, people and transparency
Veja is a French shoe brand founded on values of transparency, organic materials and fair trade sourcing. While they are a thoughtful and sustainable brand in the same industry as Allbirds, their approach to the environment does differ.
Allbirds took a deeply data driven approach to make step by step improvements that will minimize per unit carbon emissions. Veja, on the other hand, seems to have built its entire business from the ground up centered on a vision of ethics, transparency and the environment.
Veja is a shoe company founded in 2004 that sources and produces all of their shoes in Brazil. With vegetable tanned leather, recycled plastic bottles, vegan shoes, and tilapia leather, Veja is rooted in sustainable materials. They source and manufacture their raw materials locally, creating good jobs in rural Brazil and building a powerful grassroots community. Veja publishes a complete map of its manufacturing, spinning and weaving facilities, which are all located in Brazil. Final assembly of their shoes takes place in a single factory that has been a partner to the company since 2005. They pay living wages and publish their wages, set up retirement plans for workers, ensure decent working hours, and pay their raw materials suppliers fairly.
According to Veja, the cost of producing one of their shoes is five times as high as their competitors, due to all these factors.
While Veja's commitment to ethical business and sustainable materials is clearly core to who they are, it is notable that they don't have carbon emissions goals (or similar quantified goals in other environmental areas).
---
Etsy
Summary: Though sustainability was not core to the founding of Etsy, the company has always been rooted in people and impact, with an inspiring mission to "Keep Commerce Human." So it isn't surprising that when the company began to focus on sustainability, they did so with authenticity and depth. For example, in 2019 they became the first ecommerce company to offset carbon emissions from their marketplace's shipping, recognizing that shipping was 75% of the company's carbon footprint. The ecological commitments they announced earlier this year show that Etsy has taken a highly quantitative approach to sustainability, has rooted their efforts in reducing carbon emissions and achieving net zero carbon by 2030, and has focused on scope 3 emissions (of their sellers) more than most companies of their size and scale.
Read More: Etsy's Impact Reporting Site
Etsy's sustainability goal and efforts seem, in many ways, more cohesive and clear than so many other companies of its size - the company is laser focused on carbon emissions above all else (though their plan does recognize their unique role as a marketplace for thoughtful shoppers and the emerging importance of zero waste).
With that lens, they have sought to follow the protocol of the Science Based Targets Initiative. Specifically, they aim to have the following impact:
1. Achieving best-in-class sustainable operations by sourcing 100% renewable electricity, reducing the intensity of our energy use, and running zero waste operations.
Continue to source 100% of Etsy's electricity from renewable sources.
Achieve a 25% reduction in the intensity of Etsy's energy use by 2025.
Maintain zero waste across global operations for Etsy.
Run zero waste operations at Reverb by 2025.
2. Achieving Net Zero by 2030, and run a carbon neutral business now.
50% absolute reduction in Scope 1 and 2 greenhouse gas emissions by 2030.
13.5% absolute reduction in Scope 3 greenhouse gas emissions by 2030.
Offset 100% of measured Scope 1, 2, and 3 greenhouse gas emissions annually.
3. Establishing our marketplaces as destinations for sustainably-minded shoppers and conscious living.
By 2021, define a key performance indicator and establish a baseline for marketplace sustainability.
While these are the future goals, Etsy has had an impressive track record already in their goal of reducing their carbon footprint.
For example, they achieved their 2020 goal of sourcing 100% of electricity from renewable energy. They invested in 404,737 verified emissions reductions that protect forests, sponsor wind and solar farms, and help develop greener methods for producing auto parts. They were zero waste for three years, diverting over 90% of waste from the landfill. They were the first ecommerce company to offset shipping emissions, ensuring their sellers ship carbon neutral.
Check out their Integrated Annual Report for more detail on their targets, their progress and their vision for the future.
---
Dr. Bronner's
Summary: Sustainability, activism and humanity has been foundational to Dr. Bronners since the castile soap first started being sold almost 70 years ago. Accordingly, they do not have complex and in-depth sustainability metrics and targets. Instead, they have six fairly simple, surprisingly varied, but hugely inspiring principles that guide their actions and impact.
Read More: About Dr. Bronner's
One look at a bottle of Dr. Bronner's soap and you know you are contending with an activist brand for whom sustainability and ethics are core to everything they do.
In fact, the soap company started as a side hustle for Emanuel Bronner who was selling peppermint castile soap while calling on communities to embrace the goodness and unity of humanity.
Today, almost 70 years later, Dr. Bronner's - another Certified B Corporation - continues to use its products as a platform to fight for and financially support causes they believe in: regenerative agriculture, fair trade, animal advocacy, industrial hemp, drug policy reform, and living wages among others.
They refer to themselves as the "fighting soap company." While many long standing and large brands extensively document their specific impact goals and progress, Dr. Bronner's takes a refreshingly engaging and inspiring approach: 6 Cosmic Principles that drive the company's work forward.
Unsurprisingly, these principles are described with just as many exclamation points as you'll find on those distinctive Dr. Bronner's labels.
Work Hard! Grow!

Number one in Dr. Bronner's Moral ABC: Work hard! Prosper! Learn, grow, improve. Success is the engine that makes everything else possible.

Do Right By Customers.

First ingredient: love! Lead with heart, take time, give best—serve customers as you would serve mother-daughter-son.

Treat Employees Like Family.

Be kind, reward generously, support good and healthy living. Seek and encourage the best in one another. For whatever unites us is greater than whatever divides us! 100% free health care for employees and their families—5 to 1 cap on executive salaries—yearly bonus of up to 10% of salary for full-time employees—10% of salary in profit-sharing.

Be Fair To Suppliers.

Build relationships with organic farmers and producers to create equitable supply chains. Fair prices for farmers, living wages and excellent working conditions for workers, investment in communities, respect for land and people!

Treat The Earth Like Home.

Make humble and mindful use of the earth's gifts. Do not waste, do not harm the land or people or animals. What comes from the earth must go back! Regenerative organic farming projects—soil enrichment and tree-planting programs—100% post-consumer recycled packaging—aggressive waste and water-use reduction—yes!

Fund & Fight For What's Right!

Be an engine for positive change—share profits, share talent, share muscle, share voice—give & give, fund & fight!