The Anatomy of a Memorable Holiday Shipping Package
Sep 30th 2019
The Anatomy of a Memorable Holiday Shipping Package
In 2018, shoppers delivered the strongest holiday sales increase for U.S. retailers in six years. Overall, U.S. consumers spent over $850 billion last holiday season, according to Mastercard. With the rise of ecommerce and positive consumer sentiment, online shoppers are taking the time to discover new brands - including yours. And, it means this season is a chance to delight not one, but two, customers in one purchase.
For e-commerce brands, the shipped package represents the most direct touchpoint with a customer. It's also one of the most underused marketing opportunities at your disposal. This means that the holidays are the perfect time to revamp your packaging experience in ways that showcase your brand, build a following, and help you turn holiday sales into loyal customers.
The shipped package
Consider the following when designing your package:

Telling your brand story
Giftability
Returnability
Sustainability

Components of an ecommerce package:

Outer package
Inner package
Information and inspiration
There are three components to a shipping package:
The outer shipping package
The inner packaging experience
Information and brand inspiration
When developing your strategy for all three, consider the following important characteristics:
Are you telling your unique brand story?
Are you making it easy to gift in ways that preserve that brand story?
Is the product easy to return or exchange?
Are you maintaining your commitment to the environment?
Is the packaging going to effectively protect your goods in transit?
Let's explore the art of packaging — one component at a time!
THE INNER PACKAGING EXPERIENCE
Focus on: Giftability, telling your brand story, sustainability
The average American shopper purchases about 16 gifts in 2018, totaling an average of $846 in spend on gifts. No doubt a large portion of transactions on your site are likely to be gifts in Q4! Consider asking customers at checkout if their order is a gift, and then beautifully wrapping their order up in advance.
Imagine opening that package during that crazy holiday season and finding the product already wrapped for you! For some of us, the gratitude for those fifteen minutes saved can go a long way in building customer loyalty.
When designing the gift wrap:
skip gaudy bags that scream "I ordered this from Amazon!" (where efficiency trumps all else)
Use simple, elegant recycled kraft paper or consider a Japanese Furoshiki style with a reusable wrap.
Use raffia or hemp twine for an added touch.
Consider adding a branded notecard or letter for the recipient, as a way to introduce or reinforce your brand and story to the recipient.
This strategy does add time and resources to your packaging strategy. However, for some companies, especially those that sell premium products and have an exceptional brand story to share, this approach may be just the right way to capitalize on the unique holiday season.
THE INFORMATION AND INSPIRATION
Focus on: Returnability, telling your brand story, sustainability
Returnability: An estimated 30% of ecommerce orders are returned, a number that only increases during the holiday season. 92% of customers would shop with a brand again if they make returns easier. Think about how complicated the return process can be for a gift giver (you have to find out that your recipient wants to return or exchange the gift, then get the return paperwork and shipping labels for them, or get the gift back, make the exchange and get them the updated product). It annoys everyone! Make it easy with a return label and instructions included in the package itself.
Ecommerce companies often have a unique story - how they got started, how they source and manufacture their products, and how they serve their communities. Communicate your origin story and relevant information through intentionally designed notecards and in-package resources.
OUTER PACKAGING
Focus on: Functionality, returnability, telling your brand story, sustainability
Whether using a box or mailer, you'll want to ensure the packaging protects the entire inner packaging experience you've developed - it needs to fit, have the right level of strength and be adequately sealed.
Make sure this packaging represents your commitment to sustainability, with a package that is properly sized, made with ecofriendly and recycled materials, and can be readily recycled. Beyond that, custom brand your packaging and add holiday flair to set yourself apart from the array of nameless RSC boxes everyone sees on their doorstep on holiday. Eco-friendly custom boxes and mailers make a great first impression.
Bonus points if your outer packaging can be used to return or exchange your products (and if that is the case, make sure your customer knows so they can keep it for that purpose).
EXAMPLES AND WHY WE LOVE THEM
Beautifully organized and packaged. The entire package can be gift wrapped and gifted to the recipient!
We love how this company uses 100% recycled tuck boxes (with hemp twine and lavender) to gift wrap their products (and then places these in shipping boxes to send).
Obsessed with this wax stamp! It is an easy way to add some pizazz to the unboxing experience.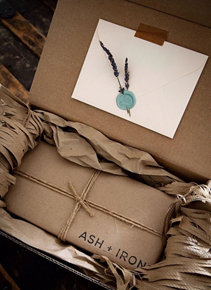 This packaging is epic! Ash + Iron has gift-wrapped their product in 100% recycled kraft paper (finished with hemp twine) and then used ornament shred to protect their packaging in a shipping box. The package is gifting-ready, and the shipping box is returnable!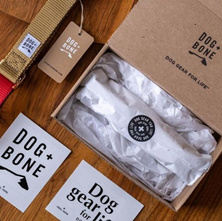 LOVE this Dog + Bone package that incorporates post cards and stickers to reinforce the brand story. Everyone loves stickers!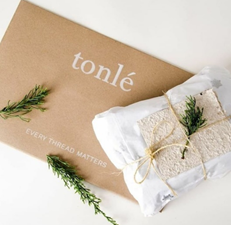 This is an incredible tonle package that checks all the boxes! The inner package is gift-ready with 100% recycled tissue paper, seed paper, twine and a sprig of pines. The outer packaging is a gorgeously branded 100% recycled kraft paper.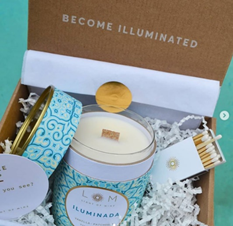 We love how this entire package can be gifted, and the incredible candle has a bonus set of matches and notecards included that reinforce the unique and premium candle brand.
What a simple and powerful way to convey a brand's unique story! This note card can be used by a gift giver to reinforce for their recipient why they purchased from this particular brand.