Avoid These Unsustainable Holiday Packaging Options
Oct 12th 2021
Avoid These Unsustainable Holiday Packaging Options | EcoEnclose
With holiday shopping around the corner, you're likely getting your shop ready for the rush, and investing in packaging options and accessories that will help your brand stand apart! Check out our unique line of Holiday Packaging Options and our Holiday Packaging Guides Across Industries, to help you get started. As you make decisions, we urge you to avoid the following common packaging solutions, and opt for more eco-friendly alternatives instead.
Replace Holiday Shopping Bags with 100% Recycled Shoppers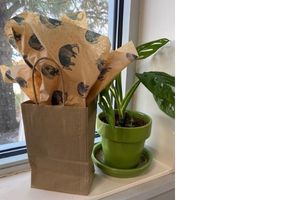 Yes, they are beautiful, but these printed and often foil lined bags are typically made with virgin content whose source is unknown (and could easily be drawing from our precious ancient and endangered forests). Additionally, because of their foil stamping, coatings and heavy printing, many of these bags are either unrecyclable or create challenges for paper pulpers after they are recycled.
Stick with 100% recycled paper shoppers instead. These are curbside recyclable and we think they can be made even more beautiful and brand aligned than the bags they are replacing. Add adornments like pine cones, leaves, stamps, twine and other accessories that can help these bags showcase the thoughtful and eco-conscious brand you have established.
Replace Traditional Wrapping Paper with 100% Recycled Packaging Paper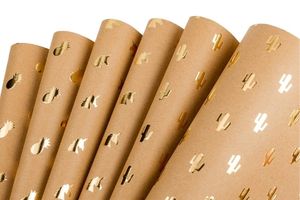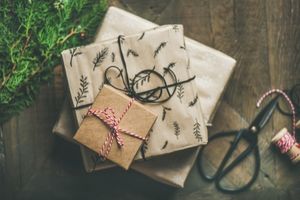 Traditional wrapping paper is chock full of heavy inks, clay and other coatings, and foil lined adornments. Wrapping paper is sometimes recyclable and sometimes not, and it is hard for a gift recipient to make that distinction. We love seeing companies use 100% recycled packaging paper as wrapping paper. It gives a gorgeous kraft look that can be enhanced with stickers, stamps, and decor.
Replace Virgin White Boxes and Crinkle Cut Paper with Tuck Boxes and Ornament Shred

White boxes are typically made with virgin content, often of unknown origins. Additionally, crinkle paper (while often made from recycled content) can't be recycled in many municipalities because when shredded paper gets wet, it gums up the recycled materials sorting process. Even though crinkle paper is compostable (in areas where it isn't recyclable), when crinkle paper is one solid color, it means it contains high amounts of ink which will introduce contaminants into the composting stream. Stick with tuck boxes and ornament shred instead.
Replace Ornate Holiday Cards with Simple Recycled Notecards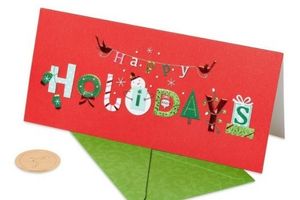 These holiday card may look cute, but they are typically made with virgin content and contain high levels of ink and foil, making them either unrecyclable or challenging for paper pulpers. Replace them with simpler, 100% recycled cardstock options that are lightly printed with a message of love and joy this season. Or, use blank or custom branded 100% recycled notecards (which are actually 100% post consumer waste!) and handwrite your own messages.
Replace Foil Lined Retail Boxes with Recycled Alternatives

If your products aren't competing on a retail shelf to gain market share from products alongside it, you can probably skip the ornate foil lined retail boxes that help differentiate you at the point of purchase, but are an unnecessary use of resources for customers who found and purchased from you online. Replace these shiny packages with 100% recycled tuck boxes or other simpler paperboard boxes. Custom branding, stickers, stamps, twine, and notecards can help you make these more elegant boxes stand out and showcase your eco values.