Eco Customer Spotlight: TomboyX
May 16th 2021
Eco Customer Spotlight: TomboyX
One of the privileges of running EcoEnclose? The awe-inspiring companies we get to work with and learn from every day.
While it would be impossible to give each of them their due, we are thrilled to be launching our Customer Spotlight series, where we'll profile one incredible customer every two months - showcasing the company's unique brand values, sustainability strategies, and lessons that we can all take away from their experiences.
TomboyX: Wear You Belong
It is an honor to profile TomboyX in our first Company Spotlight!
At the surface, TomboyX is an apparel and underwear brand, but at closer look, it is so much more. TomboyX has become both a movement and a community, in addition to a novel apparel company, for its customers.
TomboyX's company mission: "creating a revolution of unapologetic self-acceptance of who you are and who you're unconditionally meant to be. We are for every body. Our brand promise is to help you feel comfortable in your own skin and to be unapologetically you - all day, every day."
We had the opportunity to sit down with TomboyX founder Naomi Gonzalez and Head of Product, David Moss, to learn more about how they got started and how they've managed to balance their astronomical growth with a continued commitment to their ethics and core values.
How it all started: A business built in response to their customers
While the business they run today looks very different from their original vision, it is so clear when talking to Noami Gonzalez and Fran Dunaway that the company's spirit is actually very much the same - creating apparel that gives people a voice and connection, and that allows them to be seen and heard for the first time in an otherwise homogeneous and restrictive fashion landscape.
"Fran just wanted a cool button down shirt" Naomi recounts. From this initial search, TomboyX was born- with the chosen moniker Tomboy because the term was one both Naomi and Fran identified with, as did many of their friends. In February 2013, they launched a successful Kickstarter campaign, where they exceeded their funding goal of $75,000. While fulfilling these first Kickstarter orders, they discovered that it was the name - Tomboy - that held the main appeal for their first customers. "People felt like they were being seen and heard for the first time. In a way, it almost didn't matter that we were selling a shirt, we were really selling connection."
As they continued with the company, Naomi - managing customer service at the time - kept hearing from customers who were frustrated by the lack of boxer briefs for women on the market. "A quick Google of 'Boxer briefs for women' led to…Spanx - definitely not what we or our customers were looking for. It was clear then that there was a lot of white space in the market."
They got to work on the concept and, with basically no working capital, made the smart decision to presell their first batch. They sold out in two weeks- well before the product inventory came in from their contracted Vancouver factory. In six months, they tripled their boxer brief revenue, realized the product was a critical piece of their business, and eventually phased out the button downs completely.
Though TomboyX has grown tremendously since those early days, their commitment to customer feedback is as strong today as ever.
They field customer surveys to gauge their community's needs and experiences with their products. They meticulously tag every single customer support request that comes in, reviewing trends to see if broader issues need to be addressed. This attention to their customer is not just a "business strategy" but is just who they are - a company born from the desire to create a brand of inclusivity, and that gives true voice to customers who haven't found connection and representation from mainstream fashion brands.
From Bootstrapping to Acceleration
TomboyX grew gradually, moving from fulfilling orders from Naomi and Fran's one car garage to eventually their own warehouse. After X months / years of this organic, self funded growth, they happened upon Mergelane (yes, those absentminded Twitter scrolls sometimes do lead to cool discoveries!) Mergelane is the leading venture fund, investing in high-growth startups with at least one female leader [add a little bit more here - i.e. how many businesses they've worked with, any other well known ones, etc]
Fran started filling out the application and, as so many founders do, quickly got pulled away by another priority.
Lucky for them (and for all of us!), Sue Heilbronner at Mergelane pinged them back, encouraging them to finish the application! Once completed, an intensive three month stint with the accelerator followed in early 2015, during which they went back and forth between Washington State and Boulder, Colorado preparing for their launch- honing their business plan, sourcing vendors, and learning the ins and outs of marketing their product suite.
They credit this experience with so much of their growth today. Through mentorship and the peer to peer support from others in their cohort, they honed in on their message and brand promise, learned how to pitch to outside funders and negotiate a term sheet, and eventually, how to scale their business.
They forged connections with their branding agency, suppliers and factories. In fact, these connections led to the evolution of their original name "Tomboy" into "TomboyX," with the X so beautifully capturing everything their brand stands for - an apparel company that fits who people are, not what other brands tell them to be. They believe fashion should be inclusive and that everything you put on your body should make you feel good, exactly as you are. Their brand promise is to help you feel comfortable in your own skin, and to be unapologetically you- all day, every day.
Naomi and Fran credit a lot of the drastic acceleration they experienced after 2015 to Mergelane, specifically the community and connections gained through the program. The experience not only connected with them funding, it also shifted their strategic thinking about how they run their business. For example, it became clear that delegation and specialization would help them be better at what they wanted to do - build an inclusive apparel brand. So they moved fulfillment to a great 3PL partner in 2016, allowing them to focus more on design, sourcing, branding and building their team.
Sustainable Business Takes a Village
"We built our entire business predicated on a social mission: to help ensure people felt seen and heard for who they were. We were never out there to show people how to be cool. You are cool as you already are- let's tell your story" Namoi recounts.
"It always pissed me off seeing plus sizes and then having to click a separate link to access these options, rather than these sizes simply being a part of the normal product line. We wanted to make sure that this sense of othering was never part of TomboyX. This is where our values lie. So we made it our mission to make sure everything we offered was available in XS to 4XL from the start, and available at the same price. Accessibility was core, size ranges were core."
With this mindset of people and ethics central to everything they were doing, building sustainability into the product and packaging was never even a question. "Sustainability wasn't really an option for us. It is who Fran and I really were from the very beginning."
EcoEnclose came up as a sustainable packaging partner (recommended by the branding agency we worked with through our Mergelane experience in Boulder). They loved that the recycled poly mailers could be used for returns, which meant extra material and waste wasn't needed for return shipping. Since then, they've expanded their packaging portfolio with EcoEnclose to include beautifully-printed shipping boxes, as well.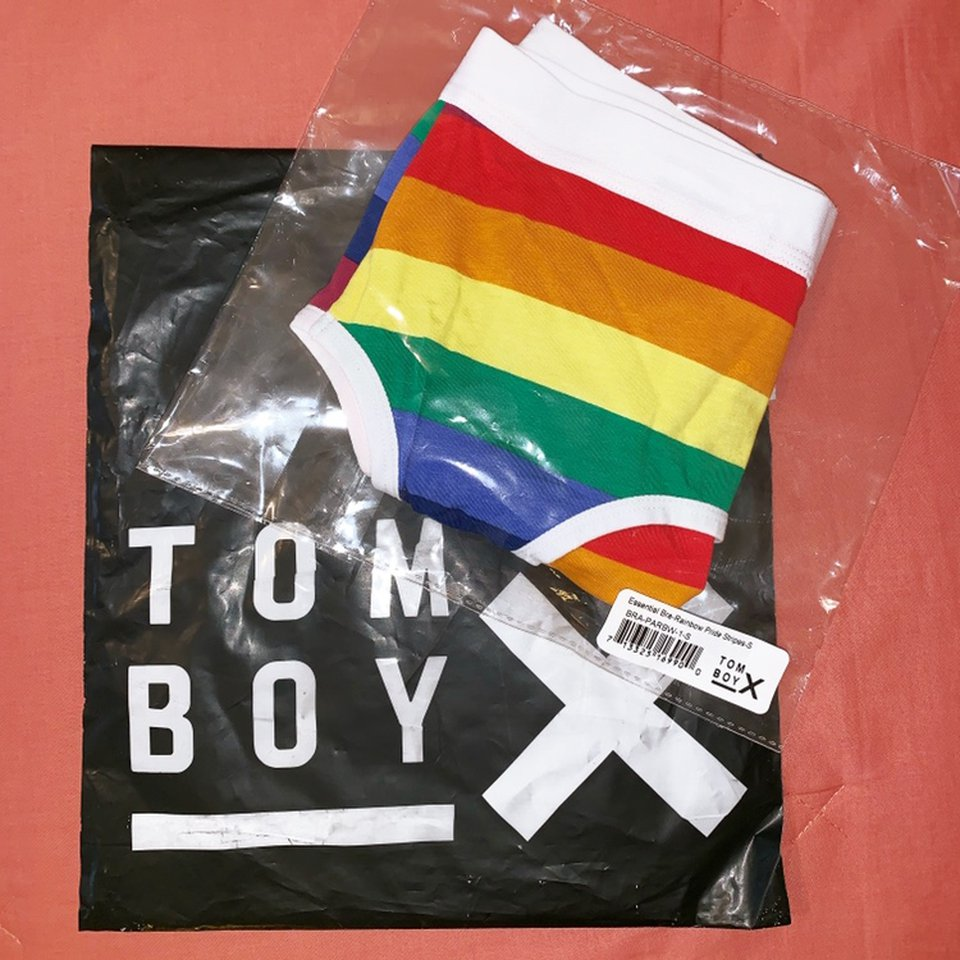 As they worked to build sustainability into their products, packaging, and operations, they found - like with all aspects of entrepreneurship - so much could be gained from a collaborative and committed community.
Many of their eco innovations have come from posing a question to their audience, or going down a rabbit hole of interesting research. "We would put questions out there to various groups, and were always amazed at the input. People would respond with ideas and innovations and referrals, and we'd be able to move forward from there."
One example- the anti-microbial coating used on their tucking underwear. This material is made from Chitosan, a sustainable and natural coating from a sugar found in crab shells abandoned by the industrial fishing industry. (No- they promise you won't smell like a crab boil. And even the most sensitive of allergic folks won't have a reaction to it. No crabs are harmed or killed or even bothered to make Chitosan!)
They spent a lot of time researching B Corporations and companies in the Sustainable Apparel Coalition to learn innovative strategies. Conferences were huge idea sources, and insight was also gained from vendors and partners, who shared new sustainability innovations coming down the pike.
TomboyX's strategy for sustainability innovations is actually quite similar to their strategy for building a customer-centric foundation and growing their business: asking questions, listening to feedback and ideas, and taking action.
Naomi and Fran chose to see their customers, vendors, and even competitors as strategic partners in achieving their goals and mission. By turning these often transactional relationships into an ecosystem of deeper partnerships, progress was made so much faster..
Progress Over Perfection: Sustainability Is An Ongoing Journey
There is so much about Naomi Gonzalez and David Moss that inspired us during our Zoom session with them. Their calm energy, their clear love for their customers, and the way they talk about their team as fellow family members.
But what I found particularly refreshing was their honesty and willingness to bring openness and curiosity to sustainability. There was a collective recognition that there is no such thing as a perfectly-sustainable apparel brand right now, and that there is no room to be defensive, sanctimonious, or insulting when you're trying to build a brand rooted in ethics and community.
Naomi was really open in acknowledging inherent challenges they face on this front. For example, fabric elasticity is absolutely essential when it comes to boxer briefs. And while they don't need to be the cheapest option on the market, accessible pricing is important to them.
Early on, these considerations made the use of organic cotton prohibitive for them. Instead, they sought Oeko-Tex cotton (which certifies that every component of the product- every thread, button and accessory- has been tested for harmful substances, and that the product is harmless for human health) and Tencel Micromodel (made from sustainably-sourced beechwood trees through environmentally responsible processes) for fabrics that need stretch (this material uses less water, grows faster, has a smaller imprint on environment.)
As they have scaled, they've been able to revisit their fabric decisions and are now bringing organic cotton into their line. This has been made possible by their size and scale, the transition of more of their supply chain to the US and Mexico, and the general cost decrease of organic cotton (which, while not as inexpensive as standard cotton, is much better than it was ten years ago).
Another interesting journey they have taken is around internal packaging. They started with a standard clear poly bag.
"This was all we could do at the time. You have to make really tough decisions when you're starting up as to what exactly you can do."
They then experimented with clear reusable packaging, the type of thicker poly bag material with a zip closure. But, in keeping with their commitment of getting feedback from customers, they discovered that most of their customers weren't actually reusing them. They started looking at compostable options, but stopped when they learned more about the limited access to composting and their negative downstream impact. They considered water-soluble bags but were nervous that something that could dissolve in water wouldn't be able to withstand humidity and other elements. So they continued down their path of recycled, recyclable clear bags, while recognizing that this type of film typically needs to be recycled in separate stream- at grocery stores in thin film drop off bins (though more municipalities are starting to accept the material curbside).
Started as a Family, Staying a Family
"Our core principle is that we give a shit - inclusivity is in everything we do."
This principle has fueled not only their brand direction and relationship with their customers, but their company culture as well.
Neither Fran nor Noami came from the business or fashion world. Fran was a film producer, and Naomi was a sports massage therapist. There was an inherent sense of "we can figure this out as we go along."
This was very much true, but they also found excellent people when they were needed. A key addition was Julie Nomi, a product development and sourcing veteran who proactively contacted them to see if they needed help. She brought an attention to detail and novel processes that were absolutely essential at the time. Each new hire brought a similar unique talent, and found in TomboyX a company that valued them as people and as workers.
Today, they look around the dozens of team members in their company and continue to see the group as a close-knit family. This was never more tested than during COVID19, when they balanced the number one priority of keeping everyone safe and supported during the tumultuous time, with managing their rapid growth- accompanied by the cultural switch from brick and mortar to ecommerce sales.