Getting Your Business Ready for Shipageddon
Nov 27th 2020
Getting Your Business Ready for Shipageddon
Around 700 million packages are expected to be delivered this holiday season, 5% more than carriers are currently estimated to be able to handle.
On-time performance has been suffering throughout COVID (90% for FedEx and 96% for UPS this summer), and is expected to get worse this month.
What does this mean for your business? We know firsthand that carrier delays and errors ultimately reflect on you - the shipper. Taking the time to communicate with your customers, having clear protocols for delays, and being willing to work directly with carriers on their behalf will go such a long way in building loyal fans out of your customers.
Here are 10 steps you can take to prepare for the mayhem.
Know And Show Your Order Deadline: December 15th
Consider this the deadline for shipments to go out via ground services and be received in time for Christmas. Build in your lead times to back into a recommended date for customers to get their orders in.

Communicate, and then over communicate with your customers
Add notes throughout the customer experience letting them know to expect shipment delays and to order early.
Website: If your checkout page typically shows estimated time of delivery, consider removing it or noting that delivery times may be delayed this month.
Confirmation and shipment emails: Order confirmation emails get a whopping 60% open rate. It is the perfect place to note any changes to your lead times and carrier delays.
Follow up emails: If you send automated emails after orders ship, consider extending their timeframe a few days to avoid customers getting the email, before their items have arrived.
Be clear with customers that expedited shipping is not guaranteed
If you are offering expedited shipping, be transparent that carriers are not guaranteeing arrival right now.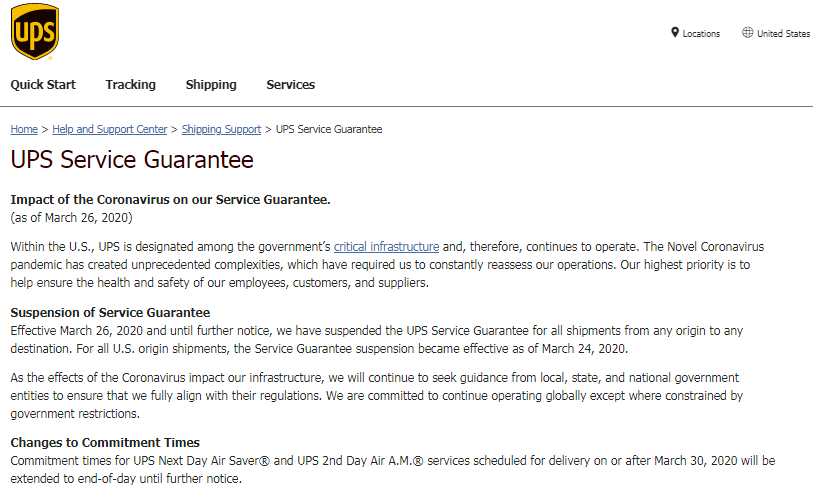 FedEx and UPS have both suspended their Money Back Service Guarantee.
Determine if and how holiday surcharges will impact your business
Vey large shippers will experience surcharges with UPS and FedEx this season. UPS's surcharges only hit for sellers shipping over 25,000 parcels per week!
USPS, however, will levy surcharges on all shipments - a first for the postal service. This price increase began on October 18 and will run through December 27, and ranges from $0.24 to $1.50 per package.
Understand if these surcharges will impact your shipping costs, and if so, what impact this will have on the shipping prices your customers will pay.
Diversify your carriers
If you typically only work with UPS or FedEx, consider adding USPS to the mix.
At the moment, they are the only carrier accepting new commercial customers and having multiple carrier options may come in handy! USPS is a great shipper for businesses sending small parcels!
Have a replacement and reshipment policy prepared
Orders will get lost and damaged.
Customers will be calling on December 19th desperately wondering if you can reship items that still haven't arrived.
Have a process established now for replacements so you can consistently and proactively support your customers.
EcoEnclose's policy is that we will replace a shipment ourselves if tracing information on an order has not been updated for five days. If a customer needs an item replaced more quickly, we ask them to place a new order that we will rush so it ships the same day or next day. If the original order never arrives, we then refund the second order that as placed. This approach may work for you, or you may establish a different strategy that best meets the needs of your customers and your business.
Have a claims strategy ready and point person identified
If you plan on replacing orders that have gone lost or are delayed, be ready to file claims.
Every carrier has a different claims process and policies but they are all tedious, paper-work intensive and time consuming.
Having someone assigned to requesting claims, staying on top of them, and tracking when refund checks come in will help you navigate these complexities.
If you don't have capacity for this within your company, consider using a service like Refund Retriever to help you out!
Consider delivering yourself or using a local logistics provider
A lot of brick & mortar businesses have moved online this year, which means many are shipping locally - to customers who had previously purchased in store.
You may be able to avoid carriers altogether by delivering orders yourself, or utilizing a service like Dropoff to support local deliveries.
Confirm delivery addresses before shipments go out
Confirm addresses, get customs paperwork right, and address other potential shipment issues before parcels go out the door.
Nothing is worse for a customer than knowing their order is close by, but isn't getting to them because of an address issue or the box is held up in customs.
Do what you can to proactively avoid these issues - these steps add time up front, but save you from frustrated customers and reshipments on the backend.
Give your customer giftable messages and promote gift cards
It is inevitable that many of us will be scrambling after mid-December, realizing we haven't ordered holiday gifts in time. Make your website a welcome place for those procrastinators! Showcase gift cards and make it super easy for customers to present them to their loved ones - through beautiful cards they can print or email, or even GIFs or video messages that make recipients particularly excited about what they are going to receive!