Setting Recycled Content Goals For Your Business
Apr 6th 2021
Setting Recycled Content Goals For Your Business
It's Earth Month! If you're feeling inspired by the collective environmental action around you right now, consider taking time this month to set ambitious ecological goals for your company.
Sustainability goals and commitments can be a really effective way to make tangible improvement in how you run your business. Common eco goals include carbon neutrality (or targeted reductions in carbon emissions), going plastic-free, and increasing levels of recycled content.
In this post, we share guidance to help you set an inspiring yet achievable recycled content goals for your business. Use the following five steps to complete a chart like the one below. At the bottom of this post you'll find a fake example with several lines completed for reference.
Step 1: Do a mini "audit" of the raw materials and supplies you use across the business. Examples include glass packaging, boxes, shrink wrap, computers and printers, copy paper, textiles and apparels, hang tags, pallets, desks and so much more. List them out (one row for each) using the below template as one potential format.
Step 2: In the second row, note your current supplier strategy for each spend category, and your current recycled content levels.
Step 3: Consider whether or not increasing recycled content is the right ecological and business strategy for each category and note this in the third column. We recognize that there are instances in which you may choose to opt for an alternative solution. For example, if you make shoes, you may be choosing between recycled polyester or hemp, and you may decide after doing extensive research that virgin hemp is actually the preferred solution for you and your business.
Step 4: Conduct preliminary research on recycled options within each category to help you get a sense of what is out there. Note this in the fourth column.
Step 5: Set aggressive recycled content goals for each category, ideally with a focus on post-consumer content.
Once this is complete, write them into aspirations and goals that can be used to inspire your team, your customers, and your supply chain partners.
Example Goal Setting Template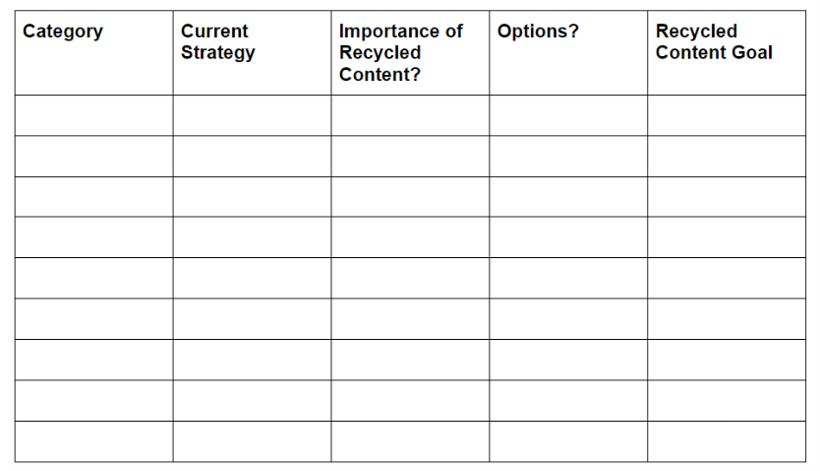 Read on for a fake example of several completed lines in the chart to help illustrate how this process can help you set ambitious yet grounded sustainable content goals that drive real change in your business.