World Cleanup Day 2019: How Your Business Can Participate
Sep 9th 2019
World Cleanup Day 2019: How Your Business Can Participate
Does your business want to participate in World Cleanup Day 2019? Are you nervous about how complicated it is to organize your team for an event like this? Read on for a step by step guide to organizing a clean up effort for your business this September 21, 2019.
In 2008, a group of 50,000 Estonians volunteered to clean up their entire country in five hours. Thus, a civic movement was born, and inspired people across the world to dedicate a single day to a singular goal - cleaning up their home. 10 years later, World Clean Up Day became official. On September 15, 2018, 18 million people across 157 countries participated in local cleanup efforts.
When is World Cleanup Day 2019?
September 21, 2019 marks the second official World Cleanup Day.
In the US, the event is organized by Clean Trails and National CleanUp Day. Across the world, the event is organized by local chapters, all of whom are committed to beautifying their home that day.
How often do you pass by a piece of litter? Maybe you pick it up, maybe you pass it by. Now, imagine if every single person in the country, and in the world, picked up litter every time they saw it. Can you fathom how much litter would get collected and properly disposed of, litter that likely otherwise have ended up as marine plastic pollution? Imagine that after picking up litter, each person is now more committed to their community and landscape, and less likely to litter themselves going forward.
That picture is why World Clean Up Day is so powerful. It is not just the clean up, which in itself is incredible. It is citizens coming together to take pride in their community. It is communities building a collective consciousness about the impact of waste.
If you're inspired to join this incredible movement and do some clean up on September 21st, consider one of three different approaches: (1) Organize your business's clean up event, (2) Participate in an existing clean up event or (3) clean up as an individual or family that day.
Read on for tips on how to go forward, whichever strategy makes sense for you.
Organize Your Business's World Cleanup Day Event
Approach 1: Organize a Cleanup Event for Your Business or Group
First, pick a location to beautify.

It could simply be the area around your business or warehouse. It could be in a park, a hiking trail, a beach, a playground, a local open space, or simply a lot you drive by all the time and notice is quite littered.
Confirm with officials and secure permits.
Find out who owns or manages the space you have identified. It might be your municipality or you may have an HOA to answer to. Contact them and confirm that you and your group are free to cleanup the area. In some cases, you may have to request a permit and participants may have to fill out waivers.
Finalize and announce logistics to your participants.
Determine (1) your start and end time, (2) where participants should meet, and (3) what they should bring, such as supplies, water, any food or snacks, sun protection, attire and footwear, etc. Share event logistics with your group and ask them to confirm their participation so you can plan accordingly.
Plan and prep for your trash removal plan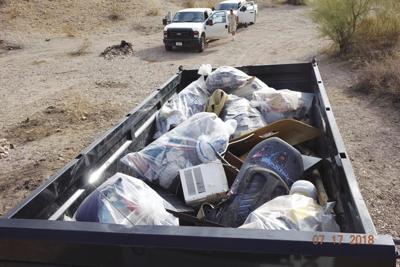 This is a critical, and often overlooked, aspect of your cleanup. Where will all of the trash you collect go? How will it get there? How much will it cost to dispose of?
If your company or group is small, and you anticipate simply ending up with a few waste bags full of trash, you may be able to get away with simply putting that trash in your company's dumpster. If you anticipate ending your event with ten or more full bags of trash, this may not be feasible! You have a few options. The first is to drive the trash to a landfill or trash pickup location. The second is to rent a dumpster for the day and organize a pickup for it once your event is done. Contact your waste management provider and let them know your situation - they'll be able to guide you to the right approach for your clean up event.
Note that typically, recovered litter in clean up events is landfilled. While some items you find may be recyclable or compostable (or even reusable), it is often not feasible to inspect or clean items enough to confidently recycle them. If you are aiming to better sort some of the collected trash, check out this great resource from World Clean Up Day and work with your waste management provider to develop a plan to keep recyclable and compostable items separated.
Gather supplies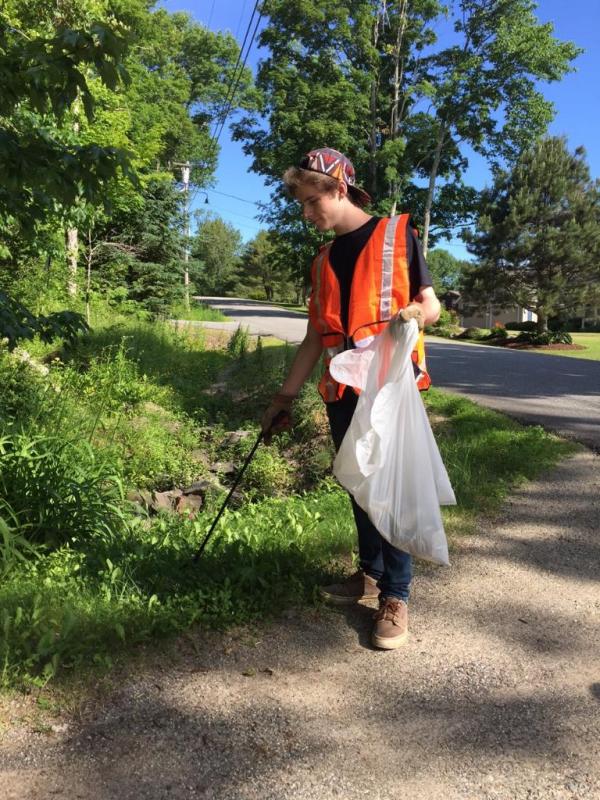 The goal for the supplies is to allow your participants to collect as much litter as possible, while staying safe and comfortable. Standard supplies include gloves, strong trash bags, trash pickers, hand sanitizer and wet wipes are usually standard. Depending on where your clean up is happening, shovels or rakes may be helpful. If you're cleaning up in an area that gets car traffic, orange vests may be critical. For beach cleanups, sometimes strainers can help fish out small pieces of trash from the sand.
Know the bathroom situation
Find out if your clean up location has a publicly accessible bathroom. If so, ensure it will be unlocked and usable during your clean up event. If not, find out if there is a nearby bathroom that your group can access (a local business owner may be willing to provide your volunteers with their bathroom since your group is helping to beautify their area!). If neither of these are feasible, let your group know in advance about the lack of facilities. If your group is large and you're cleaning up a toilet-less area, consider renting a portable one.
Safety and Liabilities
Take precautions to keep people in your group safe. That means helping them identify and avoid touching potential hazardous material and ensuring they stay out of areas that might be concerning. This great resource from World Clean Up Day outlines important safety considerations.
You'll also want to make sure your organization and volunteers are properly protected. While the chances that someone gets hurt are slim, I imagine most lawyers would recommend getting signed waivers from participants. California Parks and Recreation has some good sample waivers on their site. If you have a workers compensation plan in place and all of your volunteers are covered, check your insurance terms to see if and how a volunteer event like this would be treated. If your clean up effort is you and some close friends, you can probably disregard this part!
Gather, prepare and inspire folks
Plan a short kickoff for your clean up event. Refreshments are always welcome to start a day like this, and we encourage everyone to keep their food choices as low on packaging and waste as possible! Ask people to bring water bottles and coffee mugs, so you can provide these in bulk. Bring a big platter of bagels and a large tubs of cream cheese. Bring reusable cutlery (or ask your volunteers to bring their zero waste cutlery kits).
At your kickoff event, let people know the "rules" - where they can and can't go to clean up, how long the cleanup will last, what kind of items they might find and what to do about any unique or dangerous items they may find. Let folks know where water and other supplies will be, where to drop off any full trash bags, and when to meet back up.
Let them know they are part of a global movement of people who are all doing the same things as they are!
One other fun trash pickup "game" is to have folks catalog the type of trash they find and share out what the most common items were. You may be surprised at what you find! Sometimes it is the littlest throaways that end up having the largest impact on litter. You may also become extra sensitive to this type of trash in the future. For example, since food packaging often accounts for a lot of the litter that gets picked up, this type of exercise helps participants become extra sensitive to how they dispose of their packaging.
Celebrate and reward your team
Weigh the trash you collected and announce it to your team (and to the world via social media). Once all of that trash is disposed of properly, do something celebratory as a team - a happy hour, a hike, a round of bowling - whatever screams "We Just Cleaned Up Our Home!" to your group. If you take pictures of your clean up event, share them on social media and tag #NationalCleanUpDay #SeaToShiningSea #LetsDoItWorld or #WorldCleanUpDay! This is a great way to be part of the global cleanup movement, and reinforce your company and your brand's commitment to the environment.
Approach 2: Participate in an Existing Cleanup Day Event
You have a business to run. And yes, we are getting into the thick of what may be your busiest time of year. So the idea of organizing a clean up event - however small - may be daunting. Don't let that stop you from doing World Cleanup Day!
Rather than organize your own company event, participate in a nearby clean up effort instead. To find one, find your country's contact and get in touch to see if a cleanup is being organized near you. You can also contact eco-focused organizations, such as your local government or Parks and Recreation, the Nature Conservancy, Ocean Blue Project or 4Ocean - to see if they have a clean up event you can join.
If those don't work, ask around. Post on Facebook or a local Next Door community group to ind out if anyone has information on a nearby clean up event happening on World Clean Up Day.
Approach 3: Just Start Picking Up Trash
Grab a friend (if you want!), a trash bag, some gloves and hit the road! Walk your neighborhood, head to the local park, walk the shoreline at a beach, or go on a popular hike. But instead of just walking, be on the prowl for trash!
Using the Litterati or World Clean Up Day Map It, you can snap a photo of the trash you see to get it cataloged (and if you can't dispose of it yourself, to get some help clearing out the litter you find). These are awesome apps that make it more fun, rewarding and collaborative to pickup litter.
Moving to a More Circular, Zero Waste Society
World Clean Up Day may be the most public initiative of Let's Do It World, their focus is much broader. They see waste as a mismanaged resource. Ultimately, their vision is a clean, healthy planet in which the things we currently consider "waste" actually simple become inputs into a more circular economy.
For them, the inspiring feat that is World Clean Up Day is one important step in mobilizing millions of positive-minded people into coordinated local and global actions related to today's current state of waste mismanagement. Whether you clean up on September 21st or not, we hope the movement inspires you to be more proactive in picking up and discarding litter and more vocal about the importance of reuse, recycling and proper composting - so we can move from a linear "throw-away" culture to one in which waste (and all the resources that went into creating that waste!) is valued enough to be reclaimed.